Lest we forget, today is Earth Day. One of the more meaningful annual 'days' of note, as we seem to be plunging inexorably to our collective global warming-induced doom. Indeed, if 22nd April wasn't already emblazoned on our conscience, it's that significant my iPhone has it marked as one of the key dates of note in the calendar – alongside public holidays and the Queen's imminent jubilee.
But before you navigate away, assuming this might be another guilt-trip piece to upset the onset of your weekend and reminding you to turn out the lights for an hour (which may also save you on those sky-high energy bills), this is not that. Not to trivialise it, and as tenuous as this might sound, we do have a very apposite link between Earth Day and it making a mention in our Tipples pages.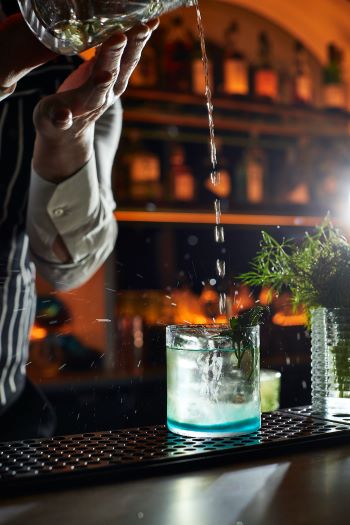 Nestled within the impressive red brick courtyard of St James' Court, just across from the five-starred Taj 51 Buckingham Gate Suites, sits the newly opened TH@51 bar. A curious name for a bar, you might think. But then aren't all secretive watering holes given a certain air of obscurity?
But insalubrious den this most certainly is not. The space, designed by Conran & Partners, all slate floor, panelled ceiling and soft earthy tones, is set to become a hotspot within London's luxury hotel scene, with a new cocktail menu centred around the earth's biomes, launching today, Earth Day, 22nd April 2022.
Designed by Bar Manager, Riccardo Lupacchini, himself no slouch behind the mahogany having previously steered the ship at the infamous Scarfes Bar at The Rosewood, the cocktail menu celebrates our planet's diverse and often fragile ecosystems.
The drinks are spilt into different sections, each representing the earth's macro biomes, from the great deserts and lush forests to the vast oceans and snow-tipped mountains. A sense of balance encompasses the menu, with each cocktail having its different but equal counterpart. This is mixology meets ecology.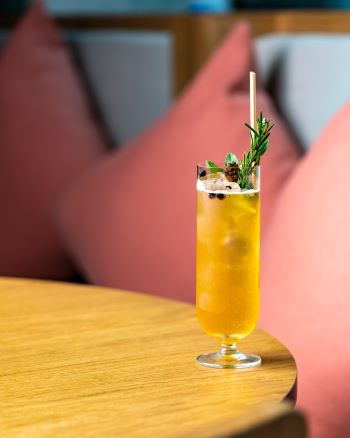 Lupacchini's creations include the Breath of Fresh Air, Ginepraio, pine cordial, swiss herbs, gentian & juniper and a dash of elderflower cordial; the creamy Camouflage, comprising Belvedere vodka, coffee, cashew-lentil milk, green tea, honey and barfi cream; Shay al-wahah, or Unknown Oasis, lives up to its name with Moroccan lemon, hibiscus, dates and honey complimenting Zacapa 23 rum and mint tea. And finally, El Camino, featuring Mesquite-smoked Casamigos Blanco tequila, pineapple tepache, agave, grapefruit and tamarillo.
By using ingredients found in each delicate ecosystem, the TH@51 bar team have adapted and created flavours to illustrate the story behind each drink, in the process experimenting with fat washing, cold infusions, and decoction in a 'cocktail lab', a small area designated specifically for mise-en-place, where components such as seasonal wine were fermented and used across the drinks list. There's as much science that's gone into this as concocting the drinks themselves, all in the name of celebrating the planet's biodiversity.
So, if you happened to be planning your post-work libations, here's an option for a conscience-clearing, thought-provoking suggestion to see in your weekend, courtesy of Mother Earth.
The Earth Day cocktails will be available at TH@51 at 51 Buckingham Gate for the foreseeable. For more information, and to book a table, please visit www.th51.co.uk.