The shabby old black door closes behind me and I make my way up to the Experimental Cocktail Club Chinatown an hour before opening time. I can hear the co-owner chatting warmly with the bartenders on the top floor, the rich French voice tumbling down the staircases. Xavier Padovani has kindly invited me into the bar before curtain up, so that I can get a feel of the place before it quickly fills from 6 o'clock with groups who have, sensibly, booked to be here. Modestly sized, and with a passionate emphasis on excellent but relaxed service, ECC Chinatown is keen for people to reserve, but will always try to accommodate those who drop by. As I settle into a corner table to sip a cocktail and chat with Xavier, bartenders are milling about, prepping the bar, and managers sit with laptops, checking the reservation emails. These are performers warming up to provide a wonderful evening for their guests. And I'm meeting the director.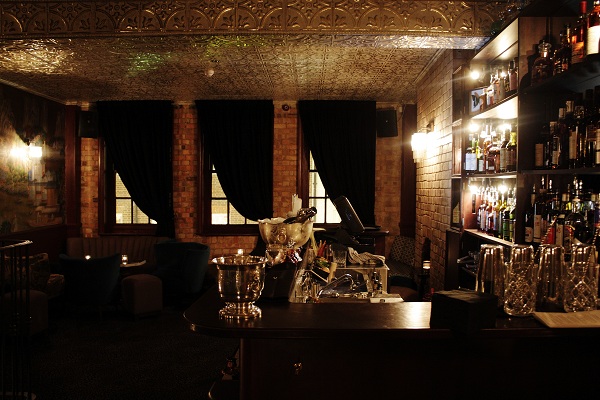 Many in the drinks business will know Xavier from his work with William Grant & Sons, as global brand ambassador for Hendrick's Gin. The Experimental Cocktail Group of bars in Paris and London is, actually, a labour of love which fits around an already demanding and more-than-full-time career with Hendrick's Gin. But what I'll discover about Xavier during our chat at 13A Gerrard Street is that he loves his work, every bit of it, so much so that he doesn't, actually, stop. Ever. Whether he's gallivanting around the globe spreading the jolly spirit of Hendrick's, or hopping between Paris and London to say "salut, ça va?" to the managers and patrons in the bars he co-owns, his is a life of people, drinks, and places. Xavier is always on. And now he's on in New York, too, opening the new ECC on Lower East Side at the end of this month.
He met his ECC business partners in Paris while representing Grant's premium blended malt whisky Monkey Shoulder, beginning to move into work with Hendrick's. "The boys", as Xavier will fondly refer to them throughout our chat, are Romée De Goriainoff, Pierre Charles Cros, Guillaume Furet and Olivier Bon. The first bar was opened in 2007 at 37 rue Saint Sauveur, where Xavier began to create Hendrick's Gin parties. The ECC brand steadily expanded in Paris with the Curio Parlor and the Prescription Cocktail Club, and then, with Xavier on board, to London's Chinatown.
And it's here in the London bar that I'm presented with a beautiful Old Cuban, which head bartender Alex Scarlan tells me is one of their best-selling cocktails, "a cross between a classic Daquiri, a Mojito and a Dark and Stormy". It's fresh lime, sugar syrup, three-year-old Havana rum, and a touch of ginger cordial, mint, shaken hard, topped off with a touch of Champagne and Angosturra bitters.
The spicy, cosy libation encourages me to sit back in my comfortable armchair, and pause to take in some of the details around this sumptuous, witty room, designed by Dorothée Chzon, who also designed the Paris bars: cat-paw pattern carpet, flirty conversation sofas, New York-style metal ceiling, low lamps, leather-topped bar constructed around an upright piano. It's defunct, the piano, gutted to make space for the rather splendid bar – it's there to show continuity with rue Saint Sauveur, where a piano in the middle of the bar has become something of a trademark for the ECC brand. The London piano might not work, but that doesn't mean there's no music here. Xavier's big on music. "The concept is an environment where the music is good, and the drinks match the music. Very often you go into an amazing cocktail bar but it's very quiet, you can hear each other, the drinks are amazing – but there's no music." Various musicians and DJs play the London bar regularly, including David Piper, Commander of Special Operations for Hendrick's Gin. It's all friends here.
Excellent drinks, vintage spirits, good music, friendly atmosphere, quirky styling. These are the elements that have been exported to the middle of Manhattan and lie in wait for New York drinkers. It's competitive out there on the Lower East Side. Is Xavier confident the ECC will stand out? "What we're going to try to do, without too much pretention, is amazing drinks, and good atmosphere. It's not going to be a speakeasy. It's simply going to be a French cocktail bar. The design is going to be pretty cool, with a comfortable feel. And there's going to be something funny about the cloakroom. I'm not going to reveal too much – the boys would probably shoot me if I told you. They are on a roll. New York is their dream. They've always talked about it. They have a very clear vision and it's just a question of getting there."
And the boys have made it. The ECC LES opens soon.
ECC LES, 191 Chrystie, New York, 10002 USA. Open Mon – Sun: 18:00 – 04:00.