It's Dry January – the time of year partygoers and wine lovers roll themselves up into a small ball and hide from the world until, detoxed but depressed, they emerge from the world as from a nuclear bunker only to start where they left off. Well not any more, my friends. Having kicked alcohol into touch more than two years ago, it's been so exciting to witness a record number of alcohol free drinks launch to keep me feeling anything but dull and miserable during January or any other month. Rather like the term 'Stone Cold Sober', which writer Catherine Gray has turned on its head in her recent book, 'Sunshine Warm Sober', 'Dry January' sounds like a month-long stint at martyrdom – and worst of all, at the very time of the year that is anything but conducive to smiles when you look out of the window.
Although I am in danger of sounding like someone from a 'born again' cult, perhaps that in itself is a sign of how much society is at the mercy of the alcohol industry who have convinced us that we need a glass of something alcoholic in our hand to unwind or celebrate. Thankfully, I'm not alone in having turned my back on alcohol permanently – thereby benefiting from incomparably better mental and physical health. Even the biggest alcohol brands are jumping on the bandwagon after their market research has shown the sober movement is anything but a fly-by-night health trend, and are proudly (if a little comically and hypocritically) lining up their 0% gin beside their 40% abv equivalent just so they don't lose your custom. If you're giving Dry January a go, there are a whole host of independent brands to ensure you not only 'get through it' but actually relish it. So many in fact that I decided to limit this guide to my top three picks of the best 0% sparkling drinks, many of which are far more complex than simply featuring the humble grape. All that remains is to wish you a 'Fizzing Good January.'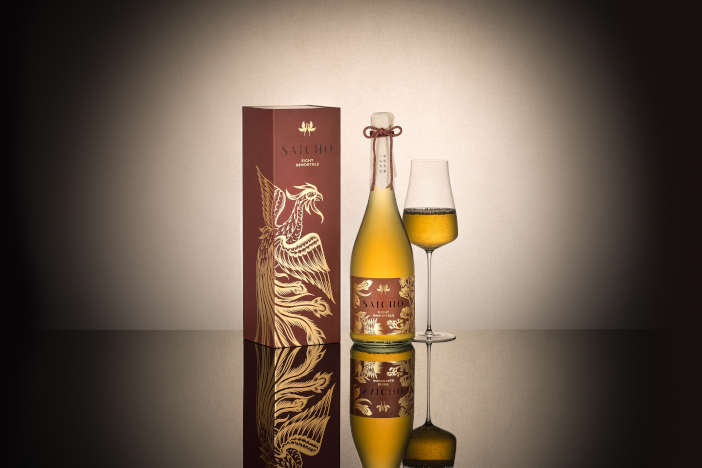 Saicho Drinks – Eight Immortals
Premium sparkling tea brand Saicho has just launched a new Rare Tea Collection offering tea connoisseurs and discerning drinkers the chance to try some of the world's most exquisite teas. The first tea in the collection, Eight Immortals is a Chinese oolong tea which has elegant spiced aromas and complex bittersweet notes on the palate.This sophisticated sparkling tea is named after one of China's most well-known myths about the legendary Eight Immortals Crossing the Sea and is a rare Dan Cong tea cultivar from Guangdong province, China. The tea is grown on Phoenix Mountain which is celebrated for its mineral-rich soils, foggy climate and rocky landscape and has been transformed by Saicho into a highly quaffable sparkling tea to enjoy as an aperitif or as a unique and luxurious partner to many meals, not least afternoon tea. Designed to be served chilled in fluted glass or coupe, this rare tea provides aromas of nectarine, ginger, sweet baking spices and confit peach with an underlying earthiness on the nose. A bitterness reminiscent of blood orange is followed by herbal characters of anise, fennel and tarragon, making it ideal for pairing with soft cheeses or lightly spiced dishes. Each 750ml bottle (£32.99) is presented in a beautifully designed box adorned with a golden phoenix, inspired by the tea's origin and is available to purchase from Saicho's website.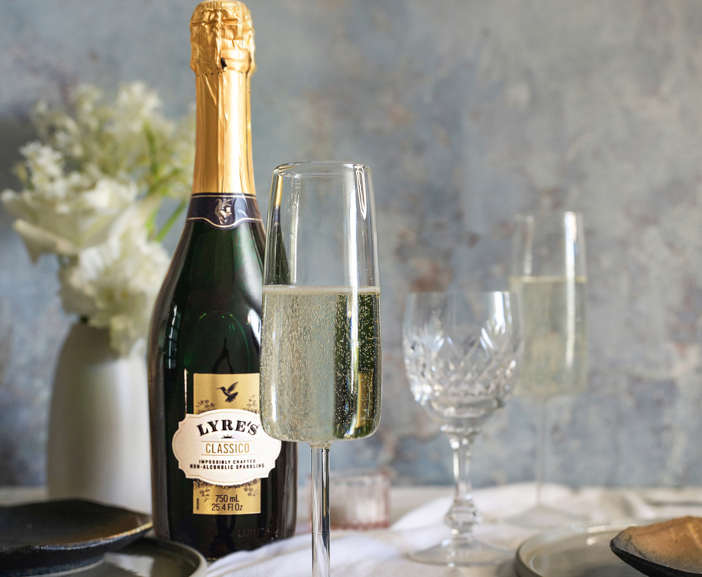 Lyre's Spirit Company – Classico Grande
If you believe every day should be a celebration – and never more so than during Dry January – then you'll want to stock up on Lyre's new 'poppable' 750ml size bottles of 'Classico Grande'. Far from mimicking an Italian sparkling wine, the award-winning Classico's flavour profile stands alone, with notes of fresh peach, pear and crisp tart apple on the nose, along with alluring floral and musk tones which offer a distinctly grown-up complexity. Chalky fine acids are present to clean the palate and get you ready for the next glass and not only do you not have to count your drinks, you won't have to count calories –  this joyful, lightly coloured fizz is only 144 kcals a bottle. The perfect reason to order a case! Serve chilled in a flute or coupette, Classico can be enjoyed as an aperitif or is a superb partner with Northern Italian and Vietnamese cuisine – from air-dried meats to fresh seafood. Classico is also designed to be combined with many of Lyre's award-winning alcohol free spirits for cocktails, including their Italian Spritz for an effortless 'Amalfi Spritz'. Classico is priced £9.99 for a single bottle or £55 a case via Lyre's website.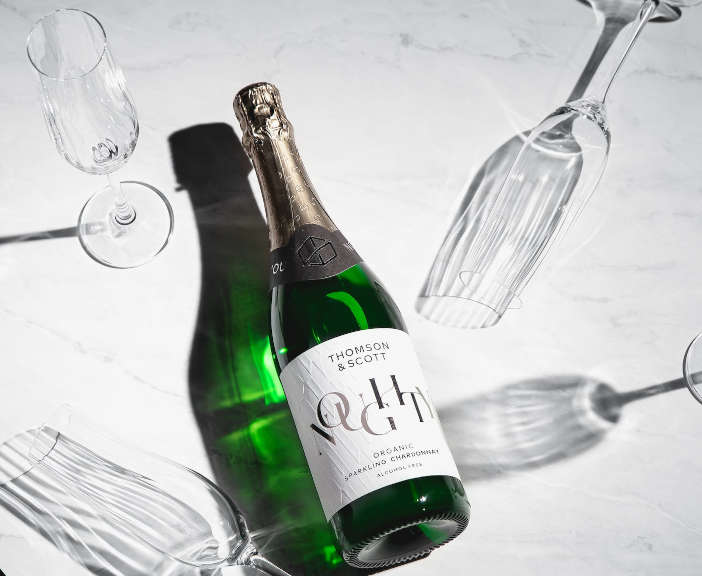 Thomson & Scott – Noughty
Easily comparable with a quality champagne, and arguably the most delicious alcohol free sparkling wine on the market, Noughty by Thomson and Scott is a sophisticated organic sparkling Chardonnay which benefits from careful dealcoholisation in order to retain the rich flavour of the grape in its purest form. Satisfying the growing consumer demand for alcohol free products especially designed for food and drink connoisseurs, this beautifully crafted and well-priced bottle might well have you fooled in a blind taste test with many of the world's most famous champagnes – you certainly wouldn't be the first! Not only is Noughty certified organic, vegan & halal, Thomson & Scott is proudly environmentally conscious when it comes to its production standards, partnering with Treepoints to offset the carbon footprint of every purchase. The enlightened opposite of the overly sweet alcohol free sparkling wines that have given them a bad reputation, and with only 2.9g of sugar per 100ml, Noughty has almost half the sugar content of other equivalents making it perfect for those who like their sparkling wine dry and crisp. The low sugar content also means that Noughty is just 14 calories per glass, offering the answer in a bottle to a hangover free celebration any day of the week. Noughty is priced £8.99 a bottle or £53.94 a case via the website.