At 9:30am I'm aboard a Eurostar, whose seats I cling onto, making my way up the aisle after boarding 'just in time', departing London St.Pancras station at 9:31. As a recent acquirer of an Irish passport, I take my chances on a shorter 'European' queue, only for such ideas to be rendered fruitless, watching those adorned with British flags literally fly past me through the system. This minor incident all-too-nearly prevents my onwards visit to Champagne, one of Europe's greatest exports, and one for which the British have a well-documented thirst.
Champagne has quite the unique history. Vineyards here have been in evidence since the fifth Century, but it wasn't until the 16th Century that sparkling wine production in France began. Shortly after this, Christopher Merrett, an English scientist, was the first to document the 'Champenoise' method in London, thus beginning the Great British fascination with sparkling wine.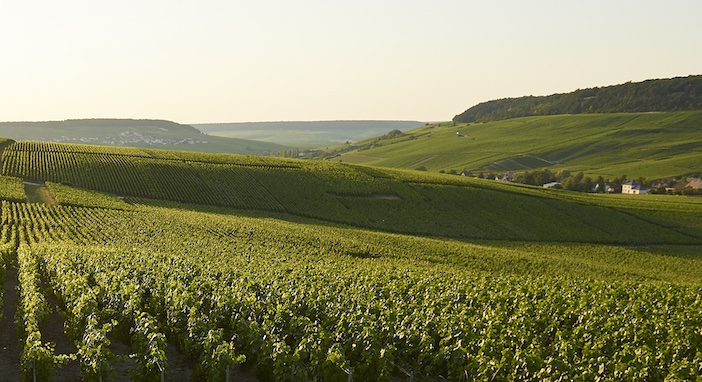 As the region continued to hone its style and international acclaim, perhaps the most famous of Champagne's supporters was Emperor Napoléon Bonaparte. Not only did he have an alleged penchant for the region's wines, but thanks to the Napoleonic code, today his influence continues to be felt throughout the region, and France as a whole, as land (vineyards) and property inheritance must still be legally divided equally amongst family.
If the big names used to dominate the Champagne scene, in recent years the growers have begun to make names for themselves too by producing their own label wines. Today we are being hosted by newish kids on the block – Champagne Frerejean-Frères – a producer who aims to be 'a grower with a Maison mentality'.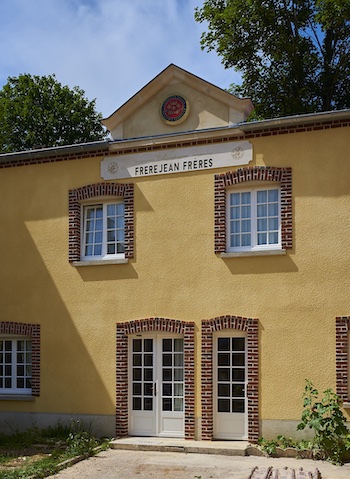 Once we have stepped foot on the chalky terroir and wide autumn-coloured panorama of a prized premier cru Chardonnay vineyard that afternoon in Avize, we find ourselves back at the Frerejean-Frères Maison in the company of youngest son, Rodolphe. Rodolphe's mother was a Taittinger, whose own Champagne house dates back to 1931.
In the family dining room, we gather looking at a map of the Frerejean-Frères Chardonnay Kingdom. Rodolphe points towards an image of Pierre Taittinger whose view presides over our group's cartology-curiosity. "Our guiding light" he says of his great-grandfather's influence on what he and his two brothers have now set out to achieve. Adding, Claude Taittinger told us "It takes about twenty years to create a Champagne house". This trio started theirs in 2005, so they are now almost there by his own reckoning. His father's side of the family, originally from Burgundy, were cannon makers – so two cannons, in homage, now adorn the house's family crest. Their lineage perhaps further permits Rodolphe's insistence that "we're not on a quest for volume, we're on a quest for quality".
The style of these Champagnes that I'm so eager to understand points to the precise and the refined. "Chardonnay gives finesse, Pinot Noir the body' so says Rodolphe as we admire the views from the vineyards earlier that afternoon. Chef de caves, Didier Pierson, whose own family heritage is that of a grower adds 'we don't like to mix grapes from everywhere which is why we don't use Pinot Meunier." The FJF team buys grapes from local producers across 6 hectares, and own another six hectares of vineyard, mostly in the Cote de Blancs. They have also just purchased another vineyard in nearby Aӱ. Didier adds that he considers 2022 to be 'an extraordinary year'. Of course, you only have to look at the weather patterns to understand why. With a heatwave giving optimum ripening conditions the results in what has recently been picked will already be longing to be seen in bottle.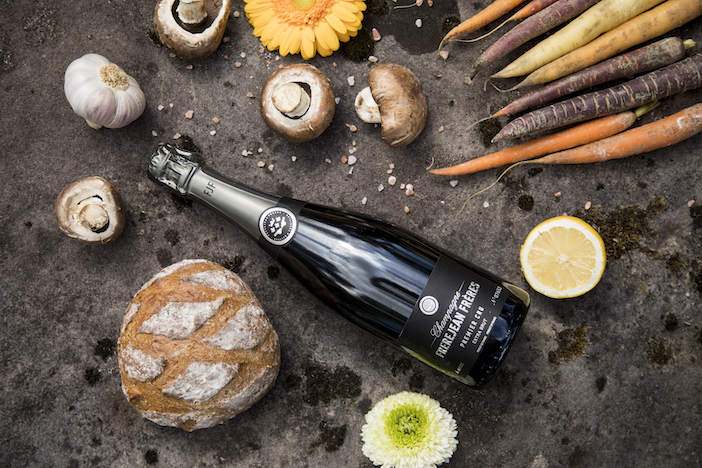 Our first introduction to the Frerejean Frères wines is a glass of the Premier Cru Extra brut NV – made from 50% Chardonnay and 50% Pinot Noir. A crisp, refreshing, ideal aperitif it has a saline minerality and recognisable 'extra brut' – drier – nature. The house style is also to age the Champagnes for between four and six years to add to their complexity. This one has been aged on its lees for five years.
The 'regular' premier cru Brut follows – another bite of freshness in our glass, with a 50/50 blend of Pinot Noir from nearby Grauves, and Chardonnay, which takes the lead in flavour profile – this one based primarily on the 2016 vintage, but also from 2014 and 2015.
Over a candlelit dinner later on, the first for visitors to take place here at the Maison, we are privy to sample the rest of the house's offerings. Downstairs in the cellar we open up bottles of the 2012 Cuvée Hussard – the name for a soldier in dear Napoleon's cavalry – and a year remembered for its extreme weather. The result is a champagne with 'nervosity, tension and elegance' where you 'can taste the clay, the chalk' so says Didier, upon sampling.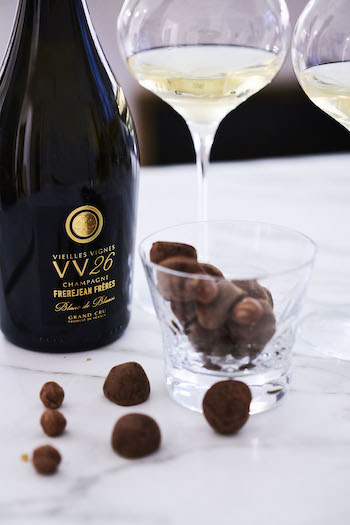 The Blanc de Blancs uses 50% reserve wine from 2012, 2008 and 2009 and does not see any barrel ageing, instead it is fermented and aged in the cellar's enamel tanks. We try the very special VV26 Champagne next, matched to main course of duck, and notable for its unique agrafe closure, for which the house has created a special opener – similar perhaps to a silver butter knife. This slices off the metal strip that keeps the bottle from popping "Sommeliers all over the world hate me for this" says Rodolphe. This wine is notably more gastronomic in profile, and perhaps my favourite of the evening.
We try the FJF Rosé with our chocolate and raspberry dessert, a wine that should particularly stand out for Didier as his previous role of rosé wine maker for Champagne Laurent Perrier might dictate. Didier now also consults in our very own Hampshire for Hambledon, having just flown back two nights ago from working on the harvest.
The evening draws to a close with a very special bottle of the Cuvée Hussards 2008 – appearing to us covered in barnacles – a increasingly popular style for ageing wine in Champagne, where the bottles are submerged to a depth of 60m below sea level, off the coast of Brittany, resting here at 10 degrees Celsius and under 7 bars of pressure until being pop-ready.
From here we travel back to our overnight accommodation – the Loisium Spa and Hotel – a symbol of modernity in Champagne that is not only being felt in these newer producers, but in its infrastructure and tourism offerings, since the hotel has just opened this year. At least one of us takes a dip in in the swimming pool that straddles both the indoors and out under heavy mist the following morning, ready for our reverse journey to London. This time we sail through the queues at the Gare d Nord, returning a little more refreshed, a little more wide-eyed, and a little brighter for having tried all sorts of shiny Champagne new things.
The Frerejean-Frères event was hosted by the inimitable Wine Chap, Tom Harrow. For more information about Maison Frerejean-Frères and its Grands Vins de Champagne, please visit www.frerejeanfreres.co.uk.