Intimate dinner parties are an integral part of being a mid-thirties middle-class type of guy. But this particular Tuesday evening I'm sliding into one that's a little different. I didn't bring a bottle of wine, nor turn up late after a half-assed text about 'train problems' or whatever other casual excuse I can muster. No, this time I'm right on time and empty-handed, joining a dozen or so fellow diners at l'Oscar to navigate a dinner party that starts with neat whisky. 
Hosting is Dr Bill Lumsden, Glenmorangie's Director of Distilling, Whisky Creation & Whisky Stocks. And where dinner parties are typically an excuse for the hosts to do something awful like tell you they're vegan (spare me), show you their renovations (who cares), or get drunk and tell you what they really think of you (much better), Bill brought us here to let us try something he's been cooking up for 28 years: Glenmorangie's Grand Vintage 1991.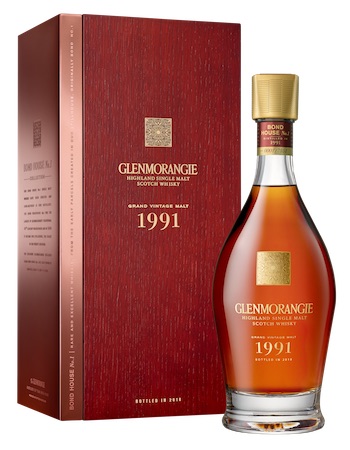 This is a dram from Glenmorangie's Bond House No. 1 series, which exists to unearth the rarest, weirdest and most enigmatic reservoirs of whisky lying around in the seemingly bottomless casks up in Tain and bring them to market. The 1991 Grand Vintage takes two whiskies that would ordinarily never cross paths, and crashes them together: both were bourbon-aged for quite some time, but one was finished in Burgundy casks, while the other came to life in Oloroso sherry casks. One's swampy and one's sweet; one's peppery and one's round. Over a range of similarly incongruous food pairings, smushed together artfully by the crack team at l'Oscar, Bill explains why he went so off-piste. We try a stepped range of Glenmorangies, ascending in their boldness, and then all dive into the Grand Vintage together.
It's heady stuff for a Glenmorangie – 43% rather than 40% ABV is not a huge numerical difference, but it's unusual in Glenmorangie's world of sweetness and light. It means that the whisky can take an extremely gentle dilution, opening up from its plummy first iteration to something altogether longer and more warming. All the wine, cocktails, younger Glenmorangies and water have now been discarded and our group hivemind has focused itself on consuming as much 1991 as humanly possible. Some whisky writers are producing mini glass bottles from handbags and filling them (why didn't I think of that?) – one hopes for longer-term consumption, rather than just a really great tube ride home. I haven't seen committed drinking with this level of focus since Croatia knocked England out of the World Cup.
With a recommended price tag of a shade over £600, the Glenmorangie Grand Vintage 1991 isn't exactly one to throw in a tumbler with some lemonade for your father-in-law. But if it's anything like the 1989 and 1990 Grand Vintages, it will accrue not just elite status but high resale value – and as investments in the finer things go, you could do much, much worse.
Glenmorangie's Grand Vintage 1991 is available to buy from their official supplier, www.clos19.com, priced at £630 per bottle. They're offering a complimentary personalisation if you purchase before 14th June. Just in time for Fathers' Day. For more information about the vintage itself, visit www.glenmorangie.com.