As my husband and I embrace our second sober Christmas, an ever-increasing range of premium non-alcoholic drinks reaffirms that there has never been a better time to join the hangover free club. From gin, rum and tequila inspired spirits, to botanical aperitifs and sparkling wine, there is now a quality 0% alternative to suit every taste and occasion. This curated selection is guaranteed to delight all non drinkers and ensure Christmas goes with a swing. See my Instagram page for festive drinks giveaways!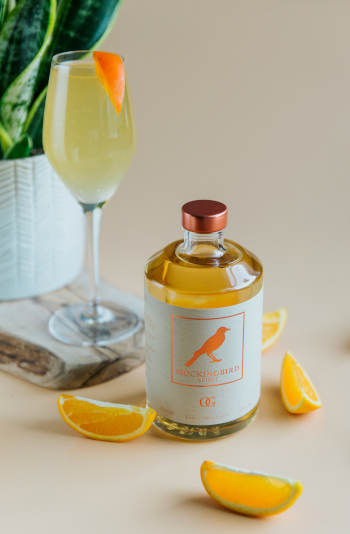 Mockingbird Spirit
As a former Margarita cocktail worshipper (for my sins), I flapped for joy when Mockingbird Spirit launched their groundbreaking 0% abv tribute to tequila. As smooth as silk and produced with 100% Blue Agave, this ingenious new alcohol free spirit allows you to have all the flavour and sourness of a classic Margarita with none of the migraines – something I for one certainly don't miss, especially on Christmas morning when certain little ones get us up far too early!
Mockingbird Spirit (£22.99 50cl), with its earthy notes of Blue Weber Agave, sweet vanilla and cinnamon and a healthy hint of habanero make it evocative and moreish, especially when you want something warming during the winter months. The original 'Alcoternative', capturing the flavour of tequila and the essence of mezcal, with added natural energy you're sure to be the last one standing and the first unwrapping presents in the morning. Let's just hope Santa puts some of this in your stocking!
'Passionfruit Mockingbird Margarita' Recipe: Salt the rim of your glass, grab your cocktail shaker and add plenty of ice, 50ml of Mockingbird Spirit, the juice of one lime, the contents of two passion fruit. Shake vigorously and serve. Recipe for one glass, but even if you're alone you're bound to want two!
For more information, the online store and more recipes visit Mockingbird Spirit. Free shipping on all UK orders and 'Santa' can get an exclusive 20% discount when ordering direct from Mockingbird. Just quote 'Arbuturian20'.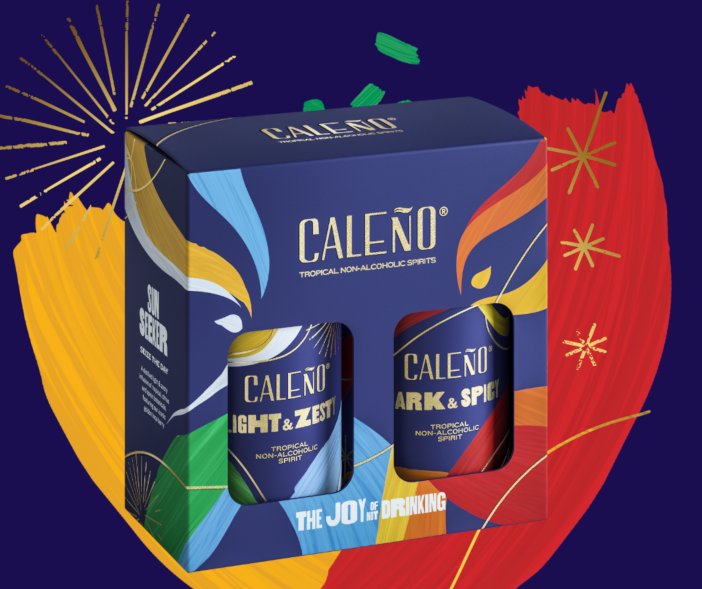 Caleño
Following on from Caleño highly acclaimed first non-alcoholic clear spirit 'Light & Zesty' inspired by the tropical and exotic flavours of Columbia and consisting of Inca berry, pineapple, papaya, coriander, juniper berry, green cardamom & lemon peel, their new 'Dark & Spicy' is just as original and one of the most exciting alcohol free additions this year. A distilled, golden and spicy blend featuring dark pineapple, ginger and kola nut spices is sure to provide some welcome comfort and warmth on the coldest nights. As both spirits (£18 each) are packed full of flavour, there is nothing else needed other than some soda or tonic and a citrus slice, although both flavours marry sublimely well as a mocktail base. The Tropical Twinpack (£25) with 20cl bottles of both Light & Zesty and Dark & Spicy is the perfect gift – so good in fact that I'll be keeping it for myself! I may well leave a tot of 'Dark & Spicy' out for Santa come Christmas Eve though – for he must surely be the worse for wear after visiting so many homes offering him booze!
'Dark & Spicy' Recipe: Add 50ml Caleño Dark & Spicy, 25ml whole milk, 25ml whipping cream, 15ml vanilla syrup and 1 crumbled ginger biscuit to your cocktail shaker, vigorously mix & strain into a coupe glass and finish with a dusting of chocolate powder.
For more information, the online store and more exciting drinks recipes visit Caleño Drinks. Free shipping is currently offered on all UK orders.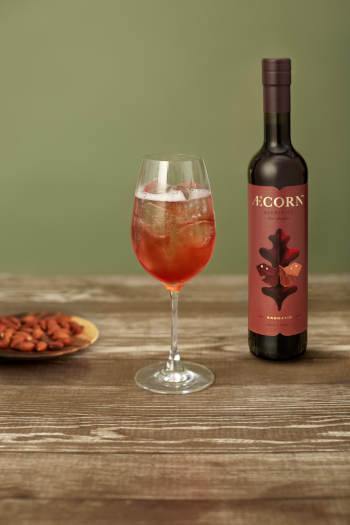 Aecorn Aperitifs
Celebrating the long-held ritual of an 'aperitif' before-dinner, Aecorn Aperitifs took the alcohol-free drinks market by storm when they launched their trio of unique blends, 'Dry', 'Bitter' and 'Aromatic' (£19.99 each). Informed by 17th century English herbal remedies, they are expertly produced in England using 100% English grown Pinot Noir, Chardonnay and Meunier grapes, whilst remaining entirely alcohol free. By pressing the grapes early and blending with stimulating herbs, roots and bitter botanicals, every Aecorn Aperitif is designed to awaken the appetite and offer an exciting preamble or partner to meals. Try Aecorn 'Aromatic' this winter, served in a wine glass with ice, soda and a slice of orange or clementine, or 'The Mulled Cup' recipe below. Tawny in colour with a sweetly aromatic, smoky nose, this full-bodied and indulgent elixir features notes of smoked cherrywood, vanilla, kola nut & chinotto. Smooth and silky, your palate will be delighted with subtle notes of chocolate, raisin and oak. Make your Spritzmas dreams come true by ordering all three signature blends!
'The Mulled Cup' Recipe: Combine 300ml Aecorn Aromatic, 210ml apple juice and 90ml cinnamon syrup in a pan and bring to a simmer. When warm, pour into heat-resistant glasses and garnish with star anise.
For more information, the online store and more exciting drinks recipes visit Aecorn Aperitifs. Free UK shipping when ordering all three Aecorn Aperitifs.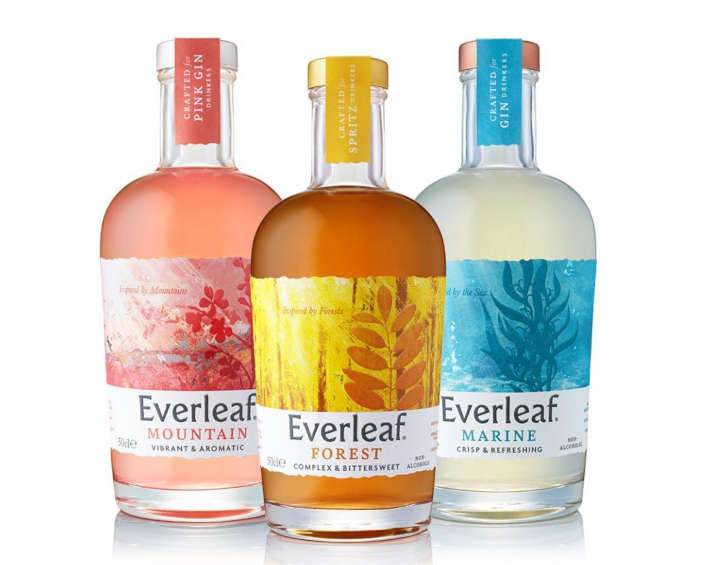 Everleaf
Complex, utterly grown-up non-alcoholic aperitifs, Everleaf's trio of flavours pays homage to the beauty and vibrancy of natural ingredients. Having fallen head over heels with Everleaf's original blend 'Forest' the two new additions to the family for 2020, 'Mountain' and 'Marine' are equally worthy of a starring role in your drinks cabinet this Christmas. Priced £18 per bottle, the trio 'Collection' gift pack £45 makes for an extra special present.
1. Everleaf, 'Forest': especially created for spritz-lovers, this bittersweet aperitif is heady and aromatic with vetiver, orange blossom, earthy iris, warm vanilla and bitter gentian root. How is it possible that this sublime spritz is only 50 calories! 2. Everleaf 'Mountain' is vibrant & aromatic with the floral sweetness of cherry blossom and strawberry, followed by tart & bitter rosehip and savoury myrtle. 3. Everleaf Marine: 'Marine' is crisp & refreshing, the driest of the three. Fresh juniper and bergamot lead, backed by complex sea buckthorn and labdanum, ending on the savoury saline umami of kelp, dulse and a touch of bitter olive leaf.
'Forest Gimlet' Recipe: Dissolve 5ml of honey into 35ml of grapefruit juice in a glass or shaker. Add 50ml of Everleaf Forest and ice, then stir or shake until chilled. Strain into a cocktail glass and garnish with a twist of grapefruit of lime.
For more information, the online store and countless recipes visit Everleaf Drinks. Free shipping on all UK orders and a 10% discount when signing up to the newsletter.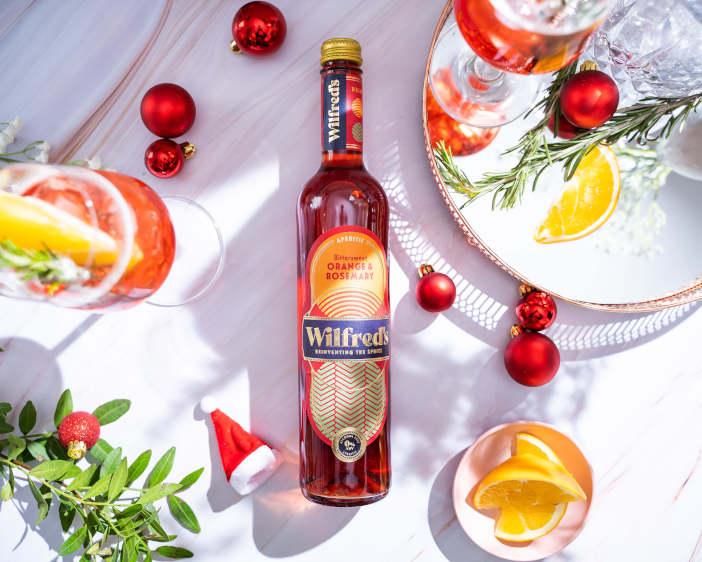 Wilfred's Aperitif
Giving alcohol a miss does not mean that you have to embrace overly sweet and often unhealthy drinks. Wilfred's Aperitif (£18) is a case in point and offers a new generation of drinkers all the complexity and excitement of the greats without the alcohol. Inspired by founder Chris's travels around the world, he sourced every botanical he could find, from rare Japanese hibiscus to the aromatic English rose before his journey led him back home to the authentic flavours he associates most with home, from his mother's freshly picked rosemary to the bitter oranges in his father's homemade marmalade. Made in Britain with natural botanicals and just a hint of rhubarb, Wilfred's Aperitif is 0% abv and contains only 21 calories per serving. It needs nothing more than tonic and ice for a truly distinctive and delicious Italian-inspired spritz, but it also happens to be incredibly versatile as you'll see from the non-alcoholic mulled wine recipe below and the extensive range of drinks concoctions on their website including a 'Lime Sour' and a 'Ginger Mule'.
'Mulled Wilfred's' Recipe: Place 300ml Wilfred's Aperitif, 30ml honey or maple syrup and a small sprinkling of earthy spices from your cupboard (such as cloves, cinnamon, aniseed, coriander seeds etc) into a pan with some fresh orange slices. Warm up until almost simmering, but don't boil. Leave to rest with a lid for 5 minutes and ladle into mugs. Serves 2.
For more information, the online store and countless Wilfred's Aperitif recipes visit Wilfred's Drinks. Free shipping on all UK orders and 10% off your first order when you sign up to the newsletter.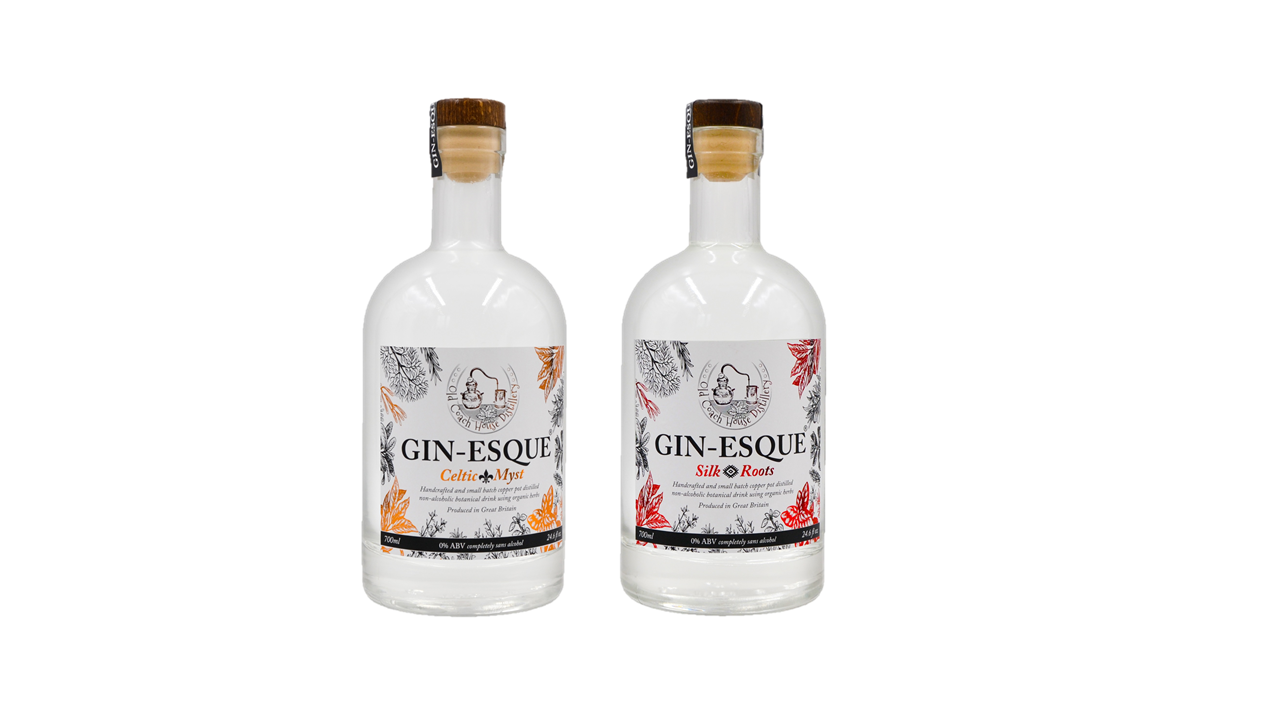 GIN-ESQUE®
Located in the beautiful Wye valley, Old Coach House Distillery produces GIN-ESQUE®, exceptionally well-crafted non-alcoholic gins distilled using organic botanicals that look like, taste like and is made like traditional gin but without the alcohol. If that wasn't enough of a health benefit, this wonderful drinks base is zero calories! Combining the age-old maceration process and traditional copper pot distillation, but without utilising alcohol at any stage, the intense and complex flavour profiles of their range are sourced entirely from natural botanicals, the result of two passionate scientists with over 40 years combined experience of working with botanicals. Available in two variants (£22.99) which draw inspiration from travels and traditional herbalism, Silk Roots is an aromatic blend of clove and cardamom with a hint of citrus and cinnamon notes, while Celtic Myst boasts a herbal base and is citrus led with notes from juniper and Mediterranean rosemary. GIN-ESQUE® is best served on ice with tonic and a garnish of lemon and mint.
Order online from The Alcohol Free Company. For more information visit Old Coach House Distillery.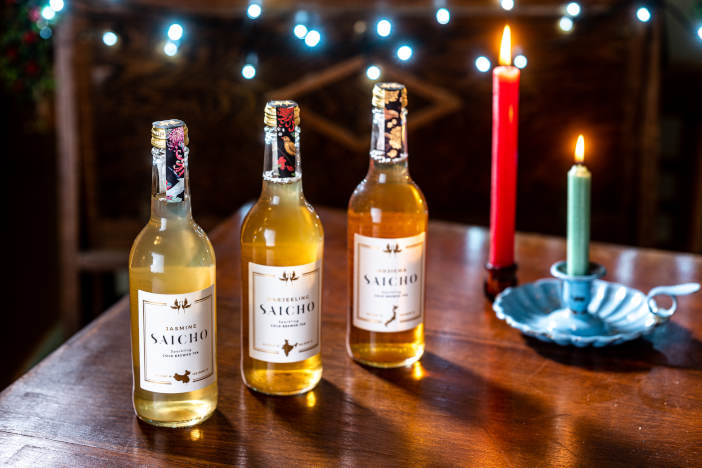 Saicho Sparkling Tea
Packaged in beautiful 500ml bottles (£7.99 each), Saicho comes in a range of three sparkling teas; Jasmine, Darjeeling and Hojicha, all designed to be served chilled in a Champagne flute or coupe. Cold-brewed for twenty-four hours to extract the most delicate and complex flavours from the tea leaves, Saicho teas are then finely balanced with a hint of sweetness and a dash of acidity. As a finishing touch, sparkling the tea enhances the flavour and creates an effervescent drink that can be enjoyed as a non-alcoholic alternative to Champagne or Prosecco.
Created by husband and wife team, Charlie and Natalie Winkworth-Smith, Saicho was born out of a personal desire to create a non-alcoholic drink that could pair well with food. They turned to tea with its rich history and wide variety of flavours, from floral to fruity, nutty to smoky, influenced by its terroir and processing methods. After two years of testing hundreds of different teas from around the globe, they chose their first three teas; carefully selected to pair well with food.
For more information and to purchase online visit Saicho Drinks.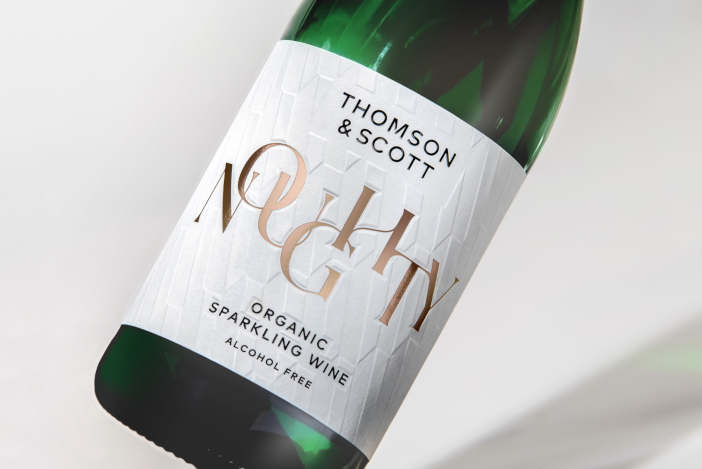 Noughty Sparkling Wine
Ensuring the sober crowd a bubbly Christmas to remember, Noughty Alcohol-Free Sparkling Wine by Thomson & Scott (£8.99) features 100% Chardonnay organic grapes from Southern Spain and is produced using traditional wine-making methods. Dealcoholised using state-of-the-art vacuum distillation and aroma recovery before being lightly carbonated, the fact that Noughty contains only half the sugar you would typically find in other alcohol-free sparkling wines (coming in at only 14 calories a glass) means that the finish is far from emulating fizzy pop, but instead provides former wine connoisseurs with a dry and crisp aperitif with a ripe apple scent. It's nothing short of a miracle! Virtuous rather than 'naughty', this heavenly offering cuts unnecessary sugar whilst providing an organic, vegan and halal experience that is truly delicious, all without the 'hellish' hangover. Justifiably praised by the world's top wine experts, this is the perfect drink to partner with canapes, seafood or even cheese such as Langres, it's hands down our favourite alcohol-free sparkling wine. We fully intend to drink this baby until we drop from dancing or charades rather than boozing. Noughty really has given the sober movement something to celebrate.
'Sarkozy 75' Recipe: Shake 25ml of an alcohol free spirit such as Caleño, 12.5ml lemon juice, 1tsp icing sugar or sugar syrup with ice and strain into a coupe or flute glass. Top with Noughty Sparkling Wine and garnish with a strip of lemon zest.
For more information and to purchase online visit Thomson and Scott.