Wan King Path, Man Fuk Road, Fuk Hing Lane… Cue giggles. If you've ever been to Hong Kong, you may well have spotted (and photographed) one of these amusing street names.
For anyone who loves Hong Kong, quirky names and gin (hands-up, that's me!), you can now have it all encapsulated in a premium craft gin. Step forward Fok Hing Gin. Named after that road in Causeway Bay, Fok Hing is also an anagram of Gin of HK. Clever, eh?
It was inspired by a late-night meeting between two friends, Paul and Harry. One declared: "I need a f***king drink," and then somehow they found themselves sourcing fancy ingredients from Hong Kong markets and finding a distiller in the East Midlands to create a new gin. I'm sure there's more to the tale than that, but apparently that's what happened. A spirit born in Hong Kong, but made in Great Britain – inspired by their past colonial relationship.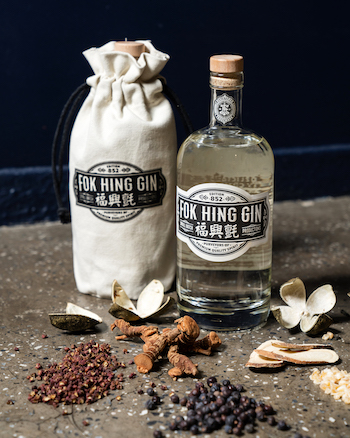 Is it any good? Well, the bottle looks great. I have MANY bottles of gin, and the sleek, clear bottle with black and white label certainly stands out. There are a few Chinese characters to reinforce the Hong Kong connection, and the style of the label is certainly evocative of the territory. I also used to live in Hong Kong, so to have a Hong Kong gin in my collection is actually quite exciting. It's a place better known for ginseng than gin – and for kung fu masters, not gin masters. I have memories of drinking whisky with cold green tea at karaoke at 3am, and of elegant cocktails on rooftop bars but none contained gins created in Hong Kong that I recall.
Fok Hing is a small batch gin infused with 10 natural botanicals sourced from a century-old spice shop in Hong Kong and flown 9,629km to the UK where the gin is distilled and bottled. Its signature Edition 852 gin has a floral jasmine green tea scent, with citrus notes on the palate, finishing off with a spicy Szechuan pepper kick. I knew there'd be green tea in there somewhere.
The gin has just been awarded a silver medal at the 4th London Spirits Competition, scoring highly in the three judging aspects of quality, value, and packaging. Fok Hing well done!
To sum up, it's very drinkable, looks great in anyone's drink collection – and for anyone who'd appreciate the link to Hong Kong and/or coincidental profanities, it would make the perfect gift.
For more information, please visit www.fokhinggin.co.uk.