It seems our Tipples section is rapidly outplaying our Travel section these days. Little surprise, really, under the circumstances – but not altogether unwarranted. After all, don't we find escapes through all our senses? An aroma can be a potent reminder of a distant memory, often associated with a particular experience or destination. And it goes without saying that many of our favourite food dishes are just so because we've developed a fondness for a favourite place – or, when we're unable to go, we want to experience the next best thing.
If Indian dishes are the nation's favourite, what better accompaniment or aperitif to give a more rounded experience than a cocktail born of rum from the Punjab. A rum, you say? From India?
Why, yes. It's a common misconception that rum was born in the Caribbean. True, sugar cane is synonymous with the Caribbean islands – for reasons we'd care not to dwell on – but it's 17th and 18th century histories that have created that association. Sugar cane is, in fact, native to Papua New Guinea and was cultivated in India as early as 6000BC. Even the word sugar is believed to be derived from the Sanskrit word 'Shakara', meaning gravel or sand – hence 'granulated'. And as for rum, there are Ayurvedic records of rum production as early as the 7th century.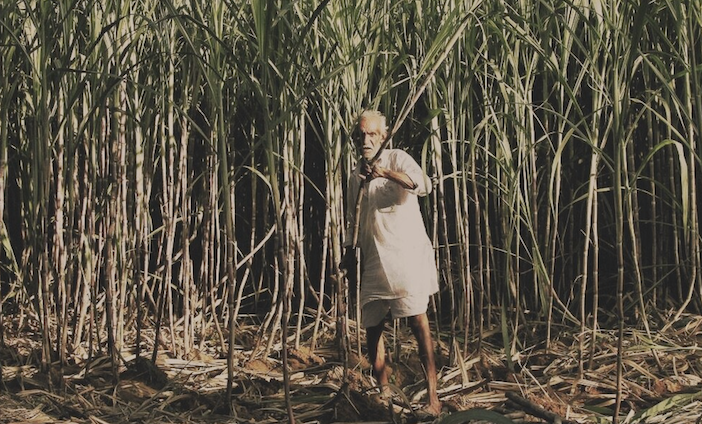 Unbelievably, India is still the largest producer of sugar in the world. Its rum, however, produced ostensibly for its own market has, typically, left much to be desired…until now.
Five Rivers, from the Sanghera Rum Company in the Punjab, is the world's first Indian white spiced rum. The name Punjab translates as 'The Land of Five Rivers', honouring the five rivers that flow from the Himalayas, nourishing the surrounding fields of sugarcane and spice, giving the spirit its name. Refined from five generations of family rum production near Jalandhar in the north of the region, and made with sugarcane grown on the family's farm, Five Rivers brings the flavours of India in a distinctive new way.
"Rum has soared in popularity over the last year," says founder Taj Sanghera, "but its long-standing Indian heritage and methods of production aren't widely known.
"We've created Five Rivers for the western palate, inspired by the English tradition of gin-making, using Indian botanicals; cardamom, coriander, cassia, ginger and clove, and re-distilled it to extract the best flavours, to create the world's first dry, Indian spiced rum."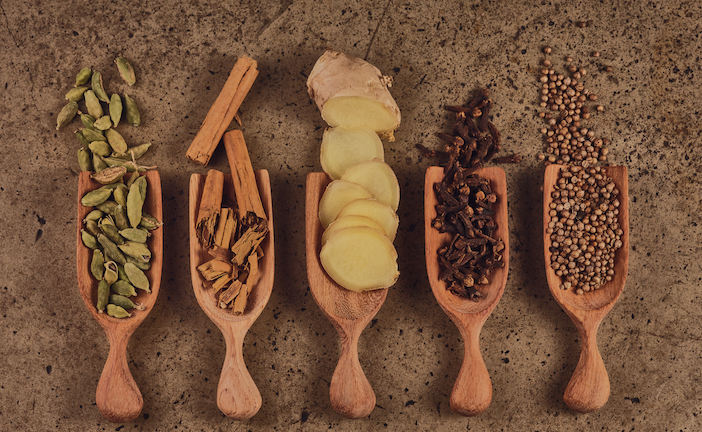 On the nose, it has a rich stewed fruit and candied citrus spiciness. The initial taste is sweet clove and cinnamon, which then leads to a clean, dry and aromatic cardamom spice, with a long and warming peppery finish coming from the ginger.
This unique tipple is best enjoyed in a new and unexpected way for a rum – over ice in a tall glass with tonic, lime and star anise – but Five Rivers mixes equally well in creative cocktails, and we've selected three of our favourite innovative signature serves for your delectation: the Sanghera Sour, Mai Chai and the Punjabi Punch.
Sanghera Sour
Think Daiquiri meets Amaretto Sour, with beautiful aromatic spiced undertones…
Ingredients:
50ml Five Rivers
25ml lime juice
10ml sugar syrup
5ml Orgeat syrup (or 15ml Amaretto)
Dash of egg white
Method:
Place all ingredients into a cocktail shaker with ice, shake and strain into a chilled cocktail glass. Garnish with toasted almonds.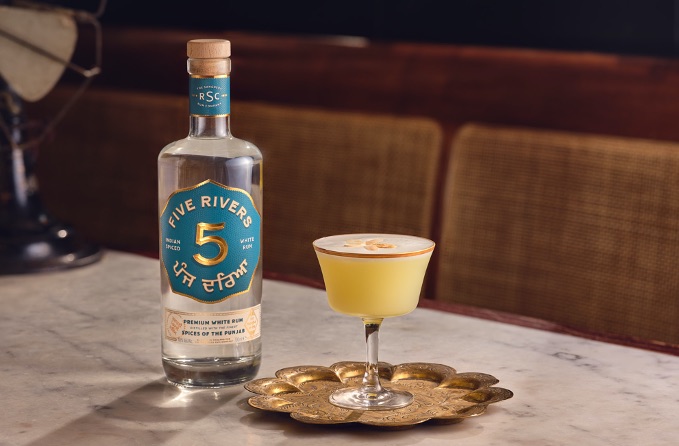 Mai Chai
Turmeric Latte meets Hot Toddy in this twist on the ubiquitous Indian spiced tea…
Ingredients:
25ml Five Rivers
200ml full-fat milk
1 tsp ground turmeric
2 x cardamom pods
4 black peppercorns
1 tsp caster sugar
Thumbnail slice of ginger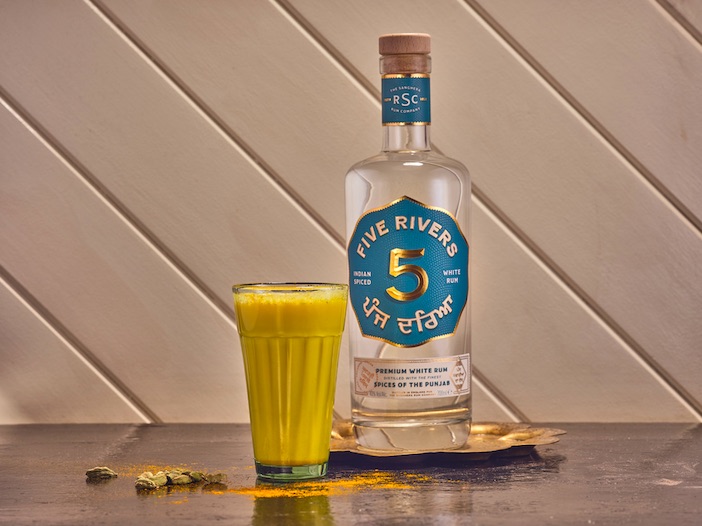 Method:
Heat all ingredients in a pan until bubbling. Leave to cool slightly and turn up heat until bubbling again. Add Five Rivers and pour into a chai glass.
Punjabi Punch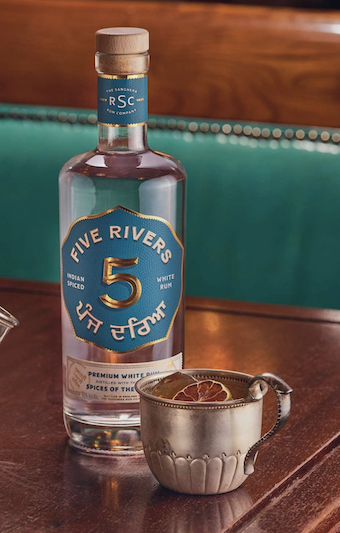 Contrary to its Caribbean counterpart, the punch was popularised during British colonial rule in India. Thought to be named either after the Hindi word for five (Panj) for the number of ingredients it contains, or after the name of the barrels used to store rum – puncheons.
Either way, this is our take on the classic mix of spirit, spice, water, citrus and sugar.
Process:
Pour all the ingredients into a punch bowl with ice, and garnish with lime wheels and marigold flowers.
250ml Five Rivers
500ml cold brew Assam tea
100ml banana oleo*
120ml lime juice
5 dashes Angostura bitters
*2 banana skins covered in sugar and left for 24 hours
Five Rivers is priced at £31.50 (40%, 700ml) and can be purchased from www.fiveriversrum.co.uk.