What was your favourite childhood toy? This is one of many questions I was sent by the organisers of the Krug Institute of Happiness – a five-day pop-up restaurant at 85 Swains Lane; a glass-fronted private house in the grounds of Highgate Cemetery, the final resting place of Karl Marx, George Eliot and Christina Rossetti. My happiness is so important to Krug, that I've been grilled about everything from my favourite song and film, to which flower evokes joy and which colour makes me feel excited. Having bared my soul, I'm assured that the answers will be used at certain points throughout the evening.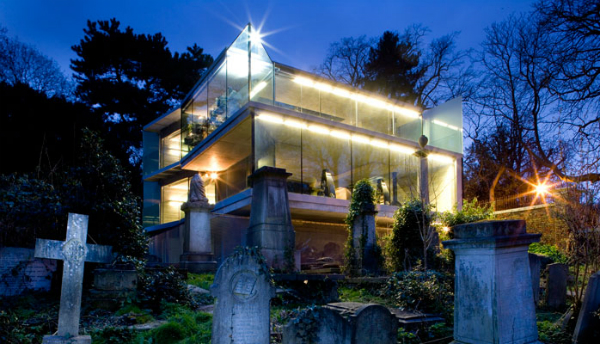 During December and January's long, bitter nights, thoughts turn to the sweet, distant memory of the sun's warming glow on bronzed skin and expanses of bright blue, cloudless sky. To help make winter more bearable, the thoughtful people at Krug decided to create a bespoke dining experience centred around joy. Being such a subjective thing, had they set the bar insurmountably high?
The Wonka-like golden invite promised: "a multi-sensory journey identifying the means, actions and memories we call upon in search of happiness." Why is happiness something we always pursue? Something we strive for? Why must it be so ephemeral and fleeting rather than an ever-fixed mark? Is lasting happiness attainable, or is all we can really hope for mere moments of joy?
I digress. Clever Krug managed to snare one of the best names in the business to spearhead the project and man the stoves – Portuguese-born Nuno Mendes of Michelin-starred tasting menu restaurant Viajante in Bethnal Green, one of the most affable and insightful chefs working in London today.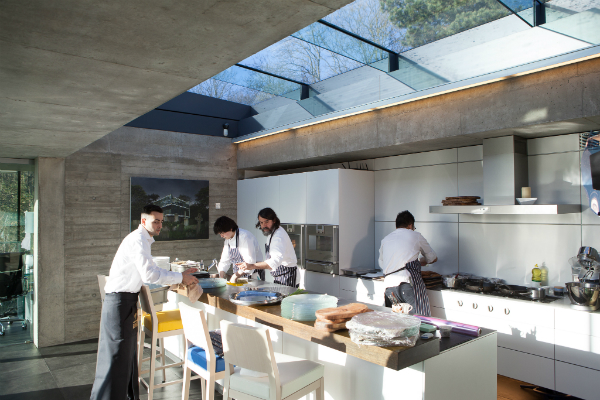 Arriving at 85 Swains Lane – a Grade II listed house built by architect John Winter in 1969, I was greeted by a man in a black cape and bowler hat in an atrium full of autumn leaves that crunched pleasingly underfoot. Ushered upstairs, passed a bathtub filled with flowers, I clock Nuno and his team beavering away on the canapés, each a trompe l'oeil trick playing on colour, texture and flavour, from silky scallops on a bed of dried parsnip crisps, to carrots rolled in breadcrumbs and pine nut ice cream, all washed down with a vivifying flute of Krug Grand Cuvée. Sixth generation of the Krug family, Olivier Krug, was milling about the room in a grey suit and pink tie, offering anecdotes to order, while high-octane songs from The Beatles, Bowie and Queen blasted out of sleek speakers to get the adrenaline flowing.
Stepping out onto the balcony into the bitter night, my breath swirling up to the black, starless sky, the view from the terrace onto the graves below was a chilling reminder of the transitory nature of life that jolted me into acknowledging its brevity. Life is woefully short and we need to grab our moments of happiness when we can. Most of life is just window dressing. When you really drive it into a corner, only a few things matter, and happiness, or the noble pursuit of it, is one of them. Before my melancholic meditation on life and death is allowed to go any further, we're escorted into the modest dining room ­– a square, glass-fronted space dominated by a grand piano and two wooden benches. In the far corner, a colourful mass of origami birds forms the focal point, like a giant baby mobile in turquoise, red, yellow, orange, purple and green – our respective colours that excite, hanging from the branches of a tree like a flying rainbow escaped from Wonderland.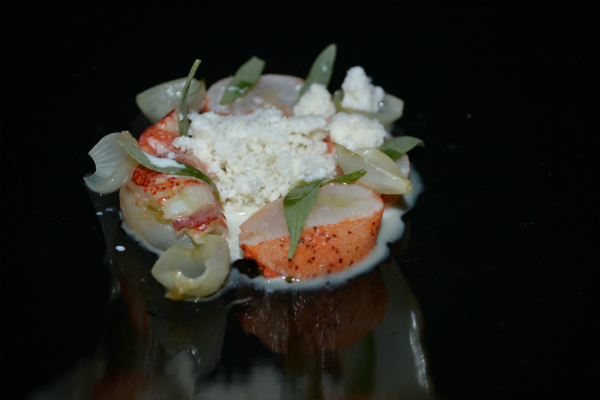 Taking our seats, we're presented with our final amuse bouche – a black olive cake with yeast and crushed potatoes theatrically served in a bell jar billowing with smoke. Kicking off the dinner proper is a starter of cured lobster with spring onions crafted into what look like pasta shells, in a frozen, milk-white consommé with spruce bark. Fresh, invigorating and life-affirming, the dish brings out the richness of the accompanying Krug 1998, which showed notes of lemon sherbet, desiccated coconut and roasted hazelnuts.
Next came a Japanese-inspired dish: halibut with seaweed sofrito in a seafood rice broth. Taking the happiness-inducing savoury fifth sense umami as his compass, to send our endorphin levels soaring, the featherlight halibut is a masterclass in elegance and restraint, while the salty miso broth adds an extra dimension of flavour, warming our cockles on this frosty December night. Also on hand to warm our cockles is ridiculously talented young pianist Stephen Ridley, handsomely dressed in scarlet breeches, who tickled the ivories while we dined, with such focus and sincerity, it was as if he were the only one in the room playing the heartbreakingly beautiful chords of the Amélie theme song by Guillaume Yann Tiersen. On playing Let's Get It On by Marvin Gaye, one of the more ebullient diners jumps to his feet, takes his place by the piano and belts out the lyrics with gusto and surprising ability.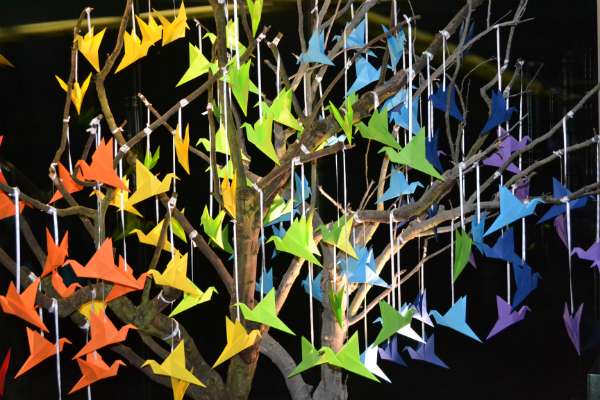 Meanwhile, the main event is a slice of aged pigeon with ruby red flesh served with paper-thin autumn leaves. The meat is so tender and rare, it's almost a tartare, the crispy leaves adding depth to the dish, which paired brilliantly with the Asian spices and cherry notes of the copper-coloured Krug Rosé, which, Olivier gleefully informs us, is Madonna's guilty pleasure. On cue, Nuno emerges from the kitchen to present dessert, enigmatically titled: "Return to the beginning, happy memories of home". As fragile as a snowflake and equally complex, it consists of different textures and flavours of milk – "the first drink we experience," Mendes reminds us, and hence, the essence of home. Reminiscent of Massimo Bottura's signature dish at his three Michelin-starred restaurant Osteria Francescana: five ages, textures and temperatures of Parmesan, Nuno's take is a paean to milk, served in meringue-like chunks that look like hunks of snow, and a melting ball of milk ice cream that evokes happy childhood memories of a Mini Milk from the Mr. Whippy van.
Sweet and fittingly at this point, if a little mawkish, giant flakes of snow begin to fall in a flurry outside the window, provoking gasps of delight from the guests. We all know it's for show, but enjoy suspending our disbelief for a moment and enjoying the magic of it all. As saccharine as it sounds, the night taught me to never let go of my childish enthusiasm for life and capacity for wonder. It's what makes life worth living. I heard stories of fellow diners discovering a paper bag filled with their favourite sweets, from Liquorice Allsorts to lemon bon bons, tied with a red ribbon in their coat pockets on their way home. I excitedly checked mine, hoping to find a bag of my own. They were empty. But then I did tell the organisers that my favourite sweets were salted caramel truffles. The perils of expensive taste…
For more information on the Krug Institute of Happiness, visit the website.