It is Monday the 17th May. As the thunder claps louder than the rest of the UK once did for our NHS carers, I scurry swiftly under a clear umbrella from Green Park tube station to the gastronomic institution that is Hide. Oh, what a feeling of drama and euphoria that echoes in my splashy splashy wake as I hop over murky puddles, and under dark and furious, wet clouds. A day to remember – the first day of indoor re-openings for dining establishments, and other such fine fetter places, where après ski attire is no longer a look required, just to attempt some form of sociably-acceptable gathering. The faux fur is off; and for tonight, as the heavens open, the galoshes are firmly on.
This evening's engagement brings us to a UK launch of Nuet Aquavit, a double celebration of newly found freedom, alongside taking the opportunity to marry the provenance of this Scandi spirit, to its hinterland – on what also so happens to be, Norway's National Day.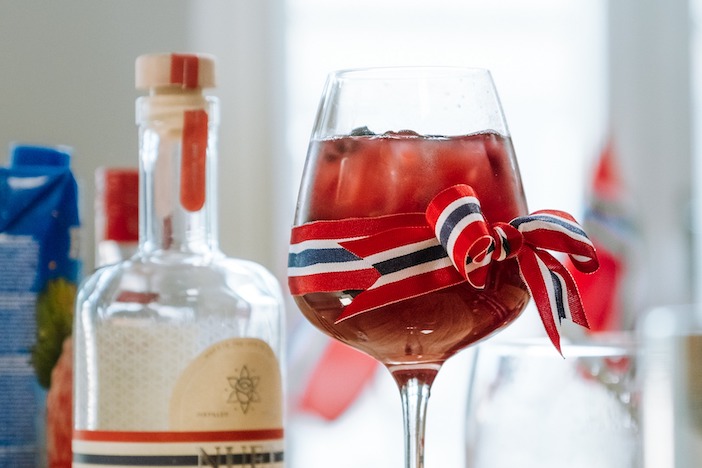 With renewed excuses for a party, it is a joy to be in a small group of like-minded people, and on familiar territory once more, clustered in the bowels of Hide: Below. The bar here has always been a select favourite, with its long, sleek counter top, plus-sized wines acting as cover stars to the wooden panels on the walls behind us, and the inimitable swathe of timber that comprises the much-photographed, deftly-sewn, oak-fashioned, staircase. Tonight, on such a renaissance occasion, it does far from disappoint. Over 'A-ha Spritz's' (Nuet Aquavit, pear, sparkling wine, and 'wisdom') we converse about 'normal things' whilst taking in the advice attached to our cocktail glass's rim (mine, for the record, was "Only dead fish follow the stream." A word to the wise, thanks, Hide bar). Fleetwood Mac seems to dominate the conversation, live music, real-life concerts, Stevie Nicks and her more recent Miley Cyrus mash-up. It is like old times, but with new people. A new lease of life.
From Hide we continue on our urban foraging (for festivity) across London town, in the back of a black cab. We sail down Haymarket, along Pall Mall, past Trafalgar Square with her ice-cream topped plinth, along Embankment and into The City. Here we reconvene at Ekte Nordic Kitchen, on Bloomberg Arcade – introducing us to a small but perfectly formed window into Norwegian society, and more importantly, Nuet-based cocktails.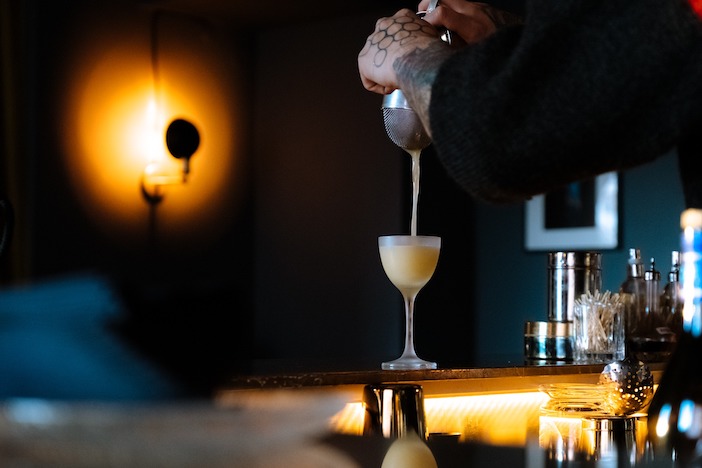 Tonight, dining in our vicinity is the Norwegian Chamber of Commerce team. Kyrre Haugen, General Manager, is decorated in his red white and blue striped ribbon – denoting a level of certain prestige amongst the evening's ceremony, as well as signalling the national flag that sits atop every table. We, meanwhile, devour the smorgasbord of Norwegian open sandwiches brought before us – a vision of smoked fish, KjØttaker (meatballs) and Himalayan salt-aged beef, well-watered with perfectly crafted cocktails of a distinctly Nuet nature.
Some of the group chides the Negroni apologist sitting opposite us, but I for one, in harmony with his t-shirt slogan, also think this bowl of bitters is an excellent space to inhabit for a little Aquavit. The night does, perhaps unavoidably, end in drinks of this twisted kind, and soon we are once again enraptured with the delight of being out and about, right here, in the moment. 'Nuet' means now, and this seems a brilliantly, timely sentiment for a standstill evening, in which we are simply, unmistakably, present.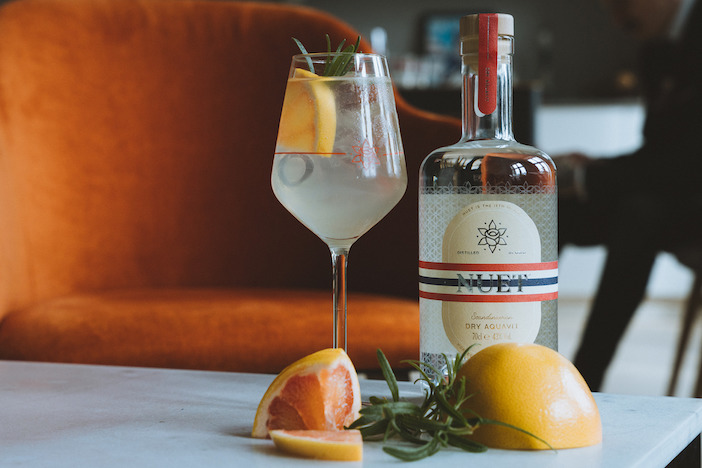 Aquavit has been a Scandinavian tradition since its first recorded mention in 1531. It literally translates to mean 'water of life'. Like gin, whose dominant flavour must be obtained from juniper, an Aquavit must be made primarily from caraway seeds. Harmoniously, Nuet is the first and only aquavit ever to win an award in a gin category of an international spirits competition. Nuet comprises grapefruit peel and blackcurrant influences to accompany this traditional caraway, along with a fresh, smooth finish – an element, they claim, to be unlike any Aquavit or spirit currently seen on the market.
Nuet Dry Aquavit's signature serve is a spritz:
Mix together ice, 4cl Nuet Dry Aquavit, 8cl cloudy lemonade and top with your choice of bubbles (Prosecco, Cava, Cremant or Champagne).
Gently mix together and garnish with a slice of grapefruit and a rosemary twig.
For more information about Nuet Aquavit, including cocktail recipes such as the Nordic Mule and Oslo Otter, please visit www.nuetaquavit.com. Nuet Dry Aquavit is available to purchase from 31 Dover, RRP £39.95, 70cl and 43% ABV.