For about the last ten years, for at least one week in the summer, I would holiday in Cornwall with my in-laws. Contrary to that statement sounding like punishment, it was the stuff of Arthur Ransome novels. We'd gravitate towards a favourite spot on the coast, hiring the same cottage if we could, and spend days with our daughter and her cousins exploring beaches, taking cliff top walks, rockpooling and enjoying barbecues in the garden. Save one year that was an absolute wash-out, my memory is of week-round sunshine, frothy ales and pasties, barrels of laughter, and the finest fish I've ever eaten.
We didn't – couldn't – go last year, for reasons which shall remain tediously unmentionable. And, this year, we're bracing ourselves for more disappointment. Our winter conference to make summer plans, now conducted over Zoom, has us considering other options. But I already miss Cornwall desperately.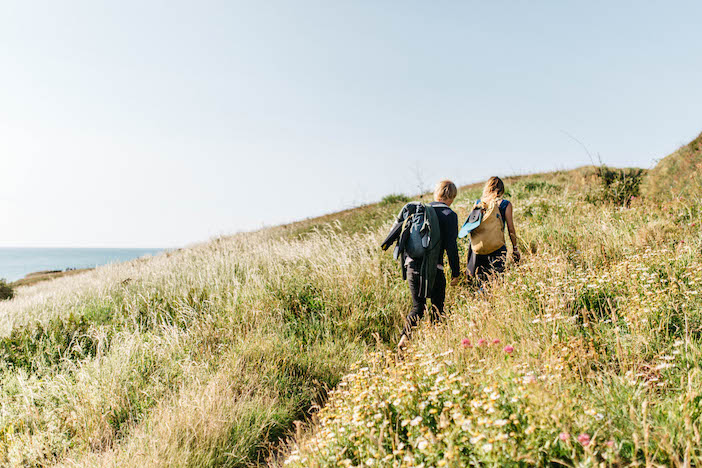 There's something so magnetic about it. If you've been, you'll know what I'm talking about. And if you've returned, you've done so often, I'm sure, and likely begun to develop your own fondness towards a specific spot, making it your own. For me, in my youth, learning to surf on Polzeath beach, clifftop hikes from Boscastle to Port Isaac, coasteering its rugged coastline, suited my younger self. Latterly, it's the softer south; the gentle pace of St Mawes, the timeless beauty of Fowey.
Whatever your affinity for Cornwall, whatever corner you've 'discovered', there is a common thread that bonds its unique appeal: its coast. And it's that that creates the yearning to return each year, and that I've missed so much for not having been. But there is a close second to feeling that sea air in your lungs, the wind whipping through your hair, that scratchy salt-flecked feeling of the surf on your skin.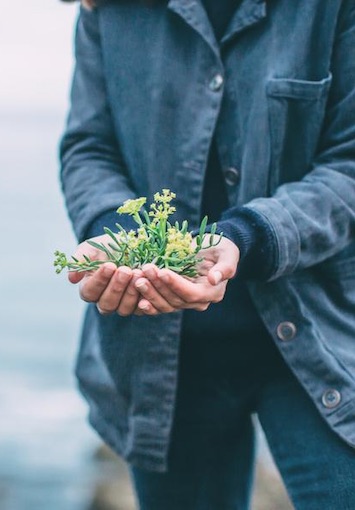 "I wanted to bottle that experience," says Alistair Frost, founder of Pentire. A fan of coastal living, of catching waves until dusk and camping on clifftops, Frost has taken his passion a step further and created a distilled botanical drink that captures the spirit of Cornwall, quite literally.
Distilling botanicals is all the rage, and those of the non-alcoholic variety are particularly in vogue, but Pentire is – indeed, tastes – different. Frost and co-founder Edward Grieg-Gran's goal is to offer something that captures the flavour and feeling of its eponymous headlands that the founders so love to adventure in. Their inspiration is the coastal botanicals which flourish in the North Cornish coastline's unique climate, soil pH and air moisture. And that attention to detail has paid off with their founding product.
Adrift is coastal, herbaceous and fresh with notes of sea rosemary, rock samphire and sage, paired with citrus and sea salt. Cracking the bottle, there's something gin-like about it, but there more to it than that; you can almost smell the coast. I take their cue and pour a 'Pentire and tonic' – the suggestion on the website is Fever Tree light – and the first thing that hits me like a wave is quite how refreshing it is. It's an eyebrow-raiser for sure, and eminently quaffable. Accompanying the preparation of a Friday night supper, as I foot about the kitchen, taking sips between chopping and stirring, something else about it grabs me; it's the closest a non-alcoholic distillation has come to a real G&T. It feels like a proper aperitif.
What's interesting, too, is that they've not packed every plant into this one spirit. They've clearly been quite adroit about what to put into Adrift. It's nuanced, not gimmicky, in its capturing of those coastal flavours. So much so, with far more to forage among those clifftop hedgerows, there's another product in the pipeline.
Seaward is its bright, zesty and verdant sibling, with leading notes of refreshing grapefruit, followed by green freshness and herbal notes of sea rosemary. It's currently available as a limited edition infusion, launching officially on 20th March 2021; the first day of Spring.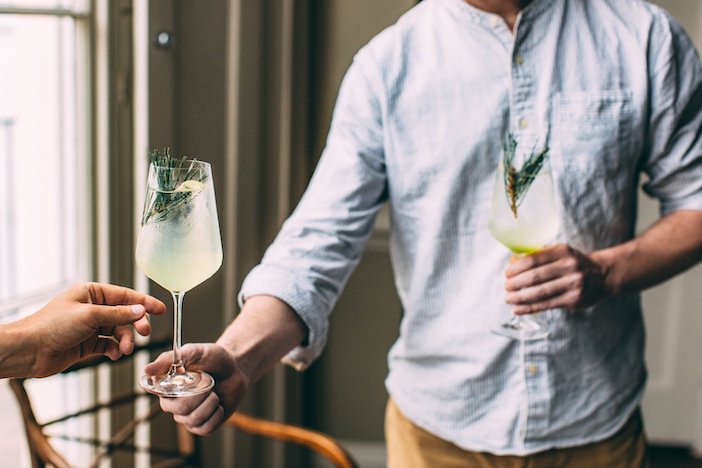 But there's more to Pentire drinks than a refreshing serve. Its ingredients are all Fair Trade and Organically Certified, as you might expect, and accredited by The Soil Association. They're bottled by hand and packed in entirely recyclable, plastic free packaging and shipped by free, next day, carbon offset delivery. What's more, the company is pending B-corp status and has a particular focus on protecting the oceans in its sustainability efforts, notably by supporting the Blue Marine Foundation. So it seems that not only can one avoid a hangover, but that's a huge weight off one's conscience.
Recently voted Trustpilot's top rated non-alcoholic spirit, little surprise it's being revered by many of Cornwall's standard bearers, from Nathan Outlaw in Port Isaac to Paul Ainsworth and Rick Stein in Padstow, and is spreading further. You can enjoy Pentire in those delightful Pig hotels dotted about the country (when we're allowed back in them) – and, if you are confined to the capital, you can even find this special corner of Cornwall in Chelsea's The Sea The Sea.
One thing's certain, though, wherever you're sipping your Pentire and tonic, you're never far from the coast. And, as I pour a second, gainfully spruced with a sprig of thyme and rosemary, I can't wait to get back down there…
Pentire drinks are available to purchase via the Pentire online shop. A 70cl bottle costs £26.80. Other stockists include: Fortnum & Mason, Harrods, Fenwick, Daylesford Organics and Hauser & Wirth.
For more information, including cocktails, recipes, details of some of the botanicals used in Pentire spirits, and advice on the perfect garnish, please visit www.pentiredrinks.com.