Remember James Norton cowering in an oligarch's cellar in McMafia, taking cover from a deadly assassin amidst the fine wines? What only the most eagle-eyed of viewers will have seen, though, is that these wine racks did not contain row upon row of vintage Champagne. No, this discerning oligarch's tipple of choice was in fact a sparkling wine produced by Digby Fine English.
Just another indication of how quickly English fizz is catching up with its French counterpart. Or, as Trevor Clough, co-founder of Digby, puts it: 'The Champagne houses have had two centuries to perfect their art; our industry has had two decades, but we're getting there.'
Part of Digby's success can be traced to the temperate conditions and fertile land of the North and South Downs from which they source their grapes. The geology of this part of Sussex is known to be similar to that of the Champagne region: both formed part of the same ancient seabed, and share the same chalky subsoil. What's more, with the onset of global warming, the average temperature in Sussex has increased by one degree over the last century, improving conditions for the production of exceptional sparkling wine. Indeed, if temperatures continue to rise as forecast, some fear that it will be the terroir of Champagne which finds itself adversely affected. As a result, the French are beginning to take note of what southeast England has to offer, with both Pommery and Taittinger buying up tracts of land for new vineyards.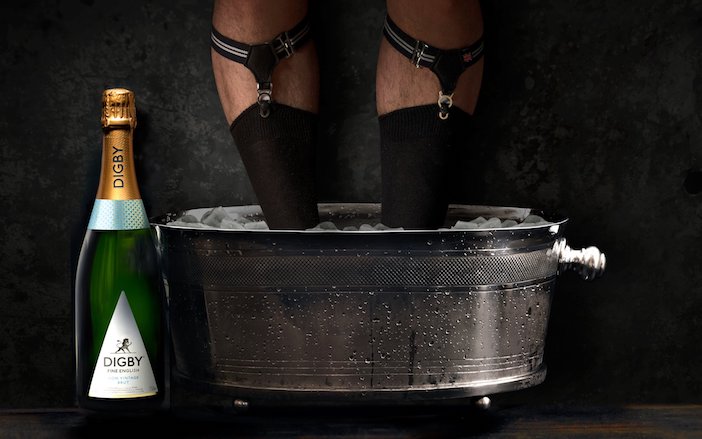 Digby Fine English has been up and running since 2006, and is now the UK's largest exporter of English sparkling wine, with a third of the 120,000 bottles they produce each year sold overseas, mainly in the US and Far East. But their focus now has turned towards the domestic market, and with this in mind, they've just opened a Tasting Room and 'global HQ' in the historic market town of Arundel, West Sussex.
In the creation of Digby, US-born Clough, and his British co-founder (and husband) Jason Humphries, took their inspiration not from Champagne, but from Napa Valley. The two met while pursuing business careers in Boston, Massachusetts, and bonded over a shared love of wine. Having read about English fizz, they found it curious that they were yet to find any on a restaurant wine list. Confident that they could correct this aberration, they dreamt up a crazy plan to move to Sussex and start producing the stuff themselves.
'Our first point of research was Napa, where we'd done countless wine tours,' Clough recalls. 'I cold-called ten wine houses, and nine of them took our meetings.'
These informal conversations with old Napa heads proved invaluable. The consensus was against buying land and planting a vineyard. Better to become 'négociants' – or wine-blenders – with the freedom to pick and choose the best English grapes to create their own signature wines. Not only would this help to hedge the fledgling business against the vagaries of the English weather, it would also let them produce their wine more quickly (it can take up to 15 years to start a winery from scratch).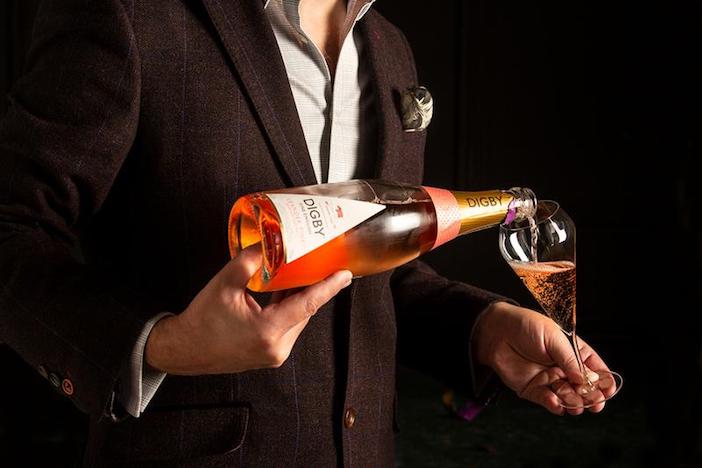 'Wine-blending is commonplace in Napa, as it is in Champagne, but no one was doing it in the UK,' Clough says. So they clubbed together with acclaimed winemaker Dermot Sugrue, who'd worked with established names such as Nyetimber and Wiston, and Digby quickly began to make its mark. Its very first vintage, the 2009 Reserve Brut, was awarded a gold medal by Tom Stevenson at the Champagne and Sparkling Wine World Championships.
'That really put us on the map,' Clough recalls fondly. Since then, they've triumphed over both Krug and Dom Pérignon at blind tastings, and have found themselves lionised by Selfridges and Harvey Nichols. More recently, they've partnered with the Leander Club in Henley to produce a pink sparkling wine to match the pink-hippo colours of the world-famous rowing club.
Humphries rowed for his college at Cambridge, so the sport is close to the brand's heart, and with £1 from every bottle sold going towards improving Leander's training facilities, everybody wins. 'Other English winemakers may be able to entertain American buyers at their vineyards, but we take them to Henley Royal Regatta instead!' Humphries laughs.
The Napa model has inspired the pair to think big. 'When tourists visit San Francisco, they often take in Napa too,' says Clough. 'We want our new Tasting Room to be seen as the gateway to English Wine Country.'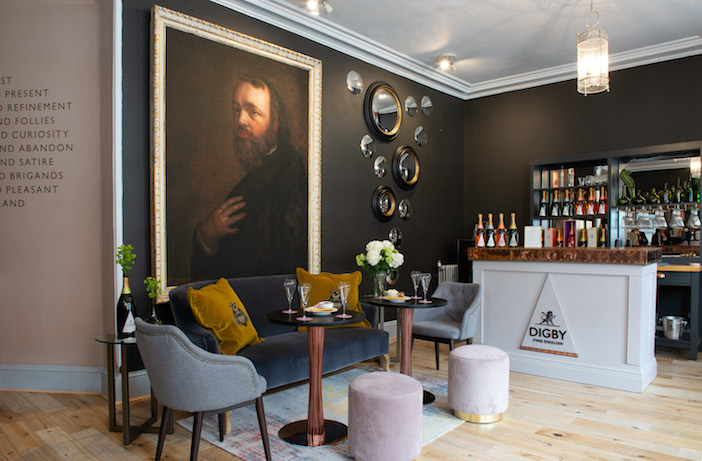 Arundel is less than 90 minutes from London by train, and the Tasting Room is housed in a former bank on the High Street. In pride of place is a massive reproduction oil painting of Sir Kenelm Digby, the 17thcentury English adventurer and polymath. It was Sir Kenelm who came up with the prototype of the modern wine bottle, and his legacy of buccaneering innovation lives on in the brand which now carries his name.
Under the big man's watchful eye, the Tasting Room Manager, Alex Ransom, leads me on a tasting flight through Digby's four styles of sparkling wine. We kick off with their flagship, the 2010 Vintage Reserve, before moving onto its 'cheeky little brother', the non-vintage Brut. Next comes the Leander Pink, followed by the 2014 Vintage Rosé. All are refreshing and beautifully structured, living up to the bold ambition of their creators to produce 'the finest sparkling wines in the world.'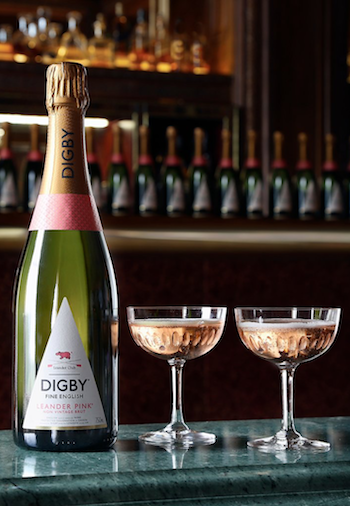 Each wine is served in a specially-created 'Digby Glass' (co-designed by Trevor), which combines the wide, airy mouth of a coupe with the more robust base one normally finds in a flute. Just as Sir Kenelm reinvented wine storage, so his spiritual descendents have updated the crystal.
The new premises also include a Club Room. Located in the former bank manager's office, its walls were soundproofed to prevent the good burghers of Arundel learning each other's financial secrets, and so provide a wonderfully discreet location for a dinner party or business meeting.
After a delicious lunch – and more Digby fizz – I depart reluctantly for the train station, passing Stopham Vineyard along the way, one of the brand's main grape providers, where rows of bushy vines grow along the Weald, the ridge that runs between the Downs. On the road, I see numerous signs for other wine-producers – Nyetimber, Tinwood, Wiston – and find myself thinking less of McMafia than of the 2004 Alexander Payne film, Sideways. This is just the beginning for English Wine Country, one senses, just as the opening of the Arundel Tasting Room marks another stride forward in the continued success of Digby Fine English.
For more information about Digby Fine English, including details of the tasting room, events, and where to buy it, visit www.digby-fine-english.com.