Hanging out with motorbike builders and whisky distillers really deepens your understanding of the phrase 'labour of love'. I am in a motorcycle workshop hiding behind a nondescript black door in a series of railway arches in Leith. Inside is a treasure trove of Ducati-dominated heavy metal; a pleasure dungeon for people for whom grease and leather correspond exclusively with motorbikes.
This is the workshop of Tyler Lunceford, months in the making. He sandblasted the walls and ceiling himself over 18 days, then built a mezzanine to oversee his empire, and painstakingly shipped over each piece of his sprawling toolkit, assembled during his more than 20 years living and breathing bike craftsmanship.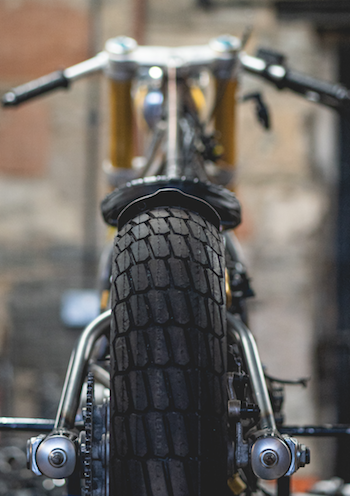 Tyler has been building motorbikes since he was old enough to ride them, eventually landing at Ducati and establishing himself as one of the world's foremost creators of custom Ducatis. He fires up his daily runaround for one of our party to try out; the noise clears out any pigeons within half a mile and the spark plugs give the rider a non-trivial electric shock. As his fiercely loyal customer base will tell you, this man is clearly not prepared to compromise in search of the perfect build.
That's why this workshop also contains something unexpected: the unmistakeable lung-tickling peat monster that is Smokehead whisky. (To be clear, motorbikes and whisky are, and should always be, sampled entirely separately – save your drams for when the day's riding is done, Smokeheads). The unruliest brand in Islay single malt has commissioned Tyler to build the Smoker, a new bike for which the brief only demanded boldness – the details are up to the man himself, but it's likely to be something robust, scarily powerful and lovingly crafted down to the tiniest detail. Motorbikes and whisky shouldn't go together at the same time, but under the surface, the two disciplines are extremely similar – it takes decades of craft, patience, refinement and road-testing to get the right mix of high-end power and luxurious satisfaction.
There are three whiskies in the Smokehead stable now: the original, bottled at 43%; the High Voltage, catalyst for a number of wild nights, inexplicably easy to drink at a brisk 58%; and now the Sherry Bomb, peaty as ever but sunkissed by Spanish oloroso casks, clocking in at 48%. The origins, in terms of the distillery that provides Smokehead's liquid, remain a tightly guarded secret, but over the course of my 24 hours in Edinburgh I do my very best to figure it out, by consuming Smokehead in all its varieties at every opportunity.
But first we need to take in the Smoker. The bike build is well underway, and the machine is already pretty intimidating, a muscular skeleton of metal and rubber glowering at everyone from its pedestal in the centre of the workshop. The plan, once it's finished, is to take it out around Europe, where the inevitably thunderous hum of its engine will signal the arrival of Smokehead's fire water. Judging by the sheer force that emanates from Tyler's other builds, it will take a brave man or woman to sit astride it and keep it under control.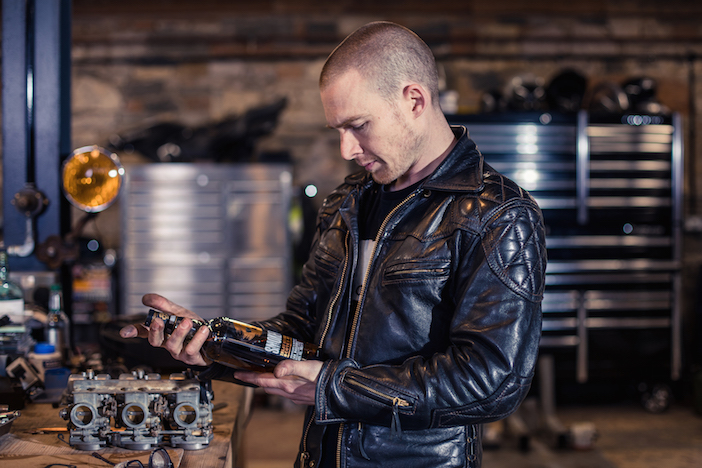 After the workshop, it's time to road-test the three Smokeheads, so we retire to a pub called the Black Cat for a tasting, sloshing down the original and the High Voltage for context, before really taking a deep-dive into the Sherry Bomb. Peated sherry is a tricky area to get right; the Lagavulin Distillers edition was a recent example that ended up making you wish it was either a peated whisky or a sherry monster, rather than a bit (but not enough) of both. That came in at 43% but Smokehead shot for 48% – a wise move, as the extra punch keeps the sherry bomb on message a bit more, with boldness being the overwhelming sensation. After offsetting all the neat scotch with a healthy amount of Leith juice (a friendly session IPA), it occurs to us that some food might be a good idea before our metaphorical motorbikes get out from under us.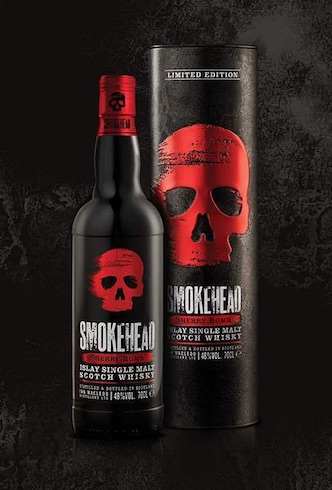 Around the corner we go to Fazenda, the massive meat emporium, by 7pm already full of steak-quaffing revellers. This place has a kind of always-on ordering system; men with knives bring choice cuts to you on huge skewers constantly, slicing off portions directly onto your plate unless you flip your menu card from green to red. The faux-vegetarians in our group fold immediately and start demanding rarer and rarer cuts, until we reach our collective meat capacity and have to contemplate standing up for the first time in 90 minutes. It's not easy, but I nail it on the third attempt, and we're back out into the streets, heading back to the Black Cat for a few more drams.
Things have escalated in our absence. In the street outside, a fire eater is swinging around flaming ropes; inside, some low-key blokes shuffle in, sit in the window, and then whip out instruments and launch into two hours of energetic folk music. The bar staff have started liberally distributing the dangerous cocktails to which Smokehead lends itself so well; smoked cola, smoked ginger, smoked sea dog, and my favourite (of course) the smoke fashioned.
The folk band are reaching a crescendo, against a backdrop of whirling fire; we spill out into the street and head back to the hotel to sleep it off. But after a day spent with the Smoker and the Smokeheads, the car ride seems terribly mundane. No doubt next time I'm here, the menacing rumble of Tyler's finished dream Ducati will be rolling around Edinburgh's streets. Steel yourselves: the Smoker is coming.
For more details on Smokehead, their range and details of The Refinery, visit www.smokehead.com.