The Dublin Writer's Museum sits on a corner of Parnell Square, housed in an ornate, 18thcentury, redbrick mansion house. In this northern part of the city, a myriad of stories weave their way around the two rooms dedicated to Ireland's most prolific writers from the last 300 years. Plaques provide detailed portraits, both written and painted, of no less than four Nobel Prize winners and an interesting array of other such characters, including James Joyce, Oscar Wilde, C.S Lewis and Samuel Beckett. For €7.50, even the most hard-core of literati won't be disappointed by what they might find beneath glass-fronted cases and their accompanying, richly researched, texts.
Prior to the building becoming a museum, No. 18 Parnell Square was a private family home. In 1891, George Jameson, then a production manager at the eponymously-named family whiskey distillery, resided here until 1914. During this time, he commissioned Alfred Darbyshire to re-decorate the property, including the addition of a stained-glass window – still in evidence today. The window bears the Jameson coat of arms and 'Sine Metu' motto, also displayed widely at the Bow Street Distillery.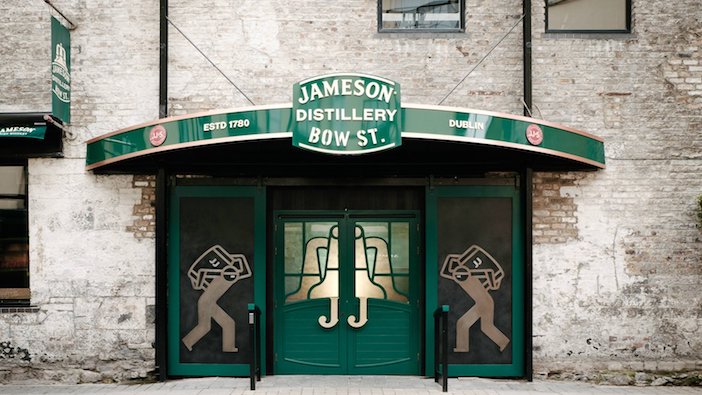 'Sine Metu' means 'without fear' and is decorated in the family colours of maroon and cream. There are four female figures on the window – representing music, literature, art and science. With the rise of their whiskey empire, the Jamesons, originally of Scottish descent, can be attributed with writing their own chapter in Irish history – one whose legacy and focus remains within a social as well as a commercially important narrative.
We visit the original Smithfield distillery on Bow Street and meet Master Blender Billy Leighton, Assistant Blender Dave McCabe, and company Archivist, Carol Quinn. From what began as a family owned brand, until 1988 when Irish Distillers merged with global drinks company Pernod Ricard, Jameson whiskey has grown into what can easily now be described as Ireland's most recognisable whiskey. "John Jameson seemed to be immortal" says Quinn, "the memory was lost that there were four of them" she says when describing the original one – who, with his wife Margaret, had sixteen children.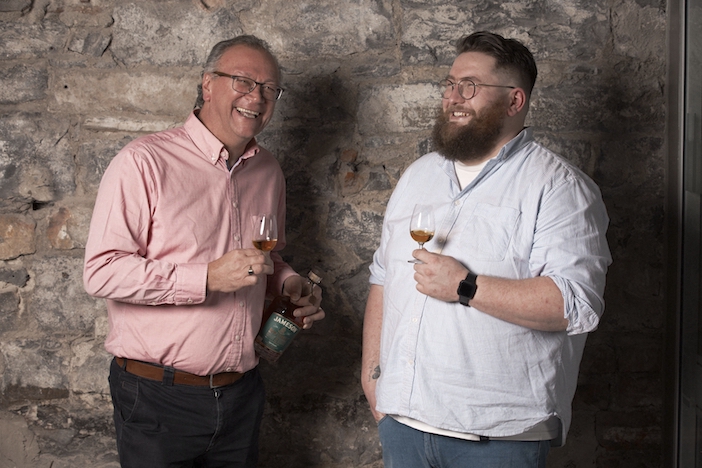 The business certainly had a string of characters involved within the business. Quinn particularly references the Disney Family (once visited by the famous film company whereupon the Dublin Disneys allegedly (less) politely told them to leave) and the Darcey Family who lived together on site at 18 Bow Street for three generations. "The children would use the wooden staves as see-saws," says Quinn.
In the recently well-refurbished Bow Street Distillery, now turned impressive visitor centre, inner social delineation is evident in the black and white photos that depict the Coopers – dressed in a hat, tie and suit – contrasting themselves to the other site workers of the time. Master Blender Billy Leighton is keen to assure us that wood use is still of prime importance in all that he does today, commenting "we can go to the forest and trace everything back to the cooperage. I don't think anyone has the same wood management as we do."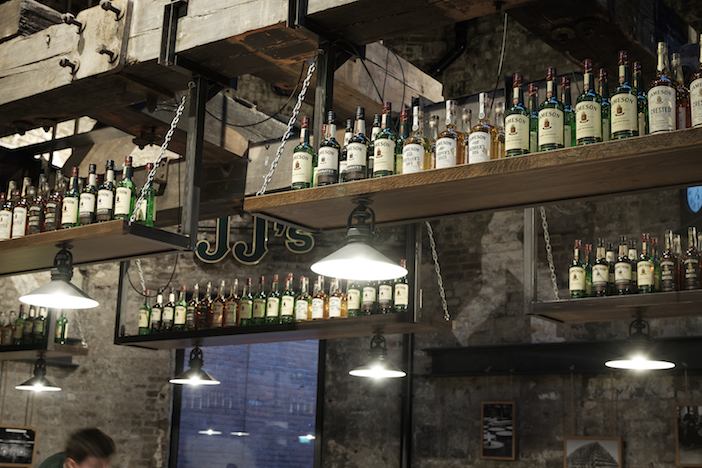 Billy, who originally began life within the Jameson family in the accounts department, has overseen all sorts of innovation and change during his now impressive count of years at Irish Distillers. He has seen the implementation of the quirkily-designed Method and Madness series, Deconstructed series and of course has overseen the more recent Bow Street 18 year old small batch series. Today's characters continue in assistant blender Dave McCabe, who has other stories to tell. Dave tells me he had originally planned to be a winemaker in Canada, and that aside from learning to blend whiskey, he is also interested in scent – attending perfume workshops in London and citing Tom Ford's 'Leather' as one of his favourites.
I notice that most of the staff wear a pin in the shape of a barrel-man. Carol Quinn, says "it symbolizes everyone here, including the (now) CEO". She adds "he is a figure from our past who is still important to who we are." The Daughter of Shane Jameson was the last family board member, and there is still a Darcey working for Jameson. In the HR department. The family heritage lives on.
This month to celebrate St. Patrick's Day, Jameson have released the second edition of their small batch, premium whiskey range – the Bow Street 18 year old, and are recommending a luxury pairing of it with cheese. In the company of cheese monger Loose Canon's director Kevin Powell, we swirl our glasses watching the last eighteen year's worth of history wind around their bulbs, savouring both while listening to Van Morrison in the Bow Street Distillery tasting room. Another memorable piece of Jameson social memorabilia – combining four characters: music, literature, art and science.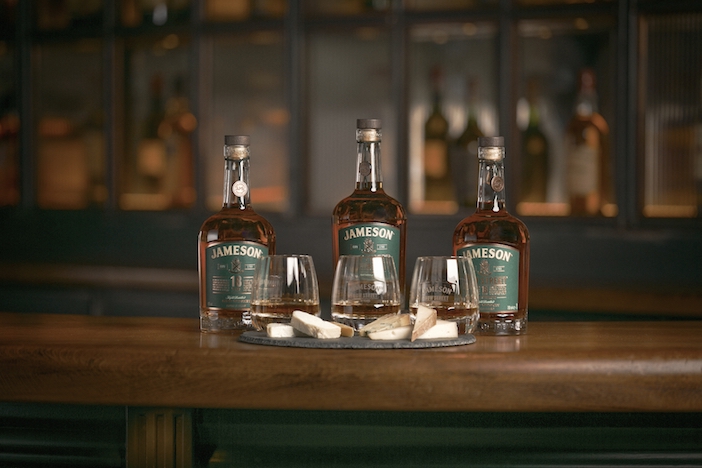 The Jameson range in full…
Jameson 18 Year Old with St. Tola Irish Goat Cheese from County Clare
The zesty, fresh and bright acidic goats' milk cheese from Clare enhances the sweetness and emphasises the round sherry notes of Jameson 18 Year Old.
Jameson Bow Street 18 Years Cask Strength Batch 1 with 18-month-old Derg Cheddar from County Tipperary
The rich, coating spiciness of Jameson Bow Street 18 Years Cask Strength Batch 1 calls for a cheese as powerful, tangy and acidic as Derg Cheddar to cut through the intensity and contrast the full-flavoured whiskey.
Jameson Bow Street 18 Years Cask Strength Batch 2 with Young Buck Blue Cheese from County Down
The creamy acidity of Mike Thomson's Young Buck emphasises Jameson Bow Street 18 Years Cask Strength Batch 2's intense creamy butterscotch aftertaste while balancing its subtle heat.
Jameson Bow Street 18 Years Cask Strength Batch 2 with Creeny Sheep Milk Cheese from County Cavan
The Creeny is a zesty yet fatty sheep-milk cheese with lots of minerality and salty notes that contrast and distinguish the rich and creamy element of Jameson Bow Street 18 Years Cask Strength Batch 2.