It was always going to happen, wasn't it? In a collective stampede, the nation roars into action at the first sniff of pubs and bars opening their doors. And rightly so. About time we started propping up our beleaguered hospitality industry.
Some of us, choosing to avoid the rush (there were tales of massive waits, stressed staff and stuttering starts in that first week), thought we'd hold fire. Besides, with the mercury hovering over zero again for a revisit to winter, the prospect of a cold pint while wrapped to the nines in woollens didn't strike me as the best way to enjoy one's first social tipple – call me old-fashioned. But, typically, on the day that Stirling and I decided to venture out, what should happen but the forecast tips favourably, the last spring frost dissipates, and, customarily as every Brit is wont to do, everyone bundles outside at the first flicker of sunshine. And we can't get a table for love or money. Anywhere.
But all is not lost. Stirling happens to have a spectacular garden at his disposal, with a beautiful wisteria-draped pergola offering sun-dappled shade from the spring sunshine, and a soundtrack of larks and thrushes like a descant over the distant traffic. All we need is a suitable libation to accompany our catch-up and we're laughing. And I have just the thing.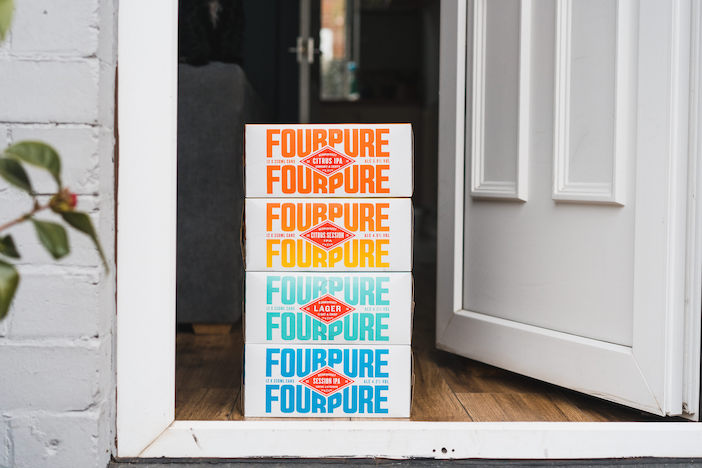 What could be more appropriate to this setting than an ice-cold brew or two. Indeed, as if to reflect the purity, the simplicity, of our surroundings, what could be better than a beer whose credentials are in the name: Fourpure.
"A new-fangled craft beer?" Stirling eyes the label, as I withdraw a can from the coolbox I've brought.
"You'd think, old boy," I reply, knowingly, "but not this one." Being a craft beer enthusiast, keen to try all on offer, Stirls is unsurprised I've appeared with something unfamiliar. He's game, but considers his tastes a little more sophisticated – and he knows what he likes.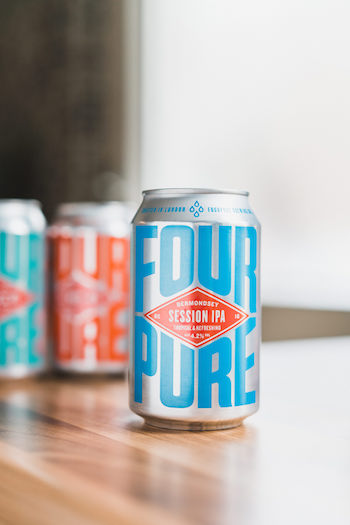 "You'll like this," I offer him a Session IPA. "It's the antithesis of craft beer, in a manner of speaking…" He raises an eyebrow, intrigued, as I pour it into his stemmed glass, "…they're based in Bermondsey, and have been around a while, but this is a smart new rebrand designed to stick to their principles of simplicity, as beer should be. Hops, malt, yeast, water."
"Four, pure." He intones. "Touché." I reply. He takes a sip. "That's not bad," he says, dwelling on it for a moment, "hoppy, certainly, with a tropical touch." I pour myself a new favourite, the Citrus Session IPA, preferring my brews a little zesty, an ideal fit for this borderline-summer afternoon. He takes another sip, "I'd go so far as to call it sublime, particularly on a day like today. How did you come by this, old chap?"
"Funny you should mention it," I replied, "I was introduced to the Brewmaster, a man by the name of John Driebergen, and we had something of an enlightening conversation…"
Stirling and I spent that breezy spring afternoon enjoying a fine selection of Fourpure's output, particularly their range of IPAs, each testament to the simplicity of the process of brewing beer and the flavour profiles that can emerge just from these four simple ingredients, and I shared the insight John offered on the current trend on craft beer, why it appears to be so mystifying when it needn't be, and where we think it's going – and here, for our readers' benefit, is how that conversation went…
John, firstly, what makes craft beer 'craft'? What, in your opinion, has created this trend?
Craft beer is first and foremost about what's in the can, glass, or bottle. Craft beer is brewed by passionate brewers who are motivated to make unique, flavourful beers that reflects their love for beer and beer culture. The trend was in many ways a reaction against the emergence of a stale, mass-produced, uninteresting beer culture dominated by a few mega brands. Beer had become excessively commoditized and stripped of romance, which prompted the craft beer counterrevolution we see today.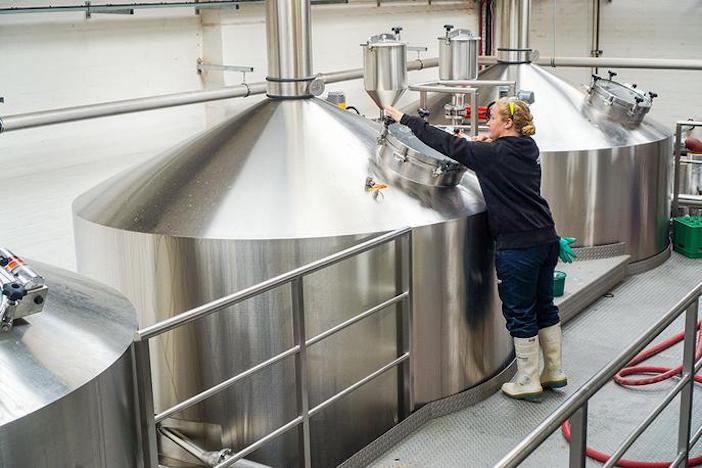 What was the inspiration behind Fourpure?
Fourpure has always been about making craft beer more accessible. We were inspired by the many amazing beers we'd tried from around the world of craft beer, which was just beginning to emerge at the time. We were keen to be a part of that, and to help bring craft beer into the mainstream but without compromising on quality or flavour.
What do you think is mystifying about craft beer currently?
Sometimes brewers tend to forget that for most craft beer drinkers simply want the right beer for the right occasion. Maybe something light, hoppy and refreshing for a barbeque. Maybe something more robust to go with dinner. Or a strong, dark, and indulgent as a nightcap. The point is that brewers are often terrible at communicating with drinkers like they're normal human beings with interests other than beer.
There are many craft beer enthusiasts out there who want to know all about the latest hops, brewing techniques, etc. but most drinkers simply want to know that they're getting something that tastes great and does the job it needs to. As brewers we do ourselves a disservice when we pretend the former outnumbers the latter, it can be intimidating and off-putting. It's why at Fourpure we made the decision to rebrand, strip all the fluff back and keep messaging straightforward for all.
How are you simplifying – or demystifying – craft beer? 
We try to demystify it by talking about our beer using relatively straightforward language, and brewing beer that's accessible without compromising on flavour or complexity. We're obsessed with closely monitoring every aspect of our production process, measuring and tracking everything to ensure that we deliver consistently. We only use the best hops and malts, but many brewers do that. Paying super close attention to all the details is key.
What gives the Fourpure range its distinct flavour profile?
Our beers tend to have a very clean flavour profile. Our hoppy beers are hoppy, our dark beers are rich and roasty, our lagers crisp and refreshing – but all share a very clean flavour profile that comes down to how detail-driven our production methods are.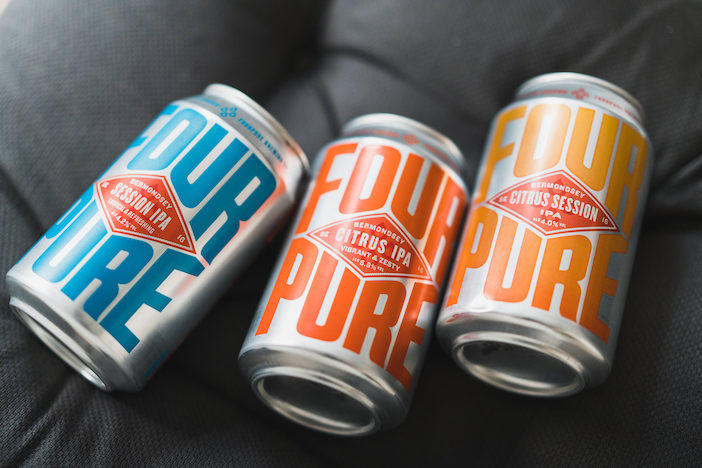 Do you think we're seeing a move towards more flavoured beers, like our Low Countries cousins across the channel?
I think we're seeing little bits of that for sure, though the main influence on UK craft brewing continues to be what's happening in the US scene. As the UK market continues to mature it's clearly evolving in its own distinct direction, but unfortunately UK drinkers don't seem to love Belgian beer as much as I wish they did. Having said that traditional Belgian sour and farmhouse beer styles are definitely styles to watch here in the UK, which is a very exciting development.
Fourpure has been industry-leading and standing out on Bermondsey's Beer Mile since 2013, the Fourpure brewery and accompanying Taproom produces a signature lineup of refined brews which all tip a hat to the namesake of the brand. For more information about their range, to make a taproom booking or to order any beer, please visit www.fourpure.com.