To ring in London Cocktail Week, lasting the month of October, Larry and Larman seek out something different, somewhere away from the crowds and pretentions of the well-trodden West End – somewhere, simply, where a good cocktail at a good price is not a tall order…
The Racketeer's the sort of place you stumble across if you're lost. "Where are we?" I ask as we enter, "Is this King's Cross?" Its location is suggestive of its name, too, which doesn't even appear on the outside; its past incarnation of The Carpenters Arms still in the tiles on the facade. It feels like there's something surreptitious about this meeting point, like there could be secretive goings-on within.
Inside, it's something of a timewarp; halfway through an upheaval from its Victorian past and rebirth as a Manhattan speakeasy; all exposed brick, polished mahogany and a swathe of rich navy blue across the ceiling. Downstairs, there's a bohemian enclave; a faint whiff of joss sticks, tatty sofas and a rotating holograph on the wall. It reminded me of the favourite places of my youth all rolled into one.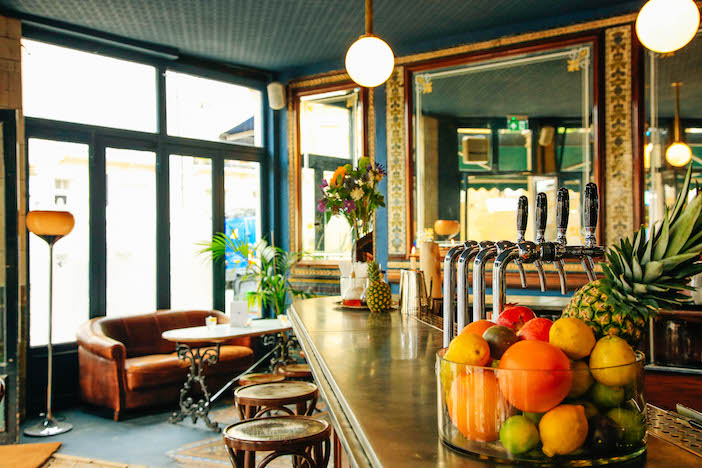 Aesthetic aside, crucially, everything about The Racketeer tells me that when it comes to libations, they know what they're talking about. Much consideration has gone into a well-priced wine list, and the beers are exactly what you'd select from the dizzying panoply of craft brewers now in play. But, as Larman and I crossed the threshold, we were there for one thing: cocktails. Co-owner, Ty, welcomes us in, censors us for Covid, directs us to the pocket terrace, and offers the menu.
The house list is a twist on the classics, Ty explains. The Cosmo is given Campari to make it a Cosmonaut; the 'Jaffa' Collins offered a citrus twist with Pompelmo San Pellegrino and orange bitters; and their own sour has a punchy hint of absinthe and a durello & coriander syrup. This is clever stuff. There's a touch of Ratatouille about Ty and his team's flavour combinations. The word mixologist doesn't do this justice.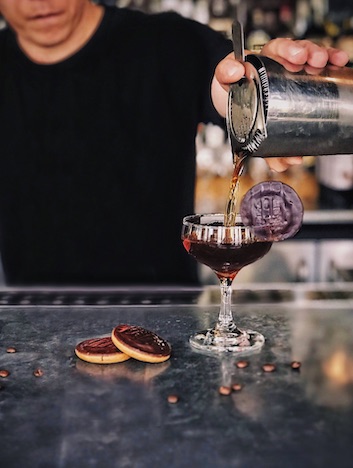 Like a terrier locked on a truffle, Larman's got a sixth sense for sniffing out the gems. "I'll have a Penicillin in a Storm, please," he turns to me, "you don't see Penicillins often. And I'm curious about it being 'in a storm'." A spin on a whisky and ginger, the Chivas is given a smoky boost with some Laphroaig and a 'porter float'. "What's that about?" I wonder, and I'm tempted, too, but I go for something a little less medicinal. Something more fanciful. Having given National Rum Day a whirl recently, I opt for the Trinidad Swizzle, a long, fresh cooler with a pair of aged Havana Clubs in an orchard of peach, passion fruit and pomegranate. With the sun straining its last above us, it feels like a fitting close to the summer.
"One thing's for certain," Larman imparts, "there's not an uninteresting cocktail on this list." He's spot on, as ever. His Penicillin, served in a frosted half-pint jug, is a clever concoction indeed, and I'm immediately riven with envy. Not that my Swizzle is lacking, it just reminds me that I'm simply not that fruity, as it were. Ty concurs, "Nor I. I prefer my cocktails boozy."
Being that way inclined, we both veer to the tighter, more concentrated options next. Larman sticks with the scotch and tries a GlenPhoenix; a 12-year 'fiddich with apricot and smoked honey. I turn to my latest affection, tequila. Or, in this case, mezcal. "I'll try the El Tool, please…" Ty politely corrects my pronunciation, "El Tulé." Oh? "It's Mexican after all," he explains, "named after a tree near Oaxaca." Etymology aside, both of these concoctions are a hit. And, once again, I defer to Larman's exemplary choice as the declared victor.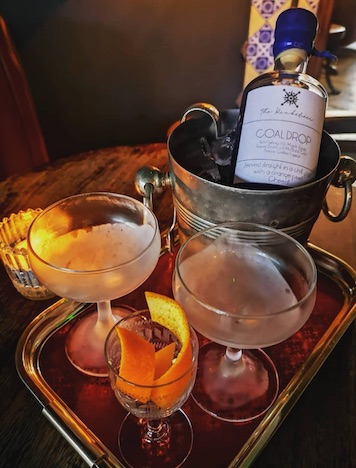 As clever and enticing as the house list was, I was more intrigued by their 'sharing' cocktails. In an era when 'sharing' is a concept that's all but frowned upon, I was curious to see how these were manifest? A giant coupe with two straws? A samovar and a set of shot glasses?
They're a little more sophisticated than that. The idea is really that they're for takeaway, and they come as a measure for two, in 200ml bottles, complete with wax seal. There's a Negroni (naturally), a Funky Panky of tequila and 'hops' liqueur (did I say they were inventive?) and a Rack Milk Punch. Not quite as peculiar as it sounds, it's an intriguing concoction of coconut oil-washed rum, Falernum liqueur and Earl Grey tea. And if they are to be shared in situ, they're served in an ice bucket and chilled glasses.
Suitably primed, however, and ever conscious of wives fighting off needy little ones, we bid our farewells, though not before I've armed myself with their fourth sharing offering, a Coal Drop. Something about Wild Turkey, coffee and maple syrup makes me think it'll be worth surprising Mrs W with when I get home.
As we left, I asked after our location again, keen to recall where we are to revisit, and score kudos the next time I'm asked for the whereabouts of a 'cool bar'. "Geographically?" says Ty, "Clerkenwell. But by postcode, King's Cross. We're also a stone's throw from Islington. And on the cusp of Bloomsbury." Brilliant. Four destinations in one. Now I know whenever I'm in North London, I'll never be that far.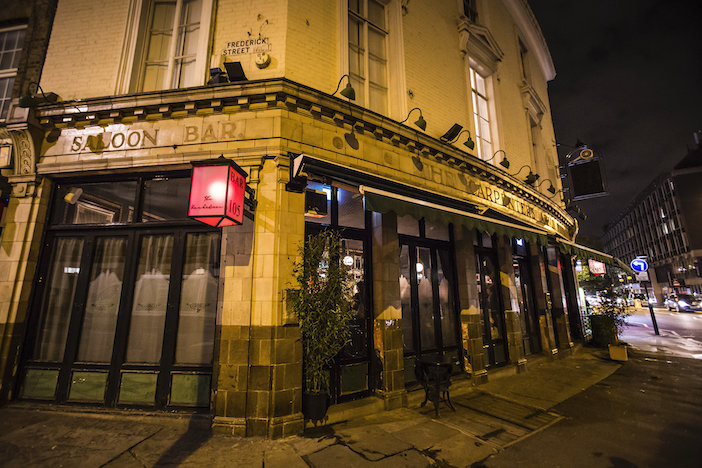 The best places, evidently, are those one's 'found', that feel like a personal discovery – those are the ones that matter. I look forward to getting lost again, somewhere near King's Cross.
Or is Clerkenwell?
The Racketeer, 105 King's Cross Road, London WC1. For more information, reservations, and details of their 'bottle shop, please visit www.theracketeer.co.uk.