The name Beam is synonymous – even eponymous – with spirits. In the state of Kentucky, spiritual (ahem) home of bourbon, seven generations of Beams have continued the family tradition since Jacob Beam first began distilling in 1798, and their whiskies have become household names and permanent fixtures in drinks' cabinets and bar backs around the world.
One such release, celebrating its 150th anniversary this year, is Yellowstone. Named after the national park, which was inaugurated in the same year (and indeed proceeds from sales still go to the park's upkeep), it is one of the few bourbons that has been continuously sold since it was first bottled in 1872, even through Prohibition; you could get a prescription for Yellowstone if you had certain ailments.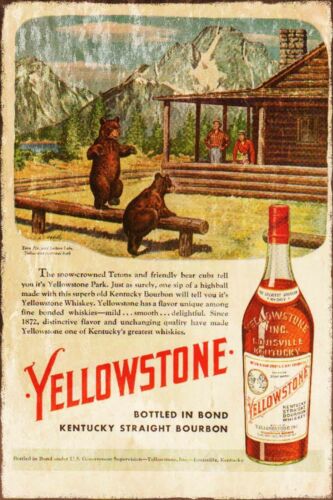 The production – and legacy – of Yellowstone sits with a branch of the Beam family that is now headed up by master distiller Stephen Beam at their Limestone Branch distillery. And to celebrate this anniversary – and the release of a limited edition to mark the occasion – I sat down to lunch at Soho's Block steakhouse, its own shelves stacked to the ceiling with a staggering array of Kentucky whiskies on their barback, to sip Yellowstone over fine steak and talk all things bourbon with the man himself, beginning with how he came to inherit the brand.
"I took over in 2015," Stephen tells me, "tasked with reformulating the bourbon for American consumers at that time. What I had wanted to do was to make a bourbon that I had remembered; the aromas and the flavours that I remembered when I was young." What are those signature flavours, I ask, taking a sniff.
"In the nose you get those beautiful caramel notes," he says, cradling the glass above a drooping Yosemite Sam moustache, "and there's leathery fruits. To match the flavours I remembered, I chose a blend of 4 and 7-year-old bourbon…"
That doesn't seem particularly aged, I put to him. "Obviously in the UK market, you may look at American whiskies and see 4 and 7 years and not think that's aged much, but you have to understand we age differently to a scotch, largely due to temperature ranges.
In Kentucky it gets very hot in summer, often over 100F in the barrelhouse, and very cold in winter, and those extremes make the bourbon expand and contract in the barrel. It advances the ageing process and, in those actions, it draws out the caramelised sugars in the oak and extracts the colour."
I take another sip. There's a delicate smokiness that comes through, a rich caramel, and a long, sweet finish. "The finish comes from the 7-year-old," Stephen says, "The four is still a little young, but it stands up really well in a cocktail. The 7 then gives you the mid palate flavour and a lovely finish that only comes from age."
As we eat, Stephen is a trove of anecdotes from his distilling dynasty, and we try a tribute to his great grandfather, the enigmatically-named Minor Case, who died shortly after Prohibition, honoured with his own limited edition rye. Amid the staples of peppery rye whiskies that are up to 95% of the grain, this is a delicate, sweeter, and arguably more palatable blend of rye and corn, and again, makes for another delightful sipping whiskey. "Although it does make a terrific Manhattan," Stephen remarks, "its sherry cask finish really complements the vermouth."
Of all his stories, there's one that is most remarkable, and is testament to how the Beam legacy doesn't just rest on the laurels of its forefathers, but is, quite literally, forging through the 21st century.
"Back in the day," Stephen says, "distillers were also caretakers of yeast. It's such an important component of the whisky, it's the magic ingredient. My grandfather stored his in a jug that was then kept on the cistern at night to keep cool, and they would carry them with them almost at all times. My great uncle Jim [yes, that Jim Beam] would carry his yeast jar around with him in the back of his Cadillac.
"Well, our yeast jug went from my grandfather to my uncle and then eventually it was donated to the Oscar Getz Whisky Museum in Bardstown, Kentucky, and it sat there from the 1980s until 2010 when we opened up the Limestone distillery.
"In wanting to recreate the bourbons of the past, I knew I had to match that yeast. My background is originally in horticulture, and I knew they had sprouted palm trees from seeds they found in the pyramids, so I figured if they can create a tree from 5000 years ago, they can probably regenerate a yeast from 50 years ago.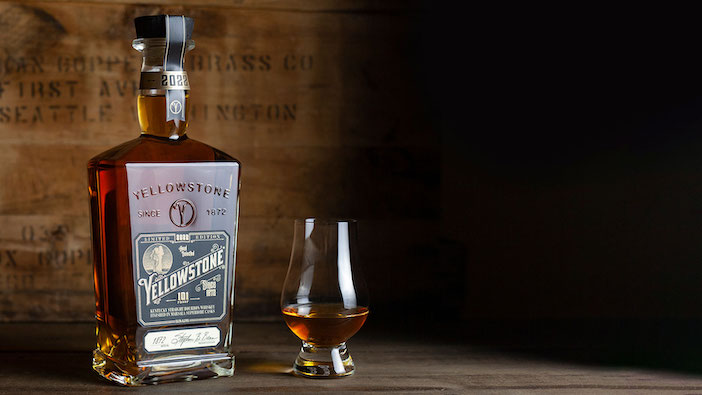 "We had a company in Kentucky that helps distilleries generate their yeast so we sent them our jug and they scraped the inside and extracted some of the DNA from inside. Using science that goes over my head, in a Jurassic Park-type approach, they were able to match up the DNA with a live source and regenerate the original yeast – and that's the yeast we use today. You can't necessarily reproduce the past, but you can honour it, and that's what we've done."
It's an extraordinary attention to detail that certainly pays off. And, in a fitting tribute to what's been an ode to 150 years of fine distilling, we conclude our meal with a sip of the latest Yellowstone limited edition. "While we strive for consistency in the Yellowstone 93, we do a limited edition every year," Stephen says, pouring me a glass. "It gives me the opportunity to be creative, with different ages and different finishes. This year's limited edition features 7, 15 and 16-year-old whiskies, and is finished in Marsala Superiore casks; its notes work very nicely with bourbon.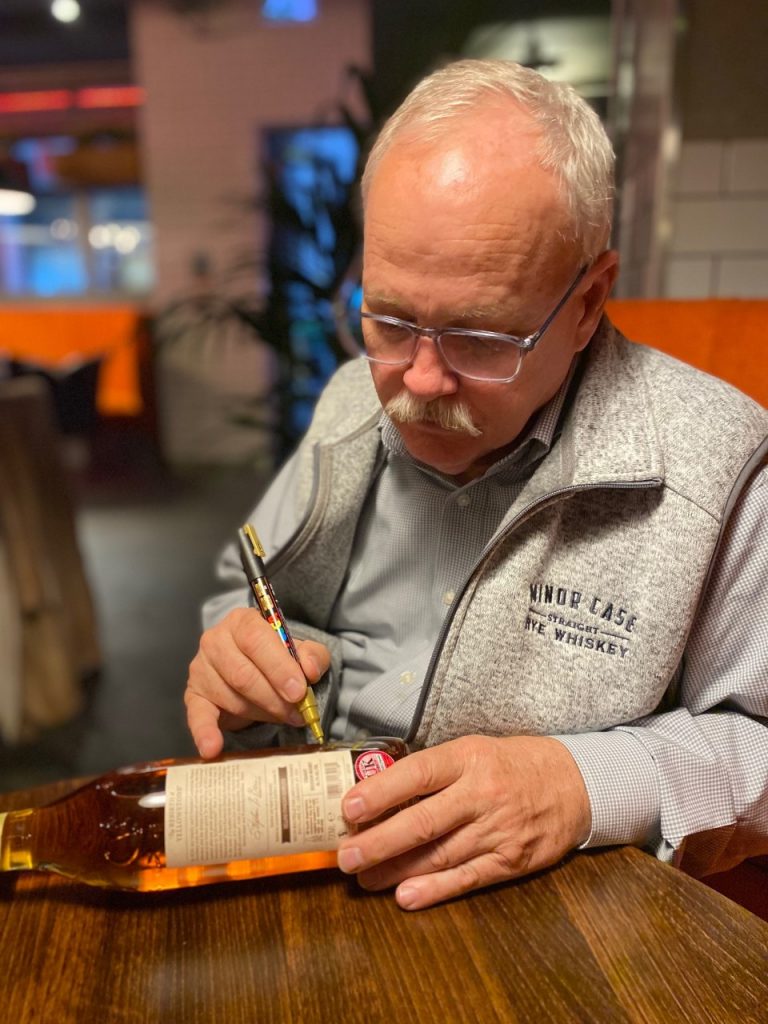 "Finishes for me are a light touch, I don't want it to overpower, simply to extend the whiskey. So, with this you'll find the bourbon comes through clearly, but then you get these accents from the Marsala." There's a sweetness, characteristic of Yellowstone, but I'm getting more fruit here. "There's definitely dried fruit," Stephen agrees, having a sip, "and vanilla." It is like nectar, I tell him. "Yes, there's honey too," he chuckles. It pairs beautifully with the chocolate tart in front of me, but I almost don't want to adulterate it with dessert.
I can't help noticing the elegance of the bottle, numbered and hand-signed by Stephen. It's a rare thing, and doubtless all have been accounted for, such are these expressions in high demand.
As I finish the last of the amber liquor in the glass in front of me, I'm mentally processing where I can acquire it when, to my complete surprise, Stephen produces a bottle of Yellowstone Select, and proceeds to sign it. I'm quite literally bowled over. With Thanksgiving round the corner, I can see myself raising a glass or two to 150 years of this American legend.
For more information about Yellowstone, and other products from the Limestone Branch Distillery, please visit www.limestonebranch.com. Yellowstone Select is available from the Whisky Exchange and all good stockists.
Block Soho features in the London Bourbon Trail, an initiative by Yellowstone's brand ambassador that shares the love of bourbon. The passport takes you through seven stand-out bars through London whose focus is on bourbon. Each venue has created a signature cocktail with Yellowstone from which each gives you a stamp on your visit, entitling you to a welcome drink at the next venue and a 20% discount at the shop. Complete the trail, gathering six stamps, and you can send off for a bourbon pack including a hoodie, t-shirt and baseball cap, and entry into a prize draw for a year's membership to the Soho Whisky Club. The initiative concludes on 5th December.