In a departure from the usual recommendations in our 'Tipples' section, today we're giving it a slightly different spin, as Larry seeks the best accompaniment to a weekend libation…
Never mind pining for haircuts or beauty treatments, the copious baking or gardening, clamouring for company (let alone a holiday), if lockdown fuelled one thing more than anything it's fridge-raiding. We've been bundling into supermarkets (one at a time, 2 metres apart, admittedly) with a near religious fervour to fuel a habit that's stricken the nation: snacking. All those hours spent at home, the procrastination, the pyjama'd phone calls, the treats in between tasks, it's all led us to open the kitchen cupboards in an endless cycle of boredom relief.
Never one to shy away from matters of indulgence, we're charging headlong into the fray, only this time with a degree of sophistication. If you must snack, snack in style, and preferably with something to sip and savour. So, here's a brief snack-shot (see what we did there) of some of the more upmarket offerings that are out there. Peanuts and Pringles begone, if you're cracking open a bottle, you need something far more discerning…
Made for Drink
Our first offering was born from a humble ambition to make the world's greatest bar snacks. Inspired by drinking cultures around the world, father of three and proud patron of Heston Blumenthal's The Crown in Bray, Dan Featherstone spent hours in his kitchen crafting the perfect snack recipes to pair with the drinks he enjoyed most at the pub.
Dan then struck on an opportunity to trial his new product range at Blumenthal's pub, testing his recipes on the very customers that inspired him. The trial resulted in Made For Drink. And, as you might expect from anything endorsed by the culinary world's craziest talent, these snacks must be tried to be believed.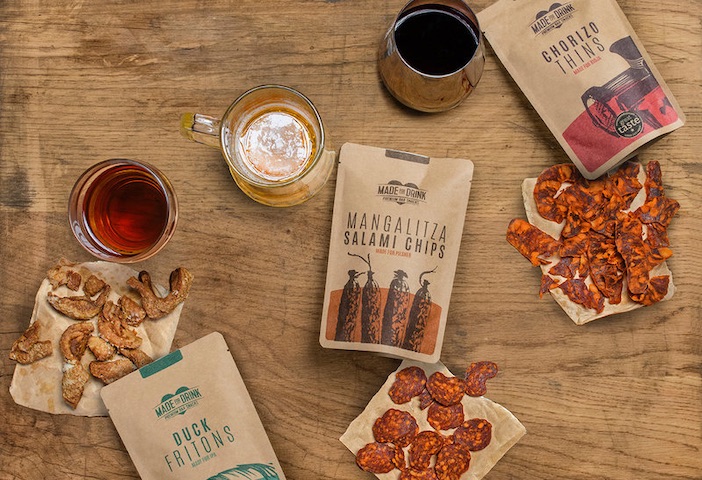 The range includes Duck Fritons, delicious morsels of crisp, free-range duck skin based on a rural Gascon delicacy; gently roasted, crunchy Chorizo Thins, and Mangalitza Salami Chips. Mangalitza is a breed of pig famed for the flavour of its fat and traditionally used in the salamis of Hungary, made for a pilsner-style lager or something equally refreshing.
Don't take our word for it, some of the country's leading lights have offered their endorsement; Richard Corrigan considers them "A great change from a normal snack", 'They're excellent!" quoth Rick Stein, and none other than Arb favourite Hawksmoor's executive chef, Richard Turner, gushes "These will change civilisation as we know it!". And who are we to argue. For more information and their online shop, visit www.madefordrink.com.
Torres Crisps
Britain may be world leaders in crisp flavours (one leading high street brand once again have come out with a new range capturing the pulse of the nation, this time partnering with favourite eateries like Nando's Peri Peri Chicken) – but for a real twist of sophistication on the humble crisp, the Spanish have been way ahead of us.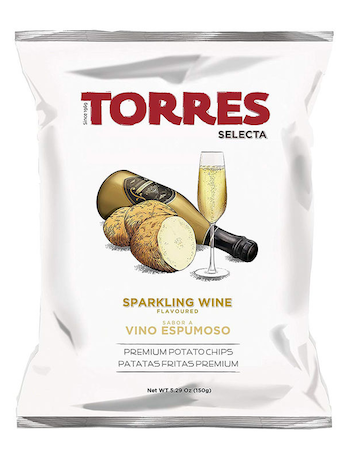 Patatas Torres is a family-run business creating artesanal (read traditional, hand-crafted) crisps since 1969. Everything about their operation screams quality, from the potato farmers they've been working with for 35 years to sourcing the finest extra virgin olive oil. And with some truly deli-style flavours such as black truffle, Iberico ham, cured cheese, caviar and foie gras, to call these simply 'crisps' just doesn't do them justice. Sparkling wine flavour, anyone? I kid you not.
Like any country that knows it produces something good, they tend to keep it to themselves; they're tricky to find in the UK – unless you know where to look. And that's why you come to The Arb, isn't it?
Torres Crisps are available from Brindisa in London's Borough Market and Balham outlets, and online, as well as premium food outlets. For more information on the range, visit www.patatastorres.com.
Jack Link's Biltong
South Africans the world over were surely breaking out the festivities a couple of days ago, on what should really be a national holiday – in case you didn't know, it was National Biltong Day.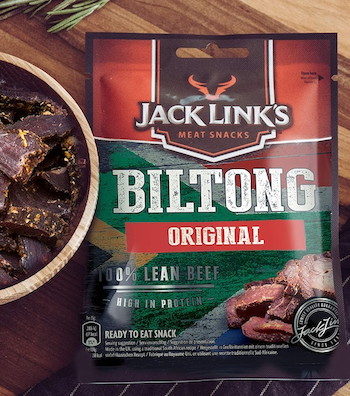 What do you mean, what's biltong? The air-dried, seasoned beef strips have been fuelling drovers and beer drinkers since the Boers first started to herd cattle…and drink beer. And, no, it's not beef jerky. Jerky – its American cousin – is smoked and sweet, but biltong is made of sterner stuff. Although Jack Link's, a US-brand, make both, funnily enough.
We put out an exhaustive search, trying several for this list, and Jack Link's, made with marinated prime cuts of 100% lean beef and seasoned using their special family recipe, came out on top. Just like getting it hand cut from your nearby South African shop.
If ever there was a companion to a cold beer or, for the more discerning, a glass of peppery Shiraz, it's biltong. Remember, 10th September is National Biltong Day. You won't forget it again. For more information, including a full product range, visit www.jacklinks.com.
Mr Filbert's
If you're going down the nuts route with your IPA, there's only really one brand you need to steer to. West Country-based Mr Filberts sought fusion as their inspiration to create a range of hot air-roasted nuts and seeds, and marinated olives, sourced from some of the finest growers around the world, and blending them with hand-foraged and locally-sourced ingredients to create their delectable range.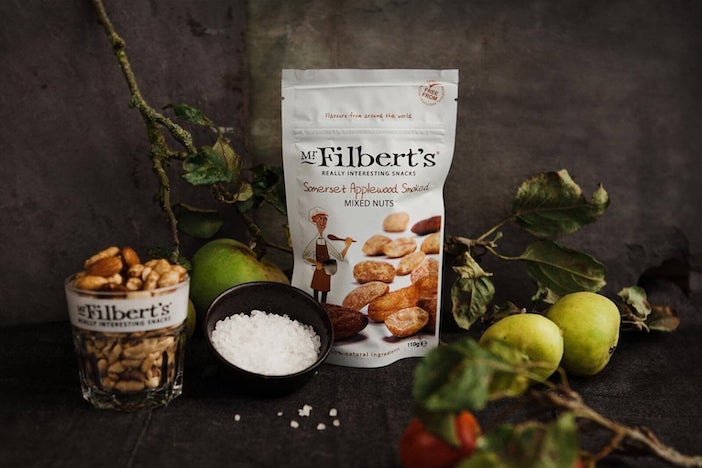 Premium grade Californian almonds, buttery cashews from India and protein-packed Argentinian peanuts, Mr Filberts have been sweeping the board with too many culinary accolades to mention.
They come in various seasonings to boot, from Peruvian Pink Peppercorn to Somerset Applewood Smoked, and even flavoured with Adnam's Ghost Ship ale. If ever there was a nut designed for a beer, eh? They are, as labelled, 'really interesting snacks'. And with many recipes vegan, gluten-free, dairy-free and nowhere near any additives and artificial preservatives, this is snacking as nature intended. For more information, and to purchase, visit www.mrfilberts.com.
Snaffling Pig Company
If ever there was a savoury snack that was quintessentially British it must be pork scratchings. And the Snaffling Pig Co have evolved these into an art form. With a product range from scratchings to crackling to 'porky puffs', not to mention salami and chorizo bites, where Snaffling have got their market right is by creating their own beer to go with it. Genius.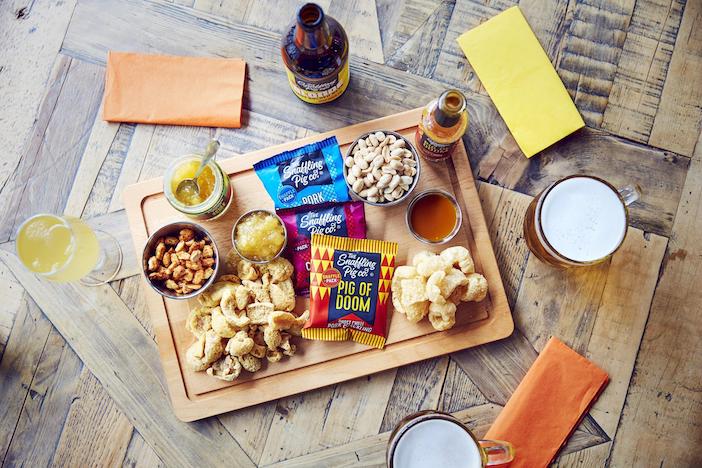 But if you think pork scratchings couldn't get any better, they've pimped it, flavouring their crackling with the likes of maple, Colman's mustard, even 'pig in blanket'. Pieces of pork crackling given the added flavour of being wrapped in bacon? Yes'um. For the more adventurous, there's Pig of Doom. Scratchings given a hint of Bhut Jolokia chilli (aka 'Ghost Chilli'), one of the hottest chillies in the world and one that keeps on building once snaffled. Be afraid.
Snaffling Pig are also one snack company going that little bit further, giving gourmets of all things pork all manner of ideas for gifts and other products to fuel the craving. Gift boxes and beer/snack packs aside, there's Snaffling Pig merchandise from glasses to barbecues, socks (called 'trotter warmers') and even a make-your-own sausage kit. For a full range of products and purchasing, visit www.snafflingpig.co.uk.
Joe & Seph's
Okay, so you might think the popcorn revolution has, well, popped. In fact, it's now part of the fixtures and fittings with virtually every snack brand getting in on the act, with as myriad a flavour range as its cousin, the crisp. But one brand came in at the top – and has stayed there.
Joe & Seph's began when founder – actually one and the same Joseph Sopher – would bring home gifts of flavoured popcorn back for his family from trips to the US. With nothing comparable in the UK he began making his own, originally air-popping corn and coating it in caramel. In his words, "After many burnt pans and late-night tasting sessions in the family kitchen, my wife, eldest son, and I took my popcorn to a food show in 2010 where we sold out in just two days."
Ten years on and with a mind-boggling 50 flavours, as well as caramel sauces and other products, from hampers to popcorn bites to personalised popcorn cards, Joe & Seph's are a prime example of a snack brand gone interstellar. There's even a Dry Martini flavour coming out for the new James Bond film – if you like your popcorn 'popped, not stirred', naturally.
The reason they make this list is for their extraordinarily inventive 'tipsy' and savoury ranges, from blue cheese with walnut and celery to olive oil, mozzarella and tomato to, simply, camembert. Imagine that with a glass of port? What's more, everything is still made with natural ingredients, handmade by a small team in the UK using their unique flavour sequencing cooking technique. Joe & Seph's, we salute you!
For more information and a full range of products, visit www.joeandsephs.co.uk.
So, if you're going to snack, save it, savour it, and, like our illustrious, roguish, sartorially-sound spy, do it in style…