We may be labouring the point, but it seems there's a lot of traction about Dry January this year, more than ever. Whether your resolutions are running out of steam, or you're crawling up the walls to get out and simply can't face another lime and soda, here's a boost to breathe fresh air into your abstinence with a round-up of our favourites of the capital's bars offering alcohol-free drinks…what's this, you say? The Arb, running a piece on non-alcoholic drinks? The very idea! Ahem, leopards, spots and all that…
Spirit-free STRYYK cocktails at Blind Spot and The Den
Blind Spot and The Den at St Martins Lane will be getting into the Dry January spirit with the launch of St Martins Lane's partnership with STRYYK – a range of alcohol-free spirits designed to taste exactly the same as their alcoholic counterparts from their cocktail list, including Marrakech (NOT Gin, ginger spirit, orange blossom, egg white, cream Moroccan spices, citrus, mint and soda water) Arrandas Mojito (NOT Tequila, lime, sugar cane syrup, basil, soda and pink pepper) and Grey Goose Le Fizz (NOT Vodka, St Germain liqueur, fresh lime and soda). Available until 31st January 2020.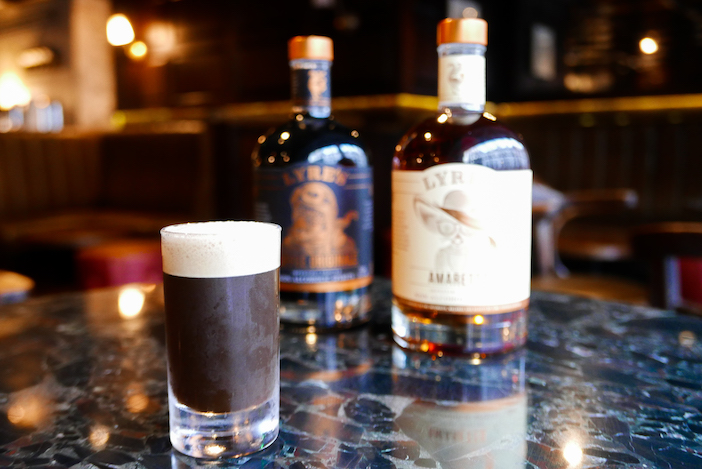 Booze-free beverages at Long Bar
The Sanderson's stylish Long Bar will be adding two alcohol-free cocktails to its well-stacked cocktail list for the duration of January and February. Joining the menu will be a fruity Free Spirit (Three Spirit, lemon, orange marmalade and ginger ale) and Berners Cobble (Basil and grapefruit infused Three Spirit, lemon and ginger beer). Both are priced at £9.50 and are available until February 29th.
Eneko Basque Kitchen & Bar partners with Gin Mare to offer single unit cocktails and pintxos
To kick start the new decade, Eneko Basque Kitchen & Bar has partnered with Gin Mare to offer guests an exciting new menu of single unit cocktails, all perfectly paired with traditional Basque pintxos. Bar manager Pedro Paulo has fashioned three Gin Mare cocktails, each containing just one unit of alcohol, including the Fresa Thyme Smash and the Med Sour and Maretini.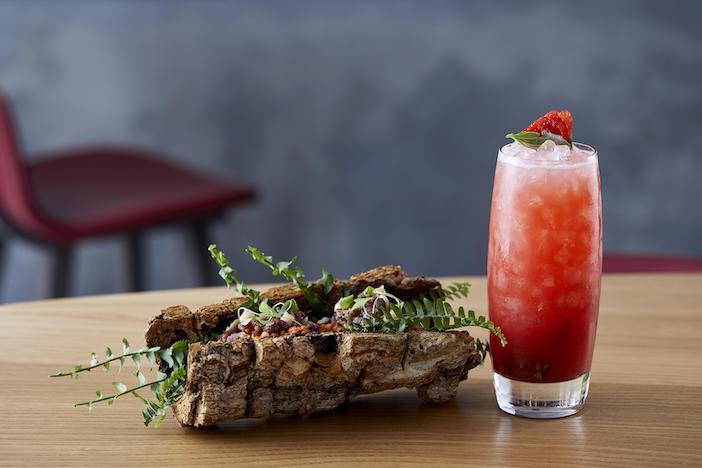 The paired pintxos by Head Chef Jose Jara contain ingredients inspired by the Gin Mare botanicals of Arbequina olives, thyme, rosemary and basil. Cocktail and pintxo pairings are priced from £15 and are available until 29th February 2020
Mocktails at Meraki
Meraki has added a triplet of mocktails to its deity-inspired drinks list for Dry January. The three brightly coloured virgin cocktails are named after Ancient Greek goddesses and are available in both the Meraki bar and restaurant. Hestia's Hibiscus Lemonade (£8) is a refreshing blend of lemon juice, hibiscus syrup, mint and lemon soda. Demeter's Exotic Field (£8) is a blend of fresh Passion fruit, pineapple and blood peach puree topped with fresh pineapple juice and a zing of chilli syrup, while Hera's Virgin Sour (£10) is a tangy mix of mandarin and bergamot soda, citrus oleo and lemon juice, topped with a peach and lemon foam and finished with a sprinkling of dehydrated peach and peach popping candy. Available until 31st January.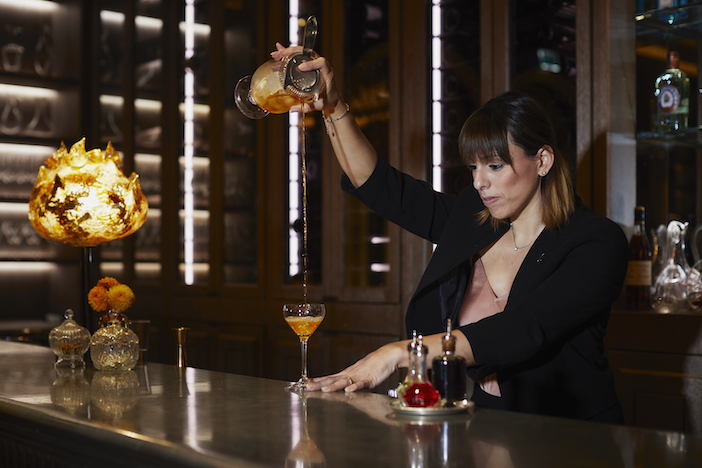 The Grill at The Dorchester
Lucia Montanelli, the award-winning Senior Bartender at the exceedingly elegant The Grill Bar at The Dorchester has created three inviting non-alcoholic cocktails (pictured in the header) for Dry January and beyond. What's New Pussycat? (£8) is a beautiful blend of cherry, almond and Æcorn Aromatic topped up with tonic. For a something with a spicy edge, Bitter & Twisted (£8) combines Æcorn Bitter, raspberry purée, orange juice and ginger beer. For a twist on a well-known classic, New Kid On The Block (£8) mixes Æcorn Dry, lime juice, sugar syrup, cucumber, a handful of fresh mint and soda water.
Dry January at The American Bar
The historic American Bar at The Stafford London has turned its attentions to a selection of non-alcoholic concoctions this January. Head Bartender Benoit Provost and his talented team have created three takes on classic cocktails, including a Freepolitan (Atopia Spiced Citrus, cranberry juice and orange and lime clarified; a French 99 – Atopia Spiced Citrus, lemon sherbet, kombucha and lemon clarified) and a Dry Negroni (Atopia Spiced Citrus, alcohol free vermouth and bitters).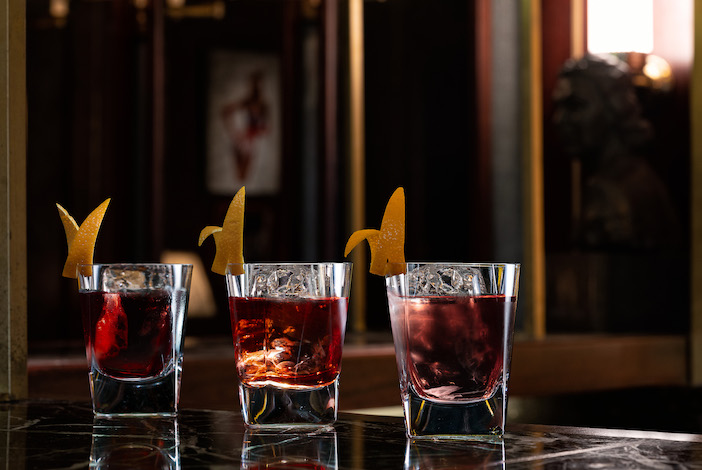 There will also be five house classics including Amazonia, which combines Atopia Spiced Citrus with passion fruit, orange, pineapple and blackberry juices, basil leaves and sparkling lemon, and The Morning Dew, (Strawberry sherbert, Atopia Wild Blossom, lime clarified and ginger ale). Each drink is priced at £12.50 and will be available throughout January.
The Blind Pig X Lyre's collaboration for Dry January
This Dry January, Jason Atherton's flagship bar, The Blind Pig, has partnered with Lyre's Non-Alcoholic Spirits to launch a booze-free cocktail menu. Head Bartender Steve Kelly has worked with Lyre's to develop mimics of the nation's favourites including the Non-Island Iced Tea, Mai Tai, Espresso Amarettini, and No Leaf Clover. The Non-Island Iced Tea will also be available at Jason's other restaurants and bars including Pollen Street Social, 5 Social, Pavlova's and Hai Cenato for the duration of January, and £1 from each Non-Island Iced Tea sold will be donated to Australia's Wires Wildlife Rescue.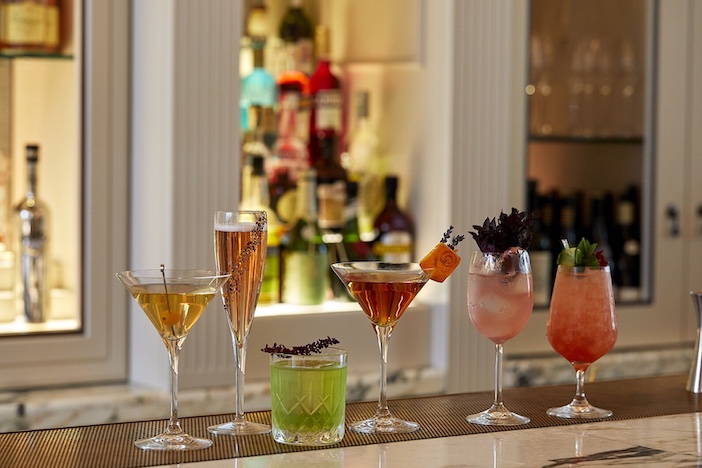 The Goring's non-alcoholic cocktail menu
The exquisite bar at The Goring needn't be off limits this dry January with the historic hotel offering an array of non-alcoholic cocktails, including a twist on the British classic, Pimm's: the Cup No. Zero (£11) is 'a Pimm's for abstainers.' The menu also offers the Garden Dew (£11), a fruity "Champagne" fizz, and the Eastern Cloud (£11) – a tropical take on everyone's favourite, the Sour. All three will be available to enjoy throughout January.
So, that lot should see you through this seemingly endless desert. And fear not, we'll all be back on the sauce next Saturday!