Clouds loom as we circle over the giant archipelago that floats beneath us. Spires reach through the mist, and the greater heights and bulky shapes of this Disneyland-for-grown-ups gently and slowly appear through our airline's plastic windows. Numerous boats bob around these inky-linked islands, and almost as soon as we touch down, we find ourselves upon the single-track race line that is the distinctly marked route of the uniquely glamorous, Venice airport water taxis.
As the high waters rush past the sleek teak of our private hull that speeds through the water, we make our way up the Grand Canal, crossing beneath the Rialto bridge, where raindrops obscure our view, yet provide equal dramatic entry to this most ancient of all cities.
Our vistas are staccato'd by shades of bright red – the third bright stripe of the Italian flag that billows in the wind behind us, and bright cushions that comfort our autumnal voyage – each one etched with the date '1920'.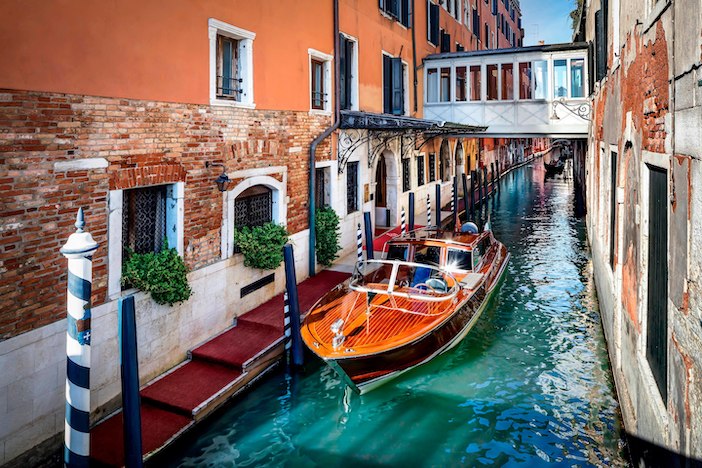 When we jump off our boat, we are guided into The Danieli – a 14th century Italian palazzo, now-turned plush hotel, hosting guests in luxury confines, seated moments from San Marco's square; its nose in the Venetian Lagoon. We are guided through the grand enclaves of the hotel foyer and take the tiny elevator up to the rooftop signature restaurant.
It becomes difficult not to touch everything we pass on our way – marble staircases, interior balconies befitting something out of Shakespeare, great sculpted fireplaces, textured wallpaper, carefully crafted interior windows, and chandeliers made prettily from nearby Murano's glass.
At Terrazza Danieli, our arrival is rewarded with highball glasses of Select, the ruby red Italian aperitif, plumped with Prosecco, soda water, and a large green olive. The glasses match the red of the downlights that graze the bar, and her luxuriant high-topped velvet seating.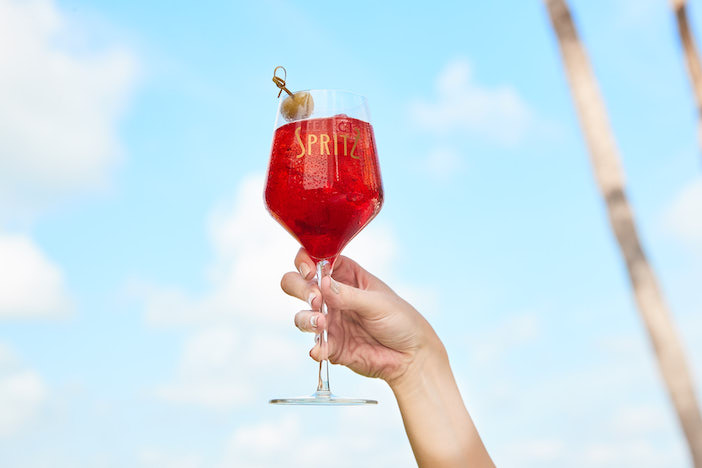 Admiring the view through our ruby-tinted lenses, we dine on a menu befitting of our sumptuous surrounds – swirls of polpo with carciofi (octopus and artichokes) are followed by penne with salvia and capesante (scallops and sage). These are all Venetian-typical ingredients – similarly found in the iconic early evening cicchetti that vistors and locals are privy to when coming to stay in this part of the world.
If there is one thing Italy does well – it is conviviality. Dining or otherwise, activities here are rarely undertaken solo. Mealtimes are clearly a celebration of good company, but another famous Italian pastime is the hour of l'aperitivo. Here in Venice specifically, this trip reminds us that it is frequently undertaken with a 'Spritz' in hand. Today, our glasses of Select encourage a familiar feeling both before lunch, and before dinner later on, as we gather to sip together.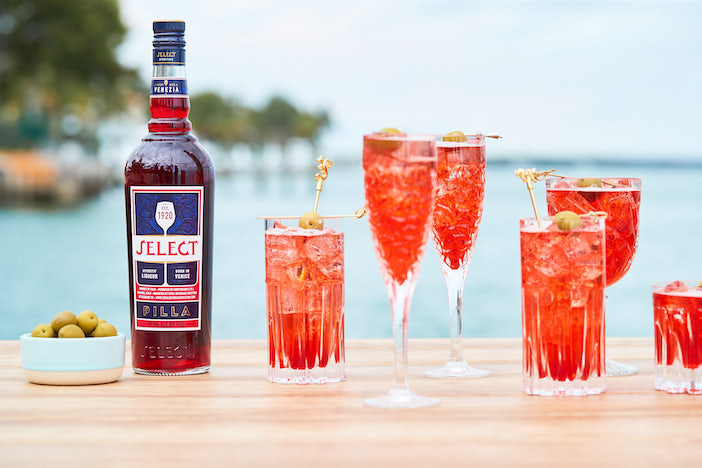 The culture of the 'Spritz' fans out across the Italian peninsula in a variety of formats – mostly dependent on where you find yourself, region-wise. The key difference is the preferred choice of bitter. In Venice, the recently revamped, blue red and white bottles of Select is frequently used. Arguably the original version of the bitter – its dark red, slightly more bitter character is widely favoured – combining over 30 botanicals that include juniper berries, for their balsamic and floral characteristics, and rhubarb roots, which provide its unique bitter notes.
Once just water and wine, the 'Spritz' was originally made famous by the Austrians who travelled down to this part of the world – finding Italian wine missing a 'spray' of something – adding fizzy wine or soda, which is how the Spritz thus gained its 'sparkle'.
Select was founded in 1920 – as indicated on her plump cushions that accompany us in our water taxi, by two high society brothers – on the island of Murano – one still famed for its craftsmanship (visit Venini for superlative examples of how the glass is still fashioned into beautiful items on a daily basis).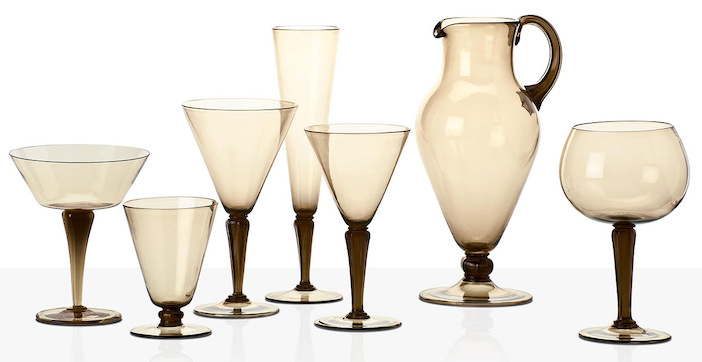 Like the hot glass, glowing red from within, we finish our stay with a night on the Isola delle Rose – a private island, now managed by the Marriot Hotel group, where well-heeled guests – perhaps in keeping with Select's original clientele – like those at the Hotel Danieli, rest their sight-seen bones. We enjoy final aperitifs mixed by Brand Ambassador Alessandro, under the olive groves and flood-lit red lighting of the hotel, before returning home the following day, heads full of Italian colour, craft and very 'selective' spirit.
To create the perfect Spritz:
3 parts Prosecco
2 parts SELECT Aperitivo
1 splash soda water
1 large green olive
Method:
Pour cold Prosecco into a wine glass over ice. Add Select, a splash of soda water and gently stir together. Garnish with a large green olive and enjoy in good company.
If you find yourself in Venice anytime soon, you could be persuaded to visit Il Mercante – a cocktail bar where Head Barman, and Select's Brand Ambassador, Alessandro will no doubt mix you a signature example of this most quixotic, ruby red drink.