'A living legacy.' These three words are written on the back of a wine bottle that graces our mid-week, lunchtime table; one that is set high up in the Tuscan hills, overlooking the occasional, quintessential, and ancient castelli on the expansive, tree-lined horizon.
In a group of seven we have just returned from a truffle hunt under the expert guidance of Luca from renowned local truffle hunters Savini Tartufi. Founded by Giuseppe Savini in 1920, this fourth generation business continues to thrive a century later thanks not only to the truffle traders who buy the family's wares to sell on to top hotels and restaurants the world over, but also through visitors, like us, who come here to experience the process in person.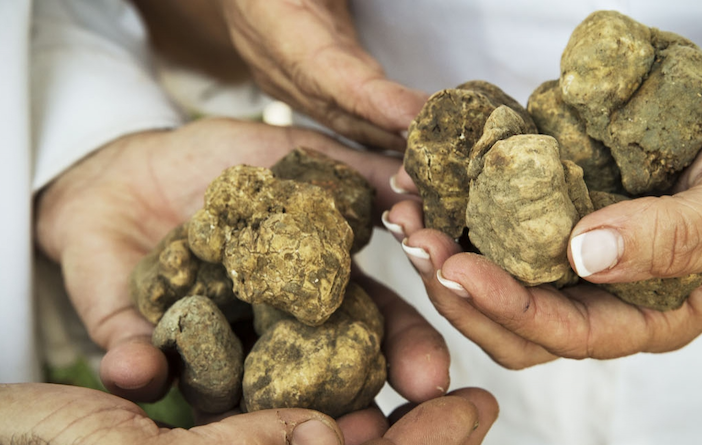 Our designated truffle hounds today, father and son, Giotto and Dante, are two of Savini's eight Lagotto Romagnolo breed, each trained to find seven different varieties of truffle. Bounding through puddles and over and under pine trees, these soft, shaggy creatures joyfully find us an array of prized black and bianchetta tubers. They race us back up the hill to an underscore of church bells, and a backdrop of yellow meadows, strewn with fluffy dandelions.
At lunch, a four-part firework of all things truffle-infused (our mouths can't help but assimilate the drippy yolk of the fried egg over which fresh truffle is shaven), homemade pasta, pecorino cheese, and semifreddo are expertly prepared and decorated by Andrea in the accompanying cabin kitchen. I sit next to David Landini – head winemaker and estate manager of nearby Villa Saletta. It is his wines that are on our table today.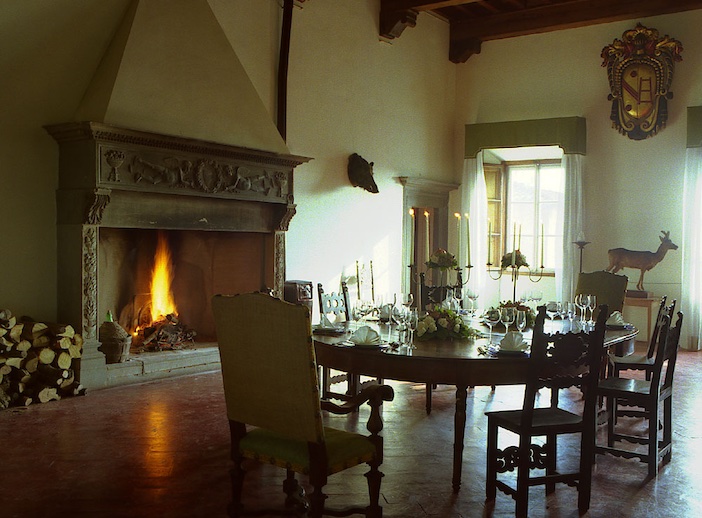 The wine we are drinking – a Saletta Riccardi, 'my Brunello, in terms of style' he says, is made of 100% Sangiovese from a plot of land that is less than a single hectare in size. Landini also grows and makes Cabernet Sauvignon, Cabernet Franc and Merlot, and includes a very delicious, traditional method Sangiovese 'Satèn-like' spumante in his growing wine portfolio. "Maybe one day we'll make a wine in a Tignanello style," he tells me over dinner the night before.
This name piques interest throughout the room as he says it. The wine he mentions is unquestionably one of the world's most famous, a 'Super-Tuscan' from Marchesi Antinori – the creation of which, a pivotal moment in their own 27 generation family legacy (ongoing). It turns out that Landini used to make this celebrated Tignanello he refers to, a winemaker of significant pedigree, discovering also that his career began care of another prestigious Florentine family – Marchesi Frescobaldi.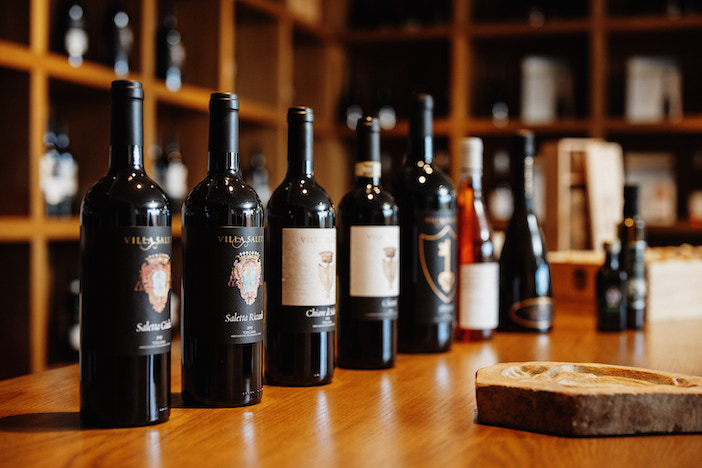 Under his direction since 2015, Landini describes ambitious new plans for Villa Saletta. A new winery 'with fine dining restaurant' is currently being built just up the road from where the current one sits. Additional vineyards are also being planted, with a view to putting some new focus on white wine. Winemaking has been part of this region's identity since the 17th Century, although first mention of Villa Saletta and its winemaking dates as far back as 980AD in a document recorded at the Vatican – the year now monikers the Estate's 'icon wine' – made, suitably, into a collectible 980 magnums. This heritage, bottle names aside, is something David is visibly passionate about continuing [to build on]"legacy, with a scientific approach" for years yet to come.
We talk about his employers – two people who's vision for local legacy is highlighted with their purchase some years ago, of a number of villas nearby. Lemon-tree framed Villa Fagnana sleeps up to 14 people across 8 bedrooms and is home to the Torino vineyard which spins out in ancient, unusually circular fashion from a watch-tower set up on the villa's nearest hill. Porcupines and wild boar graze here under agronomists' watch so fences have been installed to protect the Cabernet vines, and the broad beans that grow between them.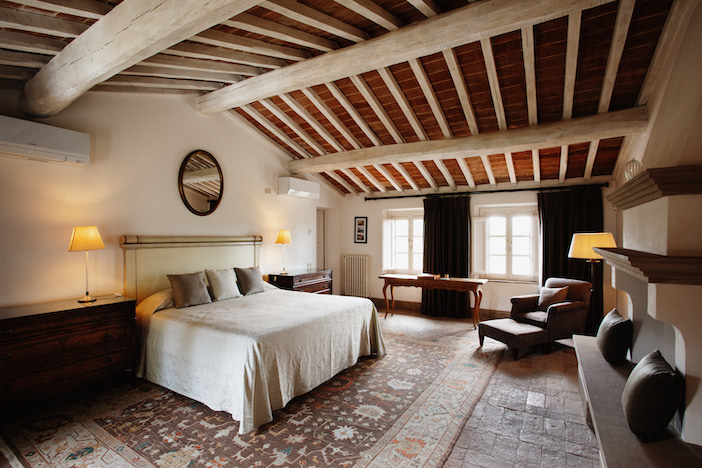 The three secluded, very peaceful, villas (the other ones, Valle and slightly smaller Casolare), currently available for private hire throughout the year, are seemingly just the tip of a regenerative tourism iceberg for owners Julia and Guy Hands – founder of Handpicked Hotels, and successful former Nomura executive, who now owns and runs the Terra Firma fund – as so referenced in his book 'The Dealmaker' which visibly adorns the villas' growing library. Staying at any of the three properties affords the opportunity to bring the region from outside, in – taking part in cookery classes with Erika from Cuoche in Vacanza rich with ingredients like Piccadilly tomatoes and Leccine olives, or practicing local life in a gastronomic way – being entertained by private chefs such as Happy Jack Chef or Marco Maccanti from Papaveri & Papere Restaurant.
There is a phenomenon in Italy known as Campanillismo – where people swear fierce loyalty to the local 'campanile' or bell-tower – meaning they champion what is to be found locally. Here, this seemingly extends beyond just produce, as we find out when our driver takes us on an unexpected detour to the little town where opera singer Andrea Bocelli was born, and where he now hosts a huge charity concert once a year, in conjunction with international acts, at the impressive Theatre of Silence.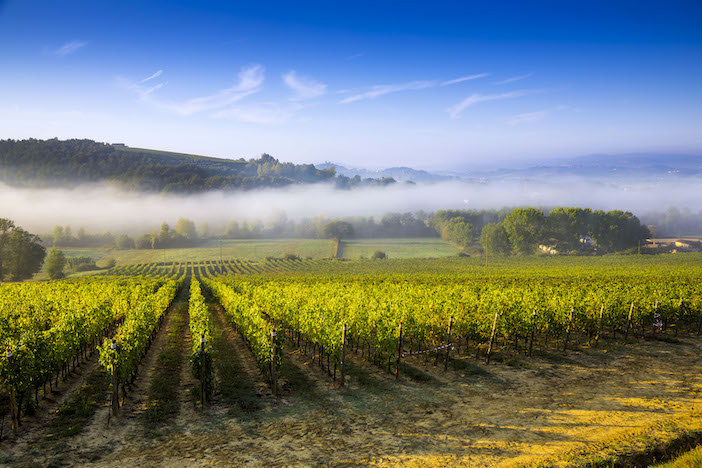 It's not hard to see why there are such cheerleaders of this part of Tuscany – one that is perhaps a little less well known than others. In this way, there must be similar intention behind the owner's 'big idea', as we witness in person the next day, to transform Villa Saletta's 'Borgo'. This tiny Italian hamlet, in the commune of Palaia, currently sits in almost ghost-town fashion – a likely casualty of the antiquated feudal 'mezzadraia' system that existed in Italy very much still up until the Second World War and eventually drove workers to the cities in search of a better life.
Guy and Julia's aim here is to create something of a seven-star, luxury hotel complex, working sympathetically, we are told, with the area's own historical and natural riches to recreate a 'thriving agricultural enterprise'. In the 16th century, the borgo was owned by another British family – the Richards, dubbed 'Riccardi' who were private bankers then to the Medici family, now remembered in more-modern fashion at the winery and beyond. Today's British-owned project is certainly nothing short of similar ambition, further developing the Hands' own legacy, preserved both in building and bottle, imaginatively envisioned from the ancient borgo's, wisteria-clad, duo of campanili.
For more information about Villa Saletta, including details of their wines and wine experiences, please visit www.villasaletta.com.