As a haven for the well-heeled, including royalty, oligarchs, and a banking dynasty, Corfu has more villas per square mile than any other island in Greece. Umesh Patel stays at a new property on a lavish estate from the providers of some of the finest private homes in Corfu… 
"I always meant to get you that villa in Corfu" sings Drake, a Canadian rapper whose sentiments ring out to the familiar beats in his 2019 song, Still Drake. We may not know what the singer's true intentions were or whether he eventually bought 'that' villa, but the lyrics do infer the Greek island's association with luxury properties. This morning my dreamy suite looks like it has been given a fresh coating of clear golden honey lacquer; the room is drenched in warm hues of amber and orange. I walk barefoot onto the terrace of this exquisite eleven-bedroomed villa to take in the panoramic view.
I'm greeted with the sun rising over the infinity pool; the stillness of the water gives a polished mirror effect that blends harmoniously into the Ionian Sea that lies beyond it. In the distance you can see Albania appearing as ghostly shades of blue and grey mountain ranges. While similar sublime mornings can be experienced at one of the many hotels on the island, the fundamental reason for the popularity of villas is that they provide the one thing we crave for – privacy.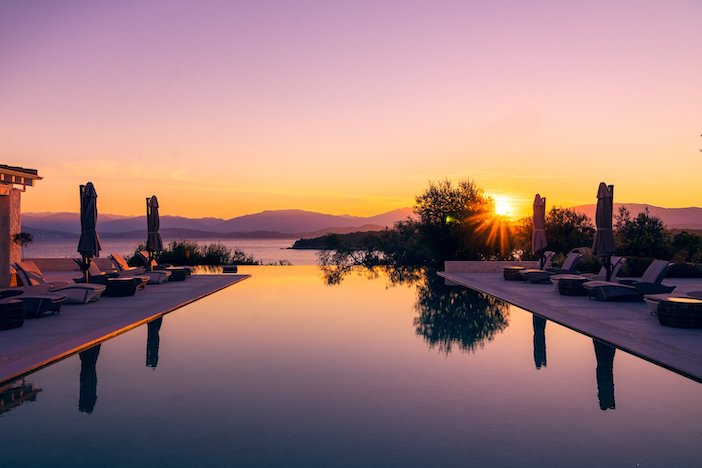 I'm staying at a property that's part of a collection managed by Oliver Bernard (the eponymous 'OB'), a real estate agency based in Mayfair. OB Private offers complete discretion to villa owners by renting their homes off-market; no advertising of these usually rare and unique properties can be found on any publicly accessed sites – this includes OB Escapes, which specialises in villas that are available on the open market. This approach limits the viewing invitation to only a select few; the potential client is provided with a passcode to view the details of the villa.
Full disclosure: as the villa I am staying in is part the OB Private portfolio, it means that I am not permitted to mention the name of property. Anonymous owners, secret passcodes, and secluded villas in off-the-beaten track locations with breath-taking views – It all sounds very James Bond, right? Well, you'll be forgiven if you get a sense of the uncanny while on the island, especially for the Bond fans among you as the film, For Your Eyes Only (1981) was filmed almost entirely in Corfu.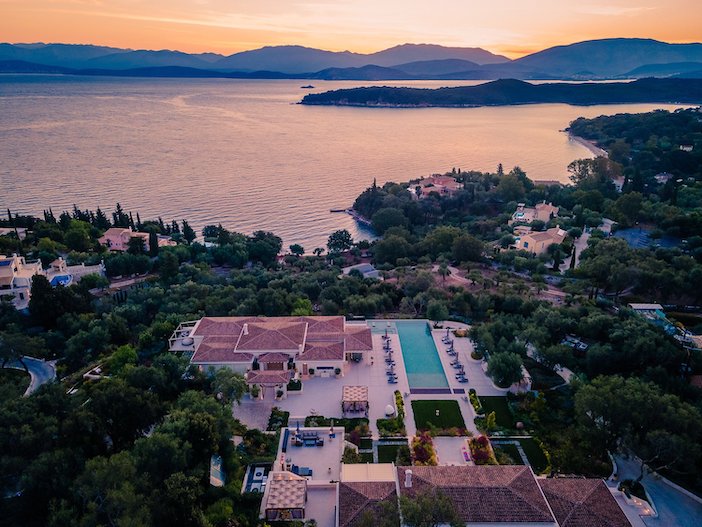 I wonder if Sir Roger Moore ever visited Damianos, an alfresco bar in San Stephano where I'm currently sat. The former quaint fishing village is a short boat ride away from our villa or to be more precise, the length of time it takes to listen to the 80's classic, Easy Lover by Philip Bailey, and Phil Collins. The volume is cranked up as we cut through the waves, the wind blowing vigorously through my hair. Our trusted skipper, Ralph de Wavrin is the co-founder of OB Private and is colloquially known as Mr Corfu due to his extensive knowledge of the island. OB Escapes was formed thanks to Wavrin's black book of villa owners.
I'm chewing the fat with Charlie Gibson, the managing director of Oliver Bernard, over a refreshing vodka lime soda. We talk about the secret villa we are staying in, which is said to be among the most sophisticated properties on the Ionian Islands – I have no doubt. The 2,200 sqm property is set within 18,000 sqm of lush green surroundings and run by fifteen members of staff, including professional chefs and a mixologist who doubles as a sommelier. The quality and finish of the large modern living space is exceptionally high and comes complete with a cinema room, indoor spa, gym, cocktail bar, and wine cellar. The villa has a 5-star boutique hotel vibe, set within the confines of a single dwelling.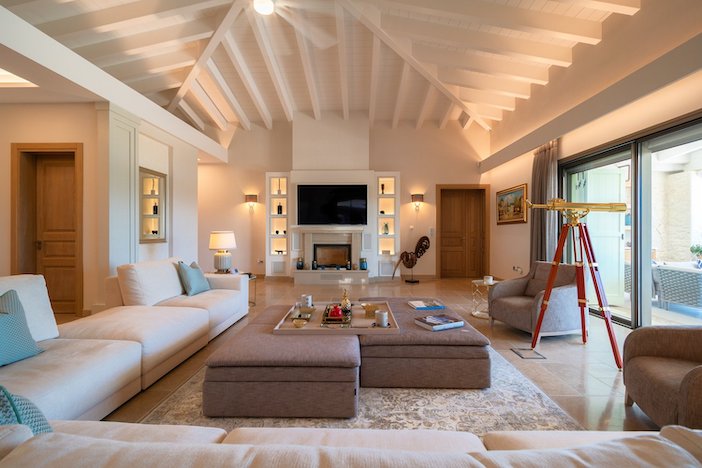 So, how much would the property cost to rent? That's the question that I put to Gibson – it's been on my mind since I first caught sight of the elegant, whitewashed stone villa, neatly perched on the mountainside as our boat transfer from the airport approached the private jetty. "165,000 Euros per week" replies Gibson without flinching. It's probably just as well I wasn't sipping my drink when those words were uttered. Cleary, it's beyond the paygrade of many, but it's a lifestyle one can become easily accustomed to. Spoiler alert – had you planned to book the villa in August, you'll need to reschedule as the entire month is taken.
I'm looking forward to lunch; it's been an early start to the day, and I'm famished. The chefs freshly prepare the dishes using the finest sustainable Mediterranean ingredients. With three professional kitchens, it's possible to cater for over 100 covers making it ideal for large events. This might explain the extraordinarily long table we are seated at (a certain leader in the East may look upon with envy).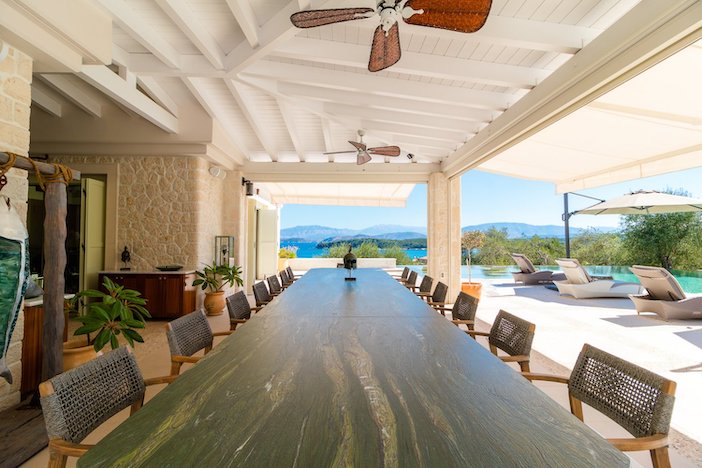 We begin with a palate pleasing gazpacho with a tomato and basil sorbet, followed by a tasty baked red snapper, served on a bed of tomatoes, onions, and olives for the main course. The saffron roasted cauliflower with spinach and fig dressing, the green beans with red peppers and chickpeas and the perfectly (triple) cooked chips also get top marks. We finish off the meal with pineapple carpaccio with coconut and chili ice cream. We drank Grammenos, Kakotrygis, Corfu, 2021.  A dry white wine from the island, which paired exceptionally well with the fish. Siesta calls.
As an alternative to lunch at the villa, we ate at Taverna Agni in Agni Bay, following a blissful swim in the clear waters of an emerald cove. The family run restaurant is the perfect location for a seafood-to-table via the kitchen feast; you have magnificent views of the sea, which is just meters away. Theo, the owner shows us a basket of what's just arrived from the latest catch: octopus, squid, and a lively lobster.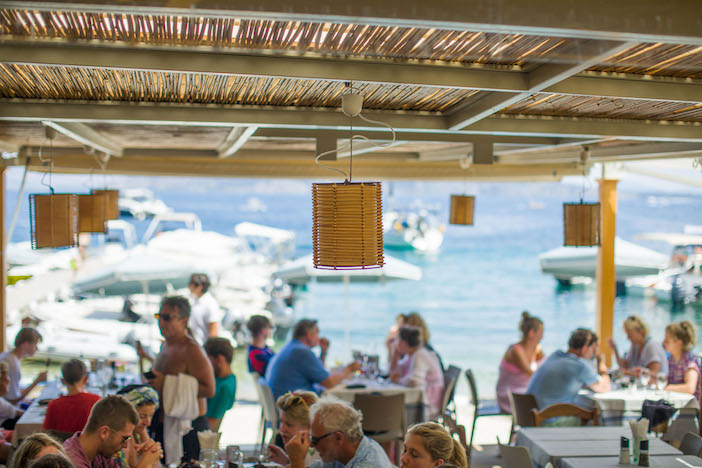 We start with the traditional mezze, which includes baked feta in filo pastry, halloumi, tzatziki, and Greek salad, followed by a selection of seafood dishes. There's a carafe or two of local wine on hand to wash down the food with. Everyone enjoys the lunch, but the grilled octopus and squid were outstanding; you can really appreciate the freshness of the seafood through its succulent texture and taste.
A short distance away from Agni Bay is a villa that we've been invited to view; it's called Villa Antheia and is part of OB Escapes. This four-bedroom property in Krouzeri, sleeps up to 8 people and is situated on an 8-acres site, high above on a hilltop. We access the villa by boat and walk up a path where the walls are lined with terracotta bricks leading to a set of iron gates. The property is nestled within a beautiful, landscaped garden with manicured lawns, water sculptures and a pool. The villa is supplied with a chef and a housekeeper.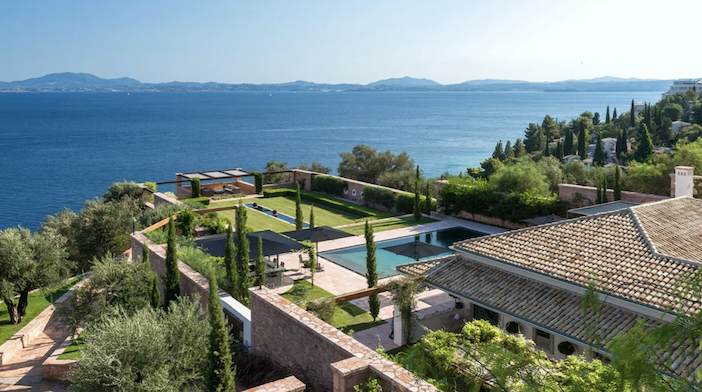 In addition to providing incredible villas, OB Escapes are also on hand to offer a concierge service that will organise super yachts, daily excursions to anything from wine tasting to cooking classes, spa treatments or even that last minute reservation to your favourite beach side restaurant. They can even arrange a fiesta as we experienced on our final night on the island. Traditional Greek music and dancing were performed to the cries of "Opa". The customary plate smashing to help ward off evil spirits is quite a spectacle, although the only spirits I experienced were the glass shots containing ouzo.
To compliment the entertainment, our dinner included dolmade – vine leaves stuffed with rice and herbs, skordalia – creamy garlic potato dip, and taramosalata. We had tasty grilled octopus, steamed mussels, monkfish and prawn skewers, and pork souvlaki for mains. We finished off with baklava with Metaxa marinated cherries and pistachio ice-cream.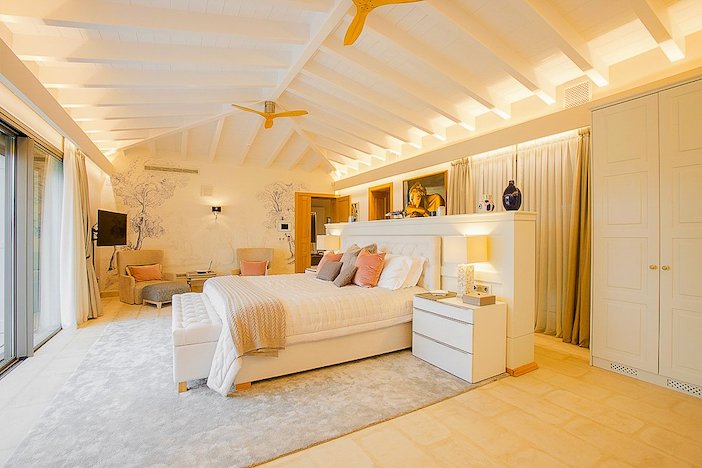 Having spent a few days at the private villa, it's difficult to leave the opulence of my walk-in wardrobe, large marble bathroom and huge bedroom, let alone the majestic views behind. I can appreciate the island's attraction for those that have chosen to invest in property as well as it being an ideal holiday destination for its seclusion. Luxury and privacy are intertwined and as such they come with a handsome price tag. With that said, I may check the availability of the villa for next August …
Umesh travelled to Corfu with easyJet, flying direct to Corfu from London Gatwick. For more information of schedules, prices and information on the city and its attractions, visit the easyJet website.
Private villa rates in high season (June 15th – September 15th) start at 135,000€ per week up to 14 people / 165,000€ per week, up to 22 people. Low season (September 16th – June 14th) rates start at 100,000€ per week, up to 14 people / 130,000€ per week, up to 22 people. Villa Antheia rates start from 13,740€ TO 27,875€ per week, for up to 8 people.
For more information about Oliver Bernard Private or above villas, please visit the official site at  www.obprivate.co.uk.