The Arb's motoring maestro is the envy of the office as she accepts an invitation to test drive the new 2014 selection from one of Britain's most iconic brands. It's a day on the track with Aston Martin…
"If undelivered please return to Aston Martin Lagonda Limited." Even as the invitation arrived through my letterbox there was ceremony to the way it landed on the mat below. Crisp corners of the white envelope neatly stamped with the company logo revealed a request for my company at a day out set to be quite unlike any other. A chance to experience driving five different swathes of super stylish, sexy and curvaceous, genuine Aston Martin.
Through winding English lanes, green fields and a gentle bubbling brook after which perhaps our destination gained its name, we arrived at Millbrook Proving Ground in a mini-bus accompanied by an underscore of rousing classical music. A vast sign showing a ban on all photography greeted us to one side of security and soon enough all our smart-phone camera sockets were covered with security stickers. Here they test countless vehicular prototypes so hot off the production line that design stories could be all too easily leaked without appropriate precaution.
Today we would test five cars. First up I was escorted into a Vanquish Volante – the ultimate convertible GT and symbol of power, beauty and soul. Her bright teal blue tones and retracted roof already had my head in a spin. Pressing the ignition button, we headed to 'the bowl' – a five lane circular track on a steep incline that you may easily recognise from Top Gear. A few laps eased me in gently, wind flowing through my hair, sunglasses on, winding higher and higher up the incline. This car sprints from 0-60mph in 3.8seconds. By lane four we were up to 100mph, shifting through the eight automatic gears seamlessly as I gently steered, controlling the car easily into the outermost lane.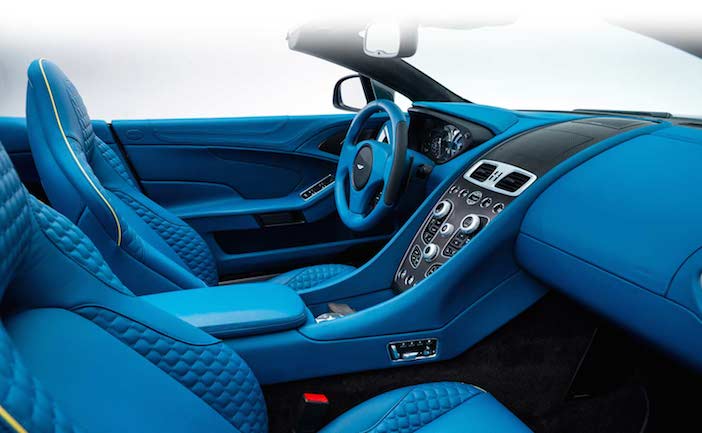 Then: 'Now take your hands off the wheel' the instructor said. "Go on, cross your arms. Trust the car". Glancing down at the dash, the speedo of this 565bhp, £200k car now said 130mph. I hesitated and then conceded as told, eyes glowing bright with equal measure of excitement as well as disbelief.  "I'm behind the wheel of an Aston Martin. At 130mph. On the Top Gear Track. And… I'm driving with no hands!" Magnificent. So smooth. So strangely easy. An astonishing feat of engineering blended with compelling design.
With all trace of cobwebs rapidly blown away, back at the pod – a purpose built cabin made for hosting VIP drivers and thrill seekers such as ourselves, I eagerly awaited car number two. This time a V8 Vantage N430 – a special edition with a club sport emphasis, dressed in sexy, shiny black. At just shy of £90k, she's the most affordable of today's lot. We took this one on the hill route – one that we shared, perhaps hilariously with a double-decker bus and a couple of white vans. This was a tougher track to crack, we rounded hairpin bends, sped over steep ascents, and zoomed fast past fluorescent safety marshals waving flags; completely non-plussed by our excitable haste and roaring speed. The original racer, this extreme performance car cornered beautifully like the spin on a figure skater about to receive Gold. Locked in, locked down, we flared around all manner of angles feeling safe and secure. She rounded like a dream. "You're quite good at this" the instructor said. "Have you ever been on a track before?" They say this car is known for its free spirit. I felt it there and then. This had all the indications of becoming an addictive, exhilarating habit.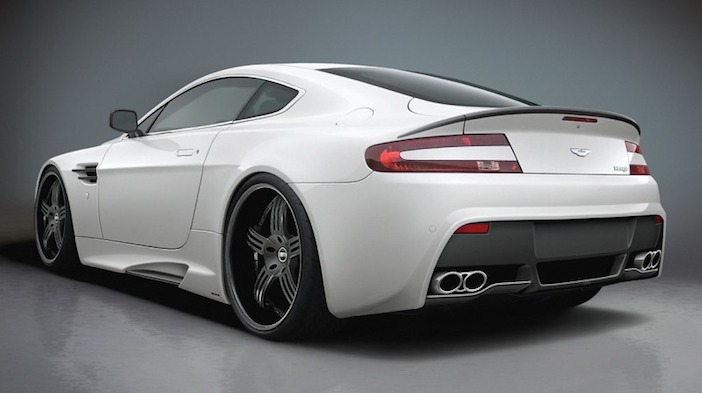 Round three: the big one. The V12 Vantage S in stratus white, marketed at £138,000 and as Aston Martin's 'most ferocious sports car'. A one mile track. A single straight lane before a fast curve on the horizon. With instructor number three, we teetered towards the start. Having watched the other test-drives fly before me, Speed Demon was now on loop through my mind: GO! Foot flat to floor, we felt the 620Nm torque move the chassis through the gears one by one. Faster and faster momentum increased and still he was telling me to flaw it. The speedo kept on creeping… 90, 110, 135, 140, 150, 165… The numbers kept on climbing. Only at 180mph was I instructed to apply the brakes, coming to a cool 30mph with incredible responsiveness. Lighter and more powerful than the regular V12, this isn't just an every day car. This is Aston Martin's quickest car ever made – with top speeds of 205mph she is a real racing car but made for the road. In the rear view mirror the mirage we'd seen from the starting blocks evaporated like something from a scene in Back to the Future. And just to check I wasn't dreaming, we did it all over again. That's my own land-speed record broken.
Back on the hill track in car number four – if I really had to choose, this would be my favourite of the day for the feel of the drive. A cool, collected piece of insatiably hot machinery with a four-door twist. This was the Rapide S. A long saloon car that makes you feel you're almost in a submarine the way it hovers over ground. Like James Bond – indeed this was where they filmed that scene in Casino Royale, around the track we went again, overtaking and handling like a dream in a body of luxury defined. Her iconic Aston Martin front grille devouring the road with every turn of the steering wheel. I could be in this car for days on end and never get bored of her agility and finesse.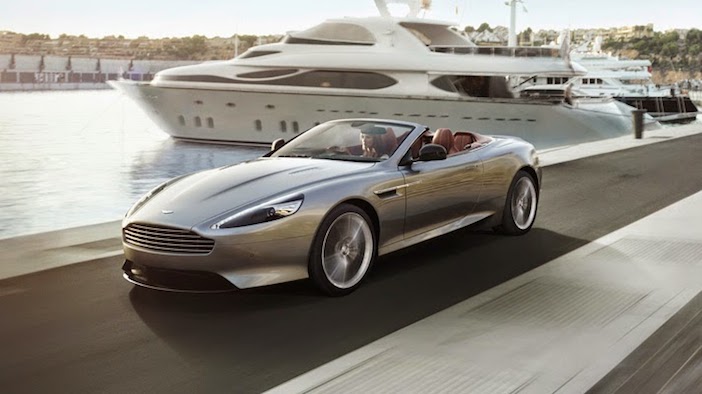 Our final demo was complete with crash-helmet, but was also the slowest ride of the day (a mere 50mph!). As a cool-down to the fiery moments of earlier in the day the brand new DB9 Volante in Arizonne Bronze was more of a demonstration of how these cars have been re-engineered to mould themselves to the road better than before even at low speeds.  With the unforgettable roar of the engine (go on sound cloud to find a recording of her mouth-watering pull away), the suspension meant this car's keynote speech was handling. The quality of craftsmanship from start to finish, not just on looks, but unabashedly underneath the bonnet is what calls these cars out as racers. Marek Reichman, Design Director tells us they are based on the idea of a triangle – a shape that can't be pushed over no matter what angle you glimpse it from. Safety is definitely a feeling that came to the fore throughout this entire experience, underlined by a startling array of fibreglass beauty. Don't even get me started on the interiors.
I am lucky enough to have driven an Aston Martin before. One was memorably delivered to me on Valentines Day a few years ago when I wrote a car column for a swanky neighbourhood magazine. It's still the most unintentionally romantic gesture I've been made to date. This is one love affair that shows no signs of fading. Aston Martin you will have my heart forever.
Find out more about Performance Driving Courses, Track Days and other Aston Martin adventures here. Prices begin at £1,164.00 pp from March to November.
For more information about the cars, visit www.astonmartin.com. Follow Aston Martin on twitter, and have the drive of your life.