With summer in full flight and Cowes week wrapping up this weekend, intrepid sailor Sophie McLean joins the Abu Dhabi Volvo Ocean Racing team for a lap or two round the solent…
It's 5:45am when my alarm goes off. Outside the sun is up but the streets are glistening with the signs of an earlier, not long passed, heavy rainfall. It feels almost autumnal yet we are still only in early August. In a sleep filled haze my main concern at this point of the day, inspecting the weather outside, is what to wear. Today is going to be a day like no other.
100 miles away in Cowes on the Isle of Wight there are other people making similar decisions, except this time there are other, far more important factors to consider. They concern not just the weather – something that on race days is updated to the team via central control every six hours, but a million other different things that all impact the speed and quality of sailing. The speed and quality of the crew. The group in question is the Abu Dhabi Volvo Ocean racing team.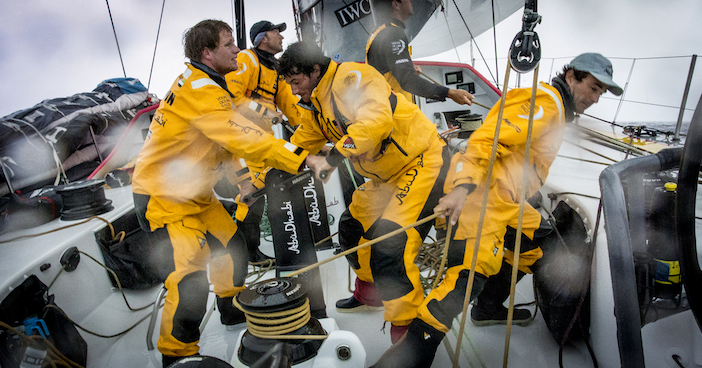 A little over three hours later I am greeted by eight of the ten on-board crew – a group carefully constructed by double Olympic silver medallist English Skipper Ian Walker, a man who has set out to make this a race not just one to take part in, but to win. We are at Endeavour Quay in Portsmouth, standing next to an incredible red and yellow flushed piece of perfect modern design: a VO56 – 13 tonnes of carbon fibre shaped into a lean, mean, sailing machine. This boat is capable of doing up to 32 knots an hour and can lean on her side on the water without capsizing to an angle of at least 39 degrees, at which point the sensor shuts off.
We board the boat and meet the team – Adil Khalid, 26, from the Emirates is one of the boat's youngest members. The other is Luke Parkinson – at a tender age of 24 he climbs up the mast like an excitable monkey, so it is not surprising to learn later that his nickname is Labrador, due in no small part to his boundless energy. Ian tested him out on 100ft vessel routes including the annual Sydney to Hobart boat race in Luke's native Australia before accepting him on to this crew here. Simon Fisher, or 'Sci Fi', as he's more affectionately known, is the group navigator, sitting down in the den with computers that make James Bond look like a luddite, and the Abu Dhabi team in turn like forerunners of the future. The technology investment, human investment and attention to detail in this whole operation is nothing short of incredible. Phil Harmer, another Aussie who was part of last year's Volvo Ocean Race's winning French team comes next, alongside fellow antipodean Daryl Wislang from Wellington, New Zealand. 'Chuny', a Spaniard hailing from La Coruña in Galicia, is the most weathered in this particular race, having completed it five times already. Justin Slattery, last, is an Irish fellow who is described by the Skipper as "the one guy I don't want to go to sea without" in testament to his skill and indefatigable experience on the water. "I'm nowhere near the best sailor on the boat" Ian continues, but "I've surrounded myself with the best sailors in the world."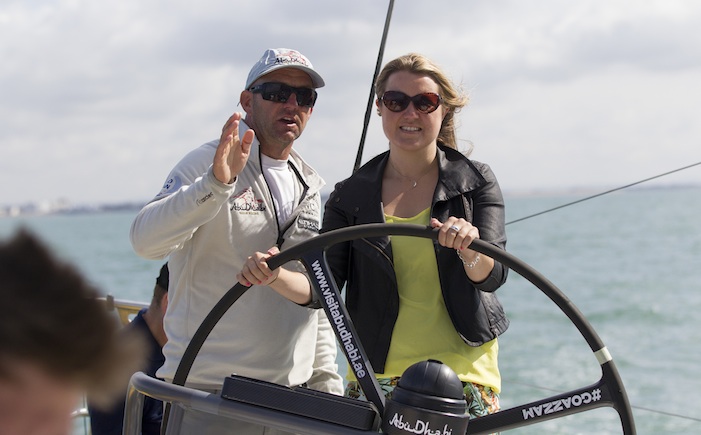 Their down-to-earth manner adds more value and privilege to being in their company today. And they are truly committed to their sport – Daryl leaving a week old new baby at home to fly in for the next two weeks of work. These guys will have already sailed 18,000 miles together before the race even starts and you can't fail to notice the steel-like camaraderie. It can't help but exist. Being rationed to using only three wet-wipes a day (the showering facilities leave Glastonbury looking somewhat plush), and with no access to the internet (for fear of being sent divine information en-route), the lads can't help but become joined at the hip. 39,000 miles and five months sailing to almost every corner of the globe is a long time to be in the same people's close company. Just check out the proximity of the bunks.
At 10:36 on the English Channel, mid way to Cowes, we are almost fearing capsize, such is the angle of the boat as one of us 'guests' carefully steers and we test out the super-stabilizing keel – but we are in total control. And absolute calm. The keel keeps us buoyant and the computers in their readings on the mast help direct our hands on the 'wood'.
This boat, an identical copy to the other six who are entered, save the design and feel, is named Azzam, chosen perhaps intentionally because it is Arabic for 'determination'. For a country that is still building its modern identity this team and its merry entourage is certainly determined. Not only to win this race but to put Abu Dhabi on the radar as a destination of much more than is often perceived. A place that interweaves culture with inspired leisure – from the new Guggenheim museum set to open in 2017, to Ferrari world, there are both sides to the coin waiting to be explored, so we are told during a lunchtime presentation on activities. But skipper Ian says their main goal is to leave a legacy – something that will outlive them all – a lust and love for watersports. A desire to create and inspire more sailing schools, and to build from the ground up on this.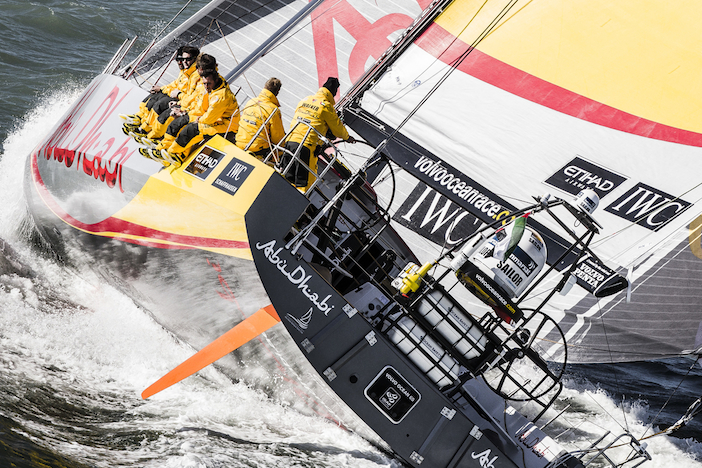 On Sunday 10th August the boat will depart on the Round Britain and Ireland race – one that will see them up against six of the other Volvo teams (one of whom is female-only) – a first time trial against them to see how they fare. The real race kicks off from Alicante in October and will be entirely documented by on-board reporter Matt Knighton, assisted by official photographer Ian Roman (whose shots illustrate this article); the crew in general are coached in their unity by supremo sailor Neal MacDonald. This year the difference in times from each boat will be a matter of minutes, not hours, or as in last year's case sometimes days. This time it will be different. Tighter, faster and consequently altogether very, very exciting. For a crew who will sleep only two hours on three occasions throughout the day and exist on up to 6,000 calories within that same timeframe to keep their strength up, it's not hard to see why this is known as the world's toughest sailing race. Watch each of the epic 9 legs unfurl with them onboard, online. Nail-biters beware, this is and will be absolutely nothing short of inspiring.
For more information about Abu Dhabi Volvo Ocean Racing 2014/15, visit the website and follow them on Twitter @ADORlog as they set sail on a race round Britain and Ireland from Sunday 10th August.
For more information about Abu Dhabi, visit the tourist board's official website here.
For more information about Cowes Week, including details of events and participants, visit the website.