It's extraordinary to think that in this day and age significant art finds are still to be made; a lost Nazi hoard discovered in a Salzburg apartment, for example, or a da Vinci in a Scottish farmhouse, they never fail to make headlines. These are more surprising when the finder had no idea what he was sitting on. Did the owner of the recent Gaugin hanging on a kitchen wall for 40 years never wonder about the provenance of that painting every time he made his morning coffee? 
But still this can happen and it still does and, what's more, it's happening with alarming regularity. The latest of these is surely one of the most exciting, largely because the output of the artist in question is a known quantity and, what's more, that we also know how many of his works are unaccounted for. It is, of course, the story of the missing Imperial Fabergé egg. And the history surrounding it is as intriguing as its find. And at Easter, too. What timing.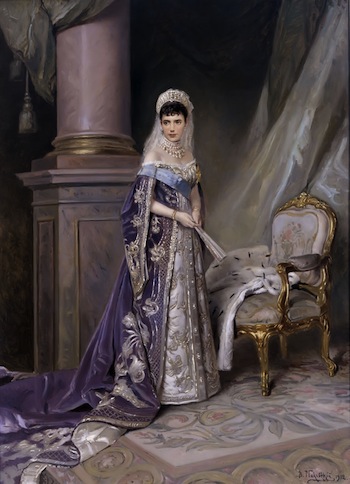 Known as the Third Imperial Easter Egg, only fifty of these works were ever made, each one unique. Created by Carl Fabergé between 1885 and 1916, they were commissioned by the Russian Royal family from the master goldsmith to celebrate what is the most important festival in the Russian Orthodox calendar. This egg, which contains a Vacheron Constantin watch and sits on an elaborate jewelled gold stand, measures a mere sniff over 8cm in height – that's barely bigger than a cupcake. It was given by Tsar Alexander III to his wife, the Empress Maria Feodorovna, as an Easter gift in 1887.
After the 1917 revolution the eggs were seized by the Bolsheviks. Some they kept, but most were sold to the West. Two were bought by Queen Mary, wife of George V, and are part of the British Royal Collection. The remainder belong to museums, oligarchs, sheikhs and heiresses. This is one of eight unaccounted for and one of only three believed to have survived the revolution. It was last recorded in Moscow in 1922 when the Soviets decided to sell it as part of their policy of turning 'Treasures into Tractors'. Its fate after this point was unknown and it is was feared it could have been melted for its gold and lost forever.
It was only in 2011 that Fabergé researchers discovered that the Third Imperial Egg had survived the revolution when it was spotted in an old Parke-Bernet auction catalogue from March 1964. Remarkably, its provenance at the time had been unknown, its entry in the catalogue modest and understated; it was sold at the auctioneers on Madison Avenue as a 'gold watch in egg form case'. It fetched $2,450 and wasn't seen again.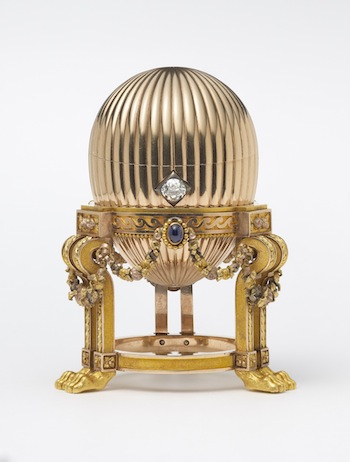 It later surfaced at a bric-a-brac market in the American mid-West where it was bought for scrap. The buyer, however, was dismissed by dealers who felt he had overcooked its value when trying to offer it for $14,000. Unable to sell it, in despair one evening he tapped 'egg' and 'Vacheron Constantin' into Google and an article from The Daily Telegraph about the egg's survival appeared quoting Kieran McCarthy, director of Wartski, the London-based experts on the work of Carl Fabergé. The owner contacted Kieran, sent images to London and in disbelief Kieran travelled to the United States where, in the kitchen of a modest house in that small mid-West town, he was presented with the egg and confirmed that it was indeed the lost Imperial treasure.
"This is the find of a lifetime," Kieran says, "it has such romance, such power. The idea of a Fabergé egg and that Russian grandeur, that last gasp of the Imperial court…as a jeweller this has all the hopes and dreams of everything we aspire to."
Last seen in public 112 years ago when it was shown in the Von Dervis Mansion exhibition of the Russian Imperial Family's Fabergé collection in St. Petersburg in March 1902, Wartski have since acquired the egg for a private collector who has generously allowed the egg to be displayed at the Mayfair jewellers in the run up to Easter. Just to see it is a gift in itself, surely.
To give an idea of the value of this find, the last Fabergé, known as the 'Rothschild Egg', was sold at Christie's in 2007 for $18.5 million. It was non-imperial.
Of the other eight missing imperial eggs, two are known to have survived the Russian Revolution; the 1889 'Necessaire' Egg (heavily chased gold, set with pearls and gemstones, without a stand, containing 13 miniature toilet articles) last recorded at Wartski in June 1952, and the 1888 Cherub Egg with Chariot (a gold egg resting in a chariot drawn by a Cherub) last recorded with Armand Hammer in New York in 1934.
The late Kenneth Snowman, grandson of Wartski's founder and former chairman of the company, summed up the legacy of Carl Fabergé succinctly in 1953, "…the Imperial Easter Eggs, surely one of the most extraordinary series of gifts ever conceived."
And now I'm going to rummage around in my attic. Just in case.
The lost Fabergé Imperial Easter egg will be on display at Wartski, 14 Grafton Street, London W1S 4DE from 14th – 17th April 2014. Entrance is free, but queues are expected.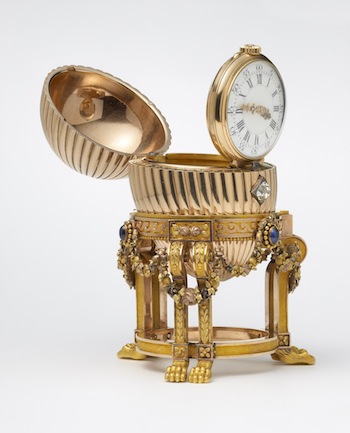 For more information on the egg and other Fabergé gems, visit the Wartski website.
And just for the sheer indulgence of it, here is a detailed description of this exquisite piece:
The reeded yellow gold egg opens by pressing the cut diamond pushpiece to reveal a Vacheron Constantin watch, with diamond set gold hands, that is hinged to allow it to stand upright. The egg is supported on an elaborate sabléd gold stand, on lion paw feet and encircled by finely chased coloured gold garlands suspended from three cabochon blue sapphires topped with rose diamond set bows. Made in the workshop of Fabergé's Chief-Jeweller: August Holmström in St. Petersburg, 1886-1887. Height: 8.2 cm.