For most of us the thought of buying sexy lingerie falls into two categories. 1 – for the "cheeky weekend away with the lover" (best shopped post-drinking lots of Sauvignon Blanc) and 2 – the lover buys it for you, which generally means they want to spice things up by meeting in a 24-hr Tesco to re-enact the scene from the 1989 film Sea of Love (the one where Ellen Barkin seduces Al Pacino in a supermarket). The reality is though that most of us would probably end up channelling a low-budget glamour model with not enough silicone hanging around the frozen meats section, as opposed to Barkin slinking along in her sexy trench with nada underneath.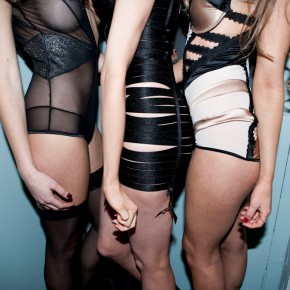 So waving their magic wand for women everywhere, along comes the Fairy Godmother of lingerie – Petits Bisous – offering the chance for us to "express ourselves" (just as Madonna told us to) via their new in-store 'luxury styling experience'. Basically you can book an appointment in their newly opened Kings Road boutique to explore the range of luxe labels on offer, and find bespoke lingerie customised especially for you. It's not just traditional satin with cutsey bow detailing either, the store also stocks some seriously sexy leather bondage pieces for your inner dominatrix (whip not included).
Founded by Esther Fieldgrass, who has worked in the beauty and aesthetics industry for over 30 years, the Petits Bisous store and brand concept was inspired by a weekend away in Paris and a desire to present lingerie as "an expression of individuality and femininity."
Collaborating with the Motherlode company, the store has now launched a short tongue-in-cheek film entitled 'Viewing by Appointment Only', written and directed by Ross Ashcroft, which stars model & actress Charlotte de Carle as 'Mademoiselle Bisous'.
It's a visual fusion of seduction and comedy which plays on the British approach to bedroom humour, as de Carle takes on the role of an empowered female protagonist who strips to her undergarments and makes an estate agent blush. Yes, estate agent and sexy are not two words I would normally put together, so this film brings a whole new meaning to "under offer". Watch it below.
httpv://youtu.be/zB_uTlFF8Jc
Shop the collection online now or visit the store at 187 King's Road, London SW3 5EB. The haute couture service for corsetry and customised lingerie is available by appointment – call 0207 352 7044.