If you're a Christmas fan who also loves Great British Bake Off, you'll like this. And if, like myself, you enjoy the sight of festive decorations but not the sound of Christmas music (well, certainly not on an unrelenting loop), then this will also be for you.
In the words of Sandi and Noel, WELCOME…TO…THE…GREAT…CHRISTMAS…AFTERNOON…TEA! Pop into London Hilton on Park Lane any time between now and the last official day of Christmas (that's 6th January), and you can order a tower of edible fancies, all sprinkled with a good dose of festive magic.
The tea is served in the ground-floor Podium Restaurant and Bar. So, disappointingly, not with the enviable view that comes with the Galvin restaurant at the top, but you can instead gaze at the culinary creations before you, or indeed, at the decor. As you walk in, pause for a moment at the Christmas cake model with a train chuff-chuffing its way round it. I'm a grown woman and I thought it was rather charming. A giant Christmas tree in the hotel reception was also the perfect place to pose for a selfie with my husband.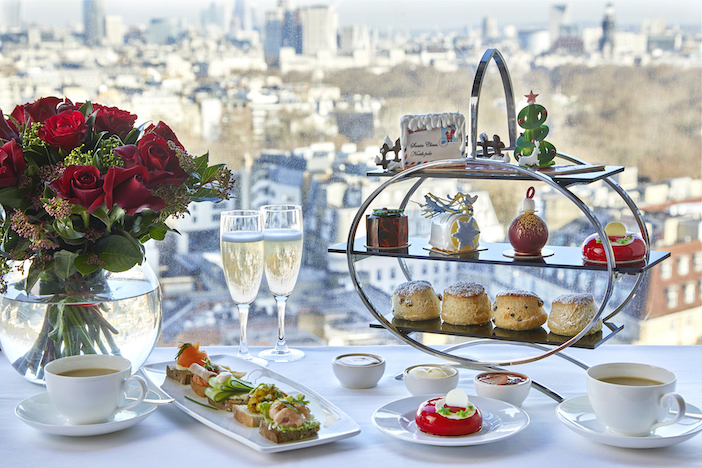 Inside the restaurant, miniature Christmas trees sit in red pots on each table, and red bows, snowmen and candy sticks adorn the walls and windows. But what's that sound? I can't actually remember what music was playing, but I do know it wasn't Christmas music. Yippee! The perfect combination: loads of amazing, calorific food, a pleasant festive setting, but without the need to roll your eyes / cover your ears / get ridiculously fed up with hearing Mariah, Leona, Chris, George, Slade and co go on and on about you know what.
So, the scene is set. But what of the confections on offer? And what of the tenuous GBBO connection, I hear you cry. The food is lovely, befitting its price tag (£39 a person, £49 with a glass of champagne), but the Hilton on Park Lane also has Bake Off connections. Last year, its pastry chefs Sam and Emmanuel won 'Bake Off: The Professionals'. And the treats on our afternoon tea tower really did make me think of the impressive dishes and bakes that the professionals – and us mere mortals on regular GBBO – would whip up, or be told to whip up, in the technical challenge.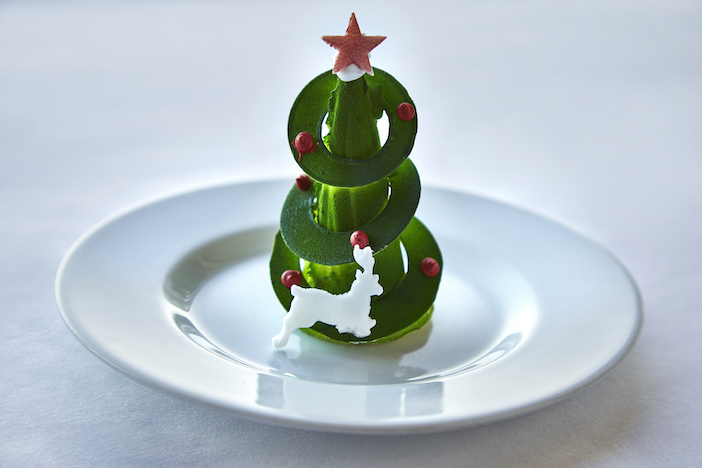 Mousse! There was a lot of fancy, multi-coloured, multi-layered – multi-textured even – mousse going on. An edible Christmas tree was in fact an upside-down ice-cream cone with mousse inside. A mulled wine bauble is filled with a sweet cinnamon mousse, while a strawberry and lime parfait, is well, just like a mousse. But, for me, the coconut log was the touchstone. All told, I can imagine Bake Off judges being very pleased with the clear mousse layers on display.
Enough mousse talk. What else? The sandwiches, pimped beyond the norm – we're talking mini prawn baguette, salmon croissant, chicken on brioche – were splendid, and the scones a bit of a revelation. Soft, crumbly and light, and served not just with clotted cream and strawberry jam, but salted caramel spread. The very idea! One scone was also chocolate chip (a pleasant surprise as we thought these were raisins – until you bite in).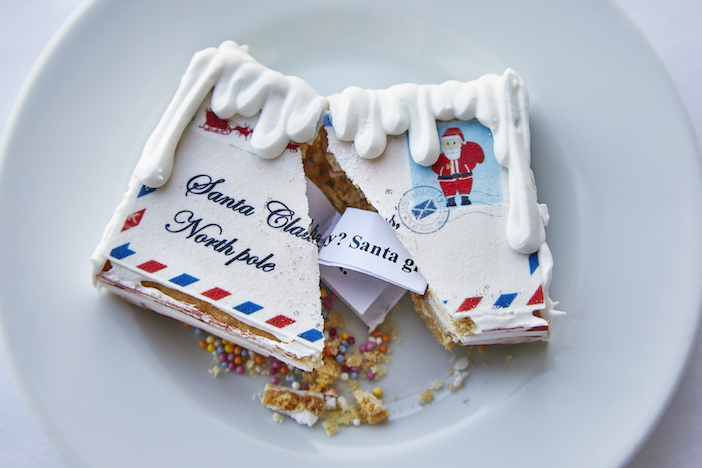 The pièce de résistance, however, on top of our afternoon tea tower, was a shortbread 'letter to Santa'. When you break it open, out fell colourful sugar stars. The chocoholic in me was delighted to discover that a large plinth which the Christmas tree and Santa letter were perched on was made of white chocolate. One deft sleight of hand later, I'd slyly put it on my plate and hid behind the tower to scoff the entire thing – who, me, husband?
The whole event is sweet, and fun. If you've been out buying presents in the merry hell that is battling Oxford Street in December, or getting rather chilly at Hyde Park's Winter Wonderland, then this is for you. Warm up with a cup of tea, get some pics of the decorations and fancy food, snaffle the sandwiches and scones, and admire the spectacular mousse inventions.
This afternoon tea definitely gets the Star Baker award.
The London Hilton's Christmas Afternoon Tea is available at the Podium restaurant until 6th January. For more information and bookings, visit www.podiumrestaurant.com.