Think of a tea shop and you think of quaint little cups and saucers, very retro now but oddly in fashion with teas, and cake stands with fondant fancies, and scones and anything Bake Off or spin offs have inspired.  A location straight out of Miss Marple, off a village green or square of by a bridge by a river, or a field of cows.  A Midsommer Murder type venue in or around the romanticised towns of Bath, Winchester and Chichester or anywhere in the Cotswolds.  Think again.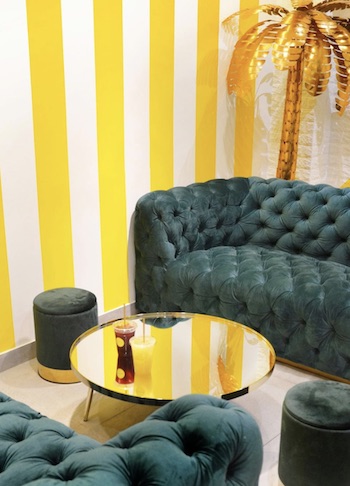 Tease is different and therein will lie its success. Two minutes' walk from South Kensington tube station, in the heart of a city beating fainter by the day for tier restrictions and residents anticipating their country homes will become their bases for hibernation in winter, the glass fronted shop, with brass palm tree as tall as Posh Spice, has a touch of popcorn about it.
The cups are paper, but yellow and white striped. The teas are in glass containers and mixed by Cosmo, the tea/cocktail maker (formerly a cocktail waiter at Annabelle's nightclub, wouldn't you believe). I asked him about that. "I wanted something more authentic," he said, "and nothing about Annabelle's is authentic and real. Mixing the teas here, everything is fresh and interesting."  Twenty-something Cosmo (lovely and straight out of Made in Chelsea) has set this Tease with his father. Opening mid-March – at the beginning of the first lockdown – it seems fitting I visit as the second lockdown finished. "Has it been busy?" I ask. "Could have been better timed," he replies with a smile.  But the shop was buzzing while I was there, with its young clientelle all looking as trendy as the shop itself.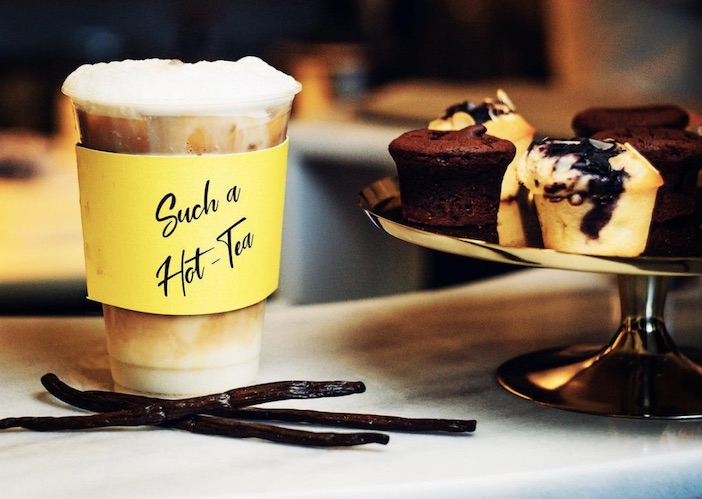 Bright mustard walls, gold and teal velvet barstools, and neon signs flashing 'Touch me, Tease Me' suggesting Cosmo has taken some of the Annabel with him, and little flourishes like the napkins printed with 'get dir-tea' make it all a little kitsch. But there's nothing 'nat – tea' (ahem) about the product. There's iced tea, mate tea, and shots with everything from turmeric and cayenne pepper (the pepper makes the turmeric work better on the skin, by all accounts), to honey and lemon (with honey from Bermondsey Bee). Then there are the real health kickers; reishi, cordyceps and chug mushrooms (never heard of any of them) with names like Positivi-tea, Beau-tea and Serendipi-tea.  It should be cliche, but it works.
Cosmo mixes the teas like cocktails and has the personality and charm to draw you in. And if the teas aren't enough of a health push, snacks offered include seaweed crisps, date energy balls and hemp and chia cookies – again all locally made, all delightful, and all moreish. It's a well thought-out concept, attempting to make tea sexy (it doesn't make tea sexy, but it does enhance the concept of tea shops (not unlike how Curious Roo built on the concept of coffee shops). It's delved deeper into the concept of what we like about teas – refreshing, revitalising and purifying.
Something we could all do with to offset the vices of Christmas, not to mention providing tonic to the health and social ills of the pandemic.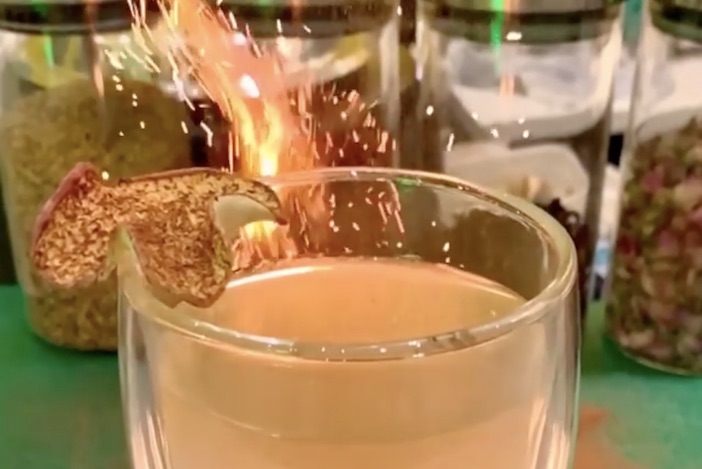 To coincide with the festive season, TEASE have produced a 'Christmas Collection' for the month of December, with 3 drinks, that will get you immediately in to the spirit, all for just £4.50 each. The 'Mulled Christmas Special' is a delicious mixture of all things merry – including pear, apple, roasted chestnuts, cinnamon, cloves and some spicy black pepper, and garnished with a cinnamon apple crisp. Created as an anytime PG version of your favourite mulled wine, its flavour notes are that of rich orchard fruits, with that perfect hint of winter spice.
The 'Spiced Matcha Chai' is a silky smooth matcha combined gently with some spiced notes and finished with delicious sweet hints of almond – it combines Lalani Ceremonial matcha, Almond Milk, rich Madagascar Vanilla, Cinnamon, Cloves, Star Anise, Black Pepper, and Fennel Seeds and finished with Masala spices.
Finally, it's not all brutal health kicks, as their twist on hot chocolate, made with 100% raw cacao, Madagascan Vanilla and their preferred Hazelnut Milk, is a lovely rich alternative to a festive winter warmer. And, rest assured, Tease are offering all of their drinks to take-away as the Tier 4 restrictions kick in.
For more information, including a full list of drinks and snacks, visit their Instagram page @drinktease.