The Arb's self-appointed 'tech correspondent' Oliver Pickup has armed himself with six thrilling technology toys – ahem, tools – to make your return to work after the summer holidays more enjoyable and productive…
Make Smarter Notes with the LAMY Digital Writing Set
If you are anything like me, you'll make copious handwritten notes that are illegible and indecipherable to anyone else – and sometimes even to me, which can be a little problematic.
Hallelujah, then, for the LAMY Digital Writing Set, available for £149 via Pen Heaven. This clever – and sleek – bit of kit will revolutionise how I work and make life much easier. Because it neatly combines traditional note-taking with modern technology (NeoLab tech and an ncode smart pen, specifically) and means you can watch your ideas come to life instantly on your chosen digital device.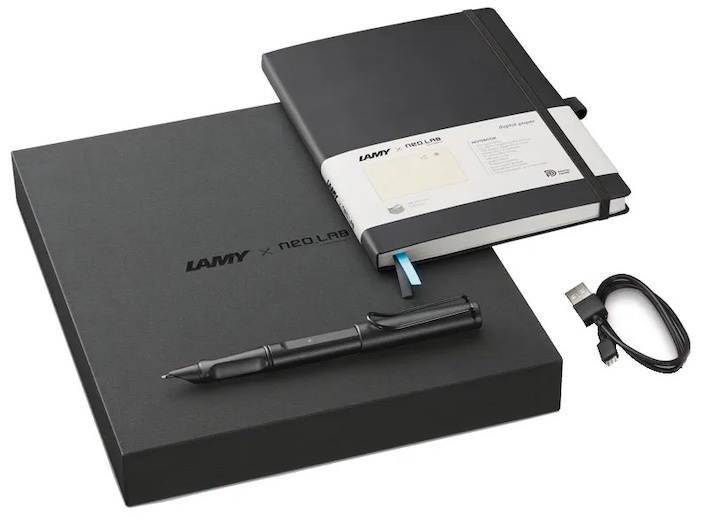 Moreover, typing up notes is now a thing of the past. After a little bit of calibrating – basically writing words so that the tech recognises your handwriting – you're on your way, making smarter notes.
If you would like to know more, then please make a note (geddit?) to visit www.penheaven.co.uk.  
Declutter the Desk with the STM Goods ChargeTree Swing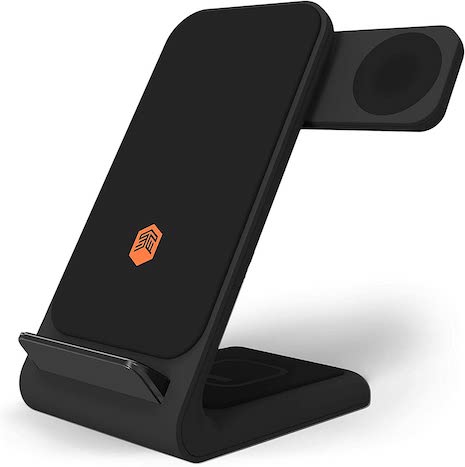 I have around a dozen cables visible on my desk as I tap these words. Most of them are plugged into the back of things. But, as an Apple devotee, I have an iPhone, Apple Watch, and AirPods, all of which need regular battery boosts. So that's potentially three more cables to add to the clutter.
Imagine, then, my impulsive, inelegant and unattractive squeal when I first learnt about the STM Goods ChargeTree Swing, which charges all three of these items simultaneously and without requiring a cable to any of them.
The three-in-one charging station takes up minimal space – it's about an inch taller than my iPhone XS, and stands at about a 45-degree angle. The smartphone charges on the face, the AirPods tuck in behind, on the platform, and the Apple Watch charger swings out to the right and can be hidden when not in use (or if you don't have an Apple Watch).
After teething problems, I discovered that it worked perfectly by plugging the ChargeTree Swing directly into the mains rather than an adaptor linked to my computer. It comes in black or white and is currently about £55 on Amazon.
The ChargeTree is available from Amazon.  
A Revolutionary Mouse: Introducing the MX Master 3S
You might think spending over £100 on a mouse – well, £119.99 to be precise – is hard to justify. But perhaps you have just been waiting for the right mouse. Let me introduce you to the MX Master 3S, Logitech's latest generation of an already impressive device. Who knew that a mouse could improve how you work so much? Not me, for one.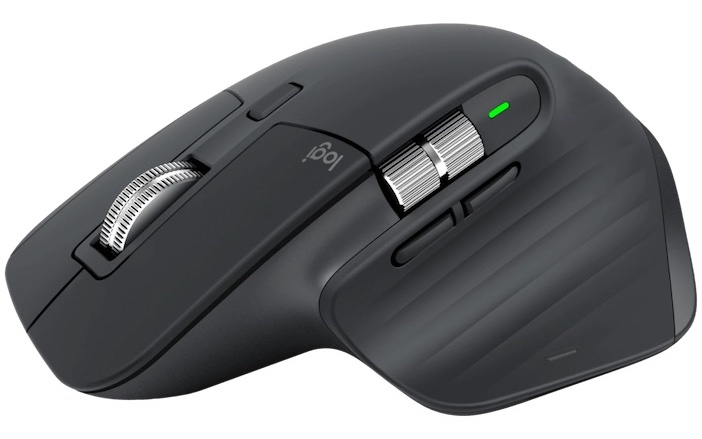 Not only is the "performance wireless mouse", which comes in graphite or pale grey, a thing of beauty, but the designers have also thought of everything you might need – and more. First, it's as quiet as, well, a mouse. Indeed, its Quiet Clicks technology delivers supremely satisfying, soft tactile feedback with 90% less click noise than the previous model.
The 8,000 DPI (dots per inch) optical sensor tracks virtually anywhere, including glass. The electromagnetic scroll wheel – also near enough silent to use – is precise enough to stop on a pixel and quick enough to scroll 1,000 lines, of a spreadsheet, for example, per second. And you can customise six buttons on the MX Master 3S, which is compatible with all major operating systems. It's a very clever piece of kit.
For more information about the MX Master 3S, head to www.logitech.com. 
Effortless Finger Gliding with Logitech's MX Mechanical Keyboard
Logitech has also been busy upgrading its keyboards. The MX Mechanical is a "wireless illuminated performance keyboard" is the company's first keyboard that has mechanical keys. That means it vastly improves the typing experience over standard membrane keys.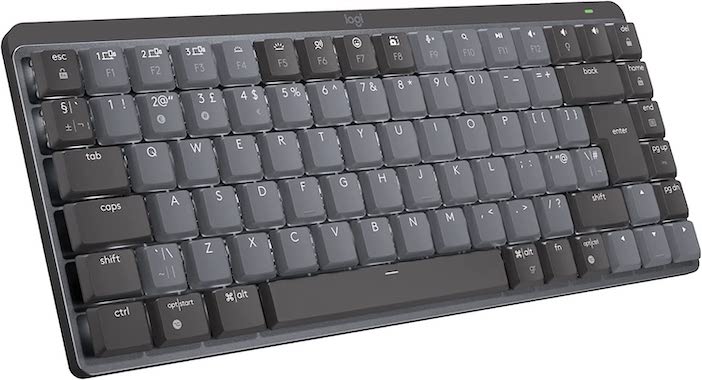 Its ultra-precise and low-profile mechanical switches offer "deep and reassuring key travel", according to the marketing bumph. But it's true, and I couldn't have put it better myself. Also: "Your fingers glide effortlessly across the matt surface of the keys – and dual colour keycaps make it easy to orient your fingers and stay in your flow."
The MX Mechanical is available in full size, and there is a mini version for those who prefer things in small packages. In fact, you can choose size, keyboard language, and a style that suits your needs. The price range is £149.99 – £169.99.
To find out more about the MX Mechanical, please visit www.logitech.com. 
A Data Storage Dream: the 1.0TB OWC Envoy Pro FX
I know what you are thinking: this is not as thrilling as other entries here. That may be so, but it's arguably the most practical item on this list. Because you need somewhere to store your videos, images, music, and goodness knows what else. I see you there, drowning in data, and I'm here to throw you the equivalent of a lifebuoy.
The 1.0TB OWC Envoy Pro FX is an incredible and potentially life-saving external hard drive. According to the North American manufacturers, it is "the fastest, most compatible drive ever made" and – wait for it – boasts speeds of up to 2,800MB per second. Translation: it is very quick and therefore offers excellent performance when shifting between files and uploading or downloading.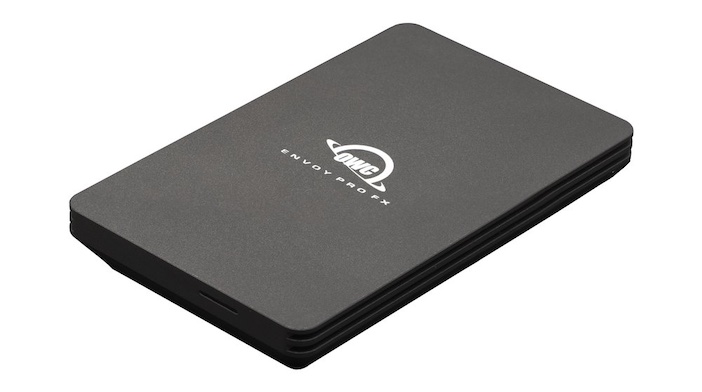 Another appealing feature is that it's built like a tank. It is dust, drop, and waterproof certified. And as it's smaller than most smartphones, it's incredibly portable. In addition, it's Thunderbolt and USB compatible, meaning it can plug into pretty much any machine on the market right now. Oh, and OWC offers a three-year warranty.
For more information and to find a UK-based stockist, please visit www.eshop.macsales.com. 
Keep Data Safer with the YubiKey 5C NFC
The explosion of remote working for knowledge workers, necessitated by the lockdowns enforced in a bid to stem the spread of coronavirus, alarmingly increased the attack surfaces for cybercriminals.
Thanks to ever-sophisticated attacks, those of us who work away from the sanctuary of an office with a Fort Knox-level of cybersecurity, even for a couple of days a week, tightening up defences is critical. And most of us need as much help as possible; we are neither experts nor do we have the time to analyse every possible threat, as we need to get on with our day jobs.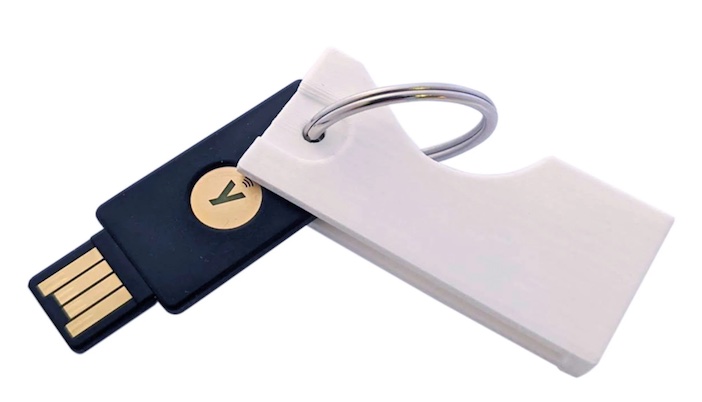 Thank goodness, then, for the very nifty YubiKey 5C NFC from Yubico. It's the world's first security key that features dual USB-C and near-field communication (hence the NFC in the title) connections on a single device. Basically, you stick the thing into your computer and after setting up you can rest assured that your data is now significantly better protected than it was. Indeed, the YubiKey is apparently the only authentication technology proven to stop account takeovers at scale. And at only £57, it's decent value for peace of mind.
To discover more about Yubico's YubiKey 5C NFC, please head to www.yubico.com. 
Header photo by Marvin Meyer, courtesy of Unsplash