I'm not an online shopper. There, I've said it. It's been over a year now that I've had to take the digital plunge, and I'm just about coming around to the fact that sometimes it is easier (dangerously so, sometimes), to order from behind one's screen, or while mindlessly scrolling of a late night/early morning (oh Instagram, you have wooed me with your sparkles from afar, and yes, I bought the sleep turban for a handsome £50!) – don't think I haven't seen you either, people who 'accidentally' spent £40 on a steak and some beer sticks while perusing the website of that 'fancy butcher'.
It's not that I don't understand the simplicity of online shopping. But I've always been a more emotionally involved person when it comes to tasks like these. What does it feel like, smell like, sound (?) like. There's something altogether more exciting about being able to view an item In Real Life before then imagining it in your own home, or on your body (and yes, companies from Ikea to L'Oreal are even making this possible from afar, thanks to the IOT (internet of things) and AR (augmented reality). Will technology ever fail to solve the next first world problem?
So – now that we are returning, back with a (gentle) vengeance – to a life more personably lived, it gives me great JOY to go and peruse items in-store. To talk to the kind humans who love these products (and, often, also, people too), to tell you about their mega benefits, their luxurious fabrics, their ingredient provenances. To converse, if only with oneself, while in peripheral view of these things, is a true delight.
A few weeks ago I found myself at Harvey Nichols in Knightsbridge. I was meeting a friend for a drink there, as civilised people do. Prior to finding my way to The Fifth Floor then, I spun my way around the rest of the store, the scented depths of the beauty halls, the dazzling glamour of the ladies wear lounges. Sashaying through Bottega Veneta, Alice + Olivia and Valentino, with barely another person in sight (the real benefit of others being more online-inclined). This, dear readers, is the joy of the physical.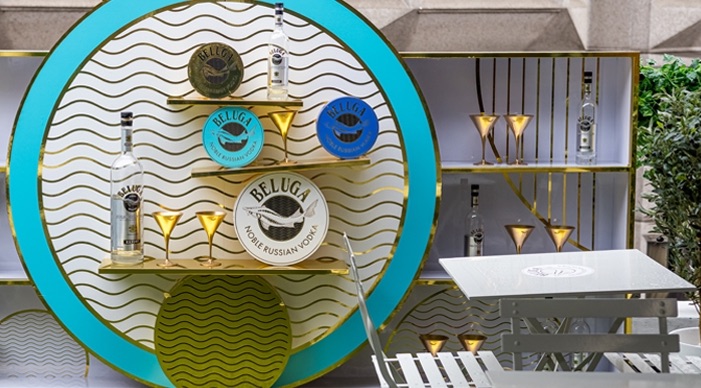 The best part about these much beloved department stores, has to be their in-store dining options, or in my case, just being a sucker for a sky high view over the rest of our grey-skied regional capitals. Offering some sunshine to close off a heady afternoon. I only need to nod to the so-called competitors of this fine establishment, who also have their own rooftop views both newly opened and seasonally refined, for similarly must-visit vibes. To the Terrace, we arrived.
Through the summer, the Harvey Nichols Fifth Floor Terrace is being taken over by swanky Russian Vodka brand, Beluga Noble Vodka. Betwixt giant teal and golden caviar pots, up here you can tuck into a whole menu of summery foodie treats (sadly no Beluga caviar on memorable offer, though the labels on the bottles do nod to this, in essence) – with classics such as an original HN Burger, to more discerning choices of corn-fed chicken with beetroot gel and seasonal veg, or darne of salmon with fennel and cucumber salad. The charcuterie platter and burrata will have you sated in no time after a whizz around the rest of the store, mustering a Harvey Nic's style appetite. The jewel of this evening though, was the Vodka. Nine new cocktails are offered to thirsty post-shoppers, or those simply wanting of a terrace view away from the crowds, in a central London location.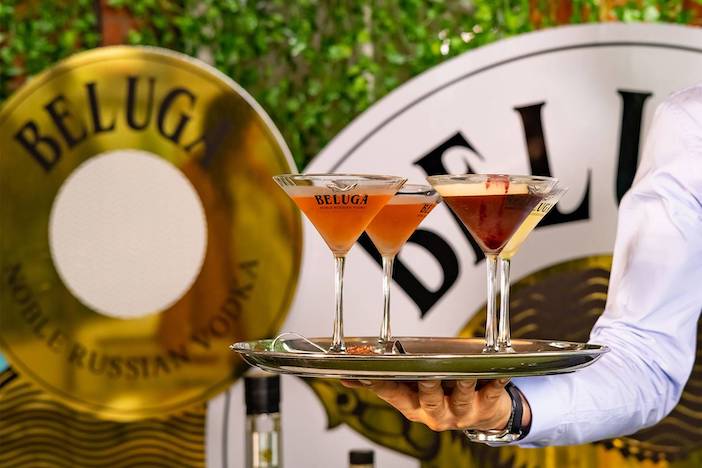 Martini connoisseurs can choose from an 'Espresso Martini' – Beluga Noble vodka, espresso and cocoa Port, adorned with an edible blueberry paint; a 'Strawberry Martini' using Beluga Noble Vodka and Cocchi Rosa Aperitif, infused with strawberries and strawberry shrub syrup and garnished with raspberry caviar, or a 'Bees Knees' – my personal favourite – Beluga Noble Vodka, lime juice and Acacia honey, served with a Parmesan cheese crisp. Refreshing, alive, delicious.
The Martinis are followed with three Beluga based Spritzs – 'Worth it's weight' – Beluga Noble Vodka, Fever Tree Sweet Rhubarb Tonic, topped with HN Prosecco and accompanied with a rhubarb blade. 'Tropical Summer' gives exactly that – mixed with Passion fruit Kombucha, tonic, and edible mango paint. 'My Sweet Pea' – is Beluga vodka lined with a homemade pea cordial, cucumber soda and a cucumber ribbon. There are also a trio of long drinks available for those seeking a more refreshing choice for long summer days – paired with other refreshing tonics and sodas.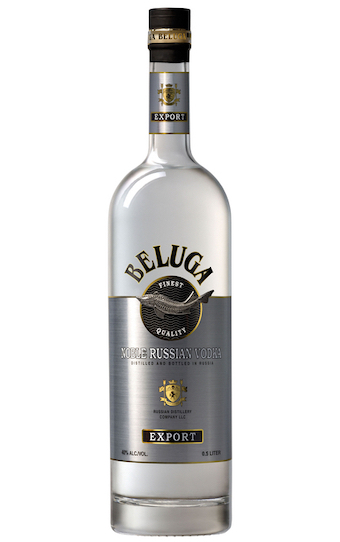 Beluga Vodka is one of the most premium vodkas around. First created in 2002 in Siberia at the Mariinsk Distillery – whose own heritage dates back to 1900. The brand is known for being 'exceptionally pure' – being made from the water of Siberia's artesian wells, and malt spirit. The production process is completed by a resting period, which lasts from 30 to 90 days depending on the recipe and product, and goes through a triple filtration to achieve its high quality, purity.
After an evening spent under a daubing of drizzle (but well covered by the terrace awnings), we mused on the delight of living life once again in person. That's the beauty of these big stores, and their discerningly-sourced products. I'd recommend a chat to Terry in the Harvey Nichols wine shop for any more booze-related info.
The Beluga Summer Terrace will be open from Monday 28th June until Sunday August 29th. Bookings can be made via www.harveynichols.com.
Beluga hampers are available to purchase at Harvey Nichols including everything needed to create the ultimate Espresso Martini at home: one 70cl bottle of Beluga Noble, two Beluga Martini glasses, one bottle of coffee liqueur and one bag of Harvey Nichols coffee beans (RRP £70).