Growing up in a sleepy village precariously perched on Norfolk's crumbling cliffs, city life was always an enigma to me – unsurprising, really, surrounded by more graves than inhabitants. Staring out at the abyss, home was a time-ravaged tangle of ivy-clad flint walls, dusty tracks and salt-crusted fishing cottages. The roads that did exist were but a tease, often ending in mid-air, having succumb to the raging North Sea below.
Inland, gales sent crops cartwheeling into the distance and down on the shoreline, hungry shallows devoured shell-speckled sands. There were no skyscrapers blocking views, no traffic lights demanding we stop, its beauty was boundless… and at the same time, crushingly claustrophobic. I left, in search of roads that led somewhere, streets I didn't know and faces I didn't recognise. Ironic then, that the moment I severed my ties with this wind-whipped outpost for the thrills of the city, I found myself sniffing out village life like catnip. And it's easy to find, in the sticks at least. But the real challenge is finding pockets of it hiding in plain sight; beneath the unwitting glare of oblivious skyscrapers and the roar of incognisant traffic.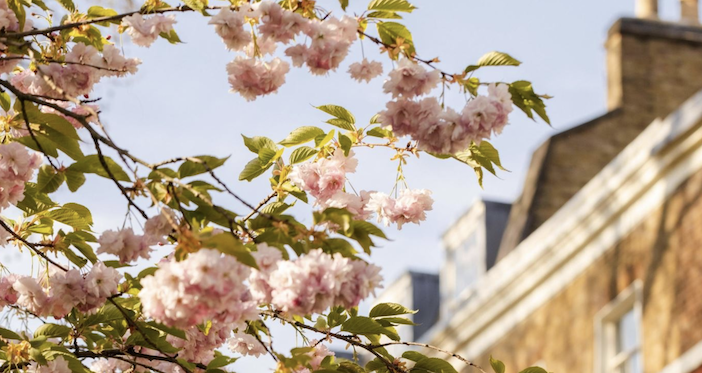 Take London, a sprawling metropolis filled to the rafters with dizzying crowds marching like ants. Beneath the pounding pavements hide two million more navigating hurtling tubes and calf-crippling stairwells. To the unsuspecting passer-by, this is a city of strangers. But snaking away from razzmatazz of the West End catapults you, Alice in Wonderland style, into Connaught Village. Minutes from Mayfair's private member's clubs and Oxford Street's shops, this is London, but not as you know it.
Amid its elegant Georgian streets and quaint mews this golden triangle boasts a thriving independent shopping scene, with pristine boutiques selling everything from exquisitely hand-wrapped chocolates from every corner of the world and award-winning cheese to perfectly piped velvet cushions, antique rugs and the finest blooms in town. Officially dubbed Hyde Park Estate's luxury retail quarter, it sounded alluring enough on paper. But the title jarred the moment I stepped foot on its historic cobbles and saw tweed-clad locals fighting the morning frost to cheers mugs of steaming tea with élan, complementing one another on their horticultural prowess and raging about the local patisserie.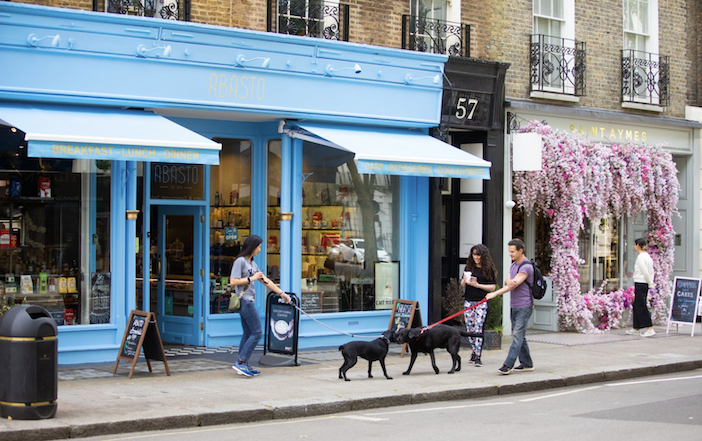 This jovial tête-à-tête was interrupted only by the passing of equally streamy horses, returning from their Hyde Park escapades. Forget 'retail quarters', we have ten a penny of those, this precious slither of London, peppered with bloom-laden courtyards and leafy promenades is, at its heart, a thriving village, where shopkeepers have names, neighbours have faces and a nod at the bar guarantees 'the usual'.
The penny drops whilst riding a leather-clad Boris in Hyde Park – no, I didn't think I would every type that sentence either. This Boris is a strapping Irish Cob. You'll find this stocky swirl of creamy white and chocolate brown poking his head out of his prime real estate, Hyde Park Stables, located in the achingly photogenic Bathurst Mews – ironically, one of London's last remaining mews to actually house horses.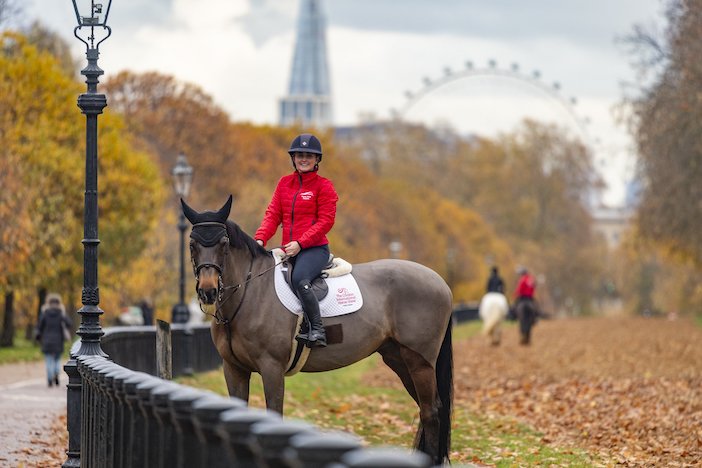 Casually walking alongside honking busses and erratic delivery drivers, Boris and I, along with Livvy, our mounted escort, make our way over the Thames and through London's most famous park, skimming the glittering Serpentine until we arrive at one of the world's most famous riding spots: Rotten Row. Plenty has changed since this strip became the Kingdom's first lit highway thanks to its 300 oil lamps and yet, as two royal carriages clip clop past in the distance, and the cavalry canter around their manège, jumping crossbars like fairground horses, it feels as though little has changed at all.
"That's Bobby," Livvy says, nodding down the iconic track towards a man on a horse straight ahead. Just as I'm toying with how strange it is that people actually know each other in this sprawling megalopolis, his excitable filly decided that life as a Hyde Park hacker is just not her calling, she's destined for bigger things, today she will be an Andalucian dancing horse, and with that she leaps high into the air, causing a ricochet of darting and capering from our baffled steeds. Moments later, the excitement is over and Bobby, who has magically made his way from the comfort of his saddle, to the dust of Rotten Row, bids us farewell, flashing an apologetic smile.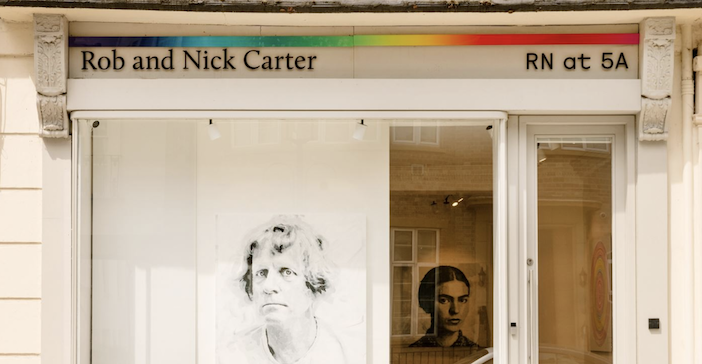 Stinking to high heaven of sweat and leather, I depart the stables for nearby RNat5A, an art studio run by husband-and-wife team Nick & Rob Carter.  An energetic Rob springs from her seat and takes me on a whirlwind tour of their futuristic works; from camera-less photography and drawing with light, to paintings by their AI robot, Heidi.  Having fallen for one of their neons, she points me towards Dellaposa gallery; another husband-and-wife success story, this time specialising in contemporary art and modern masters. I walk in to be greeted by Mick Jagger's unmistakable pout, part of their David Bailey celebration. In the centre of the gallery, stands a lucky dip box, with what remains of their one-off Bailey polaroid collection, each signed by the man himself – a snip at £1,200 a pop.
Strolling towards Connaught Street, the beating heart of this intriguing enclave, I toy with the idea of leaving London a grand lighter, but with my very own David Bailey to show for it. Luckily, my friend and fellow Arbuturian Sophie McClean snapped me out of my hedonistic haze, and we embarked on a lengthy lunch reminiscing over starlit chats in Spanish hills and quaffing rose in the south of France, as a steady stream of Indian delicacies fills the table around us.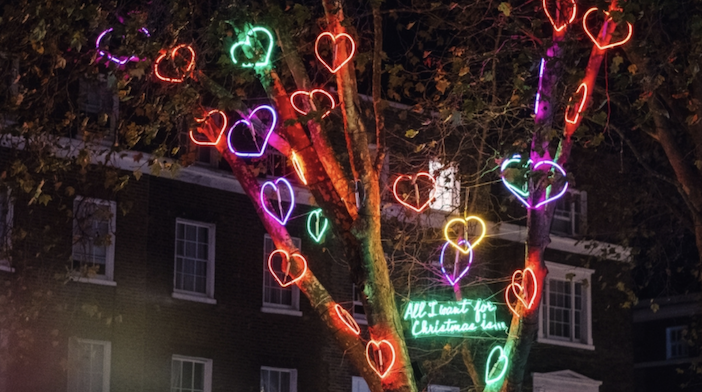 Cooking up a storm on Connaught Street since 1983, Bombay Palace is a local institution – although its international footprint is also impressive, with restaurants everywhere from Toronto to Beverley Hills. Its extensive menu features everything from regional curries and Indian street food to satisfyingly blackened meats straight from its authentic tandoori oven, and when I thew them a last-minute gluten allergy curveball, the friendly team worked around it with aplomb. A quick embrace under the village's undeniably Instagramable Tree of Love, Joy & Hope – its branches garlanded in illuminated neon hearts every colour of the rainbow- and we went our separate ways once more.
High on the good life, I mooch along Connaught Street, where hand piped velvet cushions and £860 antique needlepoint rugs lay trustingly strewn outside upscale interior shops. Boutique windows displaying intricately beaded gowns and handmade shoes rub shoulders with a wonderfully pungent cheesemonger, artisan chocolatiers and a superb Argentinian deli. Shoppers seeking sustenance can delight in the plethora of pubs and restaurants offering delicacies from every corner of the world, from fish and chips the village's family-run gastropub The Duke of Kendall, to Persian pastries, Argentine cuts and even an authentic Iraqi masgouf.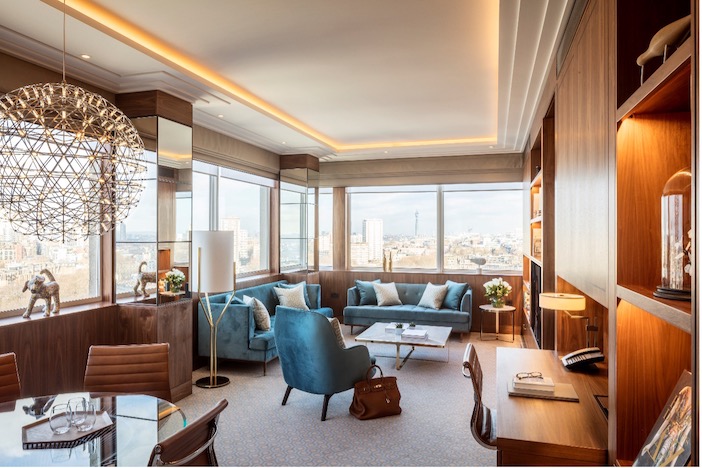 I was staying in another Connaught Village institution: Royal Lancaster London. Towering over the village this iconic mid-century architectural icon boasts unbeatable views of the capital. Our lavish Park Suite's endless floor-to-ceiling windows framed the afternoon skyline, with everywhere from The Shard and the London Eye to Battersea Power Station lighting up beneath us for the night ahead. Born in the late swinging 60s, it celebrated turning 50 with a facelift (in truth, with a budget of £80m to spend, it was more of a metamorphosis than a facelift) and in doing so, gained itself an extra star, officially making it one of the capital's finest abodes.
That evening, we were bound for Casa Malevo, an intimate Argentinean restaurant, coincidentally owned by another old friend, Alberto. Despite its critical acclaim, this dimly-lit rustic steakhouse has all the warmth of a relaxed neighbourhood bistro. The impressive wine menu gives a respectful nod to almost every Argentinean wine region, from the dizzying heights of Mendoza to the cool climates of Patagonia. We watched locals ebb and flow, oohing and ahhing over Connaught Street's window displays, posing beneath the glowing Tree of Love, Joy & Hope and debating menus from far-flung shores.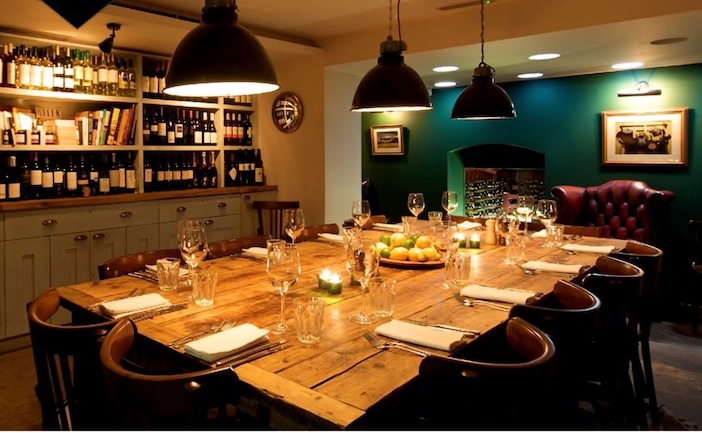 We opted for a parrilla, a dauntingly generous carnivorous feast of charred fillet, melty ribeye, sausage, black pudding and perfectly crispy, addictively succulent sweetbreads. I swirled the remnants of my malbec, prolonging my inevitable departure. This curious little knot of a village may be beneath the unwitting glare of oblivious skyscrapers and the roar of incognizant traffic, but what it lacks in cartwheeling corn and shell speckled sands it certainly makes up for in spirit. If only the road out of this curious land would drop into the abyss.
Connaught Village is located 5 minutes from Oxford Street and Marble Arch. For more inspiration on how to experience the perfect city break in Connaught Village, please visit www.connaught-village.co.uk.