It's like a second Christmas, isn't it? When the joys of the festive season have long faded and the summer holidays are still well out of reach, thankfully we have Easter to look forward to. And, often, after another period of abstinence – the guilt of a failed Dry/Vegan January having dissipated, we sometimes give Lent a go – so all the better to be able to celebrate a little once more. And, yes, there may be promotions galore out there, but like Christmas, it's often better to settle in, have the relatives over and celebrate en famille. So, with that in mind, here are a few choice ideas from the team for how to enjoy Easter at home…
First, bubbles. Anna recommends…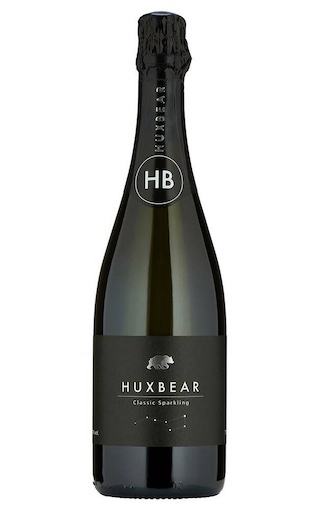 A glass of English bubbly sounds like the perfect aperitif for an Easter lunch. Wickhams Wine source the finest estate bottled wines from around the world and curate collections for discerning palates. This April, they have several choice bottles, and here are two of our favourites, from the blossoming and ever-surprising UK…
Langham Blanc De Blancs 2017, a single varietal English sparkling wine made from 100% Chardonnay grapes on Langham's Crowthorne vineyard in Dorset. With a pale golden colour and a fine stream of bubbles its flavours of poached pear and honeysuckle are a great way to open the batting.
Then there's the Huxbear Classic Sparkling 2017 from Huxbear's estate in Devon's Teign Valley. It's a blend of the holy trinity of sparkling wine grapes – Pinot Noir, Pinot Meunier and Chardonnay, and has depth and creaminess and a classic fresh nose of green apples with hints of pineapple. A perfect celebratory glass.
For more information, visit www.wickhamwine.co.uk.
For a starter with a difference, Stirling suggests Petrossian…
It may sound too indulgent (if there is such a thing) for Easter but a touch of caviar can add a lovely flourish to many a celebratory meal. From blinis to pasta to salad niçoise it's as versatile as it is complementary to any dish.
Founded in Paris in 1920, Petrossian has been a byword for excellence when it comes to everything caviar, from your Ossetra to your Sevruga, and they've gone many a step further, producing roe from salmon, trout, mullet, and pike, and developing a range of products to extend their offering. Take tarama, for example. No, it doesn't just make for a Greek dip. Petrossian have created recipes that feature sea urchin, red king crab and even wasabi. They've smoked it, seasoned it, and spiced it. They've paired it with vodka, truffles, and even yuzu. And that's just for starters; their delicatessen will open your eyes to a whole new world of culinary experiences.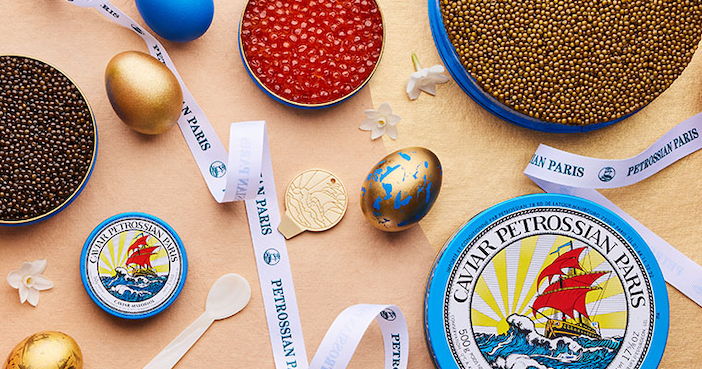 But where to start? Well, here's one thing that makes it eminently accessible, a simple recipe that will make for a cracking opener for your Easter feast…
Easter Nests with Daurenki caviar
Don't put all your eggs in one basket – put one egg into each nest! For Easter, why not create some vegetable nests topped with a baked egg, and then garnished with Daurenki® caviar?
For the vegetable nests
70g flour
8cl milk
60g crème fraîche
1 egg
1 leek
Fresh herbs (parsley, chives, dill, tarragon…)
For the topping
4 eggs
Mesclun salad leaves
Olive oil
Vinegar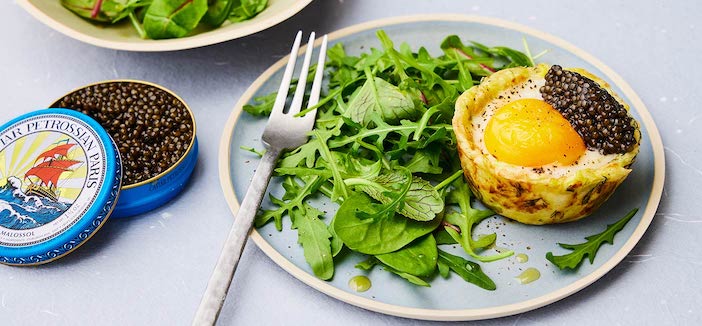 Method
Preheat the oven to 200°C and bring a saucepan of salted water to the boil.
Remove the green part from the leek, and then rinse it.
Cut a 4cm section of the leek, and then slice it into thin strips using a mandolin.
Cook the leek for 2 minutes in boiling water, and then let it drain until there is no water left. Set it to one side.
Mix the egg with the milk, the crème fraîche, and the flour, and then stir in the drained leek.
Oil a frying pan, and then make circles of batter (about 10cm) in the pan. Cook for 2 minutes on each side until the disks are golden.
Once the bases are cooked, make two 3cm cuts on both sides of each disk to make it easier to put them in the tins.
Put the disks into the muffin tins and stick the edges together using your fingers.
Break an egg into each nest, season with salt, and then put them in the oven for about 10 minutes whilst checking on them regularly. The egg white should be cooked, and the yolk should be creamy, if not slightly runny.
Once the eggs are cooked, take the nests out of the oven and leave for a few minutes before removing them from the tin. Leave to cool on a wire rack.
To serve: Arrange each nest on a plate, place a generous scoop of Daurenki® caviar onto each nest, and then add the mesclun salad alongside. Enjoy!
Tip: Prepare the nest bases in advance.  Then, on the required day, all that's left to do is put them in the muffin tins and cook them with the egg.
For more information on all Petrossian products, and more recipes, please visit www.petrossian.fr. Easter shipping is free for all orders until 17/04 with the code nofee_EASTER. And all deliveries are made within 24 hours and are cold chain guaranteed.
For the main event, Jess recommends roast lamb from Darts Farm…
A good roast can take a solid few hours, not to mention the shopping required beforehand. But it's not cheating if you happen to get a butcher's box, with everything you need delivered to your door.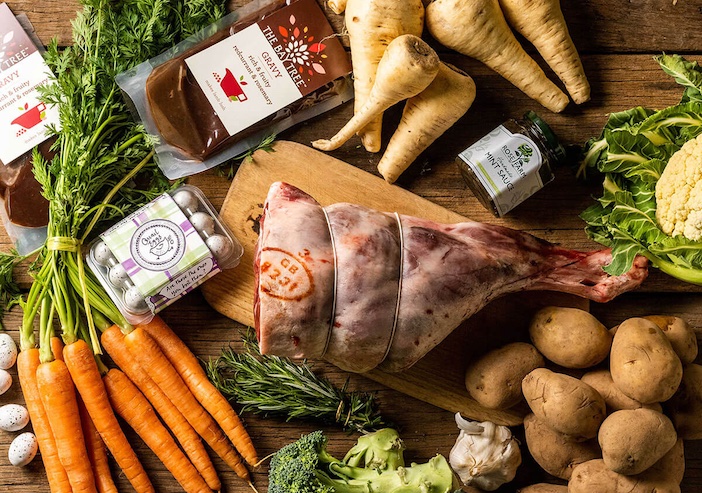 Darts Farm, in Devon, have created the Spring Lamb Roast Meal hamper, serving 6, featuring ingredients used by world class chefs. The box features a whole shoulder of lamb, skilfully boned, de-fatted and rolled around a cylinder of hand-blended stuffing and accompanied by Devon new potatoes, broccoli, parsnips, carrots, cauliflower, garlic, rosemary, redcurrant and rosemary gravy and, of course, mint sauce – and they've thrown in some Rococo chocolate eggs for good measure. What more needs to be said?
The Spring Lamb Roast Meal hamper is £95. For more Easter hamper ideas, and orders, please visit www.dartsfarm.co.uk.
For dessert? Larry reckons there can only be one – a brownie, but with a difference…
We were so impressed by the Mother's Day floral brownies from Blushing Cook, that they're making our line-up again for Easter.
A foundation in Fine Art and stints as a pastry chef at Le Gavroche and as Head Chef for renowned cake designer Peggy Porschen is surely enough of a pedigree to create a delicious dessert. But then fine art and patisserie can yield so much more. After all, why decorate a cake with a daisy made out of sugar, when you can have the real thing, and eat it too?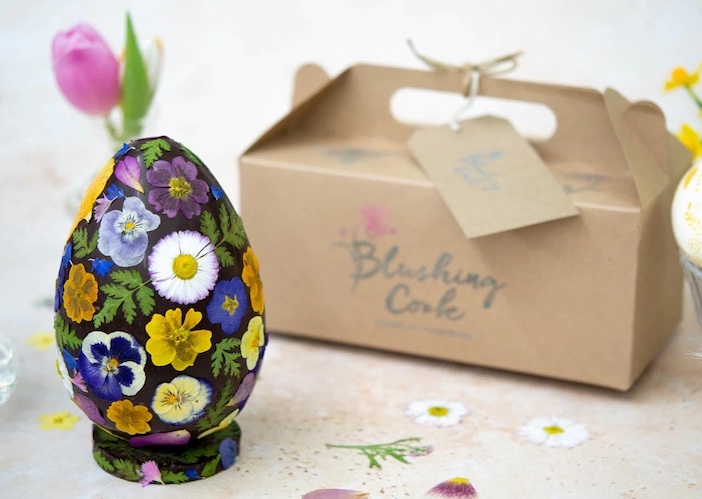 Ever since they first put a flower on a cake, Blushing Cook has blossomed to create a range of individually designed edible masterpieces, creating intricate designs on their brownies and biscuits using fresh, organic and edible British flowers grown on a farm in sunny Devon. All hand-baked from scratch; from buttery biscuits hand-iced using vegetable, fruit and floral based colourings, to gooey and luxurious brownies made with the finest fair trade chocolate. And now, for Easter, a selection of mini and full-sized brownie-filled chocolate eggs, each hand-decorated with floral touches – so good you'll even think twice about eating them!
Easter Bunny Floral Brownies start at £36, a set of 6 mini eggs are £45, and a full-size floral chocolate egg is £85. For Easter delivery, order before 14th April. For more information and orders, please visit www.blushingcook.com.
And, lest we forget, Rebecca says 'let there be chocolate – very fine chocolate…'
You don't have to be a child to be a child in a sweet shop this Easter. That's what most of us become when we step through the door of a Rococo Chocolates boutique in London. First established on the King's Road in 1983, they now have five stores crammed with premium chocolates in their distinctive blue and white hand drawn illustrated packaging – the ultimate gift for chocolate connoisseurs at Easter, no matter the age of the recipient!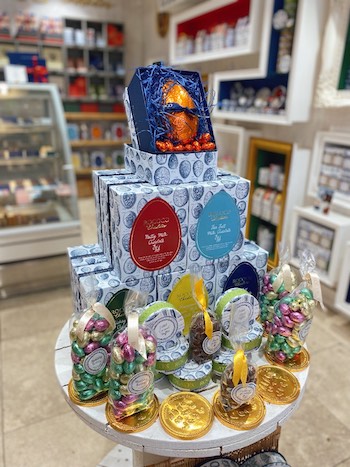 From Rococo's artisan bars in an array of gourmet flavours to their handmade truffles, handmade in small batches by their London chocolatiers, the Rococo Chocolates shopping experience is just as exciting via their online store, with the full range of Easter goodies available at the click of a button – from the 17-piece Milk & Dark Truffles Easter Bunny Box, decorated with a golden bunny, to their very special box of a dozen Superior Salted Caramel Eggs, made with a rich Fleur de Sel caramel ganache, wrapped in decadent chocolate and a fine, speckled sugar shell.
Individual treat bags are filled with Salted Caramel Seagull Eggs, Praline Quail's Eggs, Leap of Lambs white chocolate shapes or the milk Chattering of Chickens and would make the beautiful finishing touch to your Easter table if you can wait! Rococo's luxury gift boxed and foil wrapped Easter eggs are meanwhile available in Honeycomb Milk, Blonde or Sea Salt Milk, Dark and Vegan, while if you're planning an Easter Hunt, the appealing Hunting Bunny multi-coloured foil wrapped solid milk chocolate eggs are essential to proceedings. Available in three sizes. I'd advise going large, as some eggs always seem to go missing! Order by midday on 12 April for UK delivery in time for Easter. For more information and orders, visit www.rococochocolates.com.
Here's wishing all our readers and their loved ones a very Happy Easter.