You might think June an inopportune time to launch a new umbrella range, but when you look at the week we've been having, weather-wise, it seems rather timely. It's prescience of this sort that has kept Fulton at the top of the umbrella-making fraternity for over 60 years.
Started by Arnold Fulton in 1956, Fulton entered an already saturated market, featuring 74th in rankings of umbrella manufacturers, if you can imagine such a thing. Given they were once as ubiquitous as hats and handkerchiefs, over time you'd imagine the humble umbrella might have fallen into obsolescence as it entered the 21stcentury, serving as nothing more than something functional, an impulse buy on a rainy day. Today, however, Fulton is the leading manufacturer, sold the world over, and are a brand that are more than simply about keeping the rain off; they are peerless in design, accessories in their own right, robust, reliable and sought after. And they carry a royal warrant, to boot.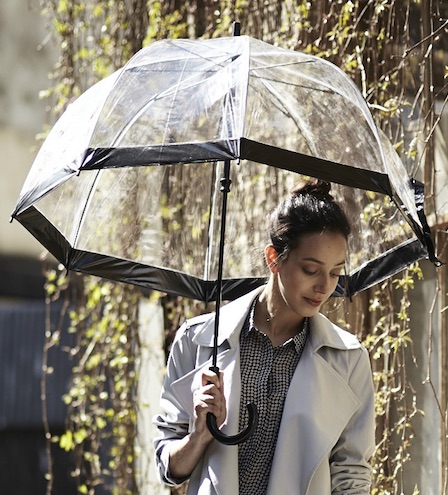 Like many brands known by name, Fulton have some stories to tell. The 'birdcage', that clear plastic dome favoured on many a red carpet, once had its time and was decommissioned, but, following a call from the Queen Mother, was brought back into service, and now continues to keep our celebrities seen by their adoring public. And have you ever wondered how the Queen manages to get that matching trim on her birdcage to her outfit? The palace despatches an equerry – in high secrecy – to advise of the colour.
It seems fitting, then, to meet over tea in another royal institution, The Goring hotel, where Arnold's son, Nigel, now CEO, talks me through their latest range, The Diamond Collection, marking their anniversary of the same. One might not think there's much to the humble umbrella, but there is. These four releases, four years in the making, are the culmination of many more years of manufacturing expertise and experience. Canopy designs and detailing are simply the icing on the cake; these are works of engineering excellence. From the bore of the shaft to the detail of the rivets, everything has been meticulously and painstakingly developed. What's more, they've been through rigour, even being taken to wind tunnels to counter that notorious, and infuriating, limitation of umbrellas: inversion.
To aid with illustration, Nigel shows me a comparison. First confirming my tendency for superstition, he stands from our table, and opens a compact umbrella, a cheap version, purposefully inverting it. He does this three times, and it already loses its shape, unable to re-fold. He picks up a Fulton, doing the same. He does it multiple times, with energetic vigour. It folds back perfectly.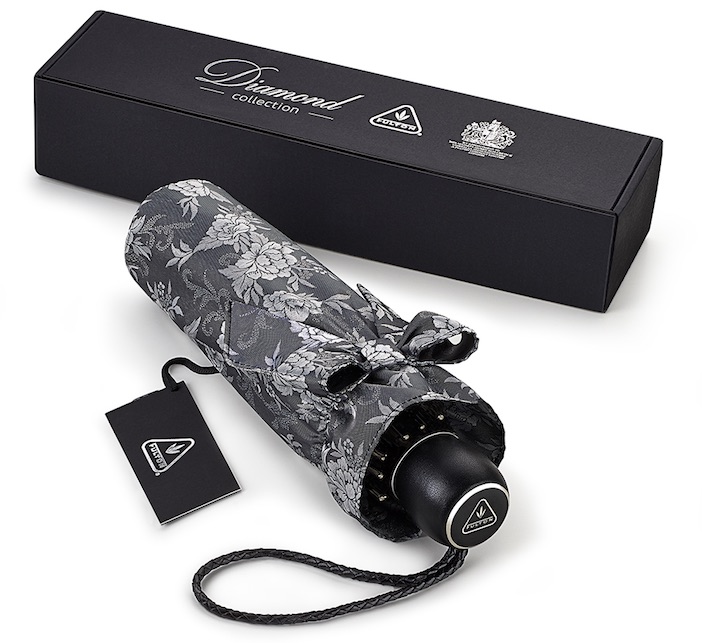 The new collection features a folding and walking model each for ladies and gentlemen, each named and tailored for specific uses. Strong, lightweight, elegant, beautiful; these are the epitome of form and function. The ladies' Marquise, for example, features an aluminium and fibreglass frame keeping it light and portable, a silver jacquard floral canopy makes for a stylish yet understated look, while enamelled brand hardware and plaited leather wrist loop add those all-important design flourishes. For the chaps, The Radiant makes for an accessory to define the discerning gentleman, with a clean-cut herringbone canopy, classic wooden handle and shaft, and polished brass detailing on the handle and ferrule. As the umbrella makes a comeback, now as an accessory in its own right, Fultons' are very much in a class of their own.
In the time it's taken to write this, the weather outside has gone from a downpour, to gusting, and now the sun is shining. Who said June was a silly time to launch an umbrella range?
The new Diamond collection is available now at John Lewis. Folding models are priced at £80, Walking models £120. Fulton umbrellas can be purchased at www.fultonumbrellas.com.