Stirling's iron exterior softens when he finds the twin delights of Arctic crab and Krug champagne…
Clouds gather, cumulonimbus brooding on the distant horizon, and thoughts of autumn begin to creep inexorably into conversation.  Worry not.  To help us ease into the cooler months, this September Maison Krug is bringing the wonders of Scandinavia to London with the launch of 'Krug & Krustacean', in collaboration with the newly opened Beast restaurant.  Maison Krug needs no introduction, but Beast restaurant may not be so familiar.  From the creators of Goodman and Burger & Lobster restaurants, the team serve exceptional King Crab from Norway and create the ultimate, luxury, seafood experience.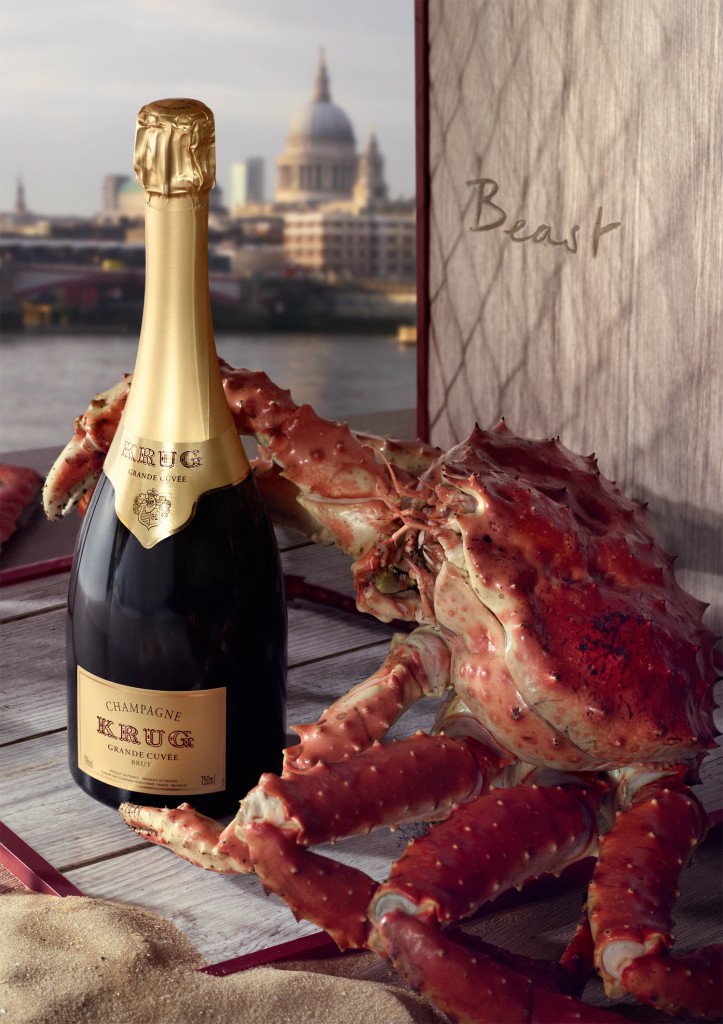 In the opulent, maritime setting guests will experience diligently prepared fresh Giant crab paired with Krug Grande Cuvée. The House of Krug likes to pair its Champagnes with the best raw products and identifies with producers, like the ones Beast work with; people who share the same passion for quality and attention to detail.  We should also doff the cap at the fishermen who spend long hours finding the best the Arctic Circle has to offer.  Each King Crab drawn from the depths is tagged and logged, very much like each bottle of Krug to leave the cellars, so you know exactly when and where you crab was caught.  It is said the Devil is in the detail.  In this case, it's the beast.
The lightness and elegance of King Crab meat and its salted aromas from the sea are a beautiful echo to Krug Grande Cuvée.  Eric Lebel, Cellar Master of the House of Krug, describes it as 'An explosion of aromas and flavours of exceptional, unparalleled elegance'. Quite.
Krug & Krustacean will open on the South Bank from 3rd – 7th September 2014. The Krug wooden dining pods will be situated just on the riverbank and will be designed this year to offer guests a luxury and authentic Scandinavian moment.
To book an experience, visit the website here.