I have always been very happy traveling by myself, and festival going alone is probably the best way to go. It makes you more inclined to engage with others – and it's a festival, so they are more inclined to engage with you. As was with the Wilderness Festival, in which I found myself lost in the wilderness, as it were – principally as I couldn't find the entrance which my day pass allowed. A hundred quid for a day in a field, I thought, was not good value for money.
Wind back a few months and I'd heard mixed reports about Wilderness Festival. Set in the southern part of the Cotswolds, it's about ten miles from Chipping Norton and Jeremy Clarkson's restaurant – tenuous, admittedly, but for those who've found the new series of Clarkson's Farm rather endearing – I was mainly hearing that it was 'very middle class'. Is that a bad thing? After all, it is the middle class that holds vestiges of values together, and attempts to keep the upper echelons to account. The other end of those mixed reports, however, was that it was well put together, had a great line-up, and, well, was a leading light in the festival 'season'.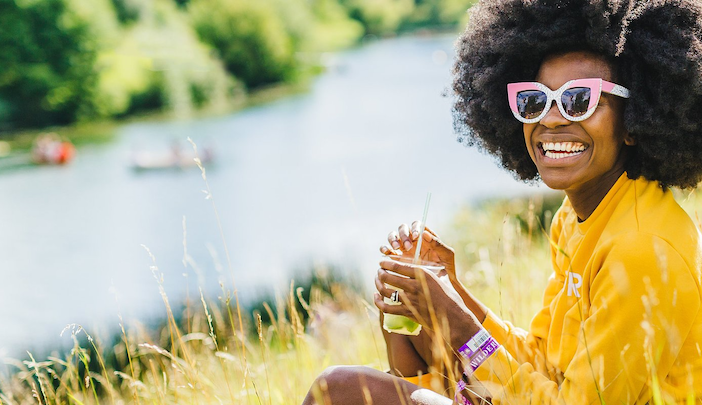 The first thing you should know about the Wilderness festival is it is set in the most glorious, ethereal countryside. I don't use these adjectives lightly but, in this case, this is accurate. So, back to me not finding the entrance; I slept in the car in a nearby hamlet (Fintock, I think) and made my way, following AA road signs, to the entrance at five in the morning as the sun rose over bleached yellow fields and huge trees which only needed Kiera Knightley in a bonnet on a swing underneath to make the image complete.
I wound my way through parked cars (yep, loads of minis, a fair share of four-wheel drives too clean and void of scratches to belong in the countryside, estate cars which looked as though they had been borrowed and suffered from slow punctures, the odd Porsche, and lots of BMWs. Hmm.) to the entrance, where there were a few people who looked at me, thankfully, as though I belonged. I was in yoga gear and had been sleeping in a car all night, so I probably did.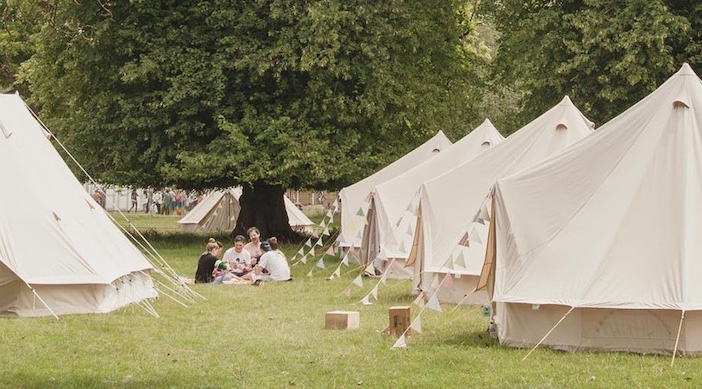 Inside, what I can only describe it as a sea of tents – one area labelled 'quiet tents' although I couldn't find the area for 'noisy tents' which was a tad disappointing – and down towards two natural water lakes where swans bathed, mist rose and six people in psychedelic outfits and big fur coats, sequinned hot pants and little else, sang arpeggios of such beauty, I admit, I almost cried.
Walking up the hill, the sound of generators hummed as I entered the 'sanctuary' area. Denoted by a Hollywood-style sign, it had been propped up with huge lavender pots across the hill, where twenty or so yurts were scattered about offering massage, cranial therapy, breath work, yoga classes, coffee from a horsebox (it wasn't open, alas), and free mental health sessions.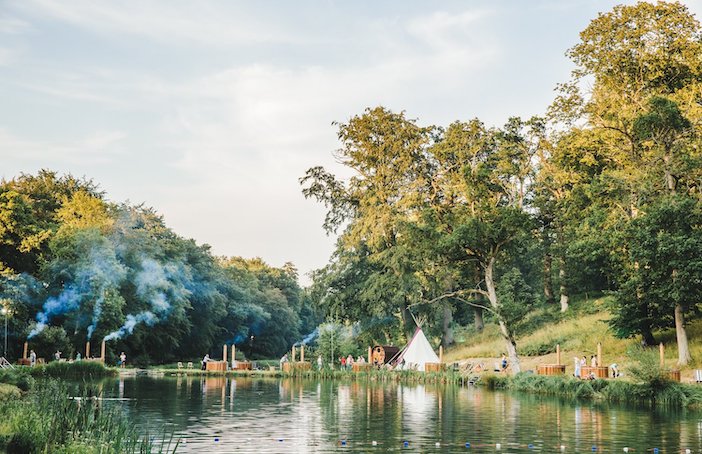 On to an area where a massive oak with a single stand-up piano beneath, and into another huge tent where a man came up to me and asked for a hug. He was handsome, so I gave him a hug. He then proceeded to tell me he'd had the worst day in his life (it was only 6 am) and that he couldn't get the sound system to work for some 'git' who demands perfection. I didn't have the heart to tell him I was a journalist, but he got it to work and said the hug made him feel so much better (me, too).
Another boon to Wilderness; I've never walked about a festival space where it has been so clean. Litter collectors had already been out – and some still were – but the ones I talked to said very little was dropped because everything was cleaned and they wanted to keep the festival space looking its glorious ethereal best. Quite right.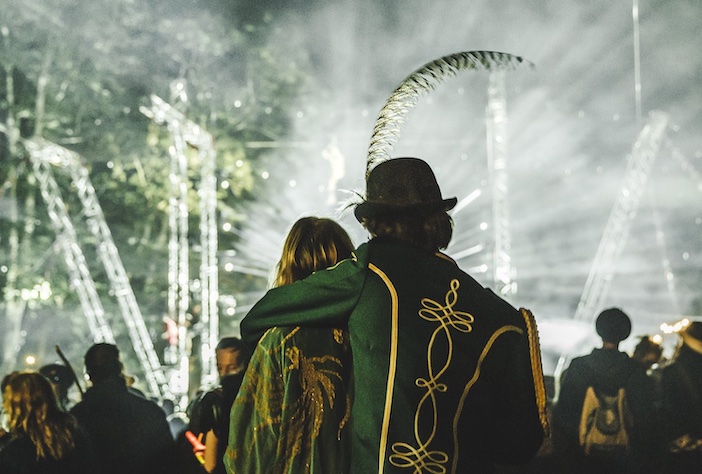 There was a tent for books, where you could listen to journalists and authors talk angst. The titles of the books told it all. Titles like Bitch, Rogue, Empire of Pain, Conversations in Love, Belonging, and The Body Keeps the Score, this place was all about middle-aged angst, or perhaps middle class-middle-aged-middle-England angst.  More of the same came up when the Wilderness Orchestra (of course this festival has its own orchestra – and a natural 'bowl' for that matter) played a request jukebox section which I am told is a regular feature, and the dedications behind it sounded like Radio Two's Real Life Stories section Dave Lee Travis use to play about sad things that had happened in people's lives and how songs reminded them of how they had recovered. I was starting to think this festival was one three-day-long therapy session.
Of course, there are music tents. Folk Barn, which was like a village hall with bells on; Stargazer, with new bands that had sound issues but were brilliant anyway; Junkyard, which I didn't go to much but was in the way to the valley, itself like an Ibiza-like nightclub with huge cathedral canopy of trees overhead buzzing music till four in the morning; and then the main stage – which, the year I went, had Underground, Years and Years and…another band I can't remember.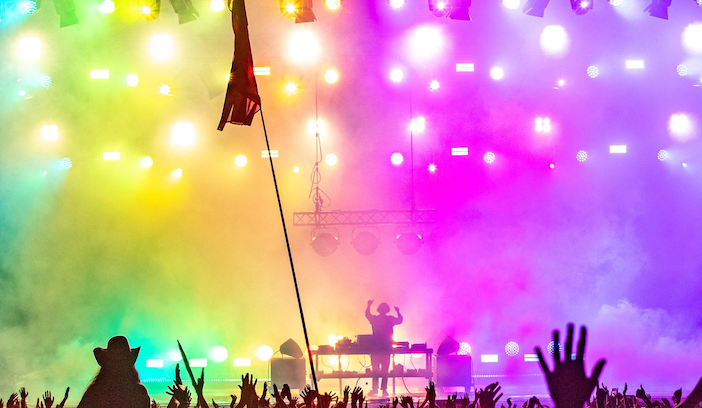 This being Wilderness, and oh-so-middle-class-dahling, there was a 'shopping street', with a festival twist; outlets with names like Out of the Ordinary (run by a girl, Cory, who used to live in Staines but moved to Ibiza when lockdown happened), the wonderfully-named Retro Bambi, where I bought a vintage (ahem, 10 years old), sequinned mini dress for fifty quid, which made the boxes of chips, buddha bowls and vegan hotdogs selling for a tenner look very bad value indeed. And I bought a pair of silver sequinned shorts from Rosa Boom which were a tad more expensive, but I get a lot of mileage out of them.
With my day pass, I had planned to stay for a few hours and head home but, I admit, the location, the vibe, the many interesting things to do, the weather, and the fact I had packed hummus and oatcakes in my car and wasn't going to pay £10 for anything at the festival, made it worth every penny. I took part in a gong bath and group yoga and chatted to festival goers who follow festivals around the world. They told me this one was 'nice' but not in an 'Oh no' sort of way, "It's well organised, well thought-out, and clean – and not just the loos in the Veuve Clicquot tent, daaaahling."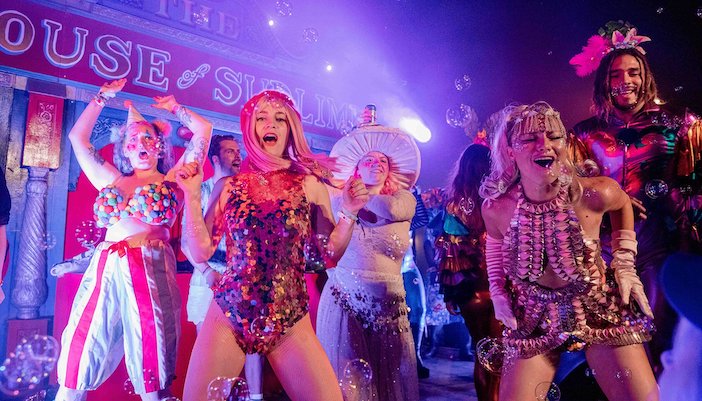 As festivals go, Justin and Flick assured me this was one of the best organised they had been to, and I got the impression they knew their stuff, dressed as they were in sequinned hot pants, feathers in the hair and oodles of love and enthusiasm.
So, I had to buy the sequinned shorts, and the vintage dress and dance on the tables and into the valley 'til the early hours. It was calling me. As I walked back to the car, through the gradually disappearing BMWs and minis, as people trekked back with their little trollies with packed-up tents and Waitrose bags, taking their rubbish with them, I realised that, at fifty-eight, I shouldn't be doing this – but also that I was amazing, at fifty-eight, to be doing it at all. And I think that's what everyone felt. I observed people not wanting to be younger, or someone else, or faking it, just being themselves. It was wilderness therapy with sequins.
Feeling replete with love and warmth, I turned on the ignition to find I'd got a flat battery. Oh, well, another night in the car. Another early morning in the Cotswolds. And isn't that just bliss.
The 2023 Wilderness Festival takes place 3rd-6th August. The headliners include The Chemical Brothers, Christine and the Queens, and Fatboy Slim. For more information, including the full line-up, details of all experiences and activities, and for tickets, visit www.wildernessfestival.com.
Photos courtesy of wildernessfestival.com.