Last month, the Skoda Kamiq arrived onto U.K roads as she rolled out her newly launched, 4×4-inspired wheels across mainland Europe and beyond. The Kamiq is the third SUV (Sports Utility Vehicle) to join the Czech-born vehicle family – after the recent introductions of the similar Kodiaqs and Karoqs over the last eighteen months. The name of this more compact version of the trio means 'fits well' in Inuit, neatly summing up the Kamiq's 'crossover' nature. "It's an SUV that thinks it's a car" so says one of the Skoda (very much pronounced "SHko'-"dah") team when we come to test-drive over the last, sunny, weekend of August.
The destination for our pedal to metal assessment of this new model finds us in the northern French region of Alsace – some six hours drive from Skoda's main HQ in MladáBoleslav. We fly into Basel in neighbouring Switzerland to get here, leaving the airport via the "French Exit". If Skoda were sponsoring our exits today, it can be said that I did a pretty good job of just that – vanishing without saying goodbye – in a Race Blue 1L Kamiq – heading for the hills. So long everyone! This girl was now on the road.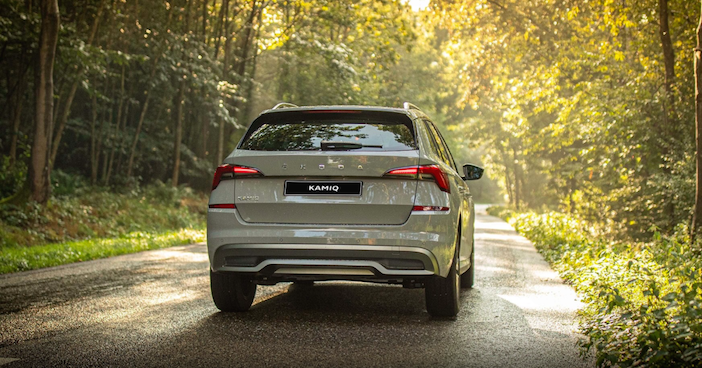 Skoda has never had the sexiest of reputations in the U.K. Regularly the butt of many a motoring joke in the '80s and '90s, Skoda has since re-established itself as a somewhat smarter option in both looks and engineering. The company's history is fairly unique – celebrating 125 years next year, Skoda claims to be the third oldest car manufacturer in the world, founded by two chaps who came together in the joint desire of being able to build "the world's best push bike". Before the World Wars, Skoda was something of a luxury brand, but it remained stuck behind the iron curtain afterwards, along with its technology – only re-emerging to catch-up with the rest of Europe years later. It wasn't until the 1980s, for instance, that the cars finally became front-wheel drive. Volkswagen acquired Skoda in 1991, and today, the factory outside Prague is Europe's second largest for motor production. It also boasts Europe's biggest paint room, where ostrich feathers are still used to apply the paint to the chassis.
The Kamiq, a slightly lower-suspended version of what might be more recognisably "SUV" fulfils seamless country-to-city driving criteria. Every car brand worth its salt is making an SUV at the moment as demand for the category continues to soar. Until today, I had never driven one made by Skoda, and I hadn't expected to enjoy driving it quite so much. Of course, our opportunity to drive these shiny new vehicles was spent over the official Kamiq launch where all sorts of wonderful bells and whistles were deployed to encourage a positive experience. To enhance the cars, Skoda have added natty gadgets to the Kamiq – seeking to ramp up one's 24hr engagement with their vehicles in a world where car consumption is in overall decline year on year. You can search for nearby restaurants through the satnav, and soon you will also be able to swap garage-only services for engine updates that will be available to download from the Skoda online store. Since its launch there has been one review that dubs the Kamiq as lacking individuality – possibly therefore unexciting, but as the rest go, in terms of value for money, comfort, elegance and speed – there is very little to fault.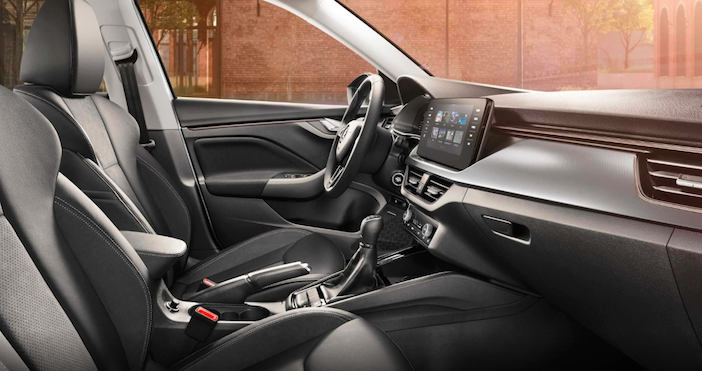 For facilitating the enjoyment of one of the most unexpectedly pretty parts of France, the Kamiq was absolutely perfect. Our sat-navs were programmed to reach a lunch spot along the route du fromage, just outside the village of Gunsbach, half way to our final destination of Strasbourg. The scenery in this part of the world is simply stunning – from ascending Le Grand Ballon in the Soultz-Haut-Rhin up and into the Vosges mountains where ski lifts float above your head, the views out over Alsace are simply breathtaking. The Kamiq handled the frequent hairpin bends and tightly woven tarmac along the steep inclines very pleasantly, while tyres and suspension coped well in making smooth transitions onto the occasional 'pavé' sections of cobbles that help curb the mountain pass' steepness. All told, the Kamiq is quality, comfortable and concise.
In a cheeky little de-tour after filling ourselves with lunch, I visit the gorgeous town of Riquewihr. I must have dreamt this being recommended to me as I cannot find the paper trail suggesting I do so, but through fate or simply good fortune, there I arrived, shiny reflections of vines bouncing off the Kamiq's bonnet. This town is famed for its exceptional Alsatian wine production and for it's beautiful, quaint and ornate, chocolate-box style buildings. Each one painted in bright splashes of colour, that contrast against cerulean blue skies and luminous green rows of neatly kempt vineyards.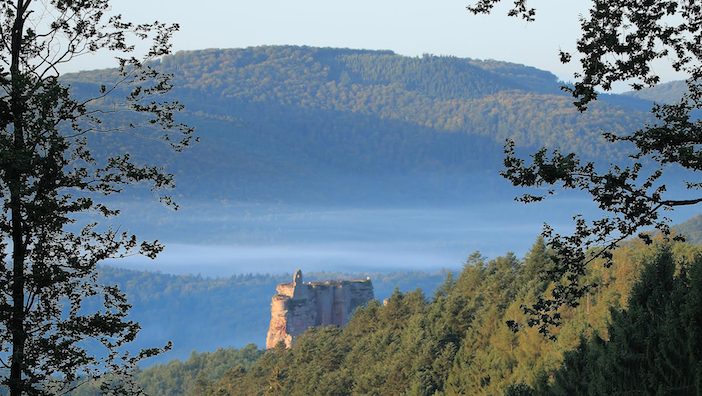 The following day we make it as close to the German border as possible, visiting Fleckenstein – an impressive medieval castle tucked away in the Lembach forest. We get there with a couple of clear runs on the motorway, followed by other roads hemmed in by sweetcorn and sunflowers, now almost over, as summer draws to its verdant end. I've switched to a Kamiq 1.6l TDI – a manual like yesterday's model, with six gears, but much more torque – and dashboard that gives purpose to the power behind the engine. I fly down the almost empty motorways, gaining good speed and enjoying every inch of drive that I can feel extending from beneath my feet and the (optionally heated) steering wheel.
The majority of folk I'm with over the two days I spend in Alsace are all young, fun, forward thinking things. While we are here I listen in on a conversation about the Skoda academy – a programme that takes in young students to come up with ideas for building the cars of tomorrow. This, coupled with everything I witness over these two enormously fun filled few days, makes it certainly seem that these crazy Czechs have ample opportunity, imagination, and great people for an brilliant, ongoing, history ahead.
For more information about the Skoda Kamiq, including arranging a test drive, visit www.skoda.co.uk.