A meal delivery service that started life as plane food; doesn't sound the most appealing prospect. One that arrives in compartmented trays for you to heat and plate up, and uses words such as 'fine dining' in the blurb. An oxymoron, surely. Starting at 60-odd-quid a head? You must be joking.
But One Fine Dine isn't just plain old plane food. Launched in 2020 by chef Daniel Hulme, it started life as private jet fare provider, On Air Dining, and evolved during la vida lockdown to provide a fine-dining restaurant experience at home. Service may have since resumed at restaurants across the country, but life doesn't always enable such fancies as dining out-out, and here lies a luxury alternative.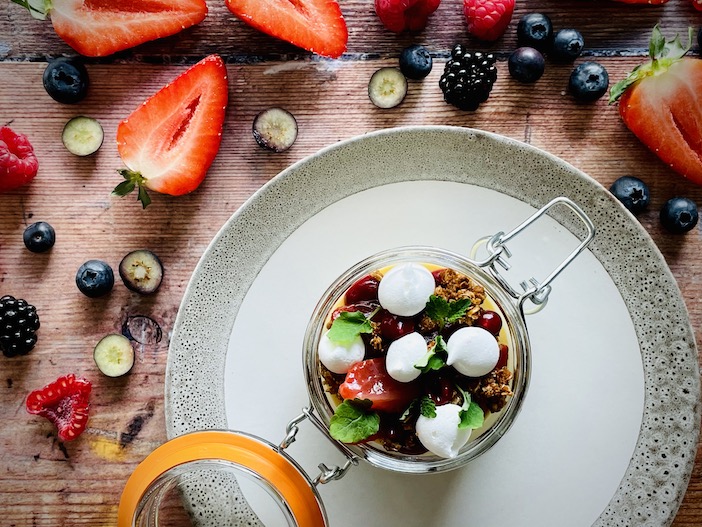 Rewind to late September, our 18th anniversary just around the corner. Such an occasion would usually have us booking some new central London spot I've had my eye on for a while; dirty martinis at an old favourite first. This year (and quite probably the next few) was to be spent at home. No, not because of the you know what. But because we are now with baby. Three months old. Too young to fend for itself, while mummy and daddy hit the town.
You know me, I love a good meal out. But for the moment, while I'm sleeping when the baby sleeps, and making a salad to accompany the Charlie Bingham's lasagne I've slung in the oven feels like an achievement, One Fine Dine had the potential of a very lovely evening indeed.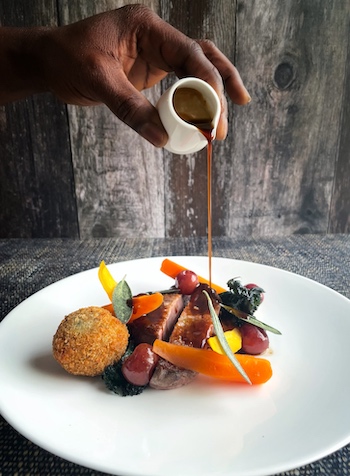 There are tons of at-home dining experiences, but most seem to involve quite a bit of prep and cooking. Impossible in our current situation, and hit and miss if your kitchen skills are limited. With One Fine Dine, if you can turn on an oven and boil a kettle, you are skilled enough.
With the set menus there's a choice of three dishes for each course; a selection that changes monthly, drawing on ingredients from these isles and tuned into the season. If you upgrade to the Date Night package, as we did, there's an amuse bouche, petit fours, bottle of wine, menus and apron too.
The dishes are created, blast chilled and packaged up in colour-coded trays, accompanied by little pots, bottles and piping bags that are pre-filled with the correct amount of sauce, jus, cream, oil or micro herb, and step-by-step photo instructions on how to pull it all together. They arrive in one big box that's couriered to the door on the day of the meal. An alarming amount of packaging that's thankfully either 100% biodegradable or compostable.
We both chose the beetroot-cured Wiltshire trout to start. For our mains, the free-range Norfolk pork with crispy belly, creamy celeriac puree and baby beets, and Scottish salmon with Cromer crab cake with braised fennel and broad beans. There are vegetarian options too, plus other dietary requirements met on request.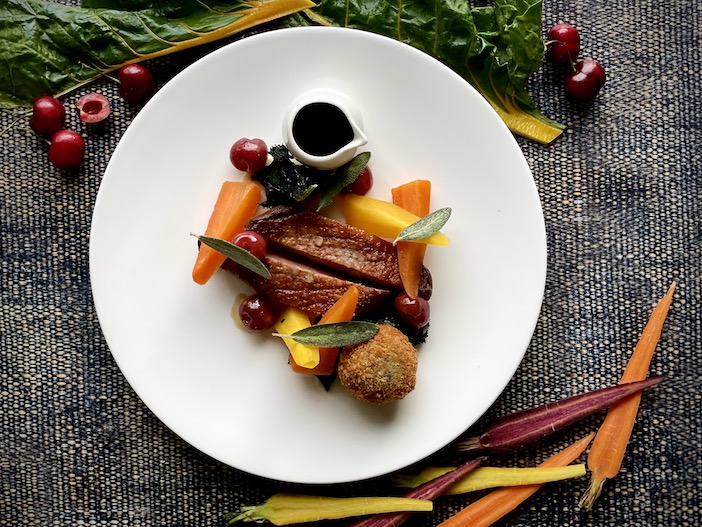 Both courses were well proportioned and tasted as fresh as if they'd been knocked up there and then, as opposed to some other kitchen at least 24 hours before and then reheated in our oven for 15 minutes. I was a bit sceptical, expecting them to take longer; basic ready meals are usually around 40 mins. I also thought they might dry out, especially the salmon, but it was beautifully flaky. Total hands-on preparation: five minutes.
The proof, as they say, is in the pudding. In our case, a peach, basil and white chocolate cheesecake for me and a Black Forest gateau for him. Both expertly plated up by our amateur hands; a quenelle of cream here, a few of pipes of chocolate sauce there, looking every bit the fine restaurant serve.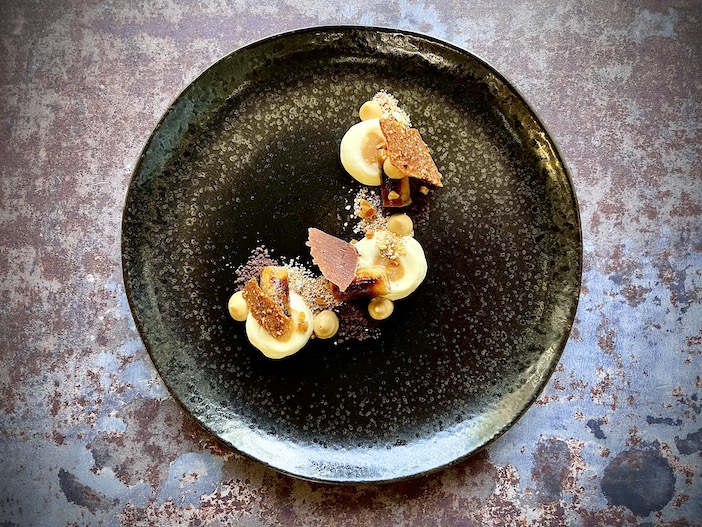 Extenuating circumstances aside, my standards haven't dropped. Clocking in at almost £200 for two for the Date Night box, this is at the treat end of the scale, so the expectations equally high. Yes, it would cost a darn sight cheaper to buy the ingredients and attempt at something resembling the meals yourself, but start unpicking life like that and you'll suck out the joy and never do anything. What One Fine Dine has truly managed to achieve is a restaurant-quality experience at home. The food looked and tasted excellent, and plating up together was fun and romantic.
So, that's how we found ourselves one Saturday eve, all dressed up and nowhere to go.
Turned out to be the dream! We could eat, drink, be merry, then hot foot it to bed. A few dishes to sling in the dishwasher and that's it. No babysitter to find, or face masks to smudge my lipstick on TfL. No 'shall I, shan't I take an umbrella' dilemma, or running for the last train home. An fine way to mark our anniversary and our first proper date since the boy came along.
For more information about One Fine Dine, including details of meal boxes, plating up tips and special festive menus, please visit www.onefinedine.com.