If you're looking for a uniquely entertaining way to spend a Sunday evening in London, head to 'The Delaunay Presents', a once-monthly series offering diners a convivial evening with some of the best loved stars of stage and screen. Since opening in 2011 in the heart of London's world-renowned theatreland, The Delaunay restaurant, a follow-up to the iconic Wolseley on Piccadilly, has been a popular spot with theatregoers and thespians alike (I once dined shoulder-to-shoulder with Richard E.Grant here), so it's the perfect venue for getting to know your favourite personalities better.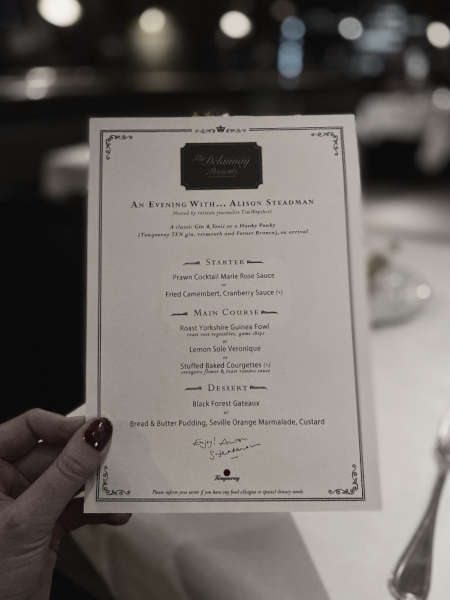 This week the Olivier award-winning British actress Alison Steadman OBE cheered everyone up on a rainy close to the weekend by chatting to veteran journalist Tim Wapshott in a sell-out 'in conversation with' style event recalling some of the extraordinarily varied characters she has played throughout her 50-year career – from Beverly Moss in Mike Leigh's classic seventies comedy, Abigail's Party, the hilariously overdramatic Mrs Bennett (whom she based on her Auntie Mary) in the acclaimed BBC adaptation of Jane Austen's Pride and Prejudice, to Pam in Gavin and Stacey.
Glowing with the warmth and vivacity that is as much apparent in real life as it is on screen, qualities which have endeared her to so many, Alison was obviously touched by the warm reception that met her as she took Wapshott's cue to join him in the restaurant and commence the informal chat that was separated into three bite-sized 'acts' ahead of each course. The Delaunay set the tone of the evening with the 'Love to Love You, Baby' theme from Abigail's Party hailing her entrance, to the cheese and pineapple on sticks gracing every table, while the menu featured some favourite retro dishes including a classic prawn cocktail with Marie Rose, Sole Veronique and Black Forest Gateau. Heaven.
Speaking of her early drama school training and the encouragement she received from her father when she announced her desire to become an actress, she remains deeply aware of his own regret at not having had the opportunity to pursue his creative passions of music and art, which were sacrificed to his office job and only truly came to the fore when he retired. The fact that her mother was naturally comic allowed us to see how the Steadman family traits undoubtedly led to Alison's theatrical ability and gift for comedy, and when one guest asked in the Q&A how Alison managed to tap into each character's vulnerability so brilliantly she put it down to having continued to live a normal life – taking public transport, going to the supermarket etc – thus allowing her to observe regular people and store her observations away for future portrayals.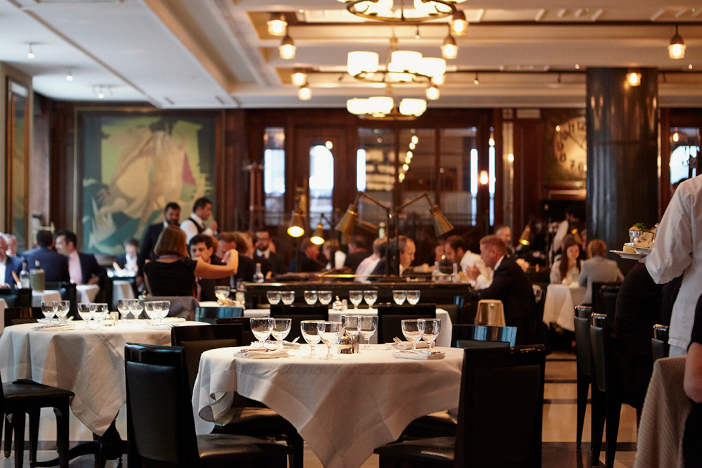 Making her professional stage debut in 1968, when Abigail's Party, which was first staged at Hampstead Theatre in 1977 on a miniscule budget, chanced to be seen by a BBC producer who demanded that it be filmed for television's Play for Today, Alison's life changed forever and she will always be remembered for her leading performance in one of the most important theatrical moments of the decade.
It was fascinating to hear how Mike Leigh had tasked her with creating Beverly's backstory and how she based her on two real-life people – a friend from drama school and a cosmetic saleswoman in Selfridges beauty hall, whom she witnessed selecting a bedraggled, pale-paced customer on whom to demonstrate her latest make-up products, unwittingly offering Alison many of the mannerisms and vocal intonations that made her portrayal what is was and prompting the guests of The Delauney to howl with laughter, not least when she went on to recall her shopping trip to C&A with the costume designer which led to her selecting Beverly's iconic orange dress. Immediately hitting upon the garish style, she insisted on it, despite it being the first gown she tried on and the frock certainly proved a very fortunate choice when, four months pregnant on the BBC filming the show for TV, Alison was able to successfully conceal her bump due to the loosely-draped cut.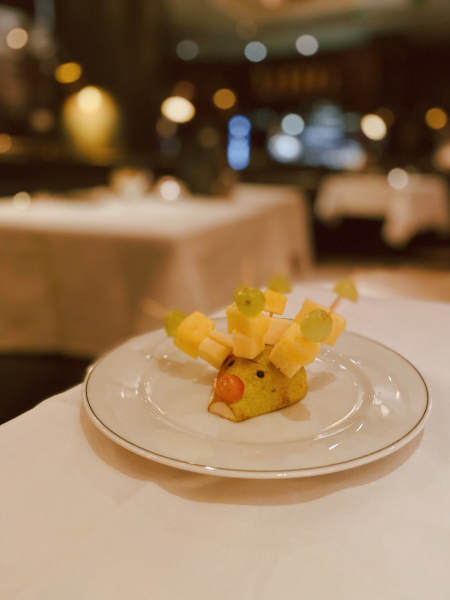 Today, Alison lives in North London with her long-time partner, Welsh actor Michael Elwyn, remaining "good friends" with her former husband Mike Leigh whom she was married to for almost thirty years, during which time they had two sons whilst working together harmoniously on many of his television plays and films, a period of her life she clearly looks upon with fond memories, having been stimulated by Leigh's improvisation style which, far from intimidating her as it reasonably might many actors, she found to be her "comfort zone". Having always tried to balance her acting career with the equally important role of motherhood, today she continues to work on many smaller film and voiceover projects, (she's just finished playing the nan of Robbie Williams in the forthcoming biopic Better Man in which a CGI monkey plays Williams), whilst cherishing spending time with her family and being a grandmother. Her other passions are birdwatching (always taking her breakfast overlooking her garden bird feeder) and she is a proud ambassador for the London Wildlife Trust.
An evening which offered every attendee laughs aplenty and a marvellous insight into not only the development of some of Alison Steadman's most beloved characters, but the opportunity to connect with her on a personal level that will certainly enhance my own enjoyment when I come to rewatch Abigail's Party and her other films. Tucking into a prawn cocktail as this delightfully unshowy lady regaled us in an equally lovely environment was an occasion that will stay with me for a long time, not least due to her shimmying across the restaurant floor to illustrate Abigail's particular style of walk! With previous interviewees Hugh Bonneville, Simon Callow, Dame Maureen Lipman, Nigel Havers and Patricia Hodge having also previously delighted diners with laughter and anecdotes, we can't wait to see who will be headlining the event in November.
Tickets for The Delaunay Presents are priced at £79 per person including a welcome drink and three course meal. For more information please visit the website.