In 2006, I lived in Italy. I had taken a university work placement in a small village just south of Turin, in a valley nestled between the stunning Langhe hills. Upon arrival, 'fresh out of Bristol', I knew no-one but, with a breath fearlessness, I was not shy of going out alone. At that time, the Italians would often regard this, when participating as onlookers, as something a little tragic. Even at home, one must never dine alone!
Fortunately, my onward experience has found me with a recurring seat at the table of friends and strangers alike, and this has remained a theme for both work, and play. In recent weeks, an invitation from a similarly beautiful but nevertheless very British part of the world arrived, requesting my company for lunch at Beaverbrook, that luxury hotel in the Surrey Hills – an Area of Outstanding Beauty.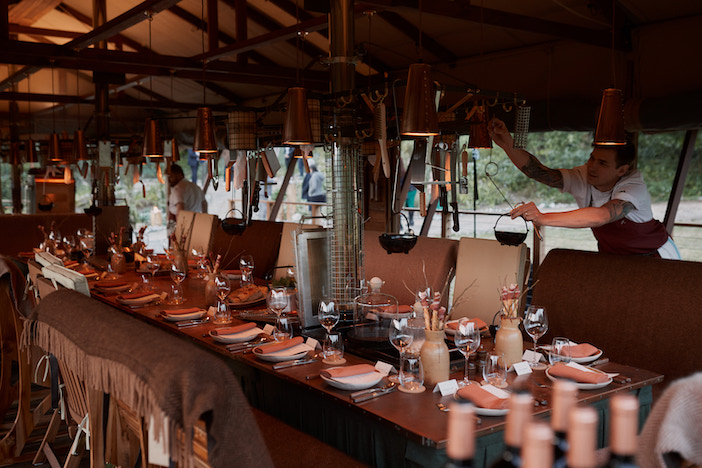 An hour or so from London, under utopian skies, we piled out of cars that had tugged us up the long, and picturesque drive to this charming Victorian mansion, modelled on houses like those of Europe and her Riviera. In curiously continental fashion, even as winter's inclemency creeps in, we arrive to dine outside the hotel.
Welcome cocktails served from art deco Sir Frank's bar, whose walls, covered with drawings of flora from across the world, provide the perfect bridge into the outdoors and the house's sumptuous grounds. A quick hop in one of the property's golf carts, green tomato-garnished gin in hand, leads us to a very smart marquee-like construct – the first of its kind to belong to a hotel, made and installed by the aptly named Cashmere Cavemen.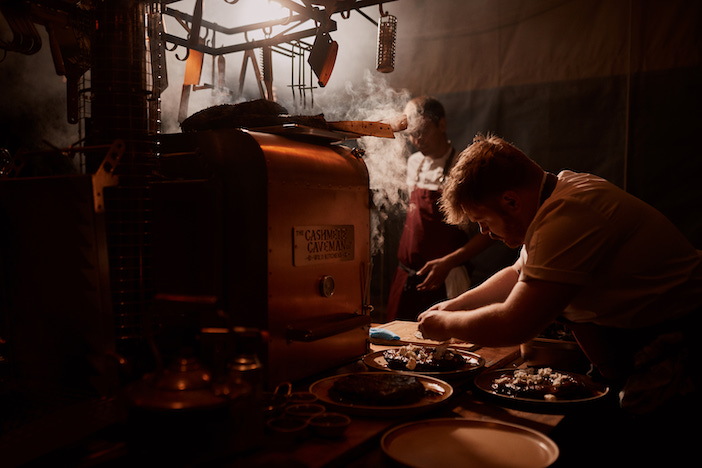 Brainchild of film director Guy Ritchie, this stilted set-up – otherwise known as a 'WildKitchen'– began life as a simple fire pit, and has since evolved into an upmarket tented table at which you can both cook, and more importantly, dine. From a cameo on 'The Gentlemen', it's now no surprise to learn that of the 52 WildKitchens in this world, six of them sit on shooting estates – perfect for cosy, long lunches that need hatches to be battened, or lifted, as quickly and efficiently as the weather requires.
The concept has been cleverly engineered through 38 different wood burner-led prototypes to arrive at a model that now includes a flue to ensure you won't get smoke in your eyes, a copper table surface that warms up from the accompanying fire's flames, and an under table flow of heat that makes you think you're wearing a blanket over your knees at all times.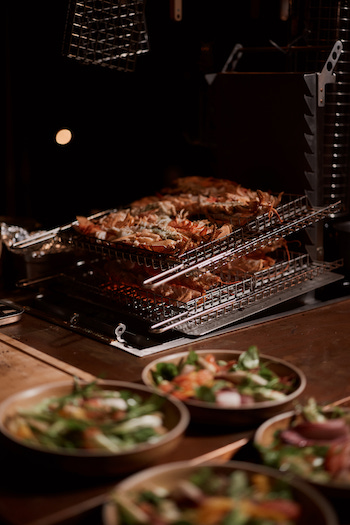 Today's menu, introduced to us by Beaverbrook's resident, infectious host, Annabel, honours the combined concepts of Wojciech Popow, who will offer a Japanese Nomadic Menu, and Adam Sharpe whose own approach is Wild Surf & Turf.
Dubbed 'interactive cuisine' where you get to roast the meat in front of you, both concepts can be paired with Wine or Sake Tasting with Giovanni Tallu, Cocktail masterclasses with Alan Cook, and Naturopathic Wild Nutrition with Camilla Santos.
Today we are wowed with an array of dish to complement these; an incredibly rich and warming clay-baked babbage which arrives drenched in delicious cave-aged raclette and lacto-fermented truffles, a hearty 'duck and forest broth' beautifully presented with wild mushroom garnish, green bouquet and black truffle butter.
Our eyes and bellies are almost already sated by the time the 36 day aged Himalayan salt Tomahawk, native lobster and beer-fed Japanese Wagyu Ribeye steak arrives. There are moments of silence up and down the table, between clinking of wine glasses and clashing of cutlery as we devour this almost-al fresco feast.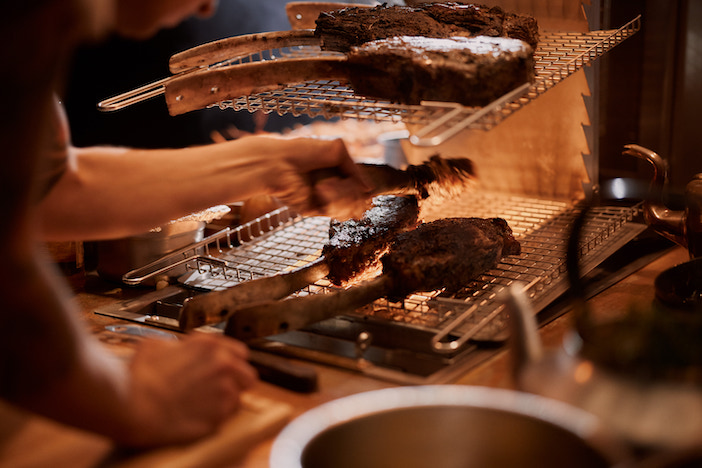 Our afternoon continues in a distinctly Beaverbrook vein – the ambience as elegant and illustrious as its former Canadian owner, the press baron and war-time MP Lord Beaverbrook, continuing such a legacy in the clientele who are privy to pass through her doors today.
While Beaverbook was known for his great friendship with Indian born Rudyard Kipling, today I am excited to discover that I am seated next to somebody similarly brilliant, whose travel tales light up the eyes and imaginations of the rest of the room. Perhaps fittingly, I also discover she is the co-author of 'Glorious Hotels of India' of which Kipling himself would surely have approved.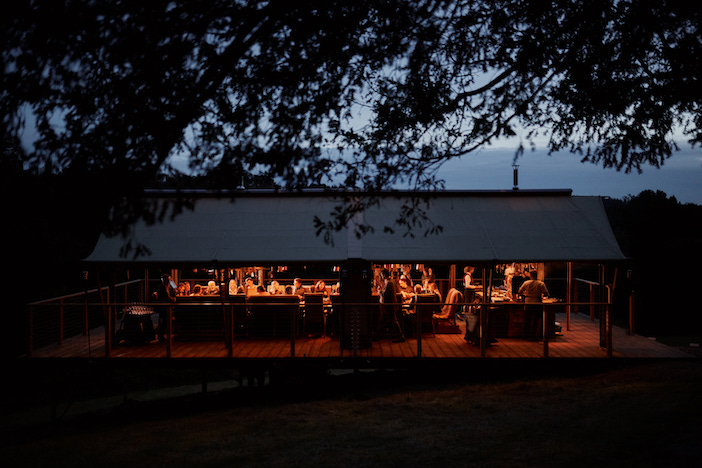 Cotswolds-based WildKitchen General Manager, Rich Millbank, with his own previous military links shines a link on the hotel's former repute for hosting Churchill (whose ghostly voice booms out of speakers in the loos) on many an occasion. Indeed the spitfire symbol on the house's livery betrays Beaverbrook (the person's) former trade as a Spitfire Engineer before becoming MP.
A nod to his love of cinema is still felt through private viewings hosted here, and advertised on the entrance table that we notice on our way out into the carpark where marvellous examples of modern day motor engineering are instead on public view. From indoors to out, the lavish parties continue, proving time and time again, as unanimously agreed in the back of the 19 mile drive back to London, that life is better, shared. All you need to do is cook, gather, and eat.
Beaverbrook's WildKitchen begins service on the 19th October and will also debut chef pop-ups and collaborations following in the successful footsteps of the Summerill & Bishop hot air balloons (reviewed here). The WildKitchen will be available from Wednesday to Sunday for lunch and dinner starting from £95pp. For more information, and for bookings, please visit www.beaverbrook.co.uk.