Tumbling into the treacherous bus lane once again, I found myself seriously questioning my sanity. Did I really expect to find a 'village staycation' in W1? The traffic was deafening, the crowds relentless and for all of the pomp and pride of the gigantic Union Jacks patriotically billowing overhead, I was rapidly losing faith in finding village vibes around the corner.
Eschewing Oxford Street's hubbub, I slipped into Marylebone Lane, where the pace took on a nonchalant mooch and the brash Coronation show which preceded it, was replaced by a modest garland of tiny flags, zig-zagging their way towards the village centre. With its sunny peppermint hues and Francophile cropped café curtains, hip eatery Lina Stores signalled my arrival in 'central London's last remaining village'.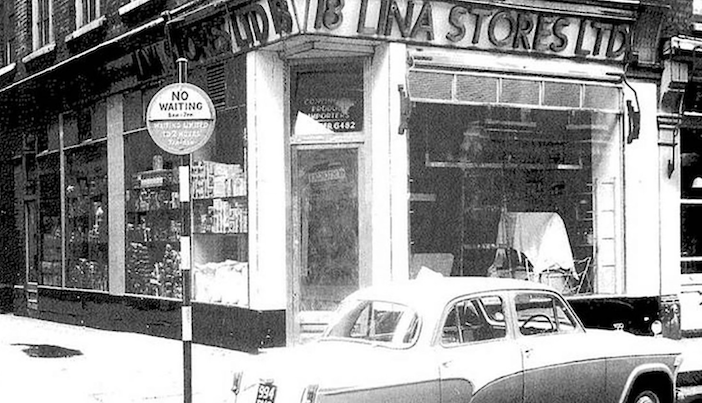 In a bid to adjust to this new pace of life, I settled into the popular Italian, accepting a refreshing limoncello spritz letting the previous hour's dramas melt away, over perfectly crisp artichokes and a bowl of black truffle taglioni. Eased into my new genteel surrounds, I continued along the sweet lane. Refusing to conform to W1's PacMan style road network, Marylebone Lane's ancient cobbles loyally trace the long-lost River Tyburn, which still rushes beneath it today. I find this revelation humbling; that these once boggy river banks are now lined by the capital's best shops, restaurants and hotels. Yet, deep down, holding up all of this razzmatazz, the area's bare bones remain, oblivious to the metamorphosis taking place above.
The scent of freshly roasted coffee wafts upstream, entangling itself with the scent of The Coach Maker's succulent steaks, St. John's steaming mussels, Caldesi's piping spaghetti, plumes of vinegar from the local chippy, and all manner of other gastronomic delights which call this bendy little lane home. Nestled amidst the eclectic eateries, treasures lurk within bijou stores; from KOIBIRD's fancy feathered bodysuits and O Pioneer's Victoriana frocks to the original movie posters which adorn the walls of At The Movies.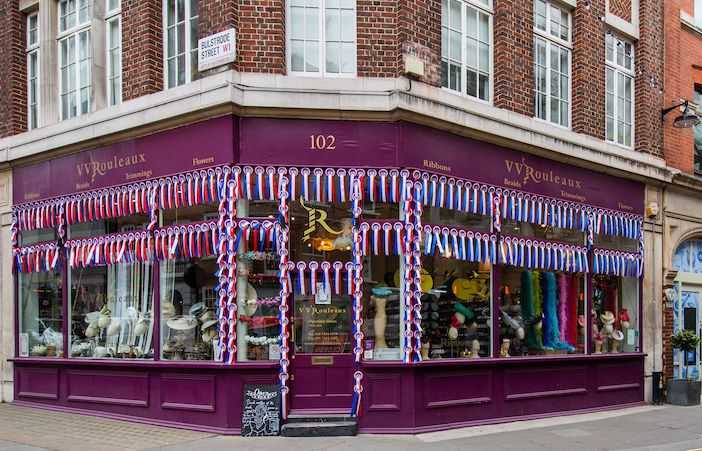 Further along, VV Rouleaux's lavish frontage is carpeted in silky rosettes, the spring breeze flicking their ribbons this way that, as passers-by peep through their windows, ogling the flamboyant feathers and exquisite millinery. I must say, in this romcom-worthy neck of the woods, I felt a little lost without a wicker basket and a baguette, half anticipating a doe eyed Hugh Grant to tumble out of a café doorway at any moment, apologising profusely and offering to buy me coffee.
On the Tyburn's lost meander, stands The Marylebone Hotel, where well-heeled diners at its acclaimed 108 Brasserie shelter from the midday sun, necking Jersey's finest oysters, unaware of the river flowing beneath them. Only Ottolenghi's teetering tower of melon-size meringues dusted rose pink, sherbet yellow and chocolate brown can distract them, momentarily, from their feast. The Irish-owned Doyle Collection property has over 250 bedrooms, plus a handful of swish suites boasting private balconies overlooking the capital.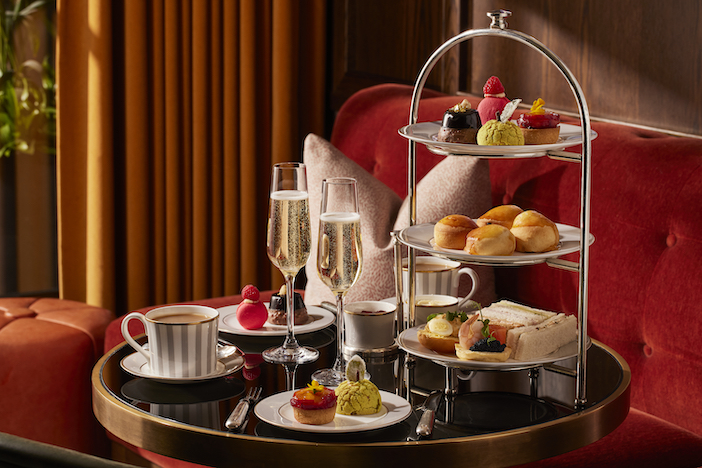 For those with a sweet tooth, the hotel's sultry cocktail bar offers the perfect spot for an aperitif, or a spot of afternoon tea. Guests also have complimentary access to Third Space, the member's only on-site fitness club – you know, for when the high life gets too much. In need of a bit more pampering? Celebrity pedicurist Margaret Dabbs' flagship store is just moments away, with a team of top podiatrists waiting – book their infamous medical pedicure, the go-to treatment for the world's top beauty editors.
Perfectly pinned between two royal parks and blessed with Bridgerton-worthy period mansions, Marylebone has long been an irresistible siren call to the country's most iconic creatives – as its smattering of blue plaques attests. Whilst physicians predictably cluster around Harley Street, side streets proudly claim links to world famous composers, poets, writers, novelists and artists aplenty. In fact, Marylebone has inspired everyone from Charles Dickens to Madonna, and The Beatles to Jimi Hendrix – at least until Ringo kicked him out for trashing his pad during a party – I guess he just couldn't let it be.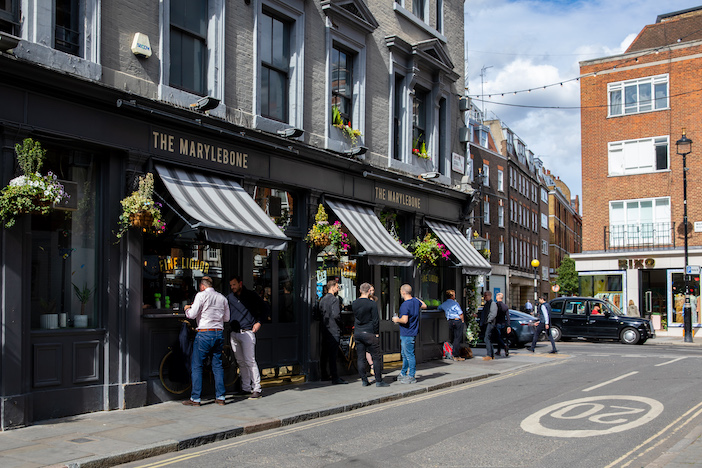 Today, it's uber exclusive Chiltern Firehouse which lures the capital's beau monde to Marylebone, with paparazzi ready to pounce on undoubtably expectant international stars as they depart the former fire station. Concealed behind its formidable black gates, it reminds me of playing hide and seek with my toddlers; they get a thrill from hiding, yet do so in full sight, ensuring I cannot miss them. With its famously long waiting list, ten years in and it's still one of the hottest tables in town. However, this weekend is all about embracing village life, which in my humble opinion, doesn't hide behind unscalable gates.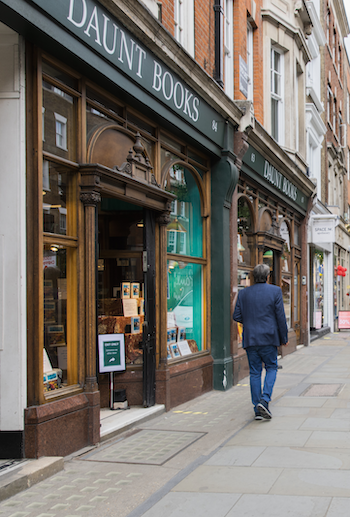 In fact, looking around at the drinkers which cheers outside Marylebone's historic pubs and converse at the continental-style pavement cafes which pepper this decidedly Francophile neighbourhood, it's fair to say that fun in Marylebone knows no boundaries; it spills out of pubs, extends from cafes and fringes restaurants, leaking onto every street and into every alley along the way – très français. A meal at Australian brunch spot Granger & Co fuels this thought, as hungry folk happily snake along the high street, eager to bag an alfresco table as a steady parade of sweetcorn fritters and ricotta hot cakes further ignite their hunger – the fried courgette chips with nigella seeds and lemony yogurt were worth the wait alone.
When it comes to shopping, many of Marylebone High Streets big name boutiques and concept stores need no introduction, but jostling alongside the upscale chains are one-off gems, like Daunt Books. Specialising in travel literature, the Edwardian store's grand oak galleries are stacked high with books dedicated to every corner of the globe. Foodies are also well catered for, particularly along Moxon Street. Gawp at Rococo's ribbon-wrapped chocolate truffles and unusual nose-to-tail cuts from The Ginger Pig. Sniff out La Fromagerie's epic cheese room, piled high with pungent wheels and delicious samples.
On Sundays, one of London's best farmer's markets fills the streets nearby, selling everything from tyre-size cheese wheels and fresh raspberry lemonade to Turkish pancakes and pastel-hued macarons. Hidden within Moxon Street's bevy of artisan producers, you'll find laidback French restaurant, Aubaine.  Offering modern French dishes with a twist, the group has a handful of restaurants in some of London's ritziest neighbourhoods. With floor-to-ceiling windows gazing onto trendy Moxon Street, it made the perfect spot for a farewell lobster spaghetti dinner whilst watching the street ebb and flow.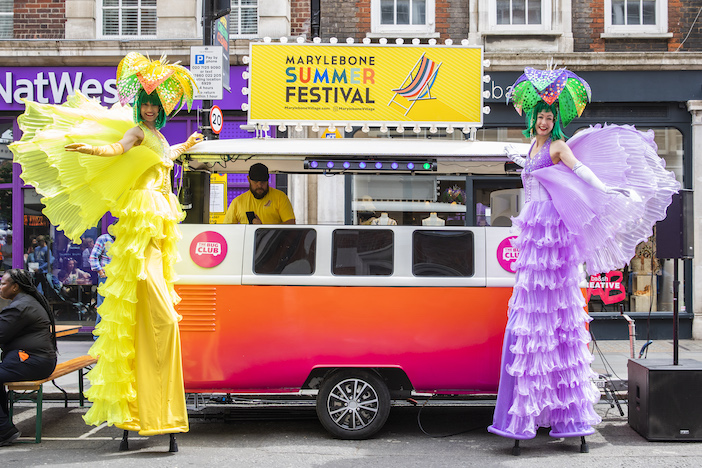 Sauntering home, past jaunty drinkers it dawns on me that the village is in the throes of an interlude, a precious quiet time between two huge celebrations, not dissimilar to that befuddling interval between Christmas and New Year. Whilst the flapping Union Jacks cling onto the excitement of the Coronation, the village is gearing up for Marylebone's Summer Festival (10th & 11th June 2023). The two-day event sees Paddington Street Gardens become an al fresco pop-up cinema and an all-day street party engulf the village's squares, lanes and mews once again. Glad of a reason to return to this bijou part of town, I dragged my suitcase downstream, along sweet Marylebone Lane, with the Tyburn rushing beneath, still oblivious of the jamboree which is about to descend.
Marylebone Village is a distinct and atmospheric shopping destination in the heart of central London, minutes from Oxford Street. In this urban village, culture and businesses thrive, and the community blossoms. www.marylebonevillage.com