"I'm not saying this to scare you, I'm saying this to keep you safe," announced Matt, our charismatic horticulturalist-cum-safari guide, his raise eyebrows paralysed momentarily, awaiting some sort of acknowledgement on my part. I feigned an air of nonchalance, trying to mask the stomach-churning jitters which had been slowly claiming my organs, one by one, ever since he regaled me with the tale of the mis-understood pig which sliced open his colleague's thigh. Satisfied with my performance, his
furrowed brow relaxed, before declaring, "if I say run, we all just run, okay?"
Forcing a carefree smile, I helped my daughter Rosie onto the mud-splattered army truck, before turning my stiff grin to her brother George, the world's slowest three-year-old. I tried to envisage him sprinting to safety when ordered, when I struggle to get him to walk most mornings. Not to worry, I'm sure being chased through the Suffolk countryside by a herd of wild water buffalo will hurry him along nicely.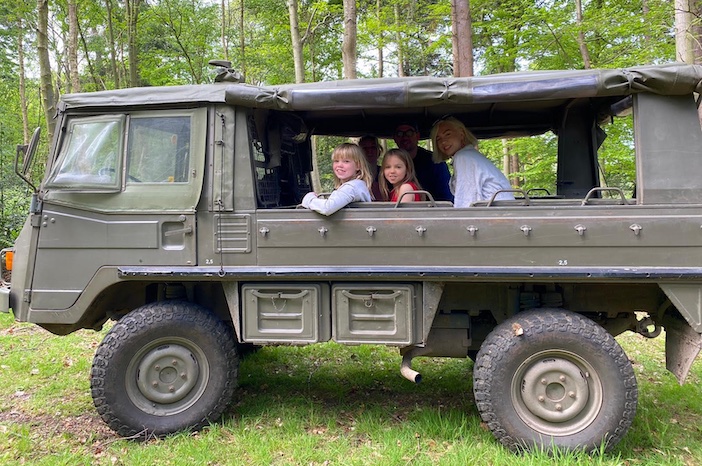 Once aboard, we acclimatised ourselves to the quirks of the khaki truck (like if you grip the sides too hard, the seats simply collapse), before bidding farewell to the creature comforts of Somerleyton Estate's glamorous private holiday club: Fritton Lake. Straddling the Norfolk/ Suffolk border, the stylish resort has certainly put its stamp on the lake's norther banks; with a chic restaurant, smart Victorian walled gardens and luxe touches like the biophilic gym (essentially a gym which interacts with nature, for example through its oak-framed treadmill), a floating sauna and an Insta-worthy pool.
In stark contrast, the lake's southern reaches, have been 'given back to nature'. This 1,000-acre eco project is part of Hugh Crossley, 4th Baron Somerleyton's ambitious WildEast rewilding initiative, which aims to see 20% of the region's land returned to nature. The aim? For the east of England to become one of the world's best nature reserves, where animals, birds and insects thrive and in turn, self-manage the land; cattle graze, bees pollinate, pigs root…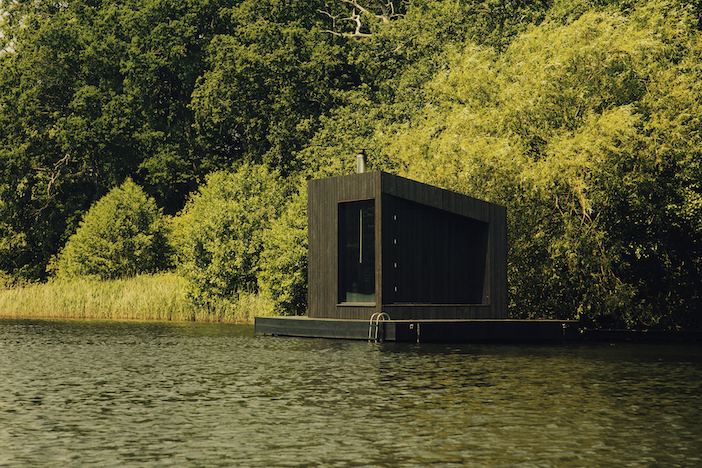 We waved goodbye to our sweet cottage, Buxton, and soon the luxury lodges dispersed and neatly mown footpaths were replaced by a rough, rugged terrain, home to free-roaming Highland cattle, Exmoor ponies, albino deer and even Asian water buffalo. Soon, shimmying of chin-high grass alerted us to a drove of Large Black Pigs at work, churning the land, shuffling curiously towards us, their fearsome tusks hidden beneath comical flapping ears. "Here comes the scratching," declares Matt excitedly, as the hairy beasts rocked the truck. Rosie's face paled as Matt informed us that we ate them in our bacon sandwiches at breakfast.
No time to dwell, for we were soon bumping our way through vast glades and speeding through meadows carpeted in giant daisies, dramatically leaping into the truck's centre now and then to avoid the prickly gorse which smashes through the truck's open sides. Whilst searching for Exmoor ponies the woodland's dense ferns and sun-dappled foxgloves engulfed us and the children screeched in delight as muntjac darted past and three red deer appeared ahead – probably wondering what the hell humans were doing down south.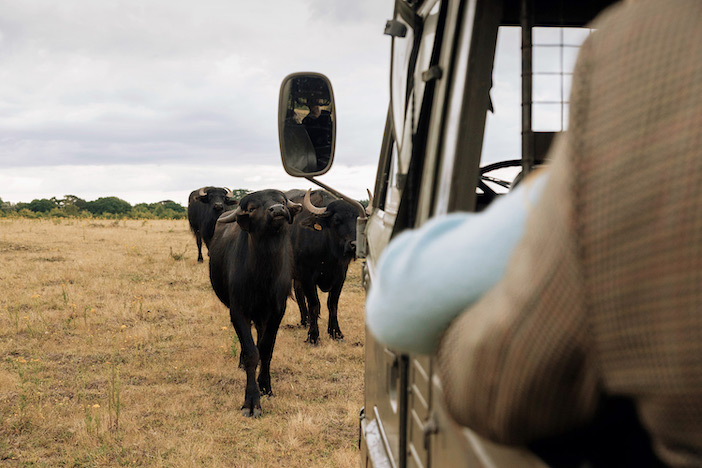 Upon learning of George's love of creepy crawlies, Matt leapt from the truck, lifting a sheet of corrugated iron in search of snakes, before gazing up at a towering redwood and presenting the children with their own 'magical' cone from the rare tree, declaring it had special powers – the power to sprint, perhaps? Here's hoping. Two hours in and unable to find the Highland cattle, despite the use of Matt's nifty tracking app we bounce our way back towards civilisation – I take satisfaction in the knowledge that the land gifted to the cattle is so vast and now so wild, it laughs in the face of 21 st century bovine stalking technology.
My amusement was cut short, broken by Rosie's screams as an unidentified creature leapt out of the waist-high daisies and into the forests– a mink, Matt guesses. As we pass Lord Somerleyton's off-grid summer hideaway we catch the best view of the 2.5-mile lake; the summer sun dancing across its emerald green surface, not a soul in sight, yet flanked by forests, secretly bursting with life. On one side, wild ponies gallop, on the other, guests gallivant; both undercover, both oblivious to the other. Same same, but different.
Our safari over, we bid Matt farewell, retreating to the estate's disused farm, home to a small cluster of restored cottages. A five-minute walk from the chic Clubhouse restaurant, slick pool and popular activities centre, they boast undisturbed meadow views and only bleating goats for company. In typical Fritton fashion, there is an accommodation to suit everyone here. Whilst Clubhouse 'pub' rooms fit couples eager to wine and dine at heart of the action, the slick lodges suit couples and small families who crave a bit of space and decadent extras, like wood-fired hot tubs.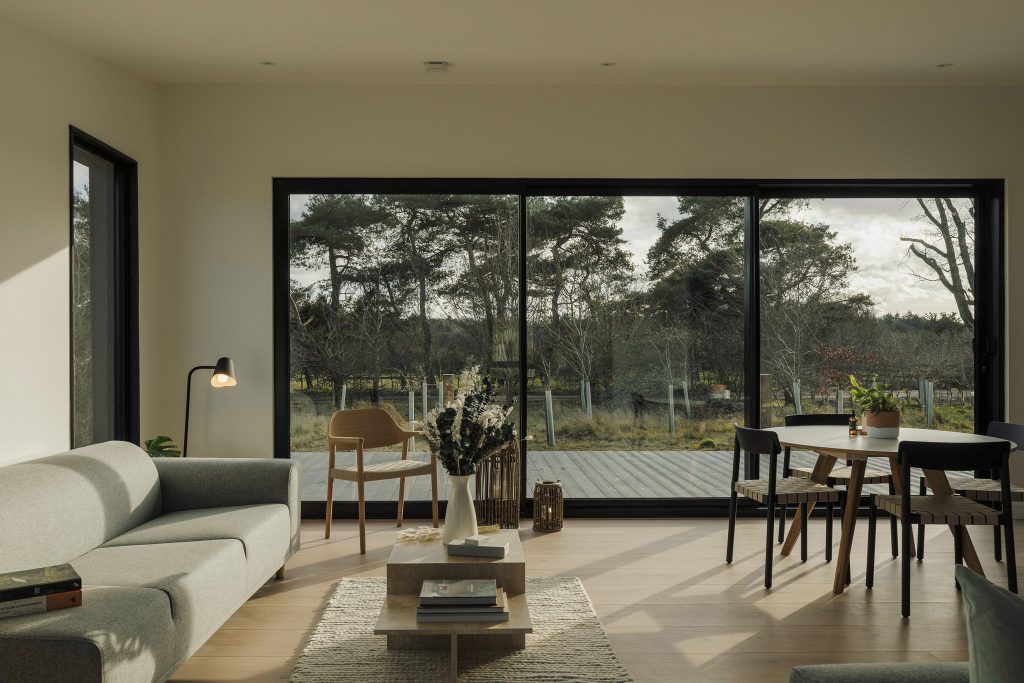 For us, the cottages offered a great self-catering home from home from which to dip in and out of the dizzying list of activities on offer a short stroll away. It's not often that I willingly cast my car keys into a bowl when entering a stranger's house, but clocking the activity timetable I could see they would be utterly redundant. Granted, Fritton's enviable location makes it the perfect springboard for discovering both Norfolk and Suffolk, with a string of vast sandy beaches just a short drive away.
The Estate's Somerleyton Hall & Gardens, which stood in as Sandringham in The Crown, is worth a visit, even if only to see the stark contrast with which the Lord approaches nature in his own gardens. Here, every hedge is impeccably trimmed and each bush perfectly pruned and it took Google Maps to help get us out of the incredible maze (we rescued three OAPs who had given up and were sheltering in its central pagoda, hugely relieved to see youngsters with modern tech in hand). But with so much to do, see and experience around the lake, decision paralysis took over – bye bye car keys.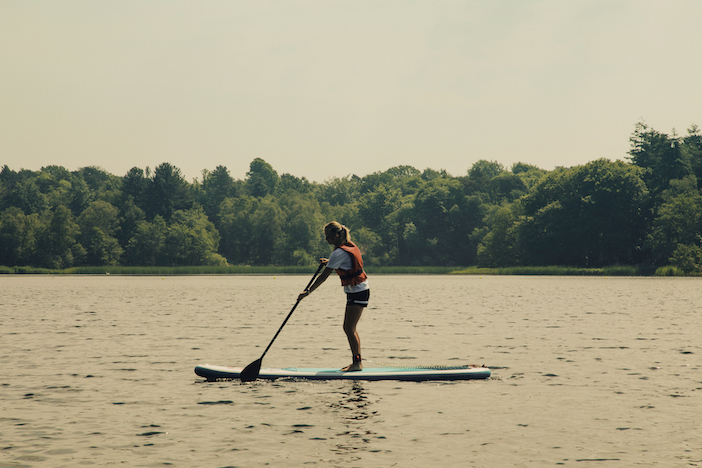 In fairness, Fritton's activities offering is mind-boggling. Beside the plethora of lake-based adventures and a lengthy list of landlubber sports on offer, there are immersive nature experiences (like foraging and den building), events (like pool parties and book clubs), studio classes (featuring everything from yoga to bootybarre). There are also regular opportunities to access an array of world experts, like Nahid de Belgeonne (AKA 'the nervous system whisperer') for a 121 somatic breathing or lunch with Glamour's Fashion Director, Andrea Fullerton, perhaps?
When not kicking back around the pool, with its welcoming firepits, bar and oh-so-photogenic wisteria-laden walls, our days were spent paddling in the lake's shallows amid a flurry of peacock blue dragonflies, exploring the butterfly-filled paths hiding within the estate's flower-strewn glades and soaring through the treetops on the zip wire.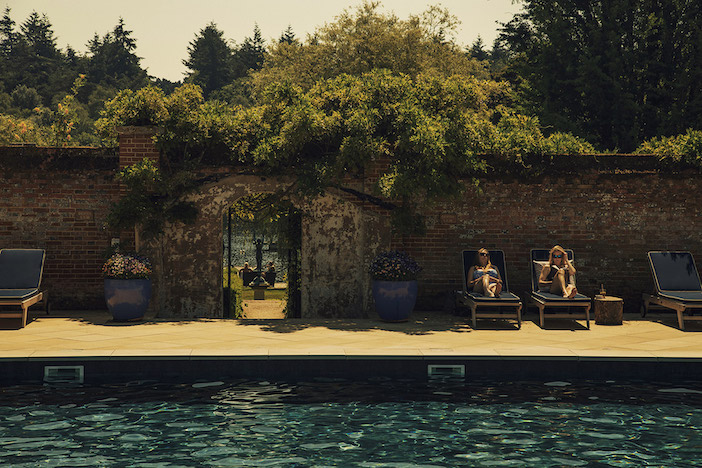 The magic of Fritton? Whilst recline around the pool with a chilled vino or feast on homegrown produce in the Clubhouse's gardens, cocooned by herbaceous walls of bay, rosemary and sage, you have no idea this flurry of activity is happening around you. By the same token, while you aimlessly float on the serene lake or paddle in its shallows, you're totally oblivious to the beautiful beasts which roam its banks. From the wild ponies which hide in the woodland and the deer which prance through tangled ferns, to the pigs churning up the overgrown pastures and the cattle which hide…well, who knows where. Here, still waters run deep, and whilst nature is busy reclaiming this spectacular estate, inch by inch, we are just the lucky guests that get to watch the magic happen.
Rooms at the Fritton Lake Clubhouse start from £180 on B&B basis. For more information, including details of accommodation, family activities, and their nature restoration vision, please visit www.frittonlake.co.uk.