I can't be the only bloke out there feeling like he's been deprived of a bit of male company this past year. So when the editor came calling with a chance to visit a new cricket themed bar and restaurant in Fitzrovia on the same evening as a reunion with a couple of friends I hadn't seen in months, it felt as if the gods were finally smiling on me. Because, as my wife often says, if I had to choose her or cricket, there's only one answer – and I won't be putting my bat on eBay any time soon.
Sixes is the brainchild of the guys behind Mac and Wild, purveyors of fine Scottish meats and the famed Venimoo – winner of various burger awards over the years. The first branch opened in Fulham and now they have this second one, recently launched in the former Villandry site on Great Portland Street, just a couple of overthrows across Regent's Park from Lords, the #homeofcricket.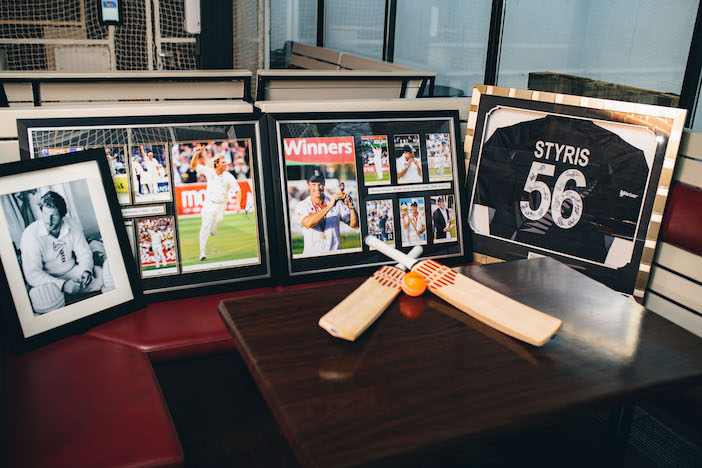 The whole competitive socialising thing has taken off in London in recent years with dart-themed Flight Club and mini-golf emporium Swingers proving successful, so perhaps it seems natural that cricket was next for the social treatment. In any case, there can be few games as intimately connected with eating and drinking – my own career as a village cricketer in Yorkshire and now skipper of the Gardeners CC in London has involved a constant search for the perfect cricket tea. But experience has taught that for every home made Victoria sponge there's a dried out slice of malt loaf waiting just round the corner.
At first glance, the Sixes dinner menu offered no plates of assorted sandwiches and, crime of crimes, no Battenberg for dessert. Instead, the friends and I warmed up for our indoor net session in the next door bar with bubble and squeak pakoras (a nod to the Indian obsession with the beautiful game?), mac and cheese croquettes and some fried chicken (not often seen at tea on Saturday afternoon). This smorgasbord was followed up with a round of whisky glazed beef shortribs – ideal fodder for mopping up the post-game drinks.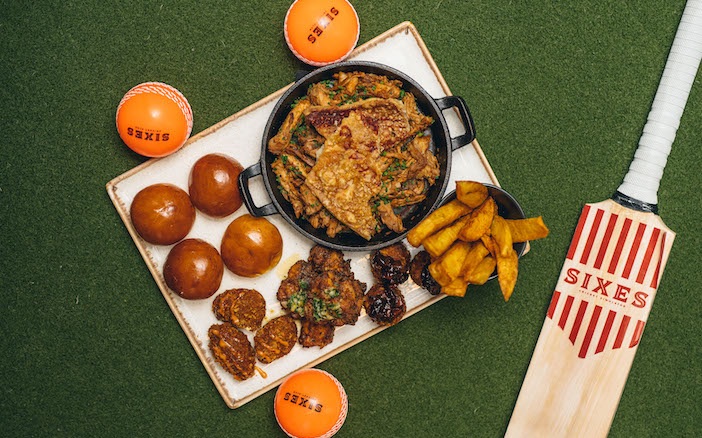 By and large the food was pretty good and the service well-meaning and efficient, although there were only a handful of other diners in this opening week. The menu is not the most imaginative and sticks closely to the gastropub playbook – think MCC coaching manual forward defence as opposed to Jos Buttler reverse scoop – but they are clearly trying to appeal to as wide an audience as possible.
Fortunately, after this substantial feed, the Sixes set up requires no fielder and no bowler. Instead, you enter the cricket simulator and face up to a large video screen, where a virtual bowler sprints in from the virtual boundary and somehow delivers a ball down at you at what seems incredible pace. Runs are scored if you strike the ball and it hits certain targets – sixes, fours, threes, twos, but alas no quick singles for the fleet of foot. Of course, if you aren't the club blowhard like me, you don't have to set the bowling onto professional, which means it's perfectly suitable for the lower order rabbits / beginners among us.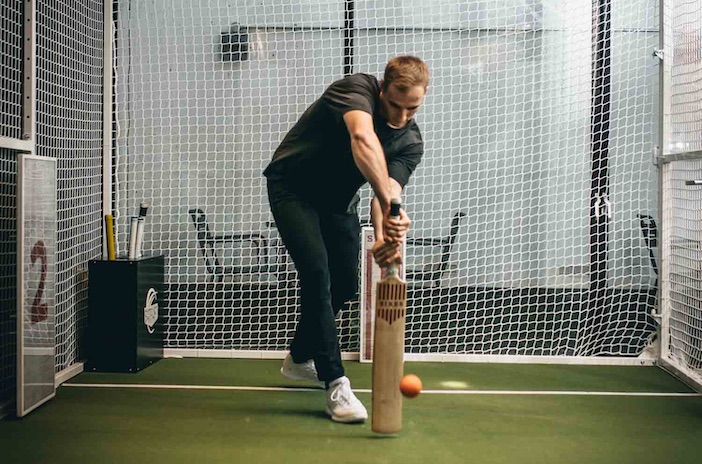 I would have walked over hot coals for an hour in the nets during the height of the recent lockdown, so I was always going to be well disposed to a bar that feeds you, quenches your thirst with beer and whisky cocktails, and allows me to slog a virtual pace bowler over long on, but the long-lost friends enjoyed themselves too. Sixes feels like the ideal place for post work drinks with the colleagues you've missed (or perhaps not) over the last year; however, this also means it feels a little more glitzy than I expected – less cricket clubhouse and more Soho House. A pint of craft ale is £6.75, which might have had the three Yorkshire cricketing legends – Boycott, Close and Trueman – who watched over our net, choking into their pints of bitter, but given Central London rents and the privations imposed on the hospitality sector since last March I can't be too churlish. Would I return? Well, after finishing the net session on forty-eight not out, I need to see if I can snatch the two extra runs I need to rack up my maiden half century for the season.
Sixes Cricket Club, 170 Great Portland Street, Fitzrovia, London, W1W 5QB. For more information, including details of menus and bookings, please visit www.sixescricket.com.