Tea, according to the Spectator, is having a bit of a moment. "Fine teas" are seeing sales soar in places like Fortnum & Mason as well as speciality tea shops. Last year, two new tea merchants opened shops in London – Singapore based TWG and the Parisian Mariage Freres.
So afternoon tea, akahigh tea, is having something of a revival, too. At St Ermin's Hotel in St James's, you can see they take it seriously. When you order your tea, it comes with a tiny egg timer so you know when it has brewed to perfection and it's time to pour. Different teas have different timings and there is, of course, a tea menu with fine teas from China and India, herbal teas, Rooibos, you name it…
There isn't, though, a menu for the food. This comes as standard depending on which afternoon tea you've chosen. There's a gluten-free version and a vegetarian one, a special children's tea and, to celebrate the fact that September is Honey Month a Honey Afternoon Tea.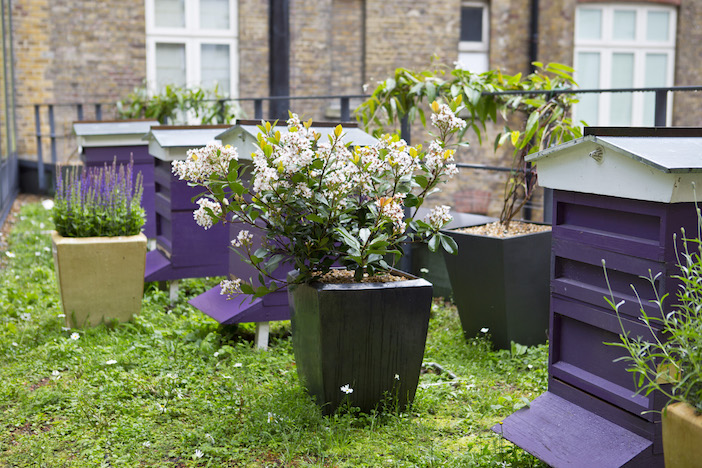 St Ermin's know quite a lot about honey because on their rooftop they have a garden with beehives – and 350,000 inhabitants. And London bees do make very good honey. This may come as a surprise but when I did my research a few years ago on this very subject for a newspaper feature, I was told by a series of London beekeepers that, unlike in the country where you tend to have a bit of a mono-culture of crops, in London, you have countless varieties of trees, shrubs and flowers all coming into bloom at different times. Result? Very happy bees.
You can visit the bees when you have tea to see them busily at work, though tea itself is served either in the first floor tea room or, in fine weather, on the balcony outside. We sat outside and it was already quite busy, even at 2pm – forget the rules about four o'clock being tea time. By the time we left, the place was pretty much full with a wide range of tea sippers – couples, families and, more unexpectedly, groups of businessmen.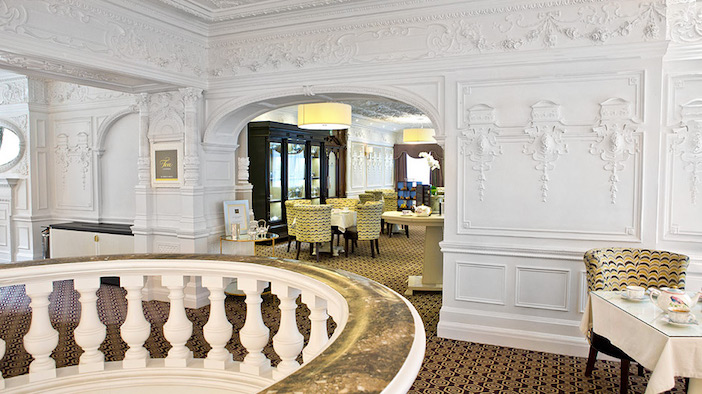 A word of warning. If you're going to have afternoon tea, forget about lunch. Actually, forget about breakfast. It is very, very filling and we were defeated despite that heeded warning. (Doggy bags are available.)
So, what was on offer? The food was served, as is only proper, on a three-tier cake stand. The bottom tier is tiny finger sandwiches of a very superior kind (ham, honey and mustard; crayfish and rocket; goats' cheese, figs and honey; red pepper hummus and coriander; lime, honey and chilli chicken with guacamole).
So, you may have spotted a bit of a honey theme there and it continues with the sweet treats. These are by no means old school – more of a modern chef's riff on traditional sweeties. There was a burnt honey jelly with vanilla custard, vanilla sponge and quince, a black choux with lemon and honey, apple mousse (served inside a giant red apple) with caramelised apple and honey compote, and more.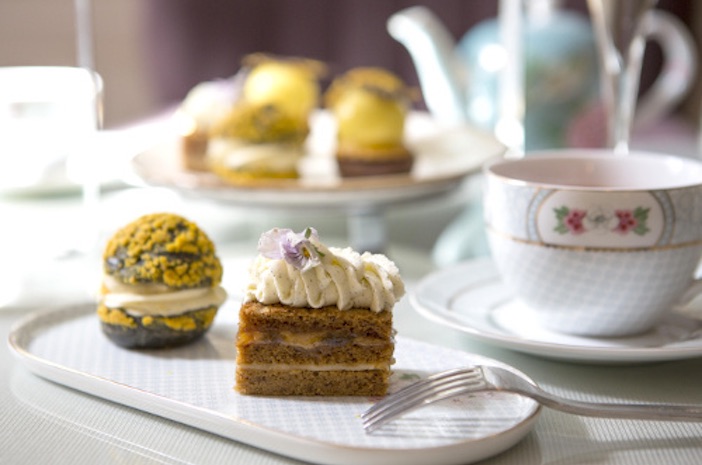 Just as we were groaning with the effort of it all, along came a basket of tiny scones, still warm from the oven, with the best jam I have ever tasted and proper solid cream (none of that whipped stuff here).
You can have a glass of champagne to help it all down and the tea is served in proper china teapots with accompanying china cups and saucers decorated with the kinds of flowers you'd find in an English country garden. It all conjures up a feeling of old-fashioned sophistication and nostalgia. It's also absolutely delicious. And you won't need to eat for a week….
The Honey Afternoon Tea with unlimited Rosé Wine or Prosecco is £45pp or £30pp on its own. Buzzy Bees Afternoon Tea is £18pp and available at weekends and during school holidays, bumble bee deeply boppers available whilst stocks last. Available 12noon- 6pm. For more information, visit www.sterminshotel.co.uk.
'The Good Bee: A Celebration of Bees and How to Save Them' by Alison Benjamin and Brian McCallum is out now in hardback, priced £9.99 (Michael O'Mara Books),available upon request at your afternoon tea booking, limited stock available.