It's back. After a two-year hiatus – for reasons you might imagine – our Home from Home column returns to the Arb, in which travel writer Jess Baldwin, brood in hand, sources the finest staycation properties in the land, from tucked-away gems oozing bucolic charm to penthouses that would make a Mayfair estate agent wince. First up, an enviable bolt-hole in rural Suffolk…
There's something magical about dawn, that moment of anticipation before the first rays of sun transform the world around us. I'm contemplating this whilst collapsed in a dishevelled heap, in the middle of a freshly-ploughed field, transfixed as an enormous blood red sun floats up from the horizon. I know this is an ephemeral show, so I ignore the prancing deer and playful rabbits, dedicating my full attention to the now crimson sun, as it paints the sky around me and turns every drop of dew into a sparkling diamond.
I dash on, past hedgerows overflowing with wild daffodils, ducking beneath branches heavy with blossom, eager to reach the 'chocolate box' village of Kersey in time to watch the now orange sun devour it, cottage by cottage.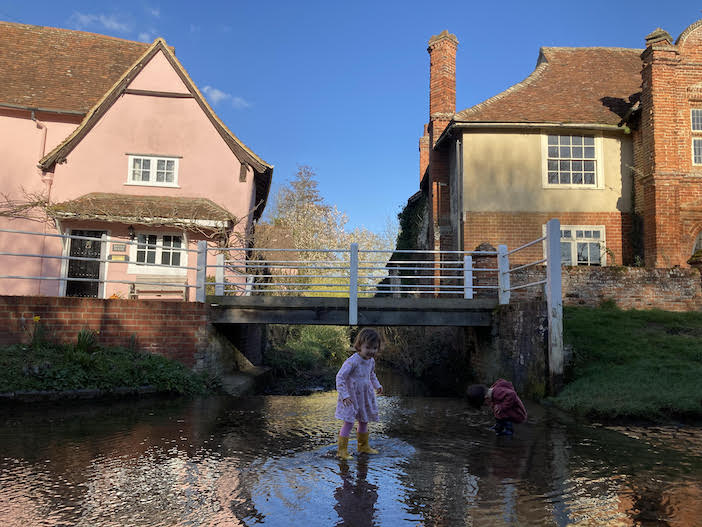 Kersey itself is a big dipper of a village, with the main street's endearing honesty stalls and wonderfully wonky medieval homes cascading from the hilltop church, right down down into the gully of the valley, where an ancient ford, known locally as 'the splash', flows through its heart, much to the delight of a paddling children and drifting Muscovy ducks.
I stand, panting in the lofty graveyard, the village beneath me as Kersey's cottages are illuminated, one by one, as if introducing themselves; chalky white, primrose yellow, burnt orange and Suffolk pink homes spring from the darkness. Yet, apart from the antique lanterns which crown their tiny doorways, there's no sign of human life; no plumes of smoke coming from the ancient chimneys, no light coming from the antique oil lamps. Just the thrum of the dawn chorus and the aching call of a cockerel somewhere deep in the valley. Yes, this must be Kersey at its most magical.
Despite wanting to savour every second of the final act, I know at least one house in this historic village is awake: The Old Drift House. This pretty pink 16th century thatched cottage is part of the Premier Cottages portfolio and inside its original wattle and daub walls await three children, chomping at the bit to play its baby grand piano, gallop around its glorious flower-filled garden and unlock the sweet Wendy house which hides within its fauna.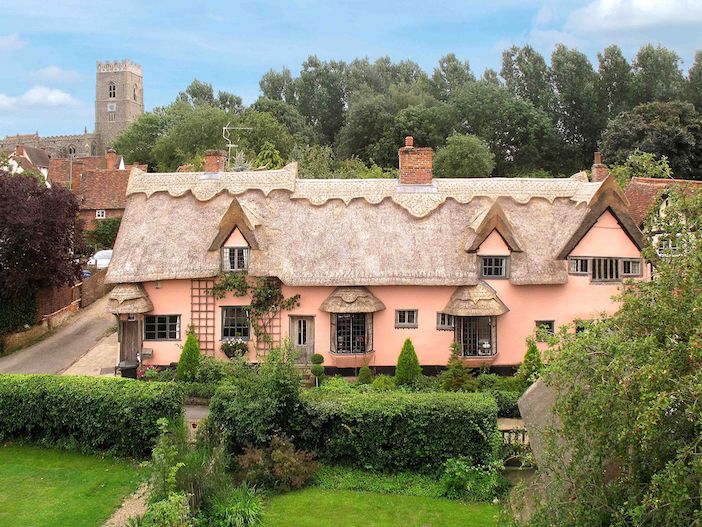 Like much of Kersey, the grade II listed property was once a weaver's cottage, producing Kersey cloth. As finer fabrics became available, the industry fell into sharp decline, causing the once grand house to be split into three smaller, more humble dwellings. Today, guests once again have the full run of this historic property, which boasts four double bedrooms, three bathrooms and an enclosed garden overlooking the church. Tucked down a peaceful side street, the 5* holiday let is just steps away from miles of countryside walks, the infamous splash and The Bell, now the village's only pub, where an al fresco pint comes with a side order of bleating goats and free-roaming chickens- much to the children's delight.
Unsurprisingly, travel writers get pretty itchy feet when away, eager to get out and explore further afield. So, feeling totally content in the village in which I'm staying in is a rarity. But I could quite happily have spent my entire weekend simply pottering around The Old Drift House's enchanting garden, people watching from my velvet lounger through its leadlight windows and attempting (not entirely successfully) to nail Fur Elise on the piano for the umpteenth time.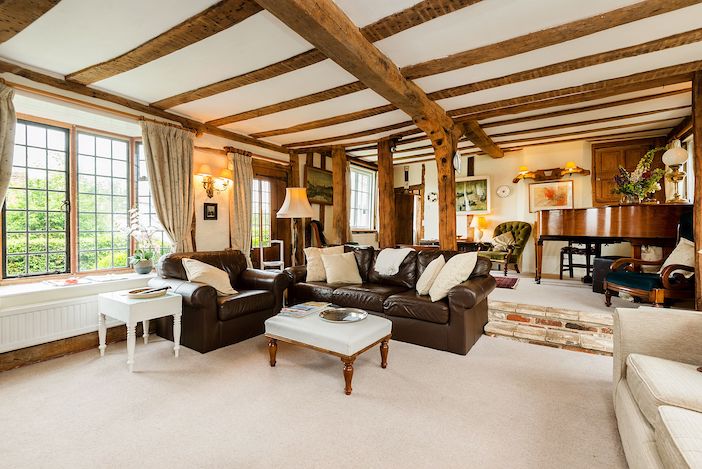 However, to lockdown in The Old Drift House, would have done a disservice to its fantastic location; buried deep in the heart of stunning Constable country, surrounded by historic wool towns and within striking distance of the Suffolk coast. It's fair to say that picturesque Kersey, despite being the end destination for many a day-tripper, is in fact the perfect springboard for Suffolk adventures.
Just a few minutes' drive away is Kersey's elegant nineteenth century mill. Residing within 18 acres of manicured gardens, bubbling brooks and daffodil-dotted lawns, the elegant Georgian-fronted mill and its maltings boast a cluster of sweet independent shops and studios, a friendly café and a playground, where we never met another soul. Five minutes in the other direction, takes you to Hollow Tree Farm, home to a farm trail and a café which cooks a cracking fry up. It also has a superb indoor farmers market which sells everything from fresh veg and prime cuts to homemade cakes and farm-to-fork ready meals – basically, everything you need to cheat your way through a self-catering holiday in style. Slightly further afield, our morning in tranquil Flatford saw us literally walking through Constable paintings, like The Hay Wain and past Willy Lott's house – a surreal experience.
Those keen to explore the county's famous wool towns are spoilt for choice, with Hadleigh's handsome high street and riverside walk just a stone's throw away. Fifteen minutes away are Lavenham's sweet tearooms and pristine medieval merchant's houses and slightly further afield, is picturesque Long Melford. Likewise, some of the best spots along the Suffolk coast are also within easy reach. Fish and chips at Felixtowe Ferry was tempting, but instead we embarked on a nostalgic trip to my childhood haunt of Pin Mill. Known for the old Thames barges and rusty houseboats which line its shore and the abandoned dinghies which lay submerged within its muddy river bed, Pin Mill was a regular pit stop when I was a reluctant and seasick childhood skipper aboard our floating prison, sorry, I mean family yacht, ironically named, New Dawn.
Now, with my feet firmly on dry land, I can see Pin Mill's appeal far more clearly. Low tide offers hours of shoreline walks, collecting pearl-lined shells, hunting crabs and inspecting barges before heading to the Butt & Oyster's much photographed terrace, to watch tide come in, giving life to the beached vessels once again. I can safely say that I prefer my trips to Pin Mill when I know I have the comforts of a luxury holiday cottage to return to and not a claustrophobic berth, a hissing gas stove, a Baltic outdoor shower and an unreliable lavatory.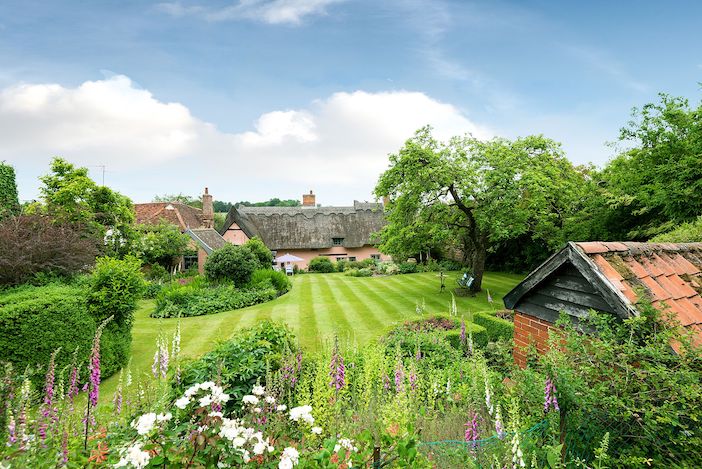 So, with my pockets heavy with pearly shells (which I still believe are treasure,) we bid farewell to the River Orwell, destined for our last night at The Old Drift House. As the sun set on our weekend in Kersey, there was just time for one final glass of bubbly in the garden. No sooner had I popped the cork, and the church bells began to ring out, reverberating around the ancient streets for a good hour as the sun abandoned each cottage, one by one – Suffolk pink, burnt orange, primrose yellow, white… as they all bid farewell for the last time.
Dusk, yes dusk, must be Kersey at its most magical.
Premier Cottages' collection features almost 1,000 four and five-star self-catering cottages across the UK. Properties range from small, romantic boltholes to large family-friendly country estates. The collection includes pet-friendly accommodation. It also offers the widest range of accessible properties in the UK and many properties have onsite facilities like swimming pools, gyms, spas, indoor games rooms and children's play areas.
A week's stay in the Old Drift House for eight guests starts from £1250 and a three-night break starts from £950. (www.premiercottages.co.uk, 01582 763533).
Photos by the author