On the shores of Catalonia, framed by the mountains of the Parc National del Garraf and the Mediterranean, lies Sitges – Barcelona's characterful, cultured, even slightly lofty, little sister. A seafront promenade boasts grand mansions, its compact old town and surrounding streets brim with shops, restaurants and a panoply of bars and nightclubs. Across its cultural spectrum, at one end the Maricel Museum and Cau Ferrat Museum showcase Catalan and other Spanish art, and at the other it is known for a horror film festival that attracts fans and filmmakers alike from around the globe.
That cultural diversity is no understatement either; Sitges, often referred to as one of the gay capitals of Europe, makes for a welcome escape for all comers. It's certainly worth the half hour drive to escape the bustle of Barcelona, not to mention the other gargantuan resorts along Spain's eastern coast, particularly when one can set up camp in the recently renovated Dolce Sitges, the only five-star hotel in the town.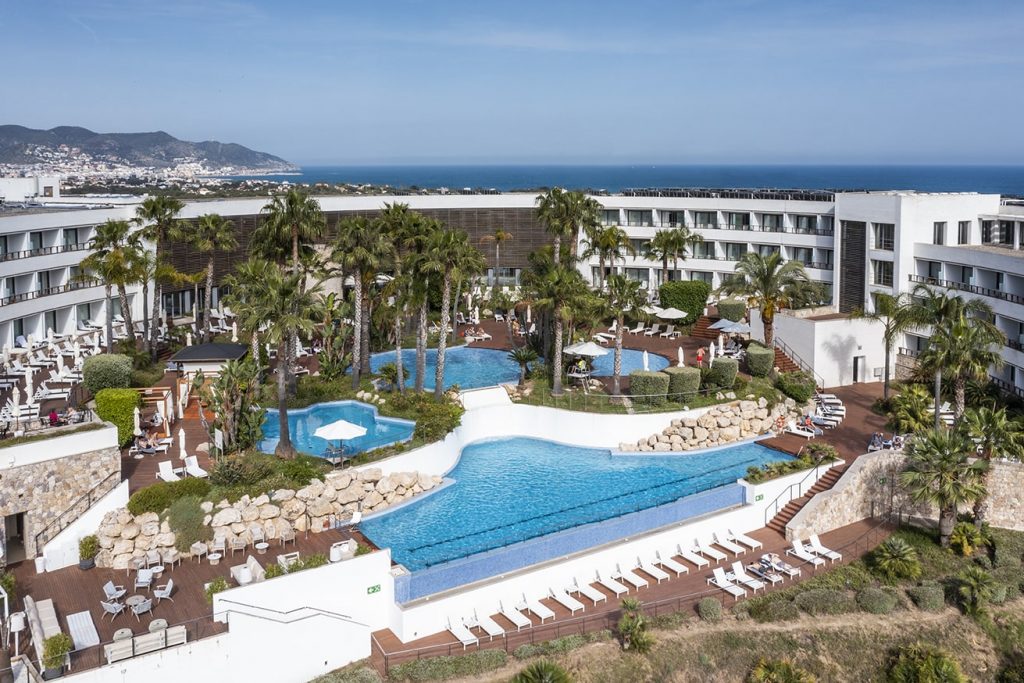 From a fun-filled family getaway, a solo retreat or a romantic stay for two, this charming hotel is an oasis in the heart of the Mediterranean. For my part, my box-ticking needs were a little more conventional: delicious food, plenty of relaxation time, a dash of indulgence – not to mention guaranteed good weather (even escaping UK heatwaves).
A never-ending catwalk-esque lounge gives the first hint at the new look: each of the rooms shows off a contemporary style and a colour palette inspired by the Mediterranean waters surrounding the town. The natural light, minimalist decorations and softly coloured furnishings, alongside the rooms' array of high standard amenities, make this the perfect sanctuary for a holiday.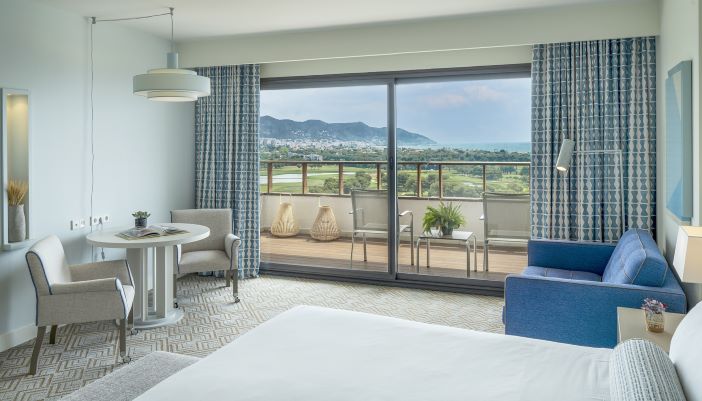 Each morning, I fuelled myself with a cup of coffee on my sea-view balcony, overlooking the greenery of Terramar golf course below. At Dolce Sitges, all rooms have either a spectacular sea view, a peaceful poolside setting or their own hot tub.
The hotel has 263 rooms, yet even at 99 per cent occupancy there's a feeling of tranquillity. While we were spoilt for choice with four separate swimming pools, it was the garden – home to a vintage Volkswagen camper van and with panoramic views out to sea – where I felt most at peace.
A sunset dinner on the terrace of Restaurant Terrassa La Punta was in store for our first night and we were introduced to executive chef Jaume Balada. He explained how his creative process starts on paper, escalates to the kitchen, crescendos on the plate and ends with satisfied taste buds. Using locally sourced ingredients, Balada's dishes pay homage to the hotel's Mediterranean landscape.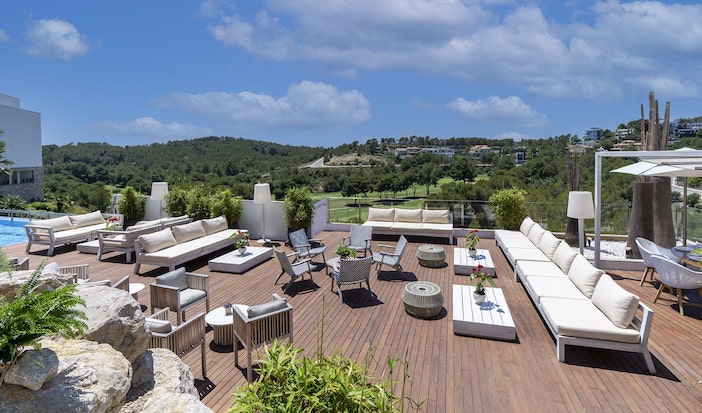 Once the night started to draw in, Bar Malvasia, located in the hotel's open-plan lounge space, was the ideal setting for our nightcap. We indulged in an array of signature cocktails, followed by a Dolce Sitges' take on a classic gin and tonic. It was here I learnt that gin was once believed to be medicinal, meaning my regular G&Ts can now be seen as a health necessity.
All four of the hotel's outdoor swimming pools are solar-heated, part of an array of sustainability credentials. Nestled under lush greenery, you'll find a shallow pool suitable for children as well as an infinity pool with views of Garraf National Park. For a poolside bite to eat, there's the Deli Bar, and Oasis Pool Bar offers after-dip drinks.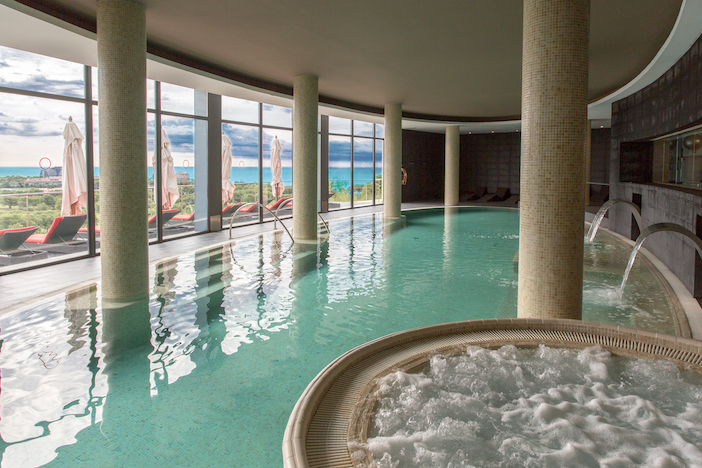 Dolce Vital Spa, the hotel's wellness sanctuary, was where I had planned to spend my mornings with its 24/7 gym, heated indoor pool, Jacuzzi, Finnish sauna, steam room and array of treatments. However, Restaurant Verema is where I found myself instead, with its sculptural spiral staircase leading to a generous breakfast buffet and, once again, soothing panoramic sea views.
If you can be enticed away from the four outdoor pools, the six different restaurants and bars and the Dolce Vital Spa, then the town of Sitges, with its whitewashed buildings, narrow cobbled streets, blissful beaches and local culture, awaits. The hotel also offers a seasonal shuttle service into Barcelona. I am yet to visit the much-loved city, but if it's anything like its neighbouring town of Sitges it already has my heart.
Part of the Wyndham group, Dolce Sitges holds a TripAdvisor Certificate of Excellence 2022. For more information, including featured offers, things to do in Sitges, and for bookings, please visit www.dolcesitges.com.