There was a time when I spent many a weekend in luxury hotels; scrutinising thread counts and critiquing topiary, all under the guise of work. However, three children on, and the butlers, the room service and the spas are an all but distant memory, an out of reach temptation, like a date with Idris Elba or finishing a cup of tea while it's still hot. With every weekend of domesticity that passes, my longing for a 5* stay intensifies.
I'm not claiming that a stay en masse isn't possible. I am saying that it is cruel. Not to the hotel, not the other guests, but to ourselves! Checking into a 5* retreat with the trio would be a little bit like sending a recovering alcoholic to Las Vegas, or a newly-declared vegan to St. John's, with temptations that we can't fully enjoy all around us. Juggling tasting menus while spoon-feeding my twins or soaking in the jacuzzi whilst simultaneously attempting to keep the pair afloat, well, it's just not quite the same now, is it.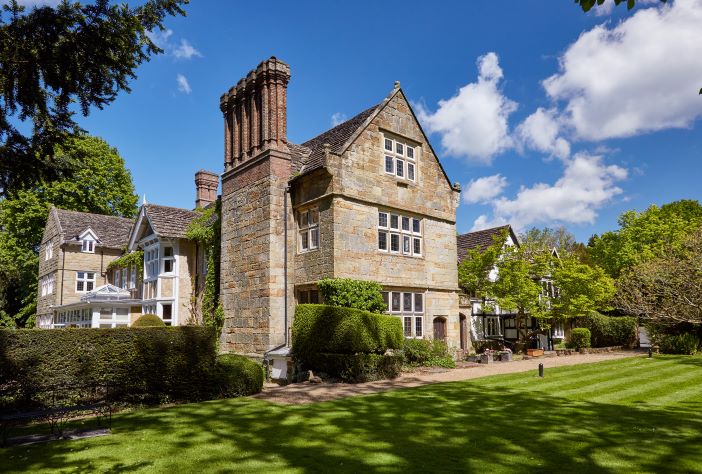 So, with childcare arranged and my best friend onboard, I was all set for my foray back into the world of luxury hotels… for one night only. The pressure was on, after such a long wait, it had to be perfect. As a country gal, I longed for a bucolic retreat, with old school glamour oozing from every wonky wall and miles of country walks at my doorstep. A spa was a must, as was a fine dining restaurant – well, if you only escape once in a blue moon, you may as well go the whole hog.
Introducing…Ockenden Manor. Cocooned by nine acres of glorious grounds which give way to Cuckfield Park before drifting off towards the hazy South Downs, the Elizabethan mansion is a dreamy tangle of roaring log fires, dimly-lit snugs, formal lounges. It's fine dining restaurant spills out onto a sun-drenched terrace overlooking the park and has award winning chef Stephen Crane at the helm. In stark contrast, a stone's throw away from this historic property, is the hotel's contemporary spa and gym, which houses more modern guestrooms alongside a bevy of heat experience rooms, a walk-through rainforest shower, a floatation tank, various whirlpools and a statement indoor-outdoor pool, which is fed by the hotel's own underground spring.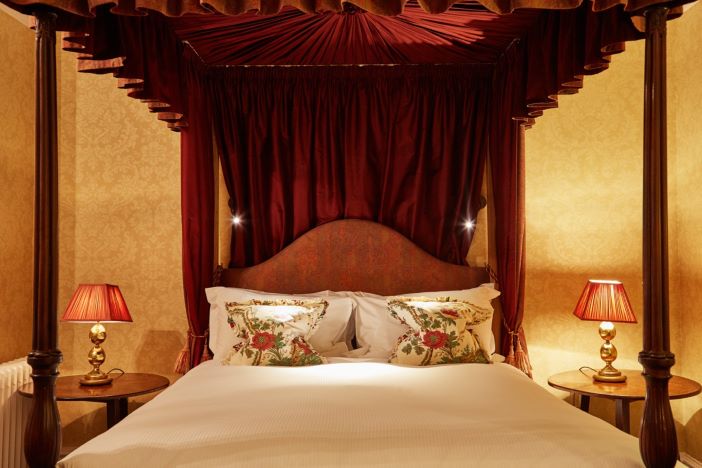 "I am afraid we are full and couldn't upgrade you, Ms Baldwin," uttered the apologetic and ever dapper manager, Adam, sporting one of his infamously crisp Liberty print floral shirts. I laughed it off, while crying inside, as he led me to my room. So, you can imagine my gleeful confusion as he unlocked the door to 'Charles'. The only room to sport its own fire, Charles also boasts a cosy lounge area, a slick bathroom and a four-poster bed of mammoth proportions. I have never been so glad not to be upgraded.
In fact, I could happily have spent the entire weekend levitating on its cloud-like duvet, but that would mean missing one of England's prettiest Tudor villages: Cuckfield. Here, clawfoot knockers and English Heritage plaques grace historic homes in every colour of the rainbow, as oldy worldy lanterns swing in the almost-salty breeze, illuminating hobbit-sized doorways. Upmarket interior and antique stores mingle with galleries and gift shops and the local chippy and artisan café go head-to-head, treating the higgledy-piggledy streets to delicious wafts of freshly brewed coffee and just-salted chips. Beyond the high street's pistachio and primrose facades, hiking trails snake their way through ancient forests, over trickling streams and past sun-dappled woods, carpeted in bluebells. The views from the village church, towards the sea, serve as a reminder that equally colourful Brighton is just a short drive away, as are the rolling South Downs and iconic opera house, Glyndebourne.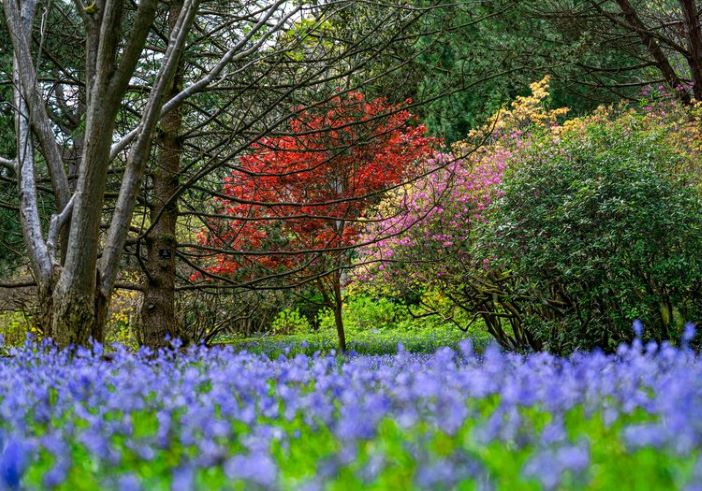 The hotel is haloed by unspoilt countryside, but fearful of spending too much of our precious time away from the luxury to which we had quickly grown accustomed, we decided to connect with nature at nearby Leonardslee Lakes & Gardens. Having been lost from public sight for almost a decade, this recently re-opened Grade I listed estate dates back to 1801 and sprawls 240-acres, with its Italianate mansion, home to its Michelin-starred restaurant, Interlude, crowning its verdant valley.
Peaceful walkways wind their way through dense English woodlands, into famous rock gardens, past a wallaby enclosure, along colourful azalea-fringed paths and down into the valley's gulley, where seven tranquil lakes lay at its heart. Our visit coincided with The Walk of Life exhibition, which transformed the estate into a living art gallery, with stunning statues from South African sculptor Anton Smit peppering the gardens.
There are lots of picnic spots and cafes along the way, but we opted for afternoon tea courtesy of Michelin-starred chef Jean Delport. We decided on the savoury menu, which saw the usual finger sandwiches replaced with a deliciously smooth chicken liver parfait with slices of just-crisp raisin brioche. This was followed by indulgent scones with thick clotted cream, homemade jam and lemon curd. Then came a tower of Wonderland-worthy petit fours.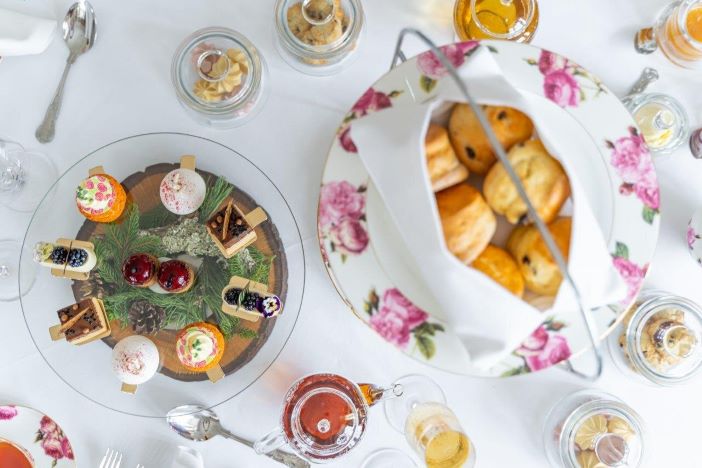 Just as we hit bursting point, our charming waitress started discussing further tea and cake options with us – it had taken me five years to finish a hot cup of tea, but now I was drowning in the stuff – bliss! Having been a restaurant reviewer in my former life, I have indulged in many an afternoon tea and I can safely say that this is my favourite to date – sorry Ritz. Plus, it was entirely guilt free, with one last hike around the gardens awaiting us before we headed back to Ockenden.
The wonderful thing about choosing an historic hotel, like Ockenden, over a modern one, is the stories which fill its ancient walls. Here, the usual hotel titbits of which celebrity checked-in to which room are dwarfed by tales of near-death experiences and aristocratic heritage. I am reminded of this every time Annika find ourselves huddled around one of the property's many hearths, for in 1608, the property was ravaged by fire. It was later rebuilt, embarking on a colourful history as a stately home, a Jewish boy's school, a WW2 base for Canadian troops and finally, as a family-run 5* hotel and spa.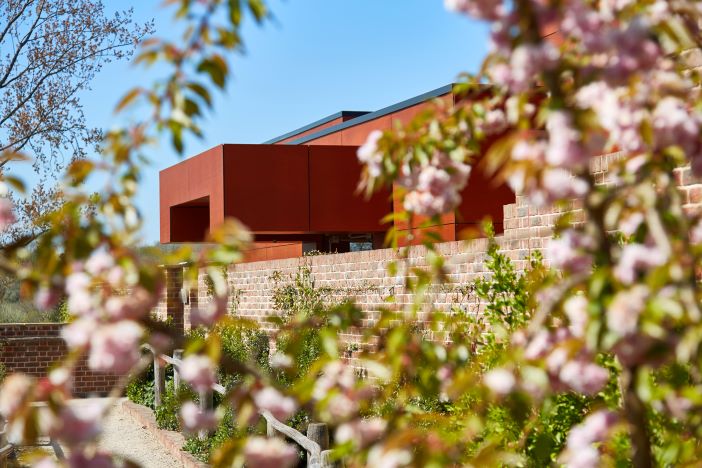 Arriving at the spa is a discombobulating experience. Having grown used to the Elizabethan manor's latticed windows and flame-lit nooks, the light and bright space age pamper palace is the last thing you expect to find hiding in the remanence of the Victorian walled garden – not that I'm complaining. Here, we indulged in well-executed facials and spent hours collapsed in the sauna, gossiping in the chill out area and getting totally battered by a storm in the outdoor hot tub whilst attempting to shield our champagne flutes from the rain.
Finally, we admitted defeat, hauling our bedraggled but happy selves back into the warmth of the spa, where a string of relaxed-looking just-pampered mothers carried their float-laden babies towards to the main pool for family swim time, discussing what to order at dinner that night. Hmmm, maybe a stay en masse isn't totally off the cards. Watch out Idris.
Ockenden Manor is a hotel of two halves – a glamorous Elizabethan manor house with 28 lavishly decorated rooms, and a 21st century architecturally-contemporary spa and gymnasium. The award-winning restaurant overlooks the South Downs National Park and features the finest locally-sourced ingredients and Sussex wine. Overnight stays from £180 per room per night.
Book with Pride of Britain Hotels, a carefully-curated collection of the finest hotels across the British Isles. www.prideofbritainhotels.com / 0800 089 3929.