Talk about a room with a view. From the 45th floor, the city is laid out beneath you like a map. I can see St Paul's, the London Eye, the river, Southwark Cathedral, Borough Market, numerous bridges, trains snaking their way into London Bridge Station, car parks (mostly empty) – you realise how far fewer cars there are than in normal times. Given the building's structure, inside my room I hear nothing of the capital. It is quite silent, like a city holding its breath.
Of course, there's only one place I could be. I'm in the Shangri-la Hotel in the Shard and it's a stay that turns out to be full of surprises. I am not, of course, surprised by the luxury bedding, the high-tech binos on the desk or the super-fast broadband. I'm only a little surprised to find that the bathroom has a spa loo (heated seat, built-in shower).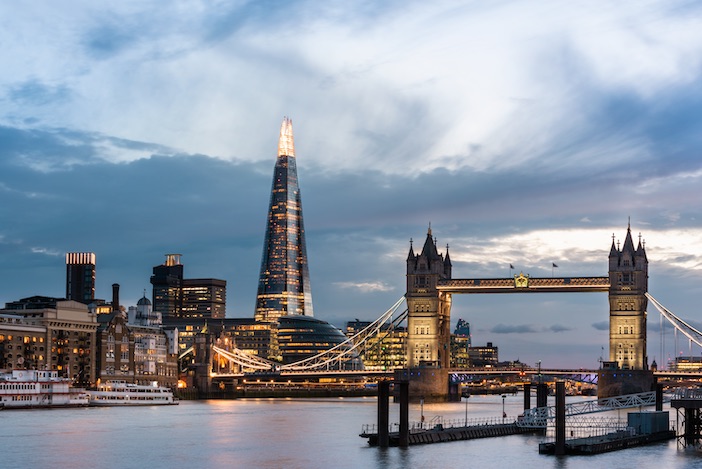 No, the biggest surprise in this iconic building is that just being here is so peaceful, it's an experience that borders on the meditative. You are quite literally above it all and your view of the city is something like an astronaut's view of earth from space. You get quite literally a different perspective in every sense.
On check-in, I was asked if I had any plans for the day. If I had, I would have cancelled them anyway – just watching city life from up here was enough. In fact, I did have one plan, all part of the special package that Shangri-la has on right now. It's called "Summer in the Sky" which is slightly confusing as the offer goes on till just before Christmas. And, as well as free parking, breakfast, 20% discount in the bars and restaurant, you get a bath butler. Really.
Mine was called Sidney and he turned up at 4.30 in the afternoon with a bag full of goodies. These included bath oils, a bag of dried flowers and herbs and bath scrub all from Neal's Yard Apothecary in Covent Garden. He disappeared into the bathroom and emerged ten minutes later to tell me all was ready. I discovered a bubble bath with foam around three or four inches deep and flecked with petals – all so sybaritic it would have brought a blush to the cheeks of a 1950s film star.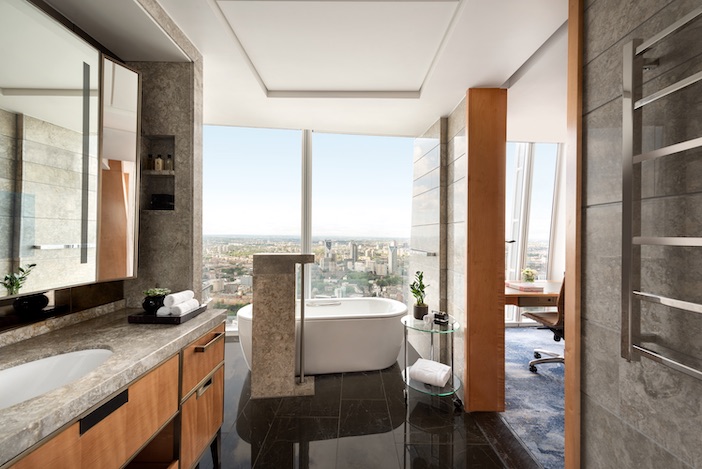 The most important thing about the bath, though, is that it stands in the centre of the bathroom and the views extend not just ahead of you but to the side as well through the floor-to-ceiling windows. So yet more meditative gazing…
After all this, it was dinner at Ting, the hotel's restaurant that specialises in both English and Asian cuisine – and a different view. Now it was Tower Bridge and the Tower of London and, immediately below us, a toy boat aka HMS Belfast. The sun started to set, the lights began to come on and from moment to moment, the city just kept on changing. Does anyone ever get bored with it, I asked our charming waitress, Jennifer. No, she replied, that's just not possible.
Back in the room I couldn't bear to close the blinds – after all, I might miss something. And in the early morning I woke to a sunrise shining back from the glass-fronted buildings across the capital, reflecting the light on to their neighbours, like a conversation.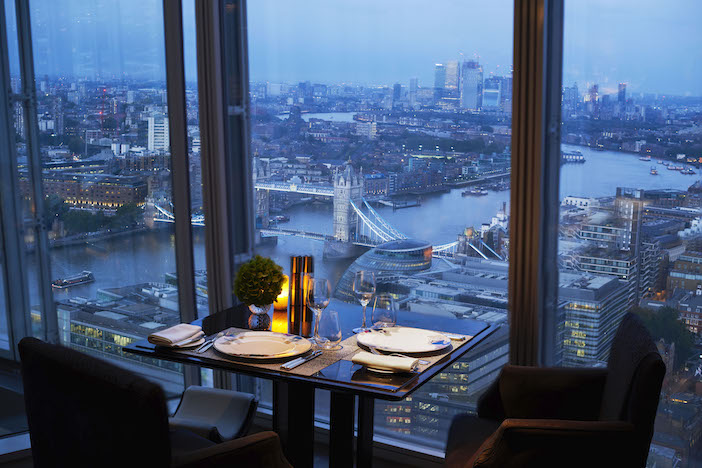 The next morning after checking out, it was time to check in at Harvey Nicks for the last part of the package. This is a couple of hours with a personal shopper and it is a revelation. If you're stuck in a fashion rut (and most of us are, let's face it), this is a process that will open your eyes to new possibilities. My consultant, Gaynor, was brilliant. So, you have a phone chat with her before you go so she has an idea of your shape, size and current taste in clothes. And by the time you arrive, she has already selected a closet-full of possibilities, not just clothes but footwear, bags, scarves, even sunglasses. To get the party started, she gives you a glass of champagne.
You're not pressured to buy anything, you can try on as many or as few things as you like and, as you get to know each other more and Gaynor gets an idea of what you might be after, more clothes appear, along with all kinds of new ideas and insights. This is a lot of fun. It's also – if you're looking for inspiration – quite a clever idea for a Christmas treat. Just saying, chaps…
From £589 per night for two including breakfast, room upgrade, complimentary parking, Harvey Nichols personal shopping experience, deluxe bath experience and 20% discount in the hotel's bars and restaurant. For more information, visit www.shangri-la.com.
Photographs by Philip Reed