Since having my wings clipped by a global pandemic, I now savour every second of a weekend away, even the packing. A decade in and I'm rather adept at throwing together an on-point capsule wardrobe. Sailing in Croatia? Not a problem. Polo in St Tropez? Throw me my chaps. But a weekend in St. James's had me stumped. What's a lass to wear to this testosterone-filled bastion of gentlemen's clubs, gentlemen's shops and, well… gentlemen. I know slicking back the old locks and throwing on a power suit is à la mode, but I'm pretty sure I would look like a pre-pubescent boy at a funeral. Having finally come up with a suitable ensemble I trotted downstairs with my case. "You look like a French teacher,' declared my other half. With that, I raised one eyebrow and fled. Au revoir.
It was of course the jealousy speaking; fair play. Whilst an enthralling 48-hours of Disney and Duplo awaited him, I was bound for a girly weekend at Dukes Hotel. Yes, the Dukes Hotel. The Dukes Hotel which has proven irresistible to creatives, aristocrats and royals for over a century. Slip away from St handsome James's Street and its parade of exquisite bowler hats and cigar merchants, past Chopin's former abode, and you'll find yourself beneath the hotel's billowing Union Jack. Steeped in history, this iconic 5* hotel remains quintessentially British and unapologetically traditional. Dukes, is a land of curious quirks; from the tiny settee which greets you in its charming wood-panelled lift, to the secret passage which is said to link its famous bar to St. James' Palace – well, thirsty work all that pomp and ceremony.
Our home for the weekend, was the lavish Duke of Clarence Suite; a sprawling 2-bedroom penthouse gracing the hotel's 5th floor, with a sweet balcony gazing towards Clarence House. Taking in the vast emperor bed and gleaming marble bathroom we toasted our good fortune, whilst demolishing the welcome macaroons and champagne. Other than the clinking of glasses, it was silent. Could the crammed West End theatres and the thrum of Piccadilly really be just moments away? Of course, we had the royal parks to thank for this peaceful abode, with Green Park's lush lawns and St. James's Park's pelican-dotted lakes protecting us from the usual London hubbub.
Reluctantly, we bid our suite farewell, seeking sustenance on iconic Jermyn Street. Past the glinting windows of handcrafted Panama hats and extortionately expensive handmade shoes, to Fortnum & Mason's elegant eatery: 45 Jermyn St. The airy arena of curved burnt orange banquettes set against the brand's iconic pistachio green walls gives it sunny disposition, one that invites you to kickback and while away the day with fine wine and good friends. With a dedicated caviar trolley on call and flutes of champagne popping up around us like whack a mole, 45 Jermyn St's desire to delight is as clear as is its dedication to honouring the seasons. Having spent the runup to our visit eyeing up its tantalising truffle menu, on arrival, we found that we had missed truffle season… by a day. Now, it was all about 'roots and bones'.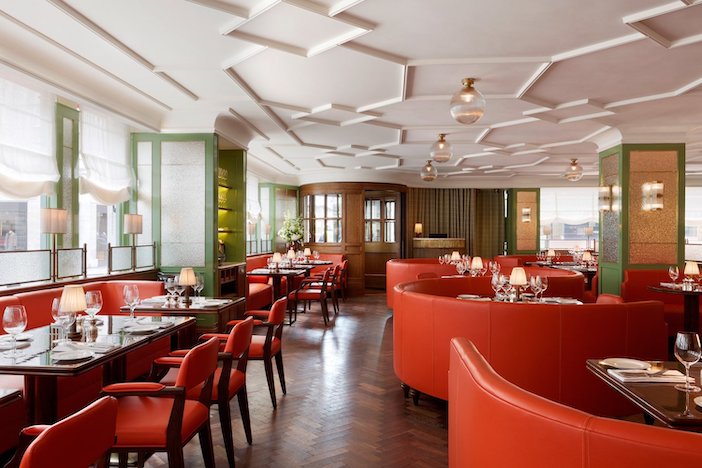 The embarrassingly satisfying melt-in-your-mouth roasted bone marrow with celeriac remoulade and buttery grilled sourdough still runs through my mind today. A tough act to follow. The caramelised onion risotto, topped with creamy White Lake goat's curd was delicious, but it was the worryingly quaffable sauvignon which got us talking. Before leaving, we had both ordered a case – the damage could have been worse, I could have ordered a pair of £6,000 handmade shoes from down the road. Despite being full, it was declared that any menu offering champagne floats and coupes of 'joy', warranted a look, and before I knew it, I was sinking my spoon into an enormous, jinglingly perfect souffle. Having enquired about a good old English brew I was confidently told, "we have any tea you could ever want," ah yes, the perks of having Fortnum & Mason as your mothership.
Having bid farewell to this pistachio-hued land of convivial bliss, we were bound for the Royal Albert Hall, to see Cirque du Soleil's new show, Kurios. This modern and sassy touring circus has been wowing crowds around the globe for 38 years, combining weird and wonderful acts from around the world in one non-stop, breath-stopping, eye-popping, jaw-dropping show. This year was no exception, with a steampunk-inspired extravaganza featuring everything from terrifying acrobatics and emotive trapeze performances, to hypnotic contortionists and tense mid-air juggling.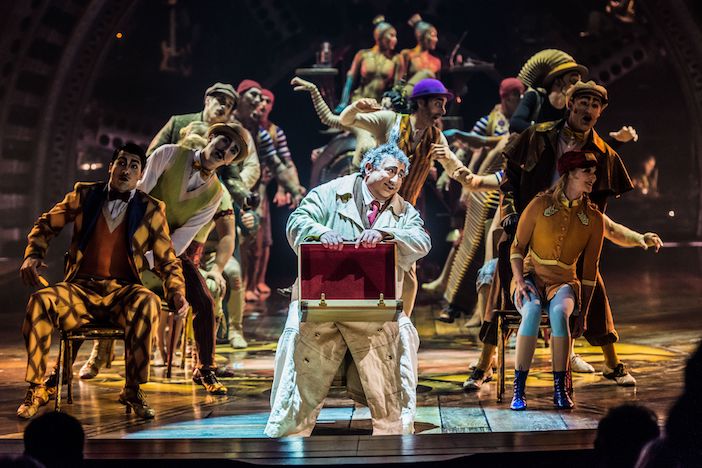 The show's a bit like a drunk night with an emotionally unstable friend; taking you on a rollercoaster of laughter, shock, terror, confusion and sheer disbelief. The plot can get a little lost at times, but who cares when you have world-class acrobats somersaulting above your head. It takes a while to get in full swing, with the first half easing you in to this bizarre world, but after two spoons of your interval ice cream, you are dying to dive back in, and by the end, you're fighting the urge to spring out of your seat for a standing ovation.
Alas, once again, we were leaving one of London's finest venues, but the thought of jumping in the capital's most decadent lift and ascending to our penthouse softened the blow, as did our dinner plans. Great British Restaurant (GBR) is stylish, relaxed and achingly patriotic. Under the helm of Executive Chef Nigel Mendham, it takes impeccably-sourced quality British fare and elevates it, through unexpected flavour and texture combinations. With our minds still in a steampunk spin, we gave up trying to whittle it down to one dish, instead ordering a selection of small plates to share. A sobering feast of butter-drizzled artichokes and feta-topped smoky aubergine ensued. Then came the succulent Hispi cabbage with crunchy hazelnuts, joined by a melange of heritage beets; salted, baked and pickled, and topped with a satisfyingly chewy granola concoction.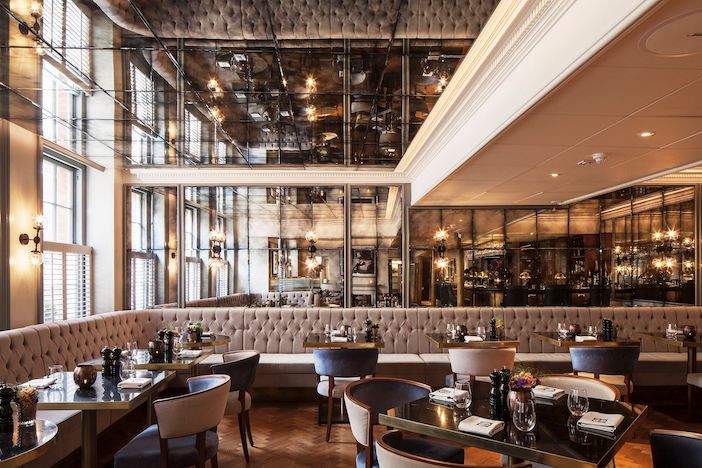 Before bed, there was time for a quick nightcap. We sauntered towards the bar (sauntered sounds so much better than stumbled, doesn't it?) and waited a moment, watching a steady stream of suited and booted American chaps pleading to be let in. "We are full, gentlemen," said the waiter. "We will wait" said one of the men, with determination. "No, I mean we are full until we close" he reiterated, with the polite weariness of a man that has uttered the same words all evening, every evening, forever. "Then we will drink them in the foyer," he insisted, to no avail. Snaking through the negotiations, we entered a hush hush room, filled with beautifully upholstered sapphire chairs and tiny tables, each displaying perfectly-frosted glasses, nibbles and nuts.
Soon, a dapper martini maestro pulled up at our table, donning his impeccably white gloves and wheeling in his rosewood trolley with the concentration of a surgeon about to make his first incision. I usually reach for a vino over a cocktail, but it would be a travesty to leave Dukes without tasting one of their famous martinis – they are said to have made such an impact on Ian Flemming, that they led him to coin James Bond's classic line, "shaken, not stirred." After a quick lesson in all things martini, we settled on a Vesper; part Berry Bro's & Rudd London Dry Gin, part Potocki Polish vodka, a dash of the bar manager's homemade white vermouth and a sliver of an Amalfi coast lemon.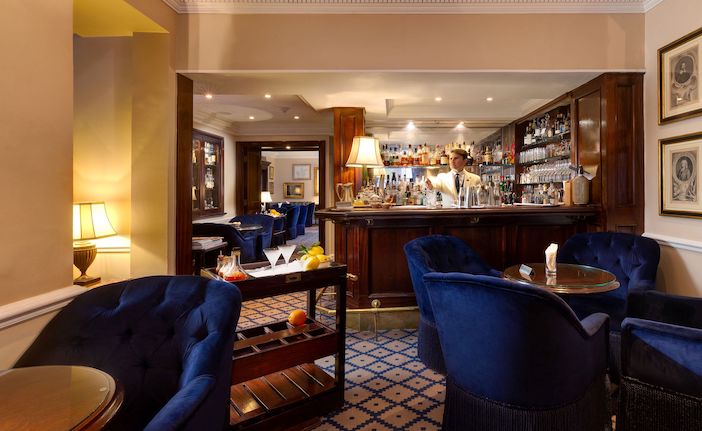 I'm pretty sure that the last time that I knowingly ordered a drink containing this many shots, I was wearing cowboy boots in a salt-licked basement club in Brighton. I'll hazard a guess that it was around 2003, but my memory is hazy, funny that. This, however, was an entirely different experience and one which I intended to remember. Forget your standard eye-clinching, throat-scraping, breath-stopping neat spirit, and instead, imagine drinking ice-cold liquid silk with a fiery citrus finish, and you're getting close. As we sipped our new favourite tipple and took in our glorious surrounds, we saw the next immaculately tailored group arrive, begging for a taste of the famous Dukes martini. They left, deflated. I guess it takes more than a great power suit to open the doors around here after all.
Nightly rates at DUKES London in a DUKES room start from £425 inclusive of VAT and breakfast. For more information, please call 020 7491 4840 or visit www.dukeshotel.com.