Tenerife juts out of the crystal clear blue sea, greeting you with its 12-million-year-old volcanic bulge, all sharp edges and sheer drops to the ocean.
The most populated island in Spain, from a plane's eye view, looks quite deserted; bar the odd cluster of houses squeezed in where rare gaps in rugged land allows. Shiny poly tunnels and tightly packed lines of green crops reveal where the island sources its fresh produce, while cactuses, yellowed plantation and desert dry land, hints at the year-round heat. Taking up the prime, high ground, sun-drenched spots are thick blankets of banana plantation, around 150,000 metric tonnes of which are produced by the island annually.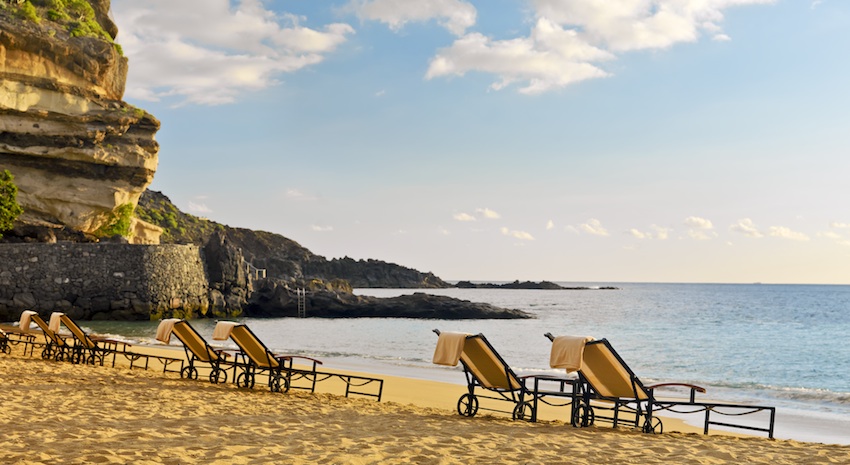 The largest of the Canary Islands, Tenerife boasts an average year-round, not to be sniffed at, daily temperature of 22 degrees Celsius and under 20 days of rain, giving it its nickname as the Island of Eternal Spring and making it perfect for impromptu almost-guaranteed sunshine getaways, when everything gets a little too much and one must escape the downpour and wind This. Very. Minute.
Centrally located between Gran Canaria, La Gomera and La Palma and just under 200 miles from the African coast, Tenerife is just over four hours and a world away from the daily grind of London. Also a world away is the smooth exit from Tenerife South airport, where there's none of that 'remove your passport from the cover' faff, Gatwick and co loves, or long drawn out security checks, just a speedy baggage collection and a nonchalant passport control which decide a quick glance of our faces is enough of an ID. In no time at all, we're smacked with 26 degrees, a cloudless sky, and a taxi rank of friendly drivers, waiting to take us to our destination.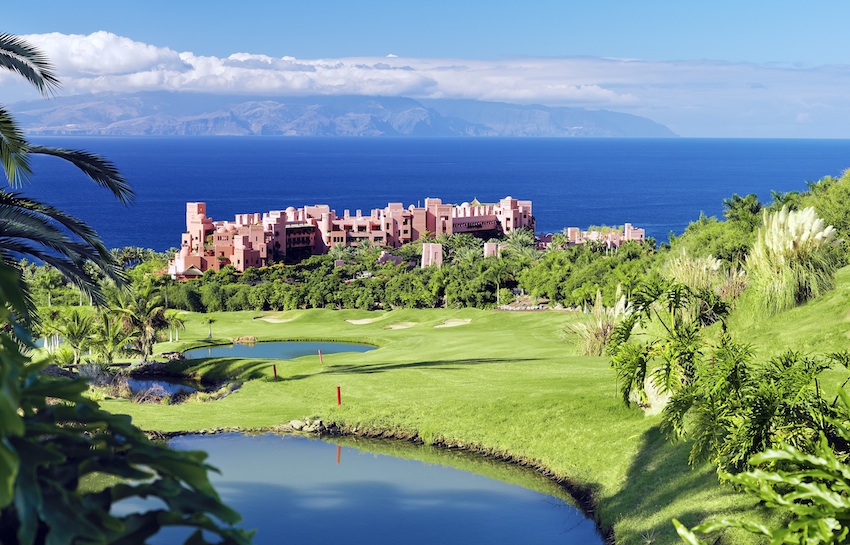 The 20km journey to the hotel in Guia de Isora on the southwest coast was accompanied by a talk through the landscape, where the driver pointed out volcanos along the way including one which Adam remembers from a childhood family holiday on Tenerife as the 'smelly egg one' due to its sulphur emissions: the UNESCO World Heritage Site of Mount Teide – also, at over 12,000 feet above sea level, the third largest volcano in the world and the highest point in Spain.
Just below this mighty mountain, sits our home for three nights and four days, the Ritz-Carlton owned, five-star Abama Golf & Spa Report. Moments after pulling off the motorway, it unfolds from nowhere,  like a burnt terracotta-coloured, intricately-formed Lego brick kingdom, accessed quite aptly, by bridge, with staff dressed in ninja outfits to scoop the luggage away and offer a cool beverage in its place.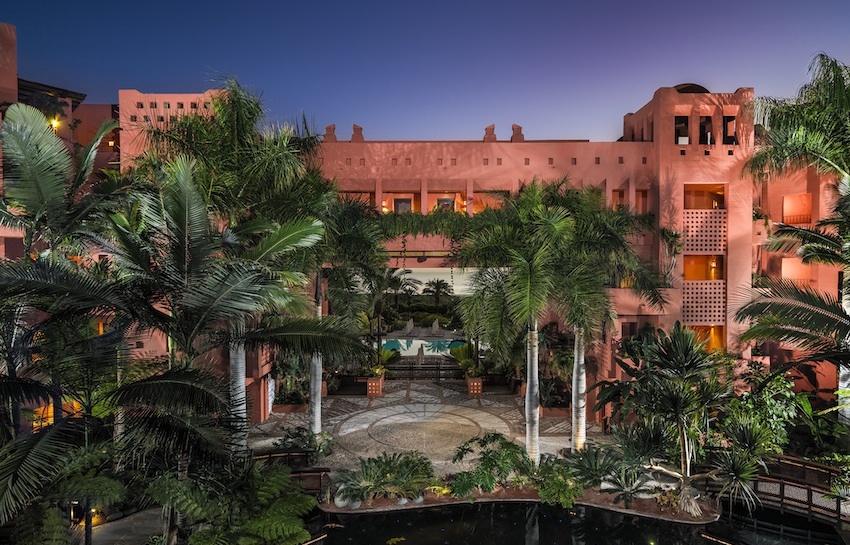 The foyer has that all-important just-stepped-into-a-5-star wow factor with grand piano, giant chandeliers and bowl of help yourself lolly pops (a nod to its family-friendliness), and a terrace decked with lounge-y Cafe del Mar-esque, blindingly white sofas winking from outside.
Moorish architecture and artefacts prevail throughout, from the main citadel which makes up the central dining and drinking area, to the abundance of lanterns casting mysterious shadows in arches and alleyways. This combined with Feng Shui arrangement and colours – the red of the building chosen to contrast with the green vegetation and blue waters – and tropical garden surrounding a pond filled with over sixty bright orange, yellow and white Koi Carp – big enough to feed a family of eight, if the hotel was so inclined – is meant to result in 'an oasis of tranquillity'.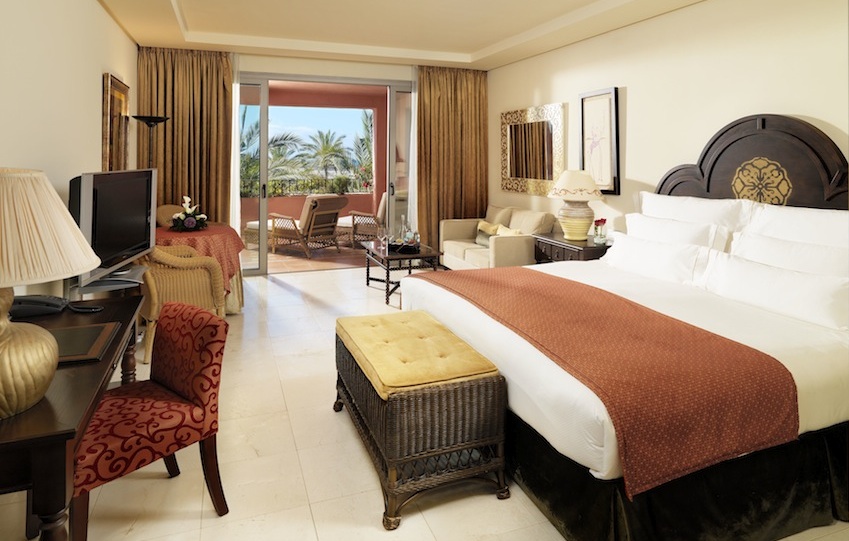 The bedrooms certainly achieve some of this calm, with views out to a glittering Atlantic Ocean, gently swaying palms and the pastel-coloured San Juan town glowing in the distance, being one; dainty dish of welcome charcuterie and olives, ready to take out on the sun-trap balcony, another. Sheets so soft they're borderline silk to the skin, and a swanky robe: part terry towel, part smoker's jacket, turning a walk from lagoon bubble bath to bed into a luxurious saunter.
Desperate to get out and enjoy the surroundings, but not wanting to hang with the toddlers in the main pool, we strolled five minutes down the way, along a road edged by fields of bananas in varying states of ripeness and through the hotel's lush sub-tropical fauna, to the prime 'adult-only' swimming spot found at El Mirador. An infinity pool looking over to the sea, blessed with secluding gardens, birdcage showers, a striped-pyjama-trousered-someone to greet you and layout your beds with towels, and then – just when you're thinking it's a little too hot for the English rose that you are – deliver cool mint and lemon-scented flannels to refresh and invigorate.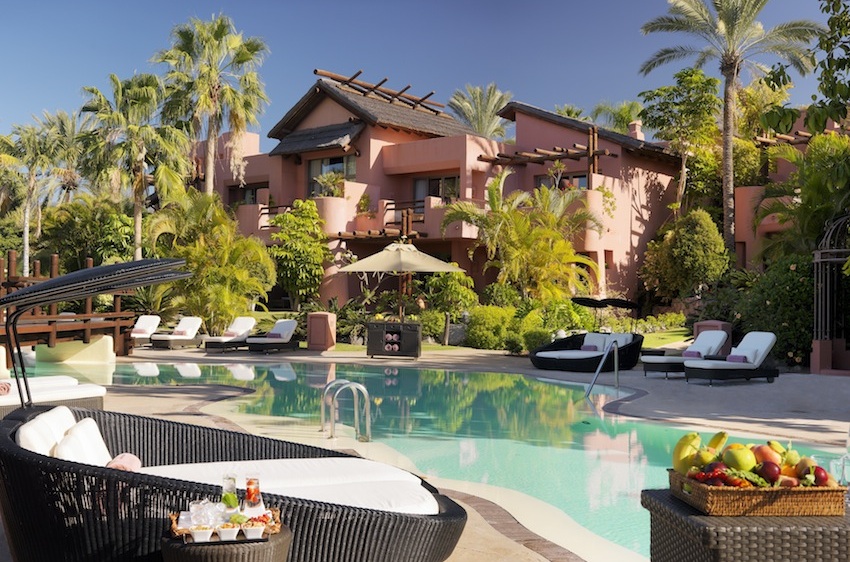 Further down the hill again, accessed by glass funicular lift, is a small, but perfectly formed beach coved by tall walls of black volcanic rock, providing plenty of swimming, bathing and cliff jumping away from the resort, yet still overseen by Abama's team to ensure your chosen bed is towelled up on arrival and a steady flow of beverages and food is on offer, should you wish to spend the day there. The beach restaurant offers finer dining and fishbowl-sized strawberry daiquiris for seeing in the sunset, and a line of complimentary, chauffeur-driven Abama golf carts on stand-by to take you back up the steep road when you're done. For the ball sport-inclined, the carts will transport you all the to the hotel's award-winning, Dave Thomas-designed, 18-hole golf course with its waterfalls, lakes and views to the sea, or one of seven tennis courts run by the Sanchez Casal Tennis Academy. Top class facilities completely wasted on us ping pong players.
'This place is amaze!,' says Adam, on the first night, as we share an elevator down to dinner with two people who look like holidays of this calibre are their full time hobby. 'Yes, it is very nice,' I follow in my best voice, like a scene out of Keeping up Appearances. Of course, he was referring to its winding lay-out; little nooks and crannies decked in lovely carved wood; the ease of getting lost if you don't concentrate as you walk; various lifts that need to be taken in a certain order, or series of stair cases, sometimes to nowhere, that make exploring either interesting or flustering, depending on how much time you have to while away. He was not, much to my relief, spouting some, recently picked up from the kids, shortened adjective.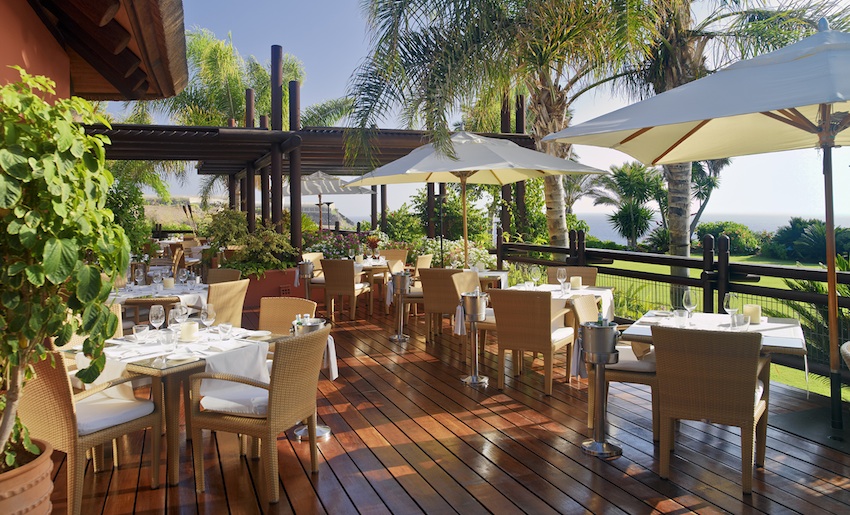 There are ten restaurants in all, two of which are Michelin – making choosing and reserving the only strenuous task of the trip. We opt for doorstop Argentinean steaks and Malbec at La Pampa on the first night and simple seafood and sunset at El Mirador on the last. Sandwiched in between we indulged in the most delicious and fun meal either of us has eaten, served over two relaxed hours at Michelin starred Kabuki, which kicked off with some just add water hot refresher towels, harking back to those 'magic' t-shirts, rife in the early 90s, and took us on a gastronomic journey melding Japanese cuisine with local ingredients, through fish cheeks on sweet potato, foie gras fried in sake, miso and ginger, quail eggs topped with black truffle, wagyu beef, oysters, clams, sashimi and more delicious sashimi, before culminating in lychee cheesecake garnished with sugared, Big Red tasting, Japanese mint, and a trio of homemade basil and citrus sakes. The two Michelin-starred M.B from Basque chef Martin Berastegui was sadly fully-booked, or we'd have squeezed in a visit there too.
It wasn't all sun, sun, sun; even paradise has to cloud over and darken the day sometimes, and on the one afternoon it did, it was a perfect excuse to walk the long corridors to the spa: all 2,500 sq metres of it, boasting a beehive of thermal rooms: herbal steam, hammam, sauna, tepidarium; a contrasting igloo with falling snow and a heart-stopping 16c plunge pool that feels like an army challenge, plus a Jacuzzi bordered with variously placed jets to tend to all limbs, and warm beds to flop onto for a little sleep after.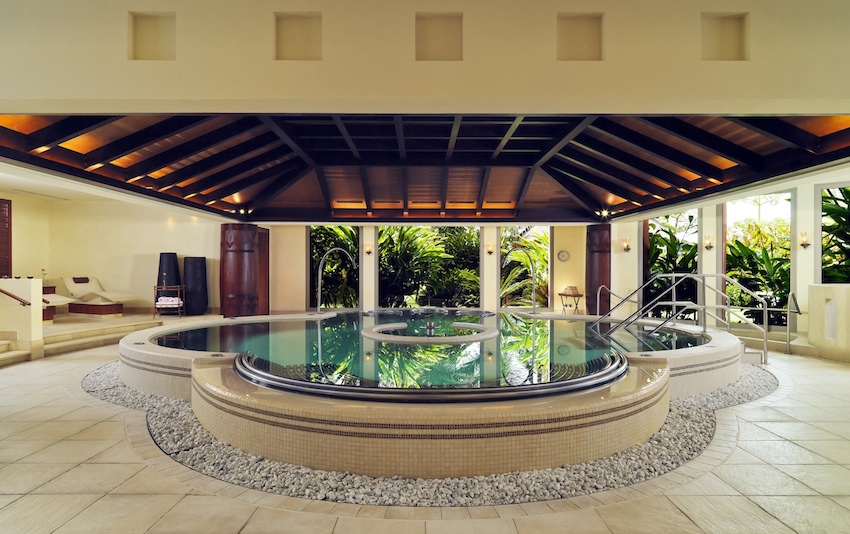 Just three nights and four days we spent in the warm climes of Tenerife's prime south westerly tip, in a merry-go-round of beach, to pool, to terrace to restaurant, to bed, to beach… yet we returned as rested as a fortnight away. The speedy airport process and quick transfer to and from the hotel, no doubt accountable for some of that, but it's largely the rose-tinted, Feng Shui world of Abama, where snoozing, reading, sunbathing and eating, is about as strenuous as it gets…