Angela Clutton journeys to the lakes and discovers eclectic art, the finest of dining and a kitchen garden like no other – a family home with a difference – at the recently opened Askham Hall…
I have a mother's pride to thank for discovering Askham Hall. Well, a mother's pride and the funeral of a dear friend on one of those beautifully cold, clear days that the Lake District does so well. The mother in question – who was also at the funeral – told me about her son having just taken up the head chef spot at a new local hotel and might I think about getting along there to try it out? (We were burying a true grandame of theatrical agenting who would have whole-heartedly saluted such enterprising spirit.)
I've generally found that mothers are seldom the best judges of their children's abilities. Normally I'd have taken her words with a soupçon of salt and moved along. Instead I decided that a return trip the Lakes might just be in order, not for a moment thinking that this mother could be under-selling the skills of her boy. A man who if there's any justice in the cheffing world is set for a long and bright future. He is Richard Swale and right now his future is at the beautiful, quirky and intriguing Askham Hall.
Richard is Penrith born and bred. Having spent time working at Noma and with the three-Michelin starred French chef Marc Veyrat he's now back home with the confidence those kinds of experiences give a chef. His Cumbrian roots seem to be giving Richard an extra enthusiasm for – and affinity with – the area's produce. It's evident in pretty much every aspect of the menu. As far as possible his kitchen is sourcing and preserving what it can get from Askham Hall's gardens, and the surrounding farms and woodlands. They have these little postcards showing what produce comes from where locally. Marked on there are the roe and red deer in the woods and fells, their rare breed pigs, and lots more. As you take a turn around the gardens its hard to not be captivated by the saddlebacks in their pig pen and the wonderful herbs and vegetables in the kitchen gardens.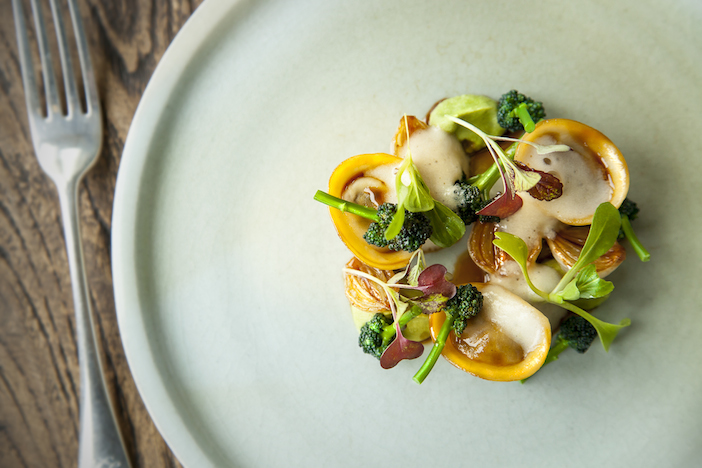 If that all sounds like the food at Askham Hall is going to be strong and earthy and rustic, it is. But it's not just those things. The really really exciting part of what Richard is doing is also turning out dishes with a deftness and complexity that their earthiness belies. There is a tasting menu of five courses for £60. Bonkersly good value. I suppose you could choose to have three courses for £45 instead but I really can't imagine a good reason for not having as much of Richard's food as is possible. The highlights on the menu when I was there were the Lakeland lamb loin and tongue, and the set lemon curd with flax seed meringue and a sorrel sorbet. But then I also loved the Cumbrian lobster poached in morel butter. And the fore-rib and fillet of Shorthorn beef. The rhubarb pistachio cake wasn't half bad either.
This young, charming, dedicated chef is one of many smart choices by Askham Hall's owner, Charles Lowther. Another is putting the emphasis on his new establishment being a restaurant with rooms rather than a hotel. I'm not sure I've ever stayed anywhere that felt less like a hotel. Which I mean as a good thing.
Askham Hall's most striking architectural feature is its 13th century Pele tower. That houses the plushest of the bedrooms. The other wings of the house date from the 17th to the 19th centuries. It has all the Grade I listed luxury 'country hotel' characteristics you'd expect. Log fires, beautiful floors, oak panelling, antique baths and the rest.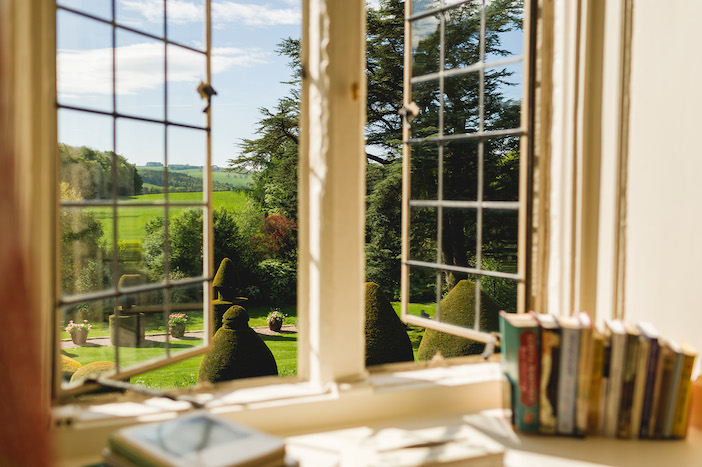 Less expected – and all better for it – are the striking artworks by Charles' wife, Juno. There's one in particular that I won't spoil by badly describing it. Suffice to say that its scale and placement on the most Downton-esque of staircases takes the breath away. But then the Lowther family have been mixing things up in the local area for a long time now. The Lowther's are part of the Lonsdale baronetcy which still dominates much of the land-owning and farming in the immediate area. You might like to try getting Charles to spill some of the Lowther generational scandal and gossip that the locals are pretty free with. I tried and failed. He just wanted to talk about the cow he'd sold for a good price at a market earlier that day. It is an effective non sequitur.
Askham Hall is where Charles was brought up and his mother – the Countess of Lonsdale – lived there until fairly recently. That feeling of a family home is very evident. Albeit a family home with a small pool, a couple of saunas, acres of land, beautiful gardens, and the most exquisite honesty bar. I was there shortly before the arrival of Nicolas Chièze as the hotel's manager. I do hope any new – and needed – slickness that has been brought into the operation by Chièze's more experienced hands isn't at the expense of its charm.
The Lake District is not exactly short of places to enjoy a hearty meal and lay your head after a day of being invigorated by the region's spectacular air and views. I don't think there's anywhere else quite like Askham Hall, though. The house, the Lowthers, and – of course – Richard Swale deserve to stand out amongst the rest of the pack.
And in the future I am going to take far more seriously mothers who tell me how wonderful their sons are.
For more information about Askham Hall, including details of rooms, rates, dining and the gardens, visit the website.